A foil packet recipe for shrimp and scallops on the grill is exactly what you need for dinner this week. Whether its a easy weekday meal or a weekend summer BBQ you will love how quickly this comes together and how easy it is to cook. Done in a quick foil pack, no messing with skewers and indirectly cooking makes this meal super easy, delicious and hearty!
Ingredients for Grilled Scallops and Shrimp
The ingredient list on this is not crazy, most of it you should have in the house. Here is the list, with the measurements in the recipe card:
shrimp
scallops
creamer potato's
butter
salt
pepper
parsley
Old Bay
Lemon Juice
Minced garlic
If you have not run across the creamer potatoes, they are smaller, more tender potatoes, that are prefect for this recipe. If by chance you cannot find any, use regular sized potatoes, cut into quarters.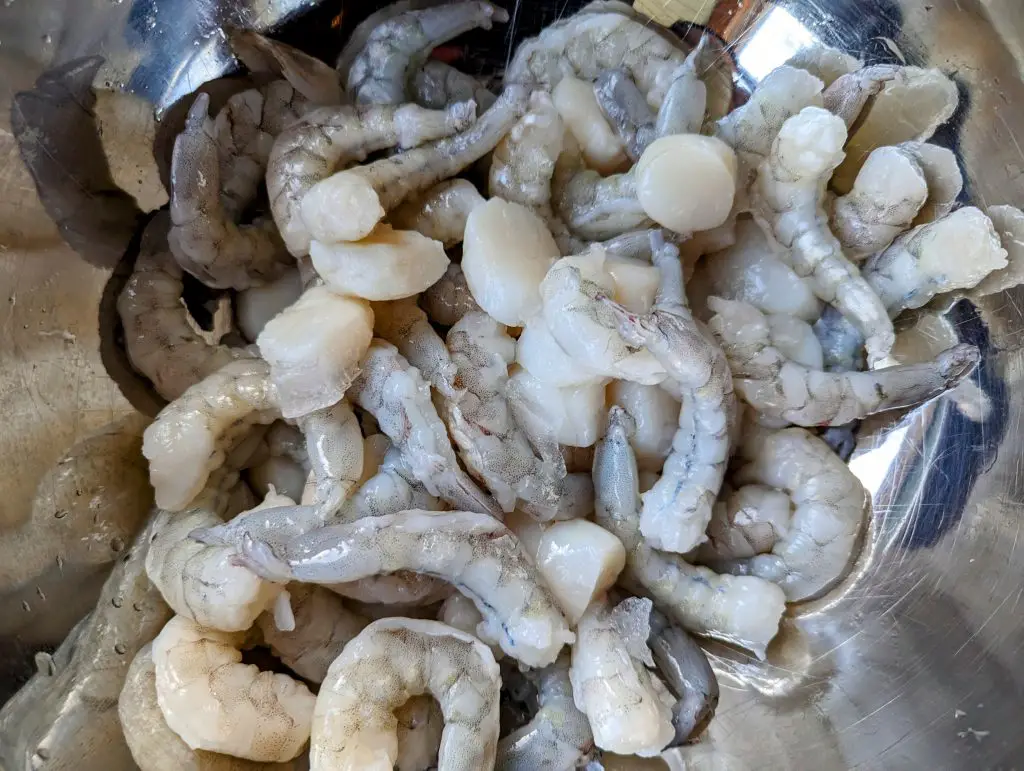 I used frozen shrimp and scallops that I defrosted, if you want to go with some fresh ones, by all means, go that route, I have no doubt it will add some additional flavor to the meal.
Prepping The Scallops and Shrimp In Foil
We are going to start with the potatoes. They will need about 15 minutes of being boiled in the water. If you skip this step you are likely going to end up with some hard potatoes, as they will not have enough time to cook on the grill. Bring a pot of water to boiling and add the potatoes. Let them boil for 15 minutes and then drain and remove from the stove top, or grill if that is where you are doing that. Set them to the side for the time being.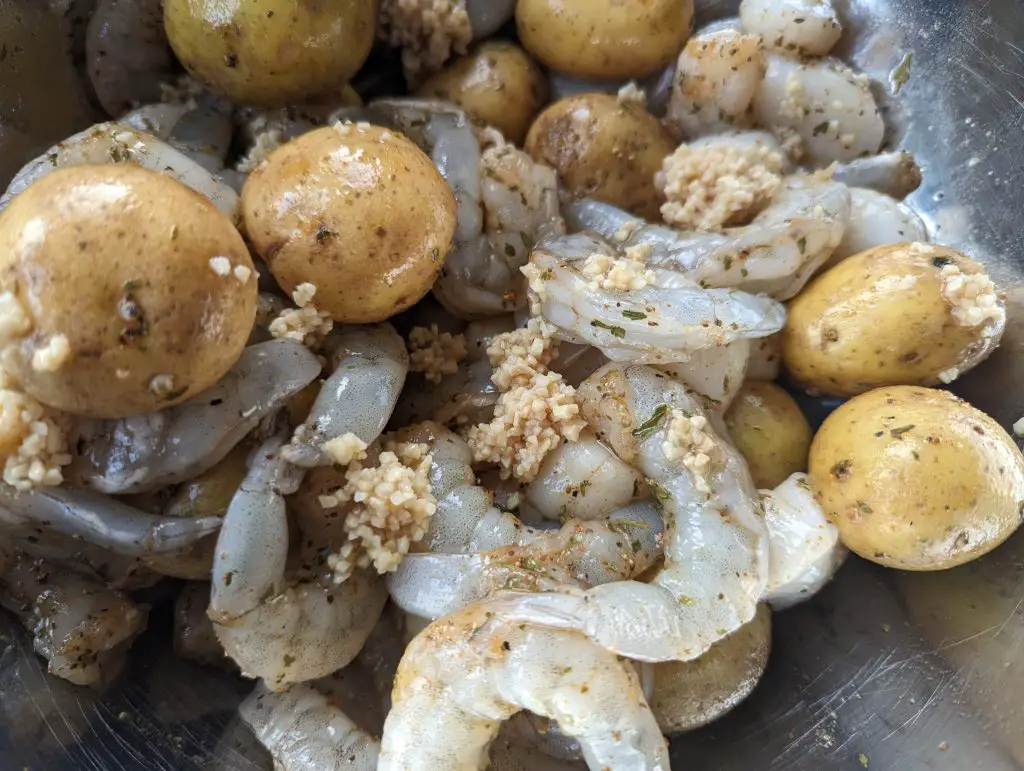 While you are working on this you can get your grill going. I used my gas grill, cranked one side up to on high heat to 400° and then will place these on the other side for indirect cooking. We want to makes sure we don't dry them out and give those potatoes a little more time to soften up.
If you are using frozen shrimp and scallops make sure they are defrosted, if you are using fresh, you can continue on with the next steps. Before moving any further, start by melting a 1/2 stick of butter.
Using either a large bowl or pot you will add the shrimp, scallops, and potatoes to the bowl. As soon as the butter is melted, add the lemon juice to it, give it a quick whisk and then pour the entire mixture over the shrimp, scallops and potatoes. You can then start to add the other ingredients. I would highly suggest stirring along the way to ensure you get proper coverage of the spices on everything.
After having mixed everything together you can start your foil packets. This made 5 foil packets. You may pack them more or less depending on who you are cooking for and what else you may be serving. This was pretty filling so a small side may be needed but not much else. I would double wrap these in foil to ensure it does not rip and nothing leaks or falls out. When filling the foil packs, pour everything in including any liquid butter that is in the bowl and any spices you can get out, we want all that flavor in these packs.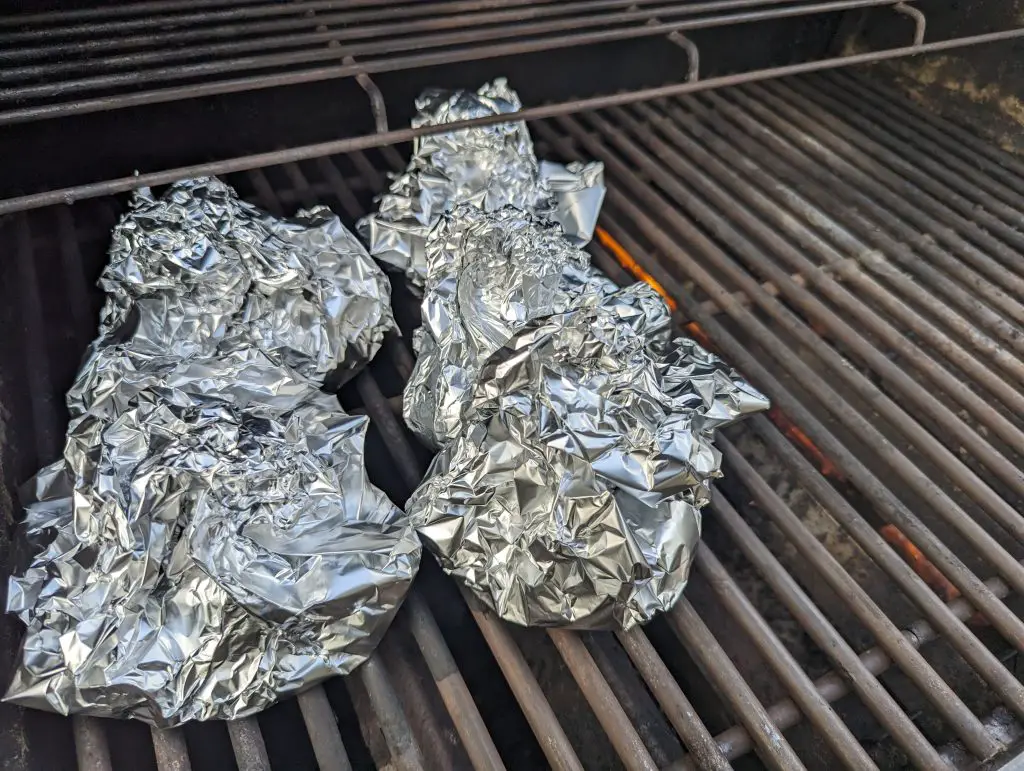 If you feel like your grill thermometer is not always accurate, give the ThermoPro TP20 a try. It serves double duty to measure on the grill while also working great if you have a smoker.
Wrapping Up Shrimp and Scallops On The Grill
Now with the packs loaded up and closed up, we can get them on the grill. As mentioned earlier, it will be indirect heat and it will be for 30 minutes. Because we are doing indirect heat, no need to sweat flipping them or anything like that. Let them go for 30 minutes and once done, you can pull them off.
Give them a few minutes to cool so you can more easily handle them. Once ready you can serve, either right in the foil or transferring it all into a bowl.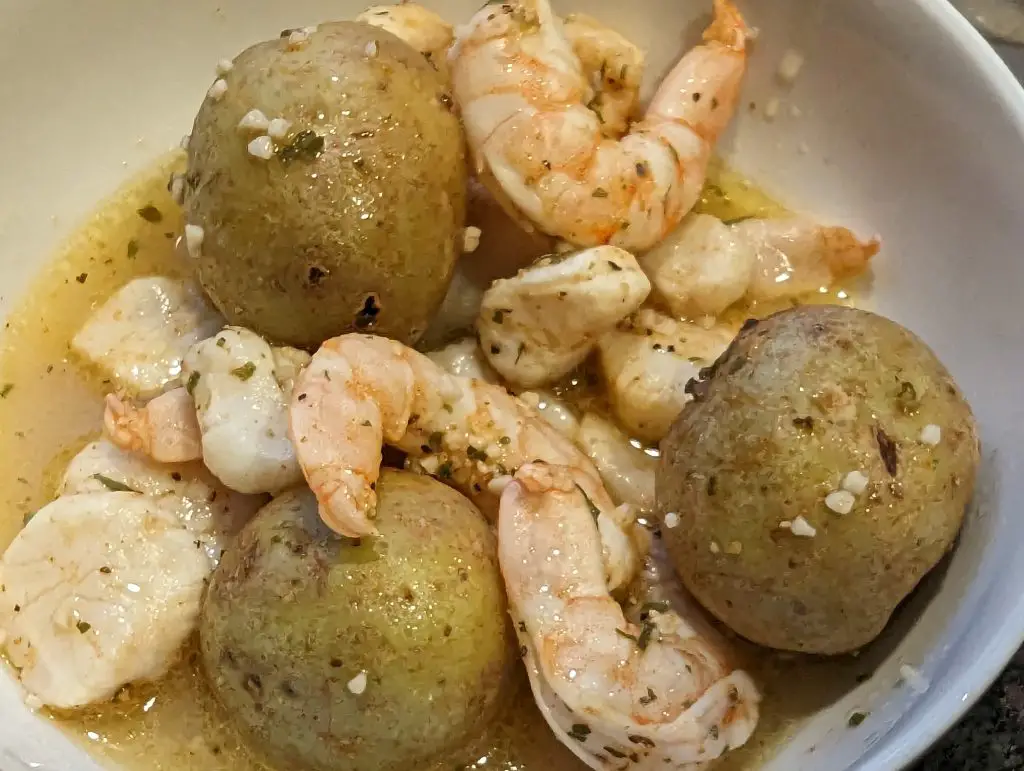 This makes for a great recipe, either at home, or if you are out camping. The blend of shrimp, scallops along with the butter, lemon and Old Bay makes for a somewhat traditional tasting seafood meal but delicious nonetheless.
If you are looking for some other recipes give these a try:
Thanks for being here and checking out this Shrimp and Scallops On The Grill recipe. I hope you enjoy it! We always appreciate comments, 5 star recipe rating and social media shares. As always, keep that smoke rolling!
This post contains affiliate links. If you use these links to buy something I may earn a commission.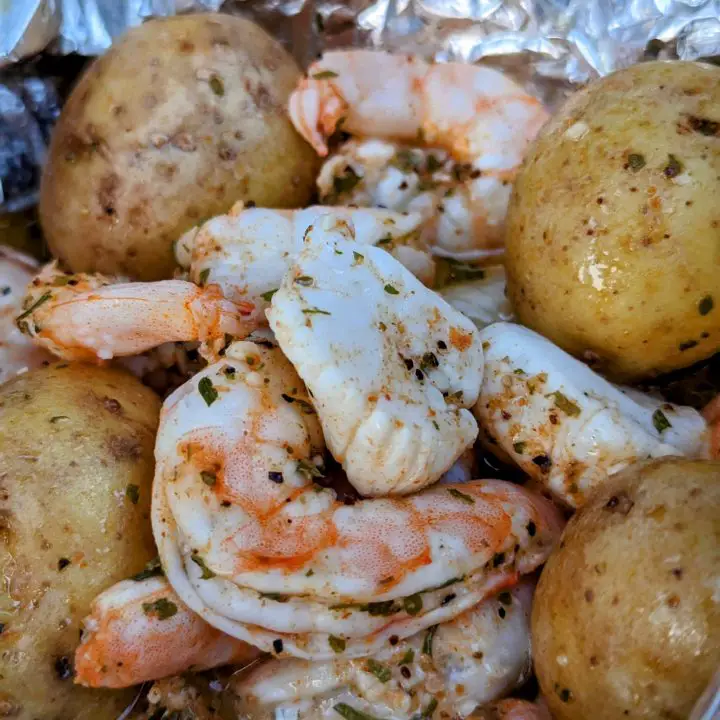 Shrimp and Scallops On The Grill
Additional Time:
5 minutes
A flavorful and easy way main dish to enjoy shrimp and scallops on the grill
Ingredients
1 lb. of shrimp
1 lb. of scallops
1 lb. of creamer potato's
1/2 stick of butter
1 tsp. of salt
1 tsp. of pepper
2 tsp. of parsley
1 tbsp. of Old Bay
1/8 cup of lemon juice
2 tbsp. of minced garlic
Instructions
Boil water in a pot, add creamer potatoes and boil for 15 minutes
Heat grill to 400°
While those are boiling, if you need to defrost the shrimp and scallops, please do that under cold water, if not already defrosted or if fresh
Melt a 1/2 stick of butter, over a low heat, when done mix in the lemon juice
When the potatoes are done, remove and add to a large mixing bowl, as well as the shrimp and scallops
When butter is melted drizzle over the potatoes, shrimp and scallops
Add in the minced garlic and dry ingredients and mix well ensuring that everything is well mixed and coated with butter and spices
Remove from you bowl and place into foil packs (double layer the foil), be sure to add in all the butter that may be in the bowl as well
Close up packs and place on the grill over indirect heat
Let cook for 30 minutes over indirect heat
After 30 minutes, remove and let cool for easier handling
When able to handle serve and enjoy!
Nutrition Information:
Yield:

6
Serving Size:

1
Amount Per Serving:
Calories:

379
Total Fat:

17g
Saturated Fat:

12g
Trans Fat:

0g
Unsaturated Fat:

3g
Cholesterol:

211mg
Sodium:

2040mg
Carbohydrates:

22g
Fiber:

1g
Sugar:

0g
Protein:

35g