Smoked chuck roast done hot and fast, is a delicious and flavorful cut of beef that has become popular smoking option among barbecue enthusiasts. This tender and juicy meat is perfect for those who prefer a bold, smoky flavor with a little bit of heat. One of the most popular ways to prepare smoked chuck roast is through the hot and fast method, which allows you to cook it quickly while still achieving that perfect smoky taste. In this article, we'll explore everything you need to know about smoking chuck roast hot and fast, from selecting the right cut to mastering the cooking technique.
If you need a chuck roast recipe for low and slow, take a look at our recipe here.
What Is a Chuck Roast?
A chuck roast is a cut of beef that comes from the shoulder area of the cow. Chuck roast is a tough cut of meat with lots of connective tissue, making it ideal for slow cooking methods like braising or roasting. When cooked properly, chuck roast becomes tender and flavorful, making it perfect for hearty stews, soups, and casseroles.
Some people confuse chuck roast with brisket or short ribs, but they are different cuts of meat. Chuck roast has more fat than brisket but less than short ribs. You will at times see chuck roasts referred to as "the poor man's brisket" or a pot roast. This makes chuck roast an excellent choice for dishes where you want some richness and flavor without being too fatty.
When purchasing chuck roast, look for marbling throughout the meat and avoid any pieces with large areas of fat. You can cook a whole chuck roast or cut it into smaller pieces to make individual servings. Overall, Chuck Roast is one of the most versatile cuts of beef that will always deliver satisfying results!
Preparing For Hot and Fast Chuck Roast
We are going to get the smoker going and will dial it in at 325°, using some mesquite wood. I am going to do this recipe on my Weber Kettle but if you are smoking chuck roast on pellet smoker or another style smoker, this should all translate over. While the smoker is coming up to temperature, we can start working on the beef chuck roast. First thing we need to do is inject with some beef broth, feel free to be liberal with the injection. After having injected the roast, rub the chuck down with some mustard, that will act as our binder. Next we are going to move onto the rub.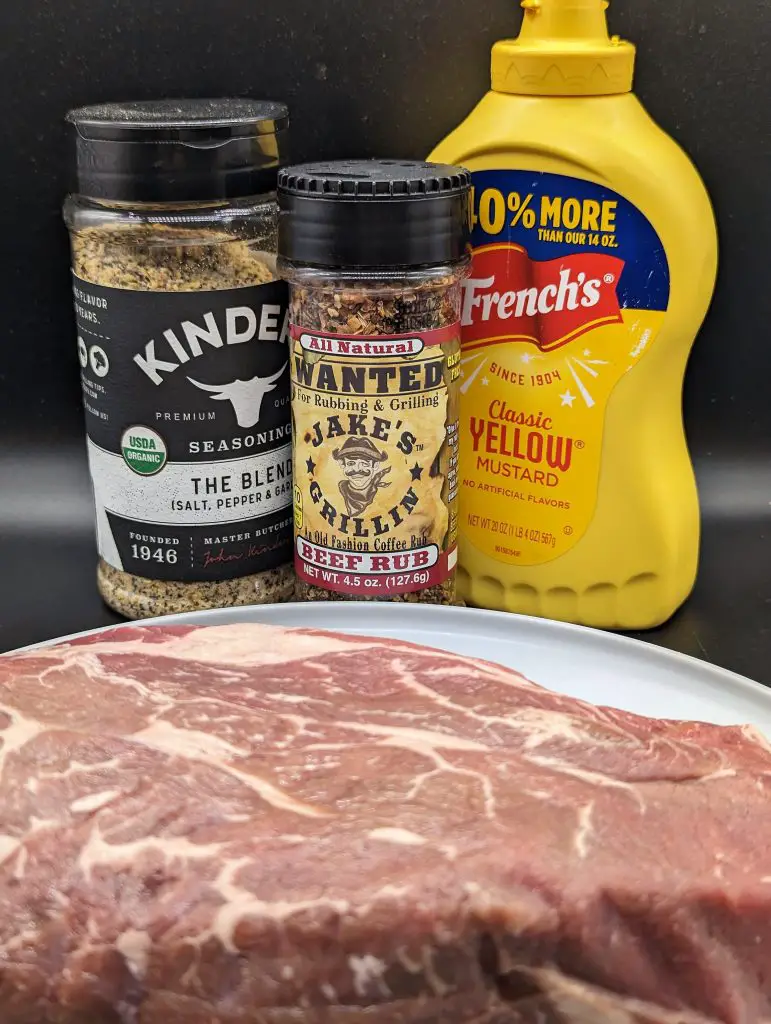 We are going to start with coating the chuck roast with some Kinder's SPG. This will be our primary dry rub. Next we are going to compliment the SPG with some coffee rub. This is a phenomenal combination of rubs. I used Jake's Grillin' Beef Rub. The coffee rub will not be added very liberally, we want it to compliment the SPG, not overpower it. I would say use about 1/2 the amount of the SPG that you used.
If you do not have an SPG (salt, pepper garlic) in the house you can make your own. The best and easiest way to do it is equal parts, kosher salt, black pepper and garlic powder.
After having rubbed down the chuck, we can wait for the smoker to come up to temperature. You are ok leaving the chuck out for about 15 minutes to come up to room temperature. If it will be longer than that, place it back in the regfrigator.
Smoking a Chuck Roast
Your typical smoked beef chuck roast is done at 250° degrees but because are looking to do this hot and fast, we will get it cranked up to 325°. Once the smoke is rolling at 325°, go ahead and place it on the smoker.
If you are looking to track your temperatures during the smoke I highly recommend using the ThermoPro TP20. It is a quality unit at an affordable price.
After placing the chuck on the smoker, we will want to spritz every 45 minutes to an hour with some apple cider vinegar. The next thing we are going to be looking for is the stall, which will hit somewhere around 160° (need to read up on what the stall is, we have you covered) and then we are going to want to look for how well our bark is set. If you are at the stall and happy with the bark, you can go ahead and wrap the chuck.
If you feel like you need to wait it out a little longer until have are happier with the bark, go ahead, this step is pretty subjective as to when you wrap. You have two options for wrapping, either some aluminum foil or butcher paper. If you are interested in holding the bark, I would suggest going with butcher paper, whereas the aluminum foil may degrade the bark a bit.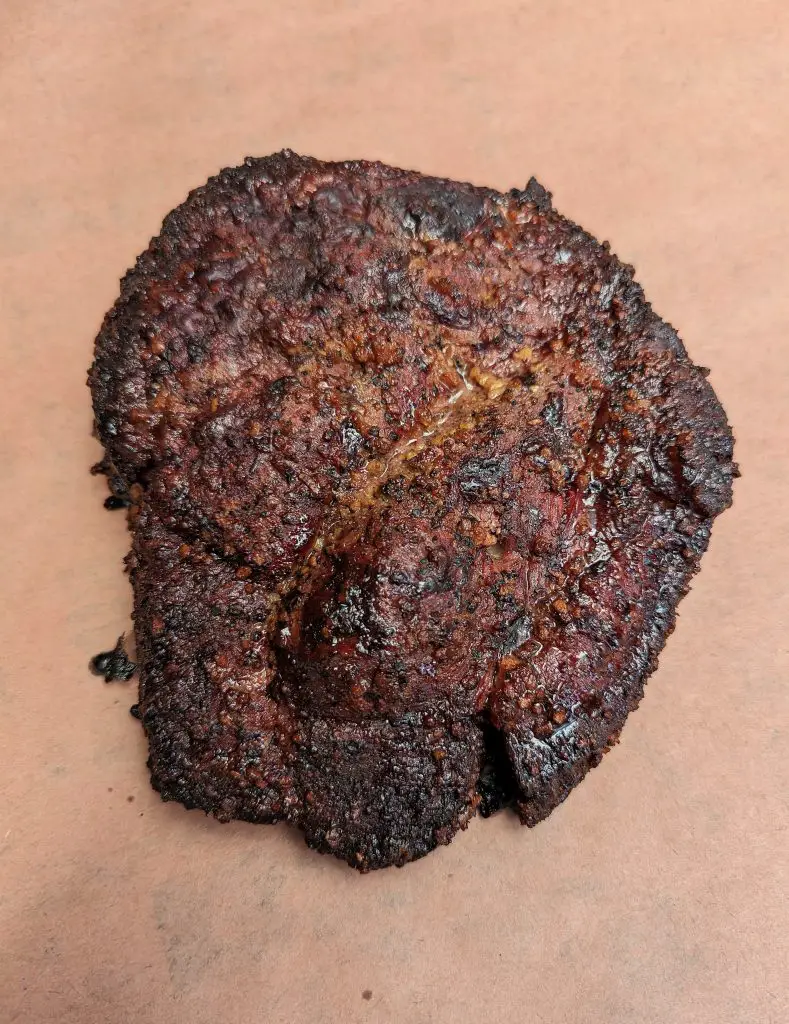 Because of the higher temperatures, once this is wrapped, it should push through the stall relatively quickly. This should be around the 3-3.5 hour mark, that you end up wrapping. We are going to look to take this until the internal temperature reaches 190°. When it hits 190°, go ahead and pull. At this point we are going to let it rest, give it about 30 minutes for a rest period.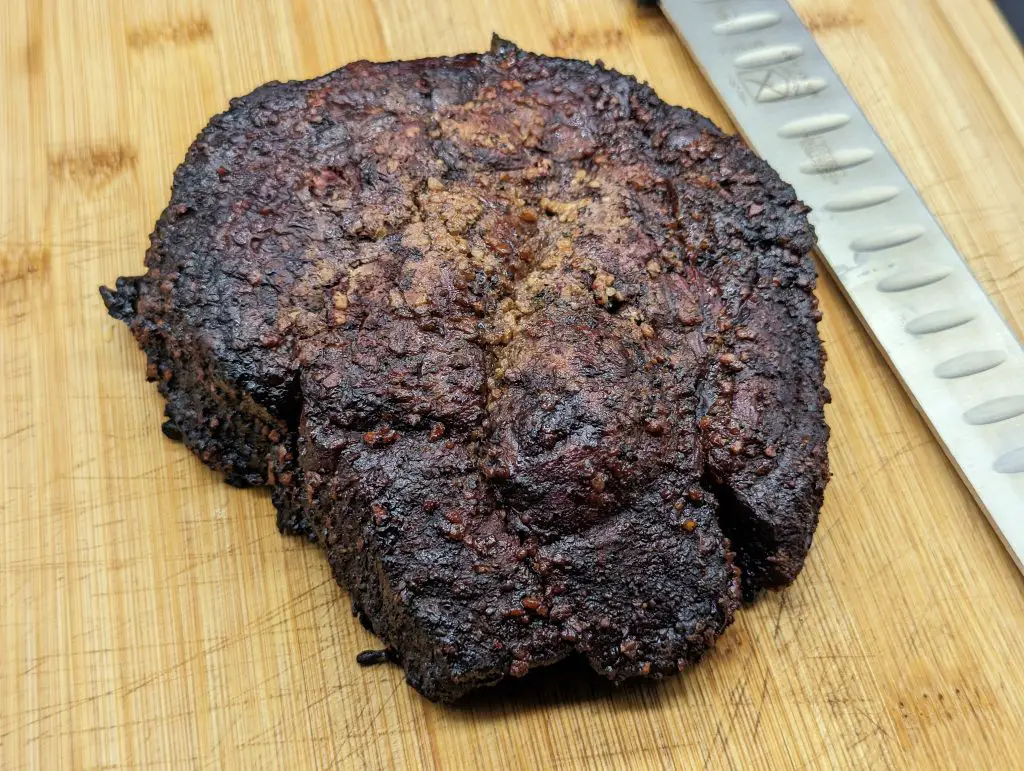 Having tried the hot and fast method a few times, I do not recommend it for pulling the chuck roast, it lends itself much better to sliced chuck roast. If you want pulled beef, I would recommend going low and slow.
Wrapping Up, Smoked Chuck Roast, Hot and Fast
Smoked chuck roast cooked hot and fast is an excellent way to enjoy a juicy and flavorful meal. By following the right steps, you can achieve a perfectly smoked chuck roast that will leave your taste buds wanting more. Whether you're hosting a BBQ party or just looking for a delicious dinner option, this recipe is sure to impress. So go ahead and give it a try, we guarantee you won't be disappointed!
Thanks for being here and checking out this Smoked Chuck Roast, Hot and Fast recipe. I hope you enjoy it! We always appreciate comments, 5 star recipe rating and social media shares. As always, keep that smoke rolling!
Need some other recipes or ideas, here are a few suggestions:
This post contains affiliate links. If you use these links to buy something I may earn a commission.
Smoked Chuck Roast, Hot and Fast
Total Time:
4 hours
40 minutes
Smoked Chuck Roast, Hot and Fast is a great way to smoke a chuck roast when you are looking for an amazing and tender cut of beef but short on time.
Ingredients
3 lb. chuck roast
SPG rub (I prefer using Kinder's)
Jake's Grillin' Beef Rub
Instructions
Start your smoker and set for a temperature of 325°
Using your binder of choice, coat the chuck. On chucks, I prefer using yellow mustard
Coat your chuck with your SPG
Place on the smoker
Every hour spritz with some apple cider vinegar
When its reaches a 190°, pull and let rest for 30 minutes
Slice and serve
Nutrition Information:
Yield:

6
Serving Size:

1
Amount Per Serving:
Calories:

572
Total Fat:

37g
Saturated Fat:

15g
Trans Fat:

2g
Unsaturated Fat:

19g
Cholesterol:

201mg
Sodium:

179mg
Carbohydrates:

0g
Fiber:

0g
Sugar:

0g
Protein:

60g