Smoked cream cheese is an easy "add on" smoker recipe to start off a smoke or after you finish one up. It is easy on ingredients and makes for a great appetizer, whether it is for the the Big Game or you need a gluten free appetizer option.
Smoking Cream Cheese Preperation
For smoked cream cheese, my recommendation is get an 8 oz. block of cream cheese, add more depending on how many you need to serve. I would not use fat free cream cheese, as it may not hold up as well in the heat. Go with any brand or variation of cream cheese block. For this recipe I will be using a plain block of Philadelphia cream cheese. The prep on this recipe is easy so the first step we are going to take is to get the smoker up and running.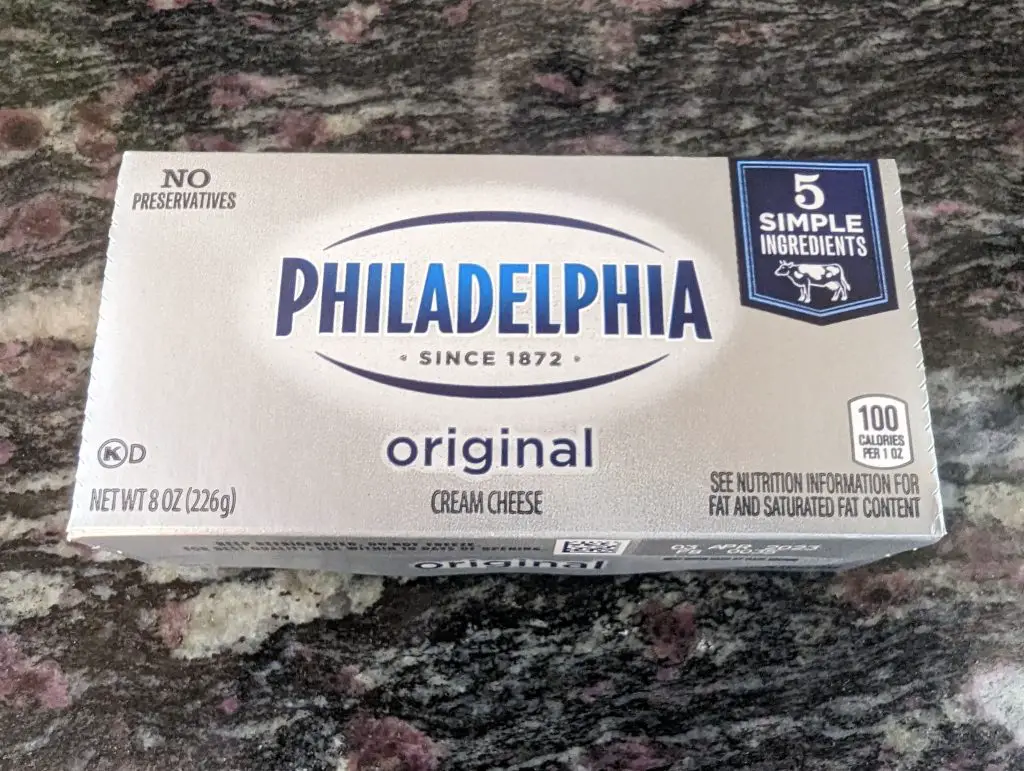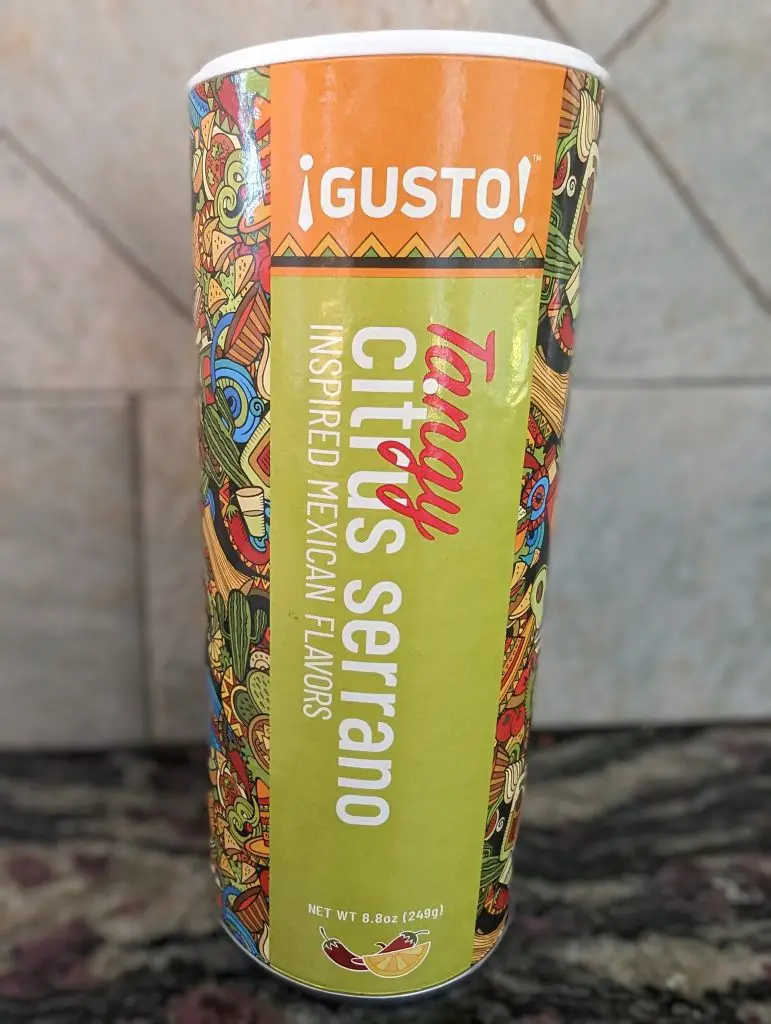 I did this recipe on my Weber Kettle, perfect for these smaller and quicker smokes. We need to keep the temperature low, so as to not melt the cream cheese but soften it up and bit and get some smoke on it. For that purpose, we are going to run the smoker at 180°. If you are using a pellet grill or some other style smoker, as long as you can keep the temperature this low you should be fine.
For reference, I set up my charcoal snake by just stacking two briquettes on top of each other all along the snake, only breaking it up with the wood. Going with too many more, you will risk starting to melt the cream cheese. While the smoker is getting up to temperature, we can move our attention to the cream cheese.
Before you start handling the cream cheese too much, take 15 minutes and throw it in the freezer. It will make handling the cream cheese that much easier. After 15 minutes remove the cream cheese and place it either on some aluminum foil or a small foil pan. You could also use a small cast iron skillet, especially if you were looking to use this and add in some other ingredients. With it now on the foil or tray, you can score the block, lightly brush it with some olive oil and then coat it with the BBQ rub you are looking to use.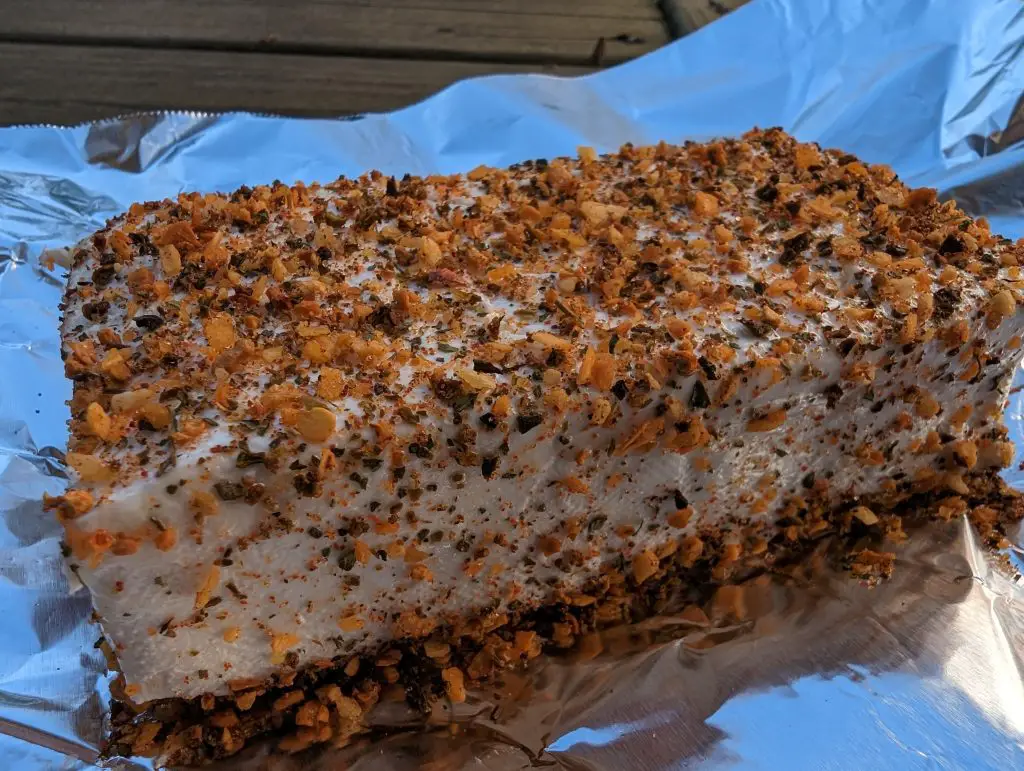 In the case of this recipe, I am going with a dry rub I picked up at Costco, Gusto! Tangy Citrus Serrano and will be pairing it with some sliced pickled jalapenos after its smoked. I used a peach wood as that paired great with the citrus flavor but a apple or cherry work as well.
How To Smoked Cream Cheese
Your smoker should now be up and running at 180° and the cream cheese block ready to go. Place it on the smoker, aluminum foil and all, right on the grate. Close it up and let it smoke. At this temperature it should not melt and you can decide how long you want to let it go. I would suggest about 90 minutes, the longer it stays on the stronger the smoke flavor. That 90 minute mark softens it up nicely and adds a nice kiss of smoky flavor.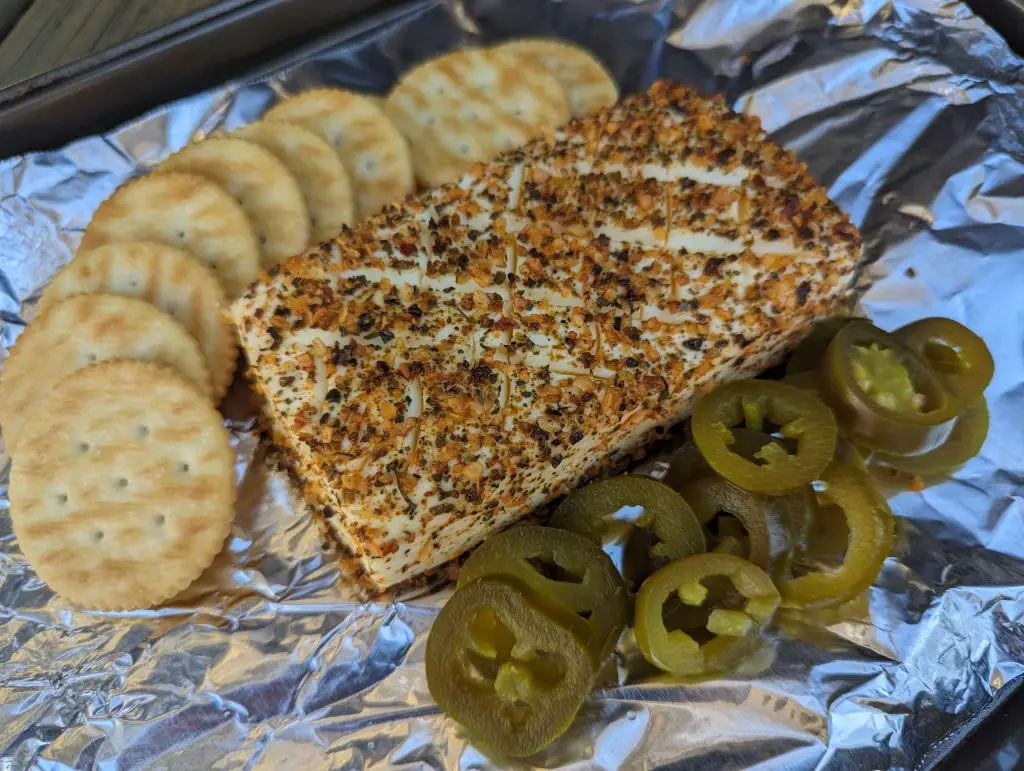 When it is done, you can go ahead and pull it. I would remove using the foil to slide it onto a tray or cutting board. Unless you are hosting a party and using the fine silverware, serve it right off the foil so as to not make a mess trying to transfer it. As I mentioned above, I am serving this with some sliced jalapenos on the side. If you are making this in advance you can refrigerator and serve cold or warm it up again before serving. If you are looking to warm it up later, my recommendation is about 30 minutes at that low temperature, below 200° if you can.
Ways To Serve Smoked Cream Cheese
Just serve it as is, a simple cream cheese dip
A popular way to serve is as a dip but with everything bagel seasoning
Add some cold smoked salmon and make a smoked salmon dip recipe
You can serve with tortilla chips, crackers or pita chips, almost anything goes
Thanks for being here and checking out this Smoked Cream Cheese recipe. I hope you enjoy it! We always appreciate comments, 5 star recipe rating and social media shares. As always, keep that smoke rolling!
If you are looking for some other easy cream cheese appetizer recipes and more, here are some suggestions:
This post contains affiliate links. If you use these links to buy something I may earn a commission. Thanks!
Smoked Cream Cheese
Cook Time:
1 hour
30 minutes
Smoked cream cheese is an easy "add on" item for the smoker and makes for a easy but delicious appetizer.
Ingredients
8 oz. block of cream cheese
1/2 tbsp. of olive oil
Dry rub of choice
Instructions
Start smoker and set for about 180° Depending on your rub choose your wood to pair. I used peach but apple or cherry wood work as well.
Freeze the block of cream cheese for approximately 15 minutes before seasoning. It will make handling it easier.
Score the block of cream cheese. While recommended, its not necessary
Lightly coat with olive oil to act as a binder
Add dry rub of choice. I used a citrus rub, as I will be serving this with some jalapenos on the side.
Smoke for about 90 minutes
Remove, add any additional garnishes and serve while warm.
Nutrition Information:
Yield:

8
Serving Size:

1
Amount Per Serving:
Calories:

107
Total Fat:

11g
Saturated Fat:

6g
Trans Fat:

0g
Unsaturated Fat:

4g
Cholesterol:

29mg
Sodium:

89mg
Carbohydrates:

2g
Fiber:

0g
Sugar:

1g
Protein:

2g