This smoked Indian Leg of Lamb is an amazing blend of chili, cumin and coriander, glazed with orange honey blossom and touched with a hint of hickory smoke flavor. This recipe is from Supriya's Kitchen and encourage you to check them out.
Indian Spiced Marinade
This marinade will provide the majority of our flavor for this lamb. We are going to start out by coating the lamb leg with olive oil. We are then going to take some garlic and grind it into a paste. You will need approximately 6 fresh garlic cloves or 4 tablespoons of minced garlic to make the paste. Once the paste is made, you will rub that onto the lamb.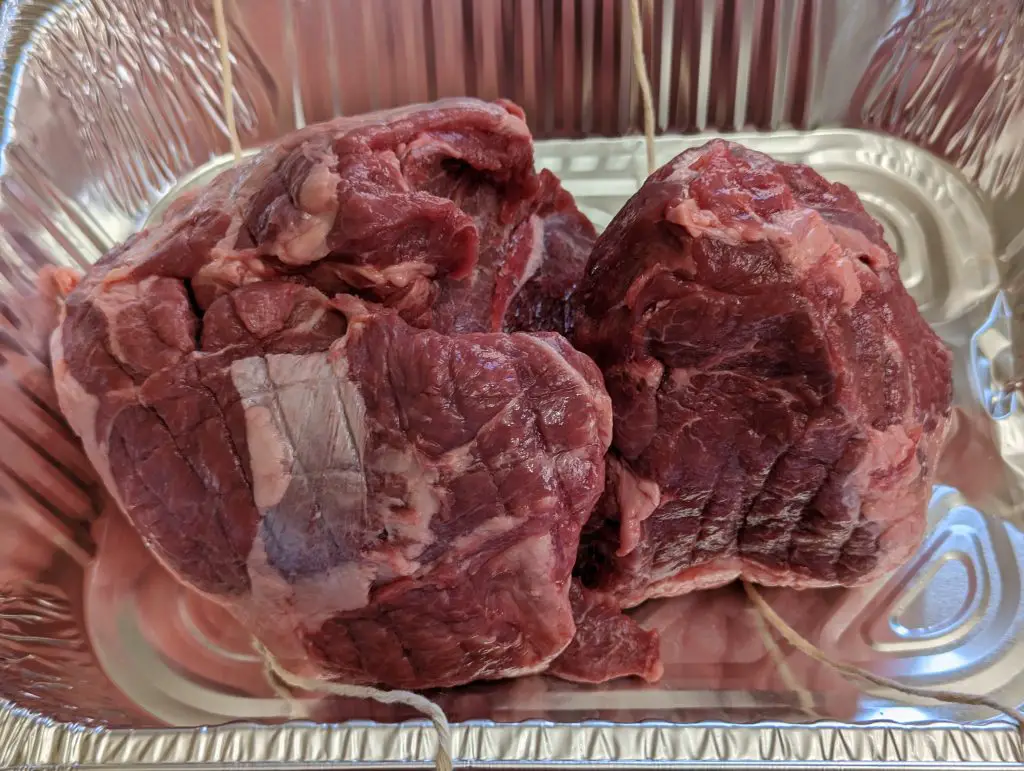 We are then going to take the following dry ingredients, mix them together and coat the lamb. Be sure to cover any cuts already in the lamb to ensure we get maximize coverage and flavor. The dry ingredients we are going to use at this time are the following:
cumin
coriander
chili
salt
thyme
After having applied the olive oil, dry spices and garlic paste we are going to allow the lamb to sit with spices for about 6 hours. Place it in the regfrigator, loosely covered with foil, so as to not remove any of the spices.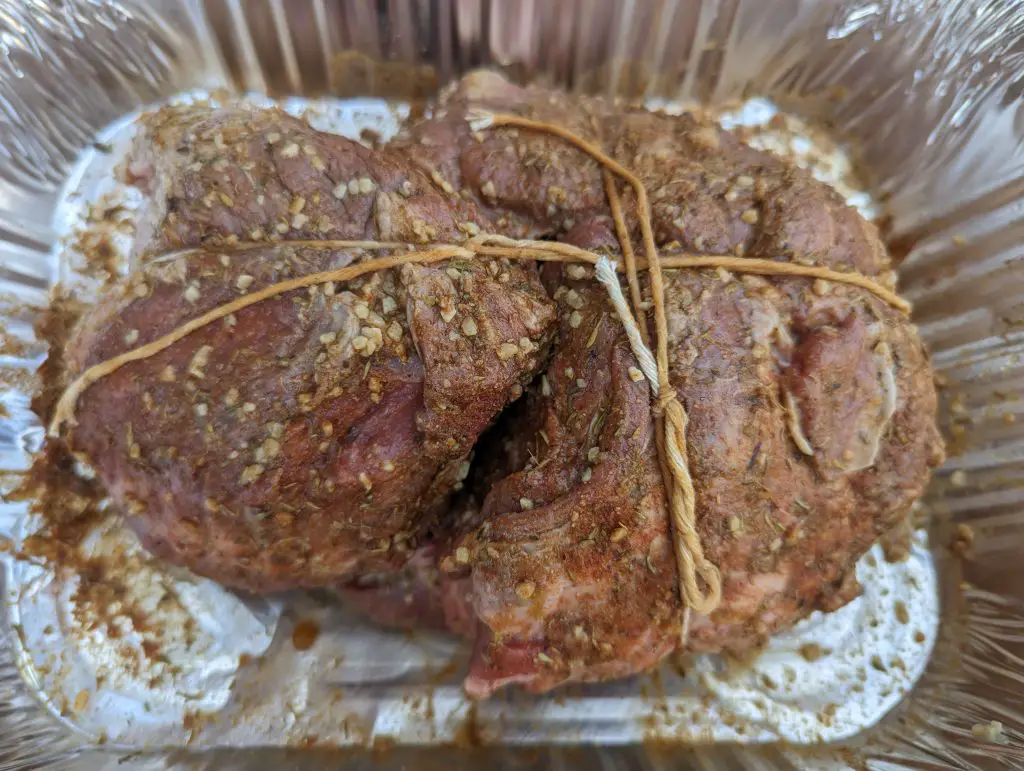 Smoking An Indian Leg of Lamb
As you get to the tail end of your marinade time, you can get your smoker up and running. I used my Weber Kettle for this smoke. For smoke flavor I used some hickory wood. I went light on the wood, as I did not want the hickory to over power all the other flavors on this Indian roast lamb. When prepping the smoker, be sure to have some kind of roasting tray below the lamb to catch our baste and glaze.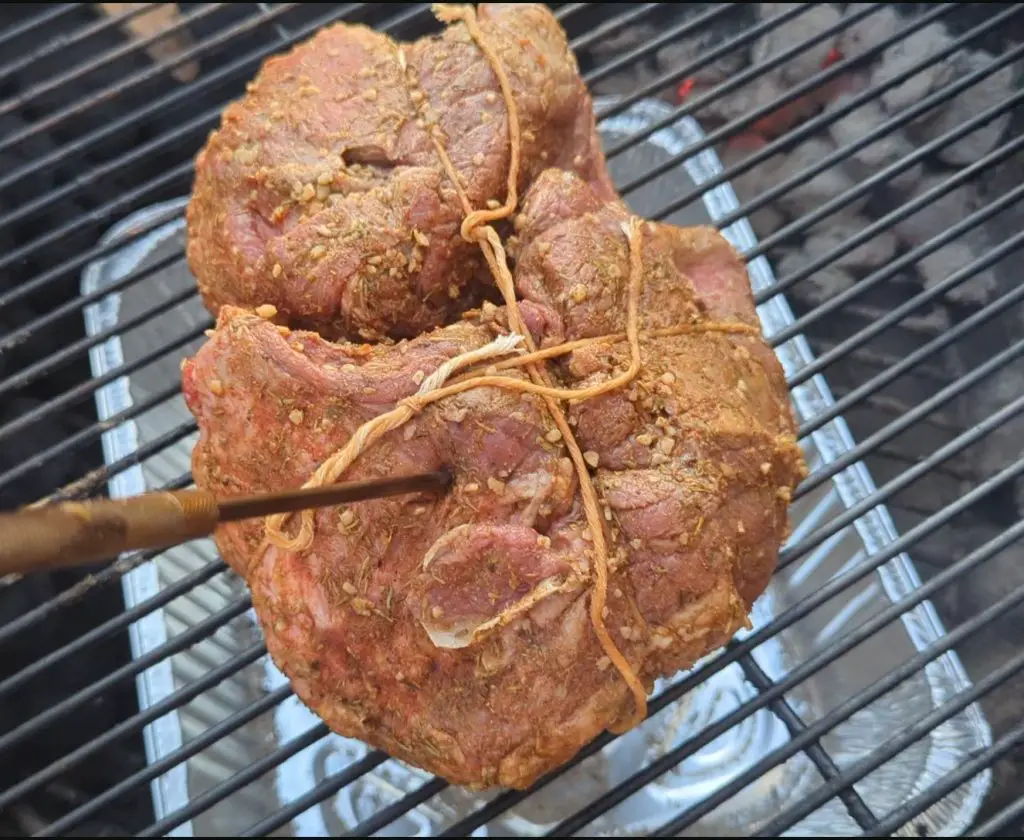 Lamb is better done hot and fast, so we are going to get our ambient temperature going to 325. It will be on long enough to absorb plenty of smoke flavor during the process. Once you get to that 325° temperature go ahead and we can get our lamb leg on the smoker.
If you are using a Kettle, WSM or some other smoker, you should be able to follow this recipe without any major changes.
Now with the meat on the smoker, we are going let it ride for a bit, not doing anything to it. While the leg is cooking you can take some fresh lemons, approximately 6 of the them and squeeze the juice from them, as we are going to baste the lamb with the lemon later in the process.
When the lamb reaches and internal temperature of 80°, we can baste for the first time with some lemon juice. Make sure you save enough to do it again a little later. Then when your lamb gets to and IT 100° you can baste again with the lemon juice. This will be the last time we baste with the lemon juice. After that we are going to let the lamb go until it hits an IT of 120°.
When its gets there we are going to take some orange blossom honey and glaze the lamb leg. We are then going to coat the lamb glaze with some garam masala. spice If you are looking are looking for some garam masala, you can get it here.
After you have completed that you can crank the temperature up on the smoker for the last 20 degrees. Its short period but will finish the glaze off nicely. Its ok if you end up getting your temperature upwards of 350°-375°. When the lamb gets to an IT of 140°, you can go ahead and pull it. At that point we are going to let it rest, tented with some foil. This will give it the time needed to reach an IT of 145°.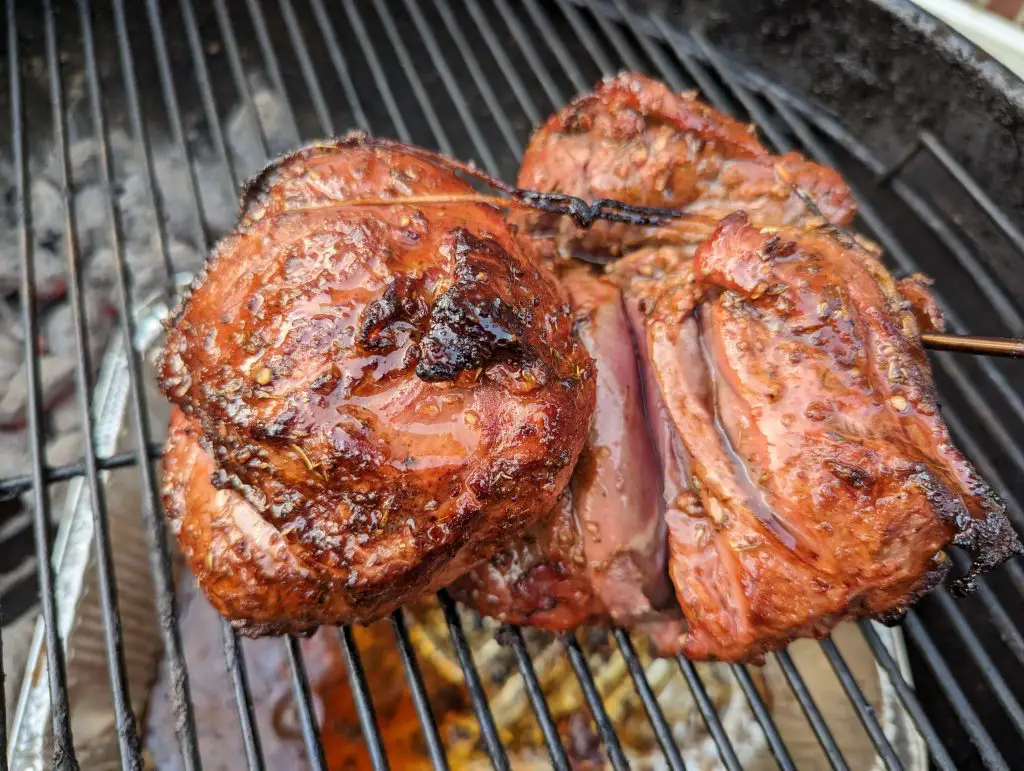 Following the rest period the smoked and spiced leg will be ready to slice and serve. This recipe makes for an awesome dinner, full of flavor and an amazing way to change the lamb offering from how you may traditionally serve it. Pair this with some red wine and naan and vegetables and you will have an incredibly flavorful meal.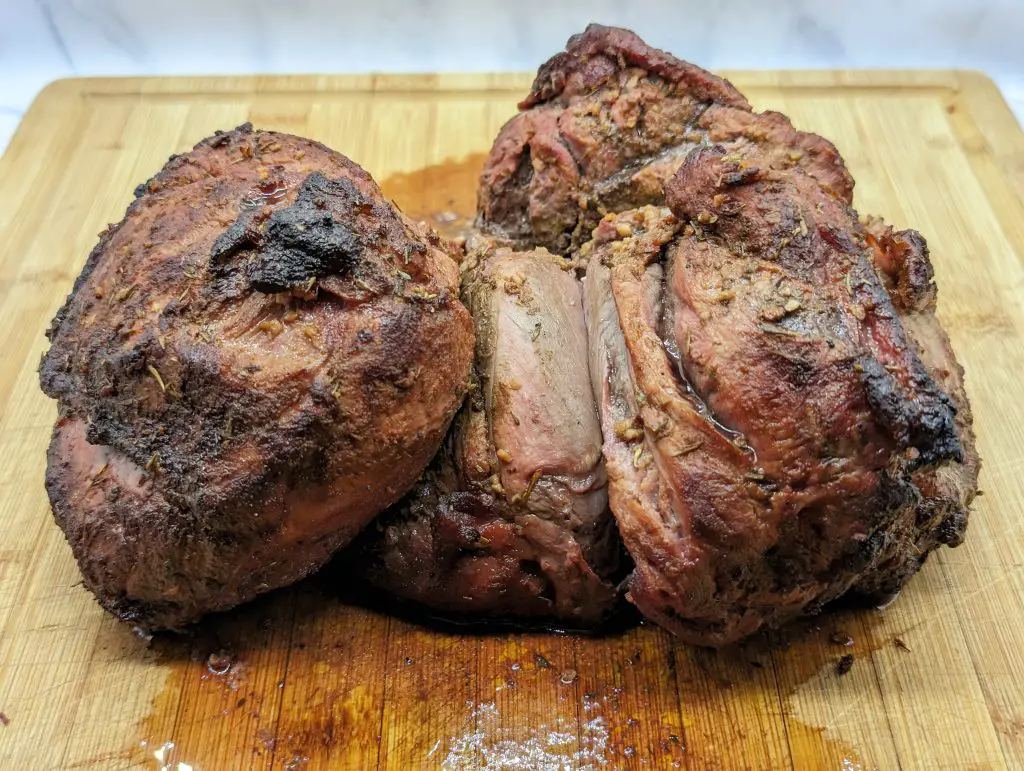 Wrapping Up Smoked Indian Leg of Lamb
Thanks for being here and checking out this Smoked Indian Leg of Lamb recipe. I hope you enjoy it! We always appreciate comments, 5 star recipe rating and social media shares. As always, keep that smoke rolling!
If you are interested in some other lamb recipes and other smoked or grilled food ideas, like this one, here are a few suggestions:
This post contains affiliate links. If you use these links to buy something I may earn a commission. Thanks!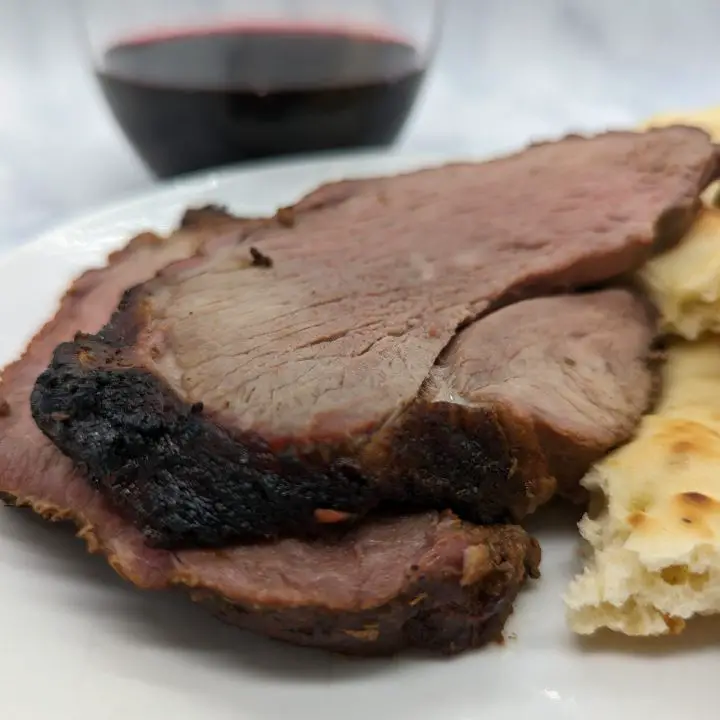 Smoked Indian Leg of Lamb
Cooking Time:
1 hour
30 minutes
Total Time:
2 hours
20 minutes
An amazing blend of chili, cumin, coriander and masla, topped with a simple orange blossom honey glaze.
Ingredients
4 lb. boneless leg of lamb
2 tablespoons of olive oil
1 teaspoon of cumin
6 fresh lemons
2 teaspoons of ground corinader
1 teaspoon of chili powder
1 teaspoon of salt
6 cloves or 4 tbsp. of minced garlic
2 tbsp. of fresh or dried thyme
1/4 cup of orange blossom honey
1 teaspoon of garam masala
Instructions
Butterfly our lamb leg if necessary, some are already cut and allow for plenty of coverage for spices and seasoning.
Rub down with some olive oil
Take the garlic and crush into a paste. After having made the paste apply to the lamb
Combined your cumin, coriander, chili and salt and apply generously to the lamb. Cover all sides and ensure you apply well to any cuts and opening in the meat. I find its usually better to tie the lamb leg up, most of the time it comes in a netting and needs some structure when placing on the smoker.
Let sit for 6 hours, in the regfrigator, loosely covered with foil
While wrapping up the marinade period start your smoker with some hickory wood and set for a temperature of 325°.
Place the lamb on the smoker
Juice about 6 lemons while the lamb is smoking
When the lamb hits an IT of 80°, baste with the lemon juice
When the lamb hits an IT of 100° baste again with the remaining lemon juice
When the lamb hits and IT of 120°, glaze with the orange blossom honey and the garam masala.
After glazing you can crank up your temperature to 350°-375° and finish off with some high heat
When the lamb reaches an IT of 140°, pull from the smoker
Let rest for 15-20 minutes, tented.
After the rest period, slice and serve while hot.
Nutrition Information:
Yield:

8
Serving Size:

1
Amount Per Serving:
Calories:

660
Total Fat:

41g
Saturated Fat:

16g
Trans Fat:

0g
Unsaturated Fat:

22g
Cholesterol:

211mg
Sodium:

431mg
Carbohydrates:

12g
Fiber:

3g
Sugar:

4g
Protein:

59g