A smoked lamb is incredibly delicious and on some rare occasions there may be some that does not get eaten. Leftover lamb shepherds pie is a great way to use that lamb and continue enjoying a great meal.
Smoked Lamb Leg
So there have been times I smoked a leg of lamb and used the lamb for a meal and used anything that remained for the leftover lamb shepherds pie but there have also been times that I had a leg of lamb, took some of it and ground it and then smoked the rest for leftover lamb shepherds pie, even though they technically were not leftovers.
We almost always smoked a leg of lamb during the spring as Easter rolls around, specifically on Holy Thursday, is when we would have lamb. If you are new to lamb or have not tried out our smoked boneless leg of lamb recipe, give it a shot.
Just a side note on the lamb, because it tends be a meal that is eaten, like we do on Holy Thursday, you will tend to find lamb more readily available in stores during the months, of February, March and April. After that it can definitely be spotty, so if lamb if something you enjoy, grab a couple of them and freeze them. If you buy from Costco they are cryo vac'd so you are good to just throw them in the freezer as is. I thought it was important to mention this as I have struggled mid year, when I decide to smoke a lamb and can't find it or pay a fortune to buy a leg of lamb.
With the lamb you can either shred or diced it for the shepherds pie. Put it off to the side, or if you are going to use it at a later date, vacuum seal and freeze it. Regardless when you eat this, you are setting yourself up for an easy dinners that the family will love.
Prepping For Leftover Lamb Shepherds Pie
You are going to need the following ingredients:
3/4 lbs of diced lamb leg
1/2 white onion
2 cups of sliced carrots
2 stalks of celery
2 tablespoons of minced garlic. You can also substitute the minced garlic with garlic powder or garlic cloves if those are what you have in the house
1 tablespoons of chopped thyme. Fresh is great if you have it but dried thyme works as well.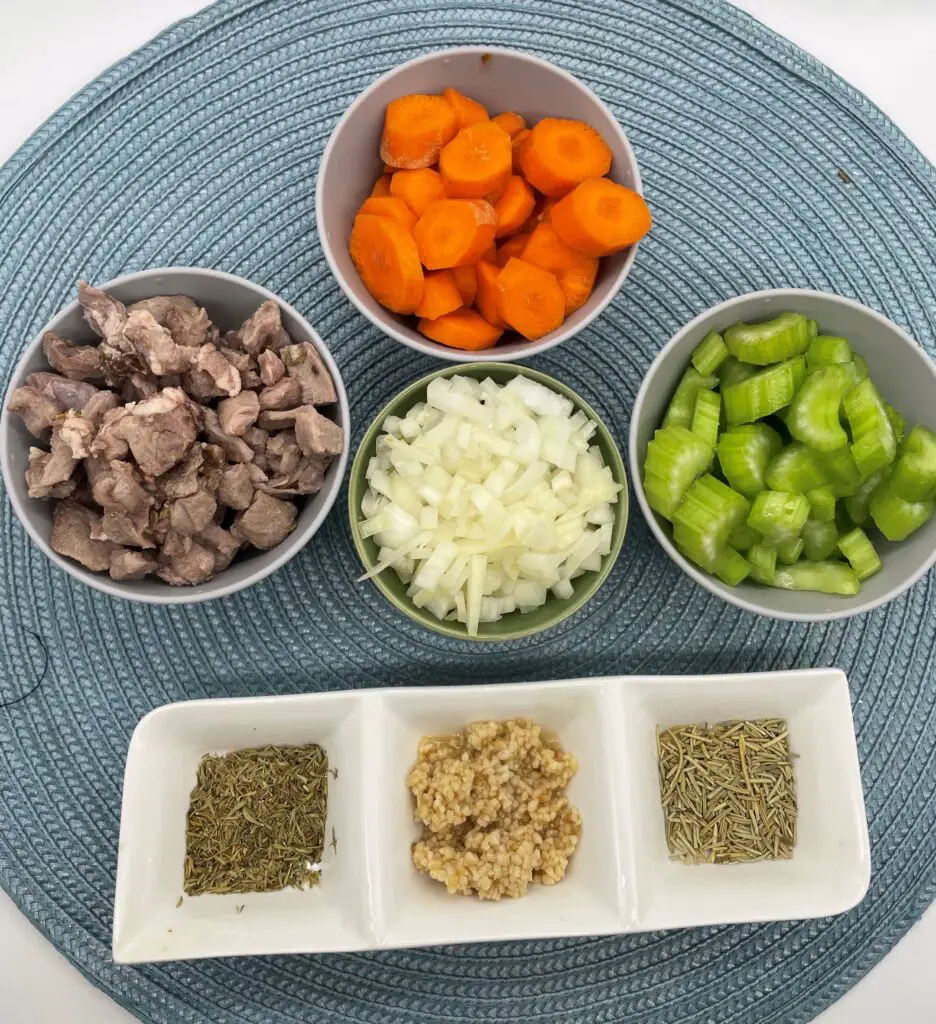 .5 cup of chicken stock. For this recipe we used Better Than Bullion. You can get it at Costco.
2 tablespoons of Worcestershire sauce
28 oz. of crushed tomatoes
6 small red potatoes to mash. You need to peel the skin, you can do that either before you boil them or after. Whatever your preference is. Some people to prefer to peel the skin off the potatoes after boiled, you can basically do it with you fingers.
3 tablespoons of butter
1 tablespoon of finely chopped rosemary. Similar to the thyme, fresh is great if you have it but dried rosemary works as well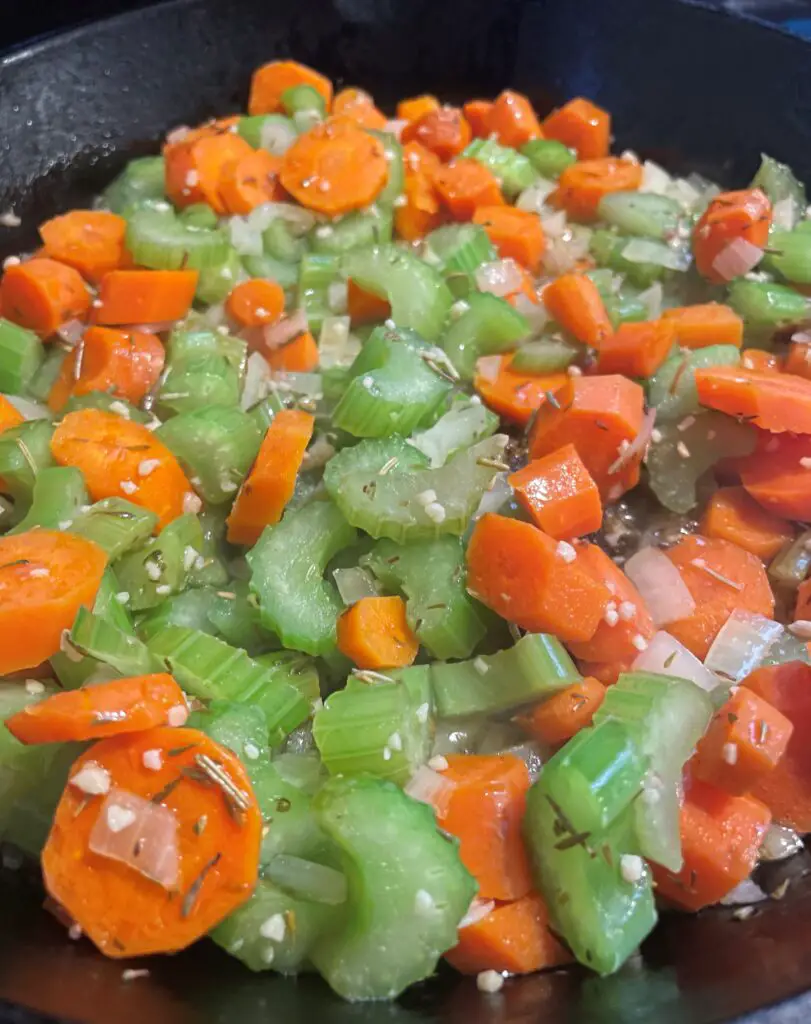 You are going to heat some olive oil in a pan, we used our Lodge cast iron for this recipe. You will sauté the onion, carrots and celery for about 10 minutes. If you are using minced garlic, add that to the pan about half way through. Once you hit the 10 minute mark, you will start to add in the following: thyme, rosemary, lamb, chicken stock, Worchester sauce, and crushed tomatoes. You will let that go in the pan for about 15 minutes, stirring on occasion. After you hit the 15 minute mark, go ahead and put off to the side until the potatoes are ready.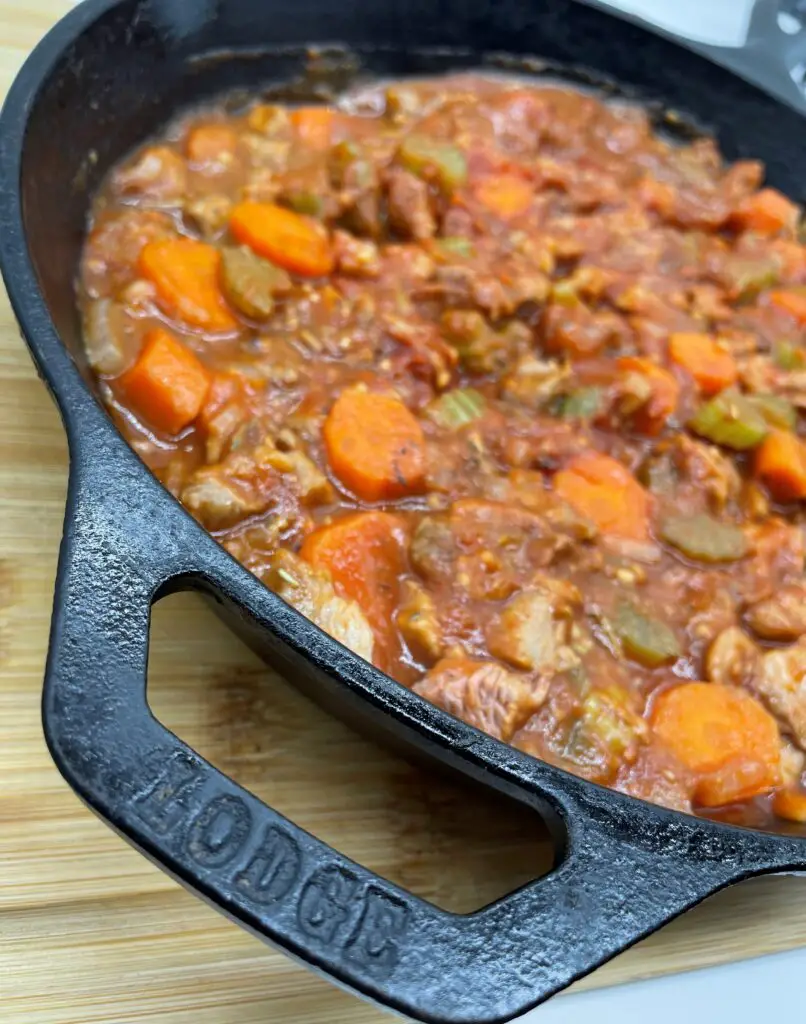 While that is going, you can start the potatoes. You will need to boil them in order to mash. Boil the potatoes until they are tender, at which point you can remove from the water and being to mash. Add in 3 tbsp. of softened butter as you are mashing. You will also add in 1/2 cup of milk to the mashed potatoes. If the potatoes are too thick add some more milk to the potatoes and continue to mash/mix until you have a consistency you are comfortable with.
Leftover Lamb Shepherds Pie Final Step
Once your mashed potatoes are done, layer them on top of the combined ingredients. After you have layered the potatoes on the other ingredients you are going to put the entire dish into the oven, grill or smoker, at about 350 for 20 minutes. Once you start to see the potatoes turn a bit of a golden brown you can pull the dish.
Now that the you see the potatoes getting to that golden brown color, pull the dish and go ahead and serve while hot. Pair this up with a nice glass of red wine and you will have a great meal.
Thanks for being here. I hope you enjoy this shepherd's pie with leftover lamb recipe. We always appreciate comments, 5 star recipe ratings and social media shares. As always, keep that smoke rolling!
If you nee some lamb recipes and other ideas, check out some of these suggestions below:
This post contains affiliate links. If you use these links to buy something I may earn a commission. Thanks!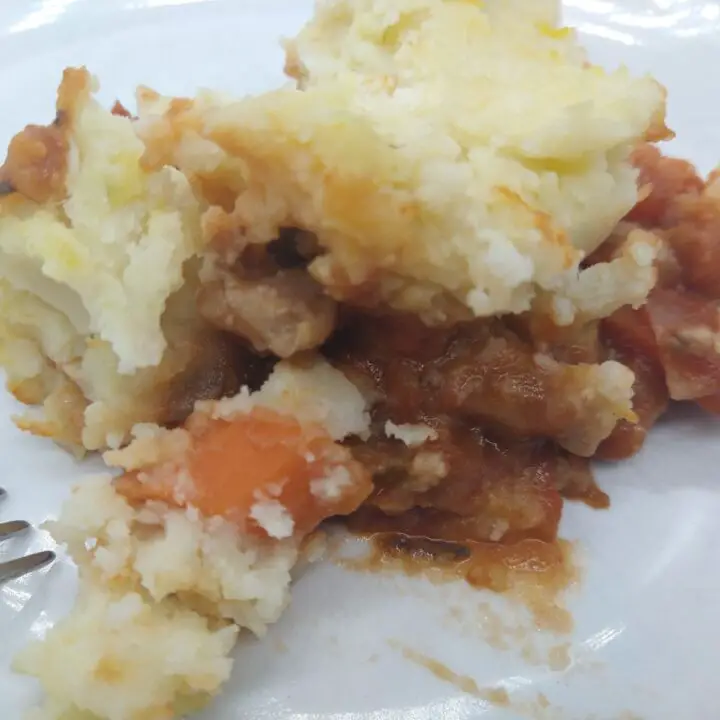 Leftover Lamb Shepherds Pie
Ingredients
3/4 lb of leftover lamb
1/2 white onion
2 cups of sliced/diced carrots
2 stalks of celery
2 tbsp. of minced garlic
1 tbsp. of thyme
1/2 cup of chicken stock, Better than Bullion
1 tbsp. of rosemary
2 tbsp. of Worchester sauce
28 oz. of crushed tomatos
6 red potatoes
3 tbsp. of butter
Instructions
Take your leftover lamb and either dice it or shred it. Once completed put it off to the side
After slicing the celery, carrots and onions, sauté in olive oil for about 10 minutes.
Once you hit the 10 minute mark, you will start to add in the following: thyme, rosemary, lamb, chicken stock, Worchester sauce, and crushed tomatoes.
Stir ingredient together for 15 minutes and then put off to the side until the potato's are ready.
You are going to boil 6 red potato's, can you peel either before boiling or after, whatever your preference is.
When you start mashing, add in 3 tbsp. of butter and 1/2 a cup of milk. If you need to thin out the mashed potato's add in a little more milk.
After your potato's are mashed layer them on top of the shepherds pie ingredients that you set to the side.
After adding the mashed potato's put in the oven or grill at 350° for about 20 minutes or until you get a golden brown hue on the potato's.
Remove and serve while hot
Nutrition Information:
Yield:

8
Serving Size:

1
Amount Per Serving:
Calories:

425
Total Fat:

14g
Saturated Fat:

7g
Trans Fat:

0g
Unsaturated Fat:

6g
Cholesterol:

53mg
Sodium:

347mg
Carbohydrates:

57g
Fiber:

8g
Sugar:

10g
Protein:

18g