Sometimes its cold, or snowing or maybe you just need a quick meal and don't have time to fire up the smoker or grill. Cast iron chicken tacos are a quick and easy way to pull together an amazingly flavorful meal. It is easy on the budget, low on ingredients and quick on time. Its a perfect mid week recipe when you are squeezed to feed the family.
Prepping The Cast Iron Chicken Recipe
The prep on this recipe is almost longer than cooking the chicken. We are going to start with chicken thighs, I used 4 of them and diced them up into smaller pieces, a little bigger than the size of your thumbnail. You can trim some of the excess fat but I don't go crazy with that, the fat adds some great flavor. I made them that small because I was going to be using street size tacos. If you are going to use larger tacos, you could make the pieces of chicken slightly larger.
When it comes to tacos, I will frequently lean towards using chicken thighs, they have more flavor and stand up to the heat better than the chicken breasts. Breasts tend to be better grilled and used for fajitas. Boneless skinless chicken breasts are also great for pulled chicken. If you are looking for a chicken breast recipe or two, try these: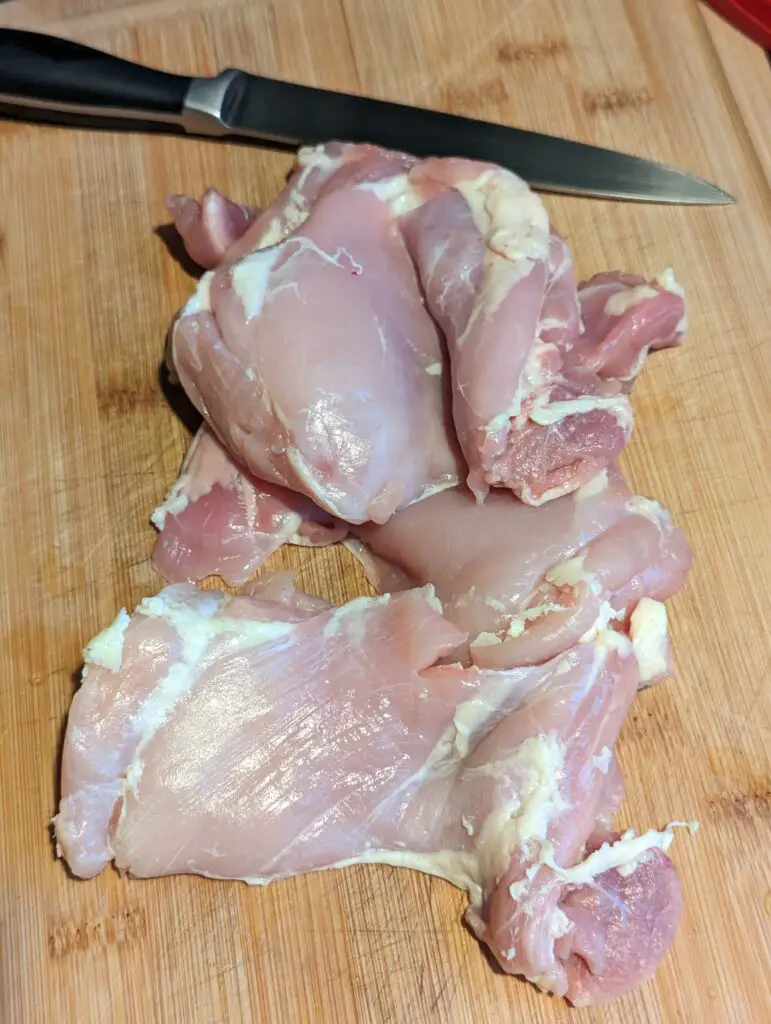 After the chicken has been diced, you start heating either some olive oil or vegetable oil in the cast iron skillet over medium heat. While that is warming up you can mix your dry ingredients together. You are going to need the following:
salt
pepper
garlic powder
cayenne pepper
This a simple combination of spices but yet gives the tacos a flare of authenticity, especially when added with the onions and cilantro.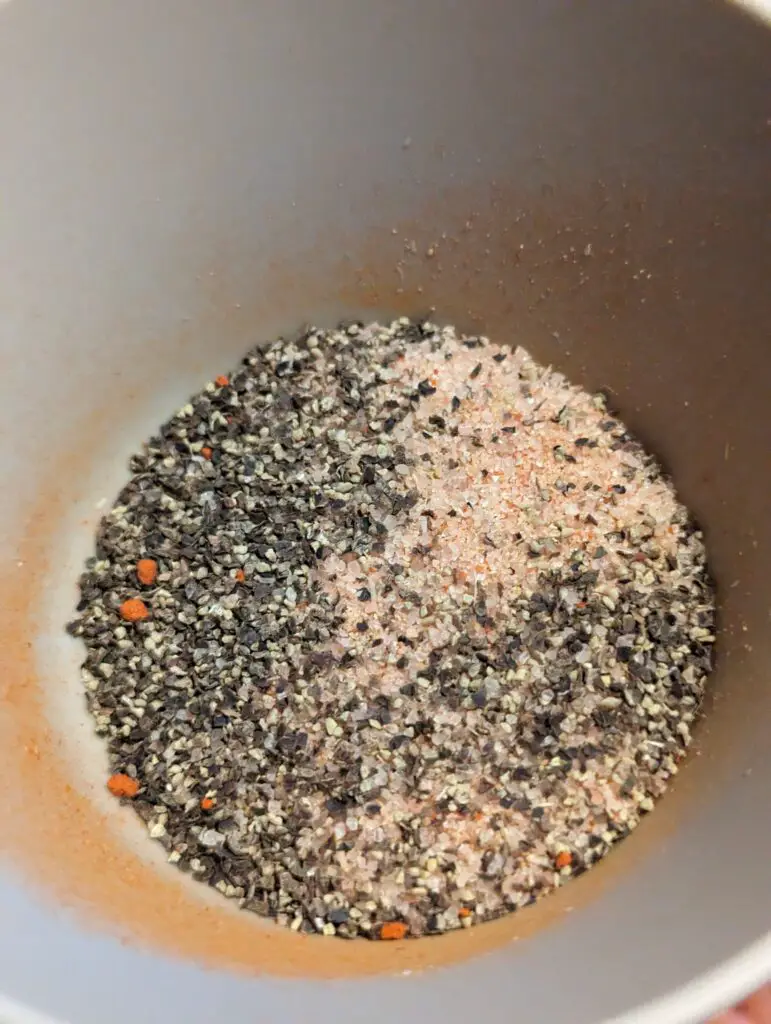 Combine these dry ingredients and put them off to the side. We will add it to the chicken as it is cooking. Whether you do it before or after you will also want to chop some cilantro and white onions for the tacos.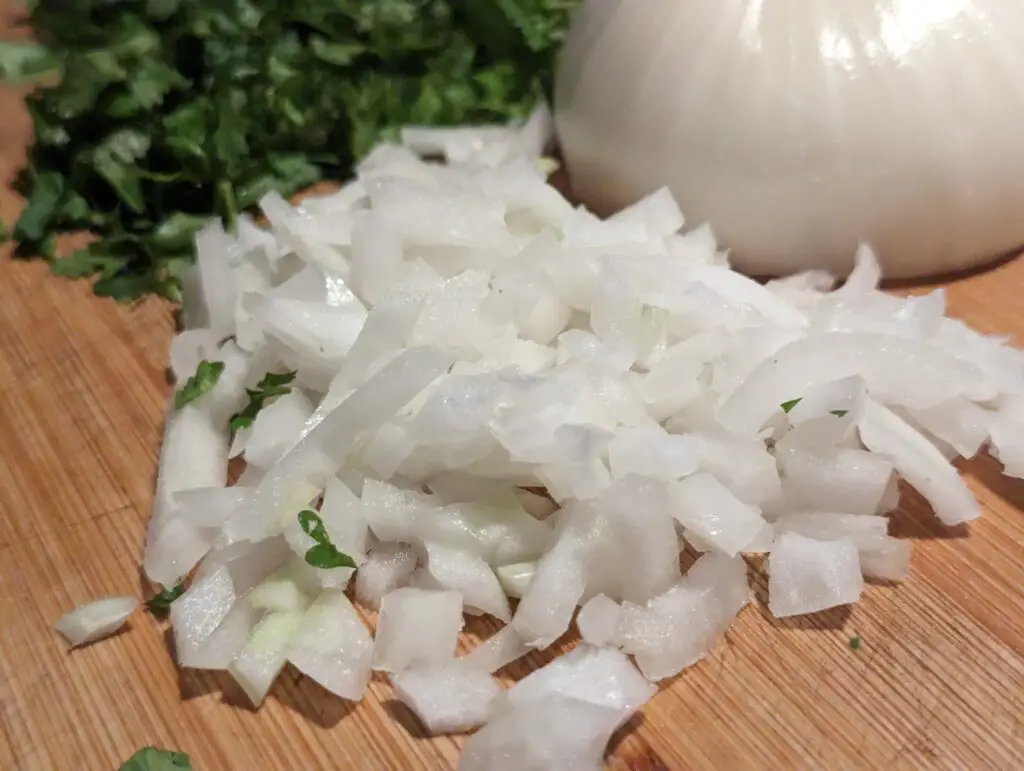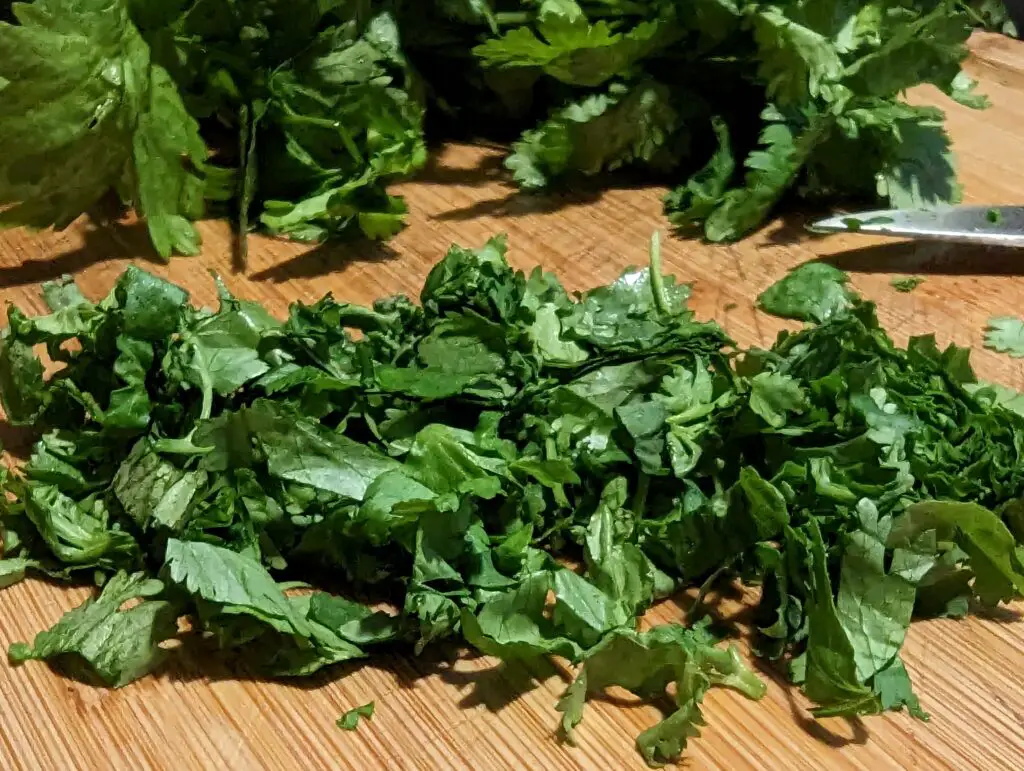 Cooking Chicken In Cast Iron Skillet
Everything is diced and chopped and mixed, now ready to go. We are going to heat up some oil in the skillet. For this recipe I used vegetable oil. Once the oil is heated, you can start adding the chicken. After the chicken is in, go ahead and starting adding the dry spices. I would recommend adding some, stirring the chicken and then adding some more and then stirring again.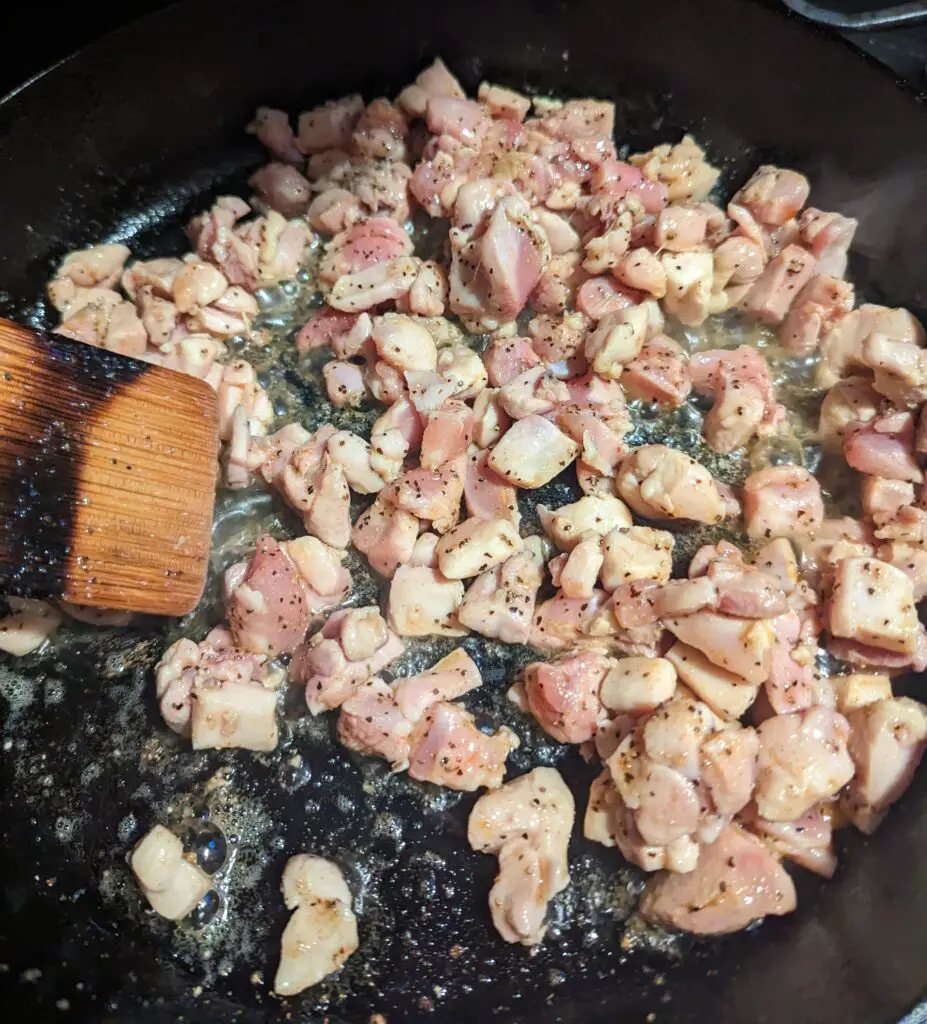 While not on the smoker or grill, a great thing about this cast iron chicken thighs recipe is it saves us the effort of checking internal temperature and needing any kind of meat thermometer. Down and dirty but delicious. Cooking the chicken should only take about 10 minutes, its a rather quick process. The chicken pieces are small and the oil should be hot and ready to go by the time the chicken is added to the skillet.
While this recipe may not call for a thermometer and you are looking for a quality product with a small budget, give the ThermoPro TP20 a try.
Putting The Tacos Together
Chicken is done, onions and cilantro are chopped, we now just need to put the tacos together. If you are making street tacos, you will not need a lot of chicken in each tortilla, maybe a 1/4 to 1/2 cup but you can eye it up. Add onions and cilantro to your taste and then you can top off with some hot sauce or I like using a guacamole salsa as a topping. That is it, its a simple yet authentic street taco.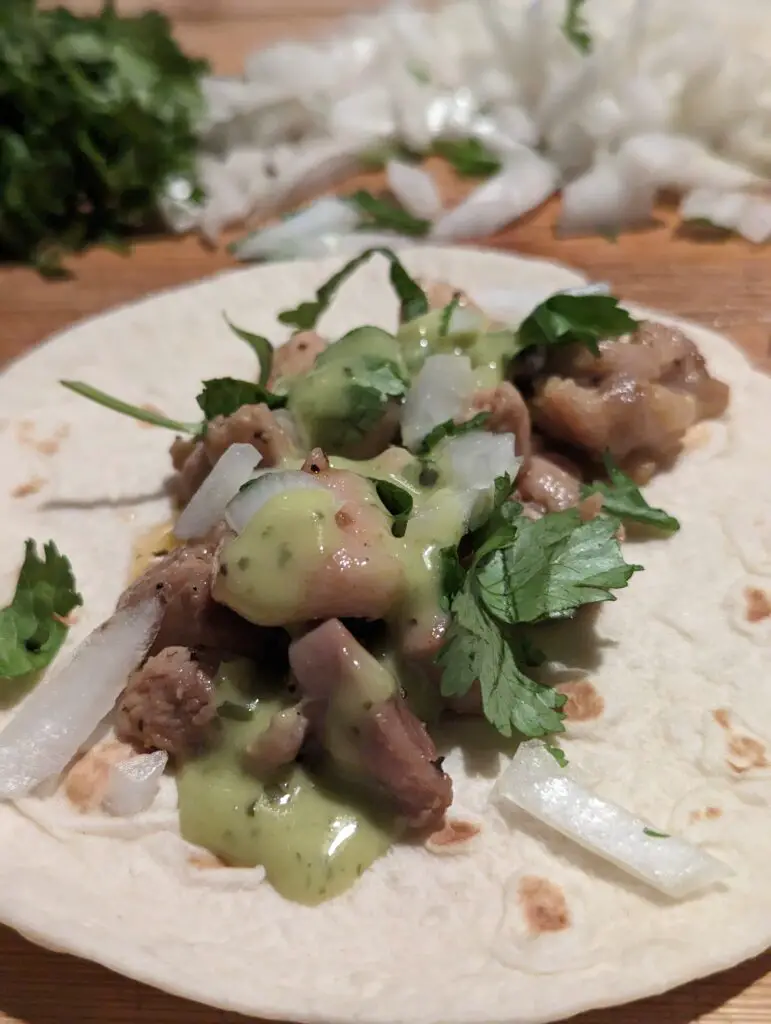 Thanks for being here and checking out this Cast Iron Chicken Tacos recipe. I hope you enjoy it! We always appreciate comments, 5 star recipe rating and social media shares. As always, keep that smoke rolling!
If you are looking for some other chicken recipes and other ideas here are a few suggestions:
This post contains affiliate links. If you use these links to buy something I may earn a commission. Thanks!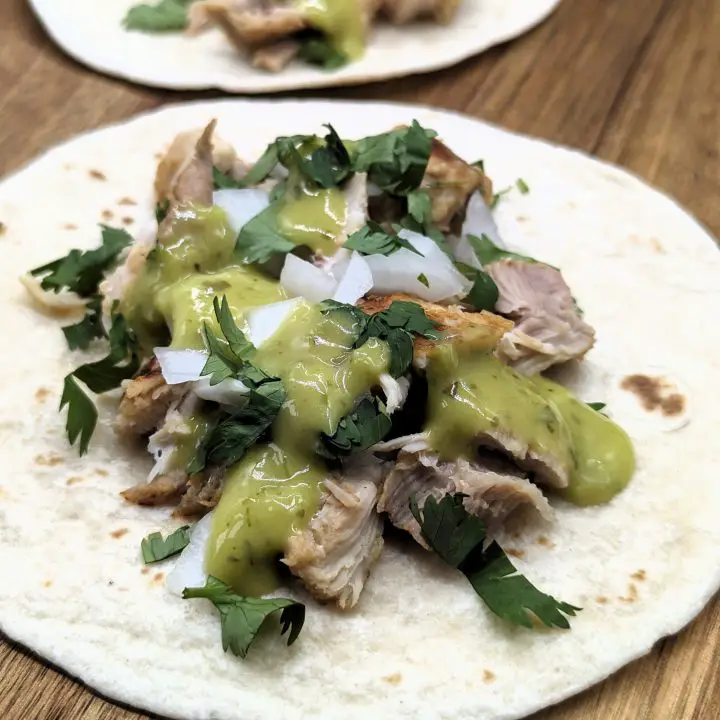 Cast Iron Chicken Tacos
A quick, yet authentic chicken taco recipe for those night you are short on time but want a delicious meal.
Ingredients
4 chicken thighs
2 tbsp. of olive oil
street taco flour tortillas
1 tsp. of salt
1/2 tsp of coarse ground black pepper
1/2 tsp. of cayenne pepper
1 tsp. of garlic powder
1 cup of chopped cilantro
1 cup of diced white onion
Instructions
Dice the chicken into small slightly larger than thumb sized pieces
Heat some olive or vegetable in the skillet over a medium heat
While the oil is heating, combine your dry spices and set to the side
At some point in the process, chop the cilantro and onion
Once the oil is heated, starting adding the chicken.
After the chicken is in the skillet, start adding the dry spices to the chicken
Cook for approx. 10 minutes and then remove from heat
Make the tacos and serve while hot
Nutrition Information:
Yield:

10
Serving Size:

1
Amount Per Serving:
Calories:

160
Total Fat:

10g
Saturated Fat:

3g
Trans Fat:

0g
Unsaturated Fat:

8g
Cholesterol:

67mg
Sodium:

344mg
Carbohydrates:

5g
Fiber:

1g
Sugar:

1g
Protein:

13g