Smoked BBQ Pork Sliders are a great way to use that smoked pulled pork fresh off the smoker or if you happen to have leftovers and want a quick meal. Topping these off with some pepper jack cheese and jalapenos will give them an awesome kick of flavor.
Smoking Pork Butt
I am not going give you a down and dirty version of smoking a pork butt. If you are looking for some more detail, check out our WSM Pulled Pork recipe. If you are looking to make leftover pork sliders, feel free to skip to the next section. With that being said, let's dive into the down and dirty version of smoking a pork butt. The first step is to get your smoker started and set for a temperature of 250°. For this recipe I used some apple wood.
While you a getting your smoker up to temp, you can start prepping the pork butt(s). Whether you are doing on a WSM or a Traeger pellet grill, this overview should apply.
I set my butts and covered them with some yellow mustard as a binder and then hit them with some Holy Voodoo dry rub. Always make sure you get your rub into any cuts and slits in the pork, they can be substantial and help add additional flavor by getting the rub in there. Once that is done, you can go ahead and get them on the smoker.
After putting the pork butt on, add some rub anywhere you may have taken it off while handling the butts. You can then cover and wait. I will usually hit the pork with some apple cider vinegar spritz 2-3 times during the smoking process. Once you see the bark developed they way you want you can wrap in foil or butcher paper. I typically use butcher paper. The butcher paper will hold the bark better than the foil but use what you have, no real flavor is lost. You will usually wrap about 6-7 hours in.
The pork butts will likely stall out around 160, if you are looking to read more about the stall, check out our article here.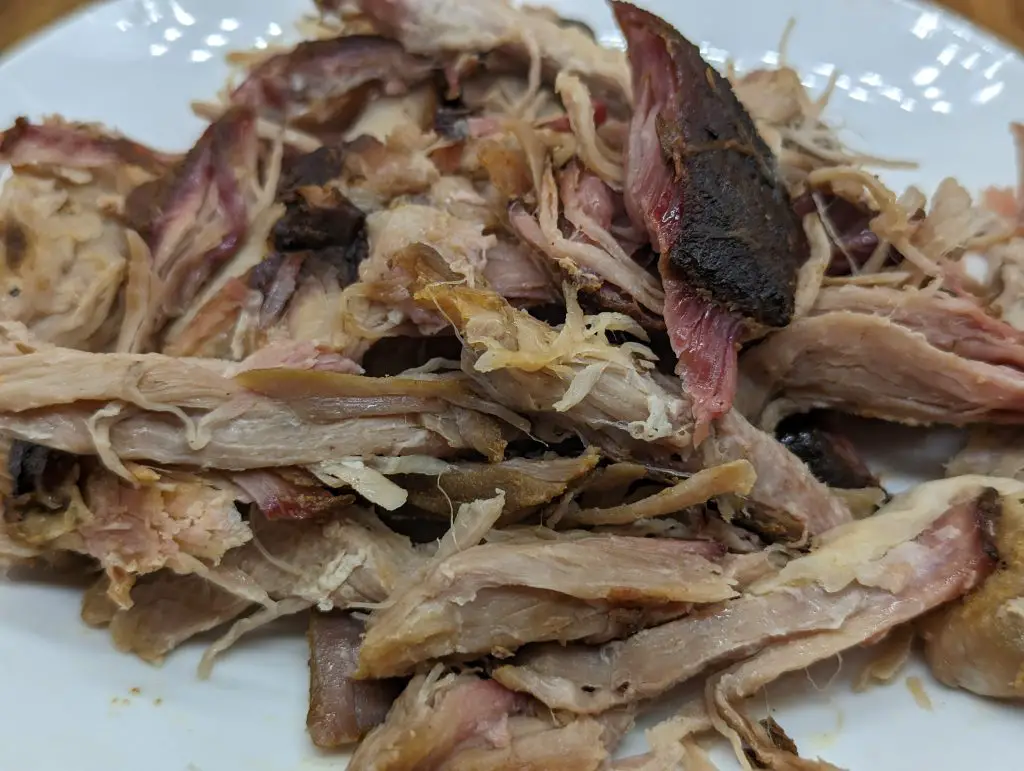 Once you get your butts to an internal temperature of about 205 you can pull. If you are not sure its ready based on the temperature, if its probe tender, you should be good to go. You will then want to let the pork butts rest for 30-45 minutes before pulling. After the rest period go ahead and pull the pork.
Slider Recipes
Looking for some other slider recipes? We have you covered:
Smoked BBQ Pork Sliders On Hawaiian Sweet Rolls
It is now time to make our smoked BBQ pulled pork sliders. We are going to start off by cutting our slider buns. There are two ways to do this, you can leave all the rolls connected as they come and slice the rolls in half. The other way is to separate them one roll at a time and slice in half. Not sure there is a right or wrong way to doing this and a case can be made both have their pros and cons.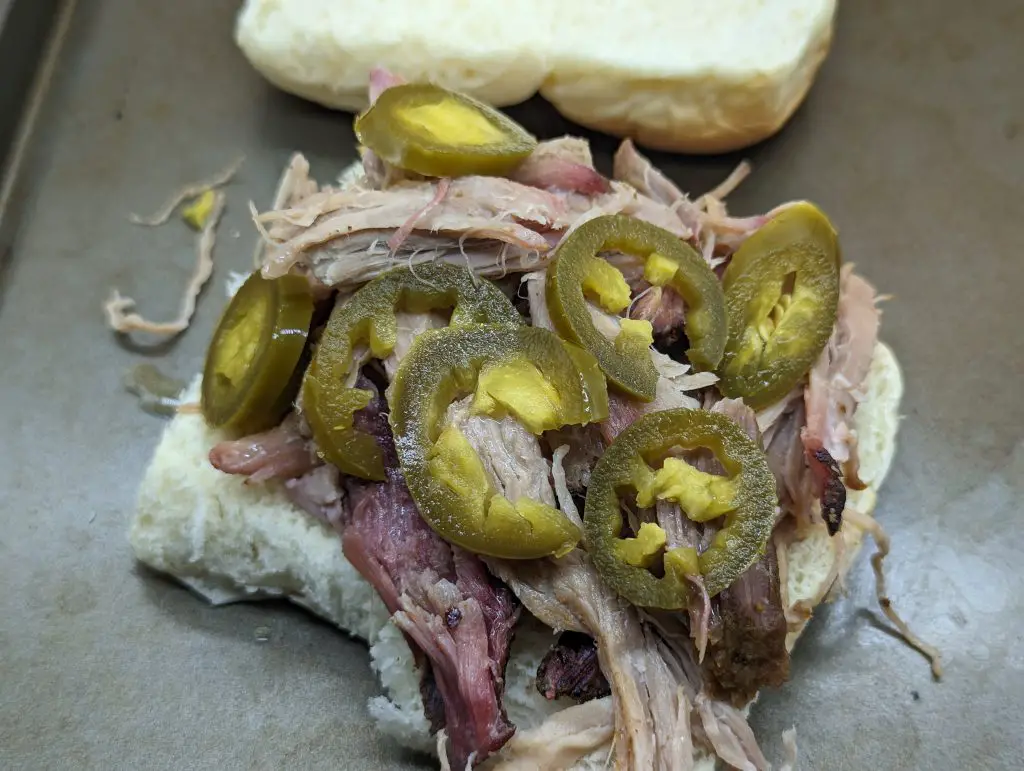 Once you have your buns sliced you can go ahead and add the pulled pork to the buns. The next thing that will need to be added will be the diced jalapenos. You can choose to use fresh ones, I opted for the sliced and pickled ones in a jar. A little bit of that liquid from the jar adds some great flavor and make the sliders just a little more juicy.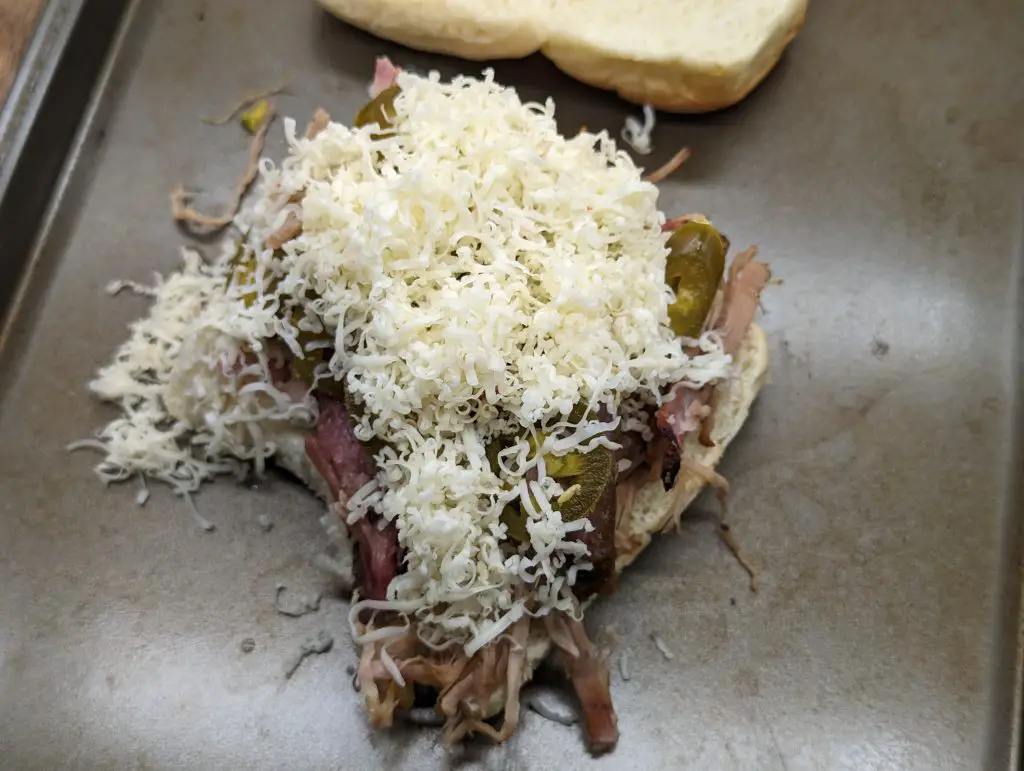 After the jalapenos are on, we are going to add some cheese. I used freshly shredded pepper jack cheese for this pulled pork slider recipe. You can use something out of a bag that is already shredded. I liked how the cheese melted when freshly shredded and will definitely do that again. Now that the pork, peppers and cheese are on, we can top that off with the top half of the bun and move onto brushing it down with some melted butter.
Now with the rolls brushed down with butter we are going to throw them either on the grill (indirect heat) or oven @ 350°. It will be a quick, about 5 minutes, just enough to melt the cheese and brown the rolls. As soon as you see the cheese having melted and the rolls browning just a bit up top, you can go ahead, pull them and serve while hot.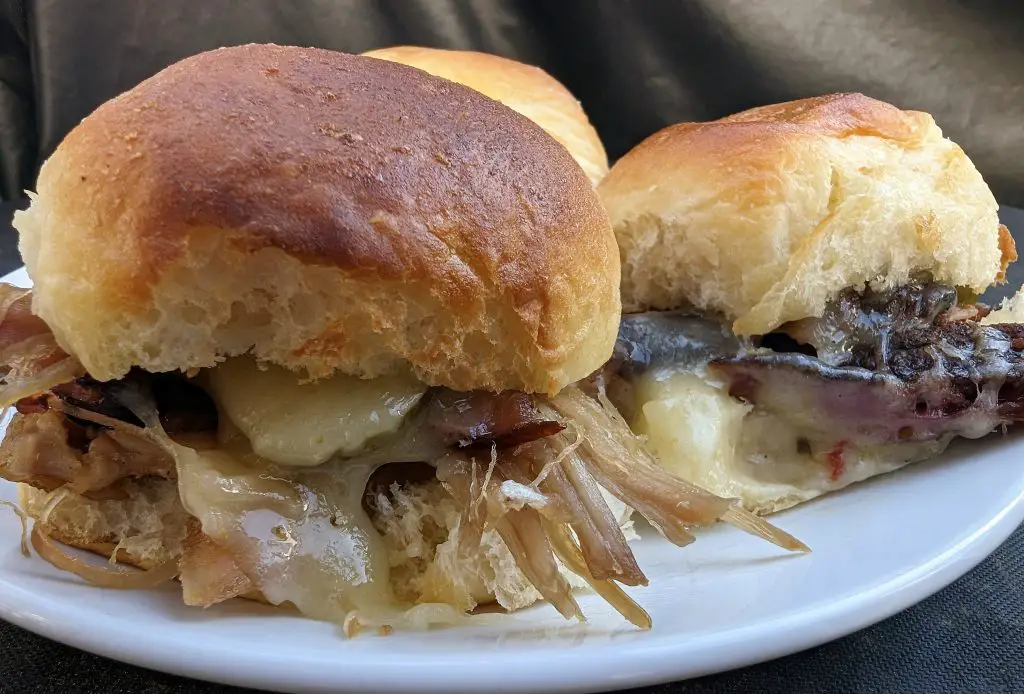 Concluding Our Smoked BBQ Pork Sliders
This is a great recipe that is so versatile, whether you are pulling the pork butts off the smoker and throwing these pulled pork sliders on King's Hawaiian rolls together for a party or you have some leftover pulled pork and using it to makes these sliders.
If you are looking for a great side to pair with these smoked BBQ pork sliders, take a look at our Easy Mexican Cole Slaw recipe.
Thanks for being here and checking out this smoked BBQ pork sliders recipe. I hope you enjoy it! We always appreciate comments, 5 star recipe rating and social media shares. As always, keep that smoke rolling!
Here are other recipe suggestions you may be interested in:
Smoked BBQ Pork Sliders
Additional Time:
45 minutes
Total Time:
11 hours
5 minutes
Smoked pulled pork sliders are a great way to leverage leftovers or if you are planning for a large party. The butter combined with the kick of pepper jack cheese and jalapeano slices will be a pleaser.
Ingredients
8 oz Pulled Pork Butt
4 Kings Hawaiian rolls
Holy Voodoo dry rub
yellow mustard for binder
4 oz. shredded pepper jack cheese
jalapeno slices to taste
1 tbsp. of melted butter
Instructions
Prepare smoker for 250° with apple wood
Prep butts, with mustard binder and Holy Voodoo
Smoke until IT reaches 205°-210°
Let rest for 30-45 minutes
Pull pork
Shred pepper jack cheese
Place pulled pork, jalapeno slices and cheese on rolls
Place top of bun on, coat with melted butter and place in oven or grill @ 350° for 5-10 minutes until cheese is melted and rolls slightly brown on top.
Nutrition Information:
Yield:

2
Serving Size:

1
Amount Per Serving:
Calories:

649
Total Fat:

32g
Saturated Fat:

18g
Trans Fat:

0g
Unsaturated Fat:

12g
Cholesterol:

138mg
Sodium:

1321mg
Carbohydrates:

54g
Fiber:

4g
Sugar:

27g
Protein:

35g