This shaved and smoked pork loin sandwich injected and basted with a Carolina injection is topped off with a great compliment of a Carolina based honey mustard dressing. From start to finish this smoked pork loin sandwich is easy, yet bursting with flavor.
The Difference Between A Pork Loin And A Pork Tenderloin
Before we dive into the recipe, I want to briefly touch on the differences between pork loin and pork tenderloin. On social media it is not uncommon for people to think they have a pork loin when they might have a tenderloin or vice versa. So what exactly is the difference?
What Is Pork Loin?
Pork loin is a leaner cut of meat from the back of the pig. It is most likely to be bought boneless but can be found with the bone in. If you are a Costco shopper you will find the boneless version there. It is thicker and longer than a tenderloin. It will also have a decent fat cap on it. Pork loin is better smoked hot and fast, or if grilled, seared and then roasted over medium heat. Because it is leaner cut of pork, it is not good for a shredded pork and is best served sliced or as pork chops.
What Is Pork Tenderloin
Tenderloin is also a leaner cut. It is the muscle that runs along the backbone of the pig. It is always going to be boneless. If you are buying at Costco it is sold in packs of two. When compared to a loin, it is smaller and not as thick. There is no real fat cap on a tenderloin. In a similar fashion to the loin, smoked pork tenderloin needs to be done hot and fast or if grilled done so in the same manner as the loin. Both, if not cooked correctly are subject to being dried out.
The smaller size of the tenderloin lends itself not so much to a pork tenderloin sandwich as much as it does a slider.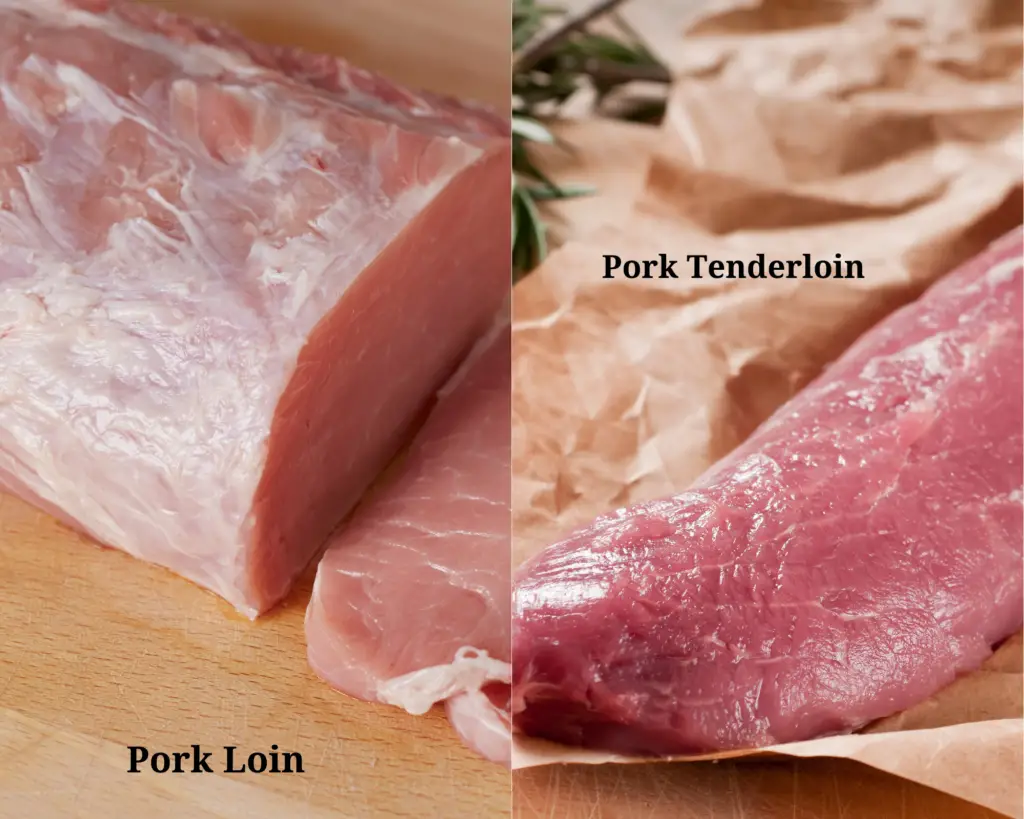 If you are looking for a couple of pork recipes here are some suggestions:
How To Smoke A Pork Loin
Our first step will be smoke our pork loin. As I mentioned above this will be a hot and fast smoke. The first thing we are going to do is make our injection. This injection is a Carolina flavor, with some great tang to it. Pork loin can dry out so the injection will aide us keep this very moist and tender. There should be enough for the injection and then to baste while we smoke.
For the injection we will need the following:
1/2 cup distilled white vinegar
1/2 cup apple cider vinegar
1/2 cup of water
2 tbsp. of brown sugar
1 tsp. red pepper flakes ( for this recipe I used FlatIron pepper flakes. I highly recommend if you have never tried them)
1 tsp. of chopped onion flakes
1 tsp. minced garlic (You can use powder if you would like. In this application it does not matter that. Just watch that you don't suck it into your injector)
1 tsp. dry mustard
1/2 tsp. of black pepper
When making this injection, I let the injection sit for about 6 hours before using it. It really allows the flavor to blend together. With some of these flakes, you may need to strain it out, depending on what kind of injector you are using. I point that out so you avoid clogging up the injector.
With your pork loin injection ready go ahead and generously inject the pork loin. Save a little for a baste. Once you are done with the inject we can get it on the smoker.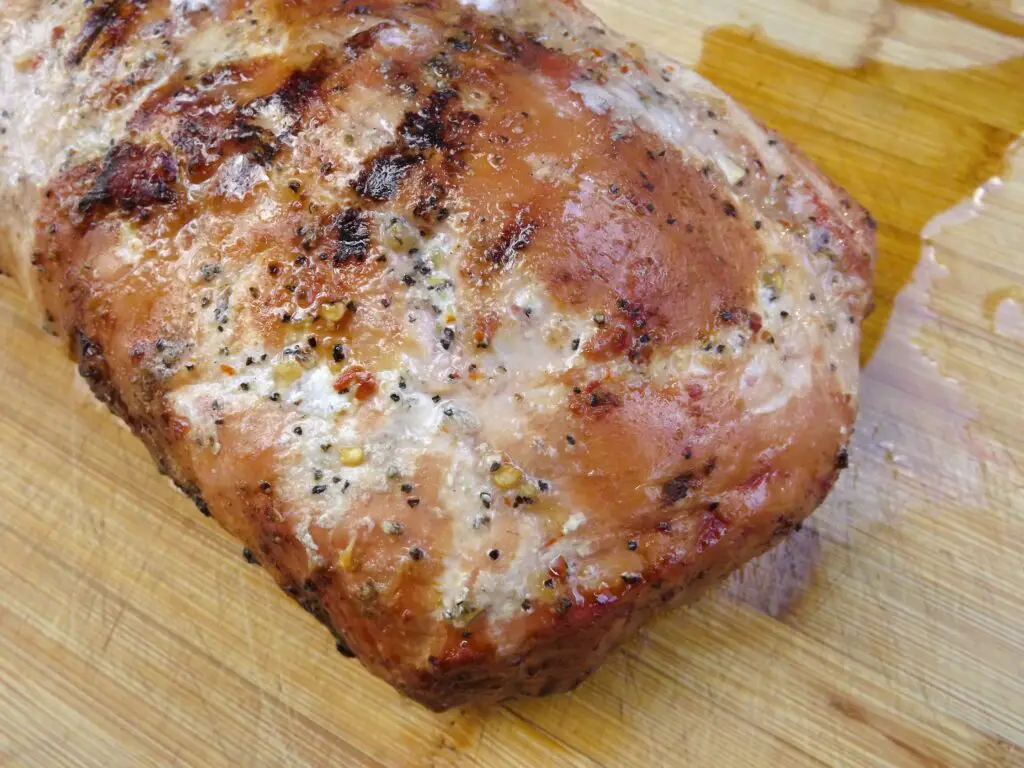 Now that you have the injection together we can move on to the smoker prep and loin prep. I did this recipe on my Weber Kettle, using Kingsford briquettes, hickory wood and the snake method. You are going to want to get the Kettle up to about 375°. With the pork loin on the smoker you will then baste it about every 30 minutes or so. This took about just under two hours to get to 135°. Whether cooking this on the Kettle or a pellet grill, these instructions should not really change.
At that point I pulled it and then did a reverse sear on it. I did about 3 minutes on each side. You are looking for an internal temperature of 145° on the pork. Once done, let the pork loin rest for about 30 minutes, tented with some foil.
For these single meat smokes, I use my ThermoPro TP20. Take a look, a great value!
If you want to dive a bit more into the details on how to smoke pork loin, check out our recipe for smoked pork loin here.
Pork Loin Sandwich Sauce
Call it a sauce or a dressing but for this recipe we are going to top these pork loin sandwiches off with a tangy honey mustard dressing. You can work on this while the pork loin is smoking. You will need the following ingredients with the details in the recipe card:
yellow mustard
honey
brown sugar
apple cider vinegar
ketchup
minced garlic
paprika
hot sauce
pepper
kosher salt
You are going to mix these together and then in a small pot, let it simmer together for about 10 minutes. How you serve this is up to you. It could be hot, cold or room temp. Your call, I like it out of the regfrigator.
Putting The Smoked Pork Loin Sandwich Together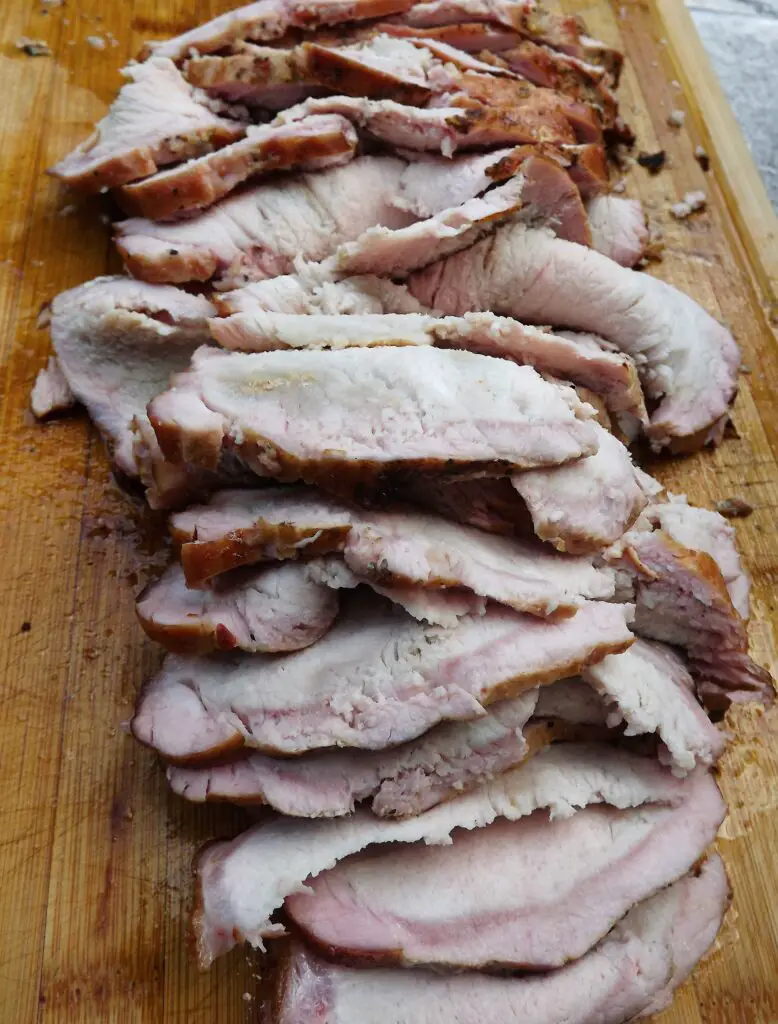 Now we can start putting our smoked pork sandwiches together. The first thing we need to do is, shave the pork loin. We are going to shave off the loin, into thinly sliced pieces. We do not want slabs of pork loin on the sandwich, just a pile of shaved pork loin.
I used fresh artisan rolls for this recipe, a great choice in hindsight. I assumed this would be a good combo but did not know until the first time I tried it. Now that the shaved pork is on the sandwiches we can add our tangy honey mustard dressing and we are ready to serve!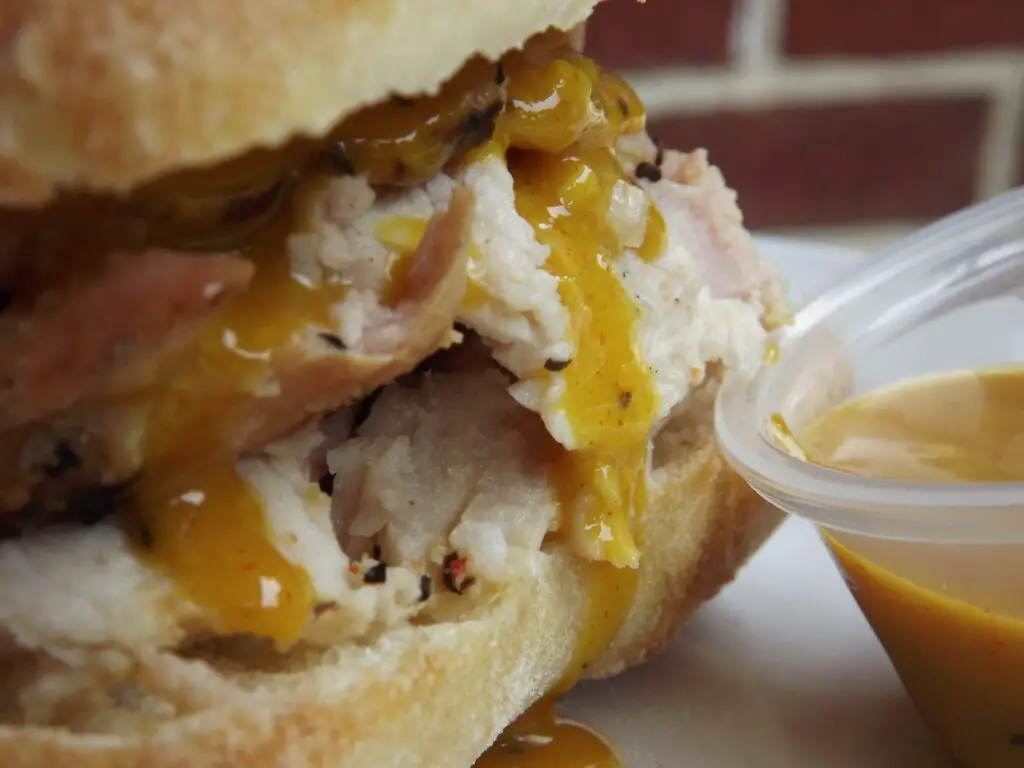 This is an easy dish to serve and makes for a casual evening dinner. The leftovers are just as good as when its first served.
Thanks for being here and checking out this Smoked Pork Loin Sandwich recipe. I hope you enjoy it! We always appreciate comments, 5 star recipe ratings and social media shares. As always, keep that smoke rolling!
If you are looking for some other delicious recipes, here are some suggestions:
Smoked Pork Loin Sandwich
Additional Time:
30 minutes
This shaved and smoked pork loin sandwich injected and basted with a Carolina injection is topped off with a great compliment of a Carolina based honey mustard dressing. From start to finish this smoked pork loin sandwich is easy yet bursting with flavor.
Ingredients
Pork Loin Injection/baste
1/2 cup distilled white vinegar
1/2 cup apple cider vinegar
1/2 cup of water
2 tbsp. of brown sugar
1 tsp. red pepper flakes ( for this recipe I used FlatIron pepper flakes. I highly recommend if you have never tried them)
1 tsp. of chopped onion flakes
1 tsp. minced garlic
1 tsp. dry mustard
1/2 tsp. of black pepper
Honey Mustard Dressing
3/4 cup yellow mustard
1/4 cup honey
1/4 cup brown sugar
1/2 apple cider vinegar
1 tbsp. ketchup
2 tbsp. minced garlic
1/2 tsp. paprika
1 tsp. hot sauce
1/2 tsp. pepper
1/2 tsp. kosher salt
1 dozen artisan rolls
4lb of pork loin
Instructions
Make your injection, let the injection sit for about 6 hours.
Once ready, strain the injection and inject into the pork loin, generously. Save some for basting during the smoke.
Get smoker to a temperature of 375°, using hickory wood
Place pork loin on the smoker and baste every 30 minutes
After the pork reaches an IT of 135° you can reverse sear, 3 minutes on each side.
Let rest for 30 minutes.
You can make the dressing at any point in time and refrigerate.
Thinly shave the pork loin, layer on artisan roll, add dressing and serve
Nutrition Information:
Yield:

12
Serving Size:

1
Amount Per Serving:
Calories:

390
Total Fat:

15g
Saturated Fat:

5g
Trans Fat:

0g
Unsaturated Fat:

8g
Cholesterol:

121mg
Sodium:

262mg
Carbohydrates:

18g
Fiber:

1g
Sugar:

4g
Protein:

43g
This data was provided and calculated by Nutritionix on 8/17/2022