Every August-September we run into Hatch Chile season when hatch chiles are abundant so everyone needs a recipe for smoked hatch chiles with chicken thighs to make. This a great recipe that is simple and quick on the smoker. You can pull this off midweek and the kids and adults will all enjoy this one.
What Are Hatch Green Chiles
Hatch Chiles are grown in the Hatch Valley of New Mexico. The chiles are typically harvested between the months of August and September and if the weather cooperates into October. You will see them in abundance in your grocery store during this time frame. The rich soil and climate in the Hatch Valley allow for the unique Hatch Chiles to grow there.
Preparing The Chicken Thighs
We are going to lay the thighs in a foil pan, you can use a cast iron skillet if you prefer. I like the easy clean up and being able to throw the pan away. For this recipe I used roasted hatch chiles. I laid them down in the pan, then placed the thigh on them. Once the thighs are in we are going to add our marinade.
We are going to mix in a bowl some chicken broth, tequila and lime. Stir them together and then we are going to pour the mixture into the pan and we are going to let the thighs marinate for about 2-3 hours. After the marinade is in, you can coat the thighs with some salt and pepper to taste.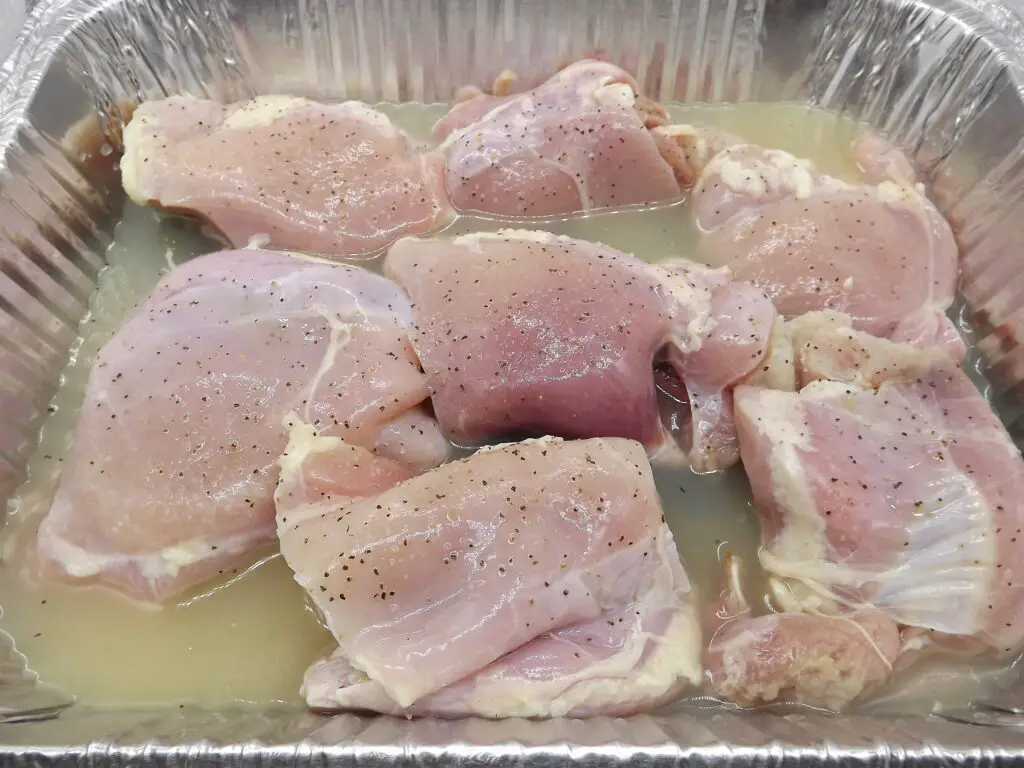 My suggestion is marinade based on how spicy you like your food. The longer its in there the hotter it is going to be. We like hot here, so I went 3 hours. You may want to back it down a bit if you prefer it to be a bit more mild. If you wanted to place the thighs in a Ziploc plastic bag and marinade them that way you could do that as well.
Salsa Verde
While your are marinating the chicken or smoking it, you can make your salsa Verde that we are going to use to top this dish off. I used this salsa Verde recipe from M.A. Kitchen. You can check it out here!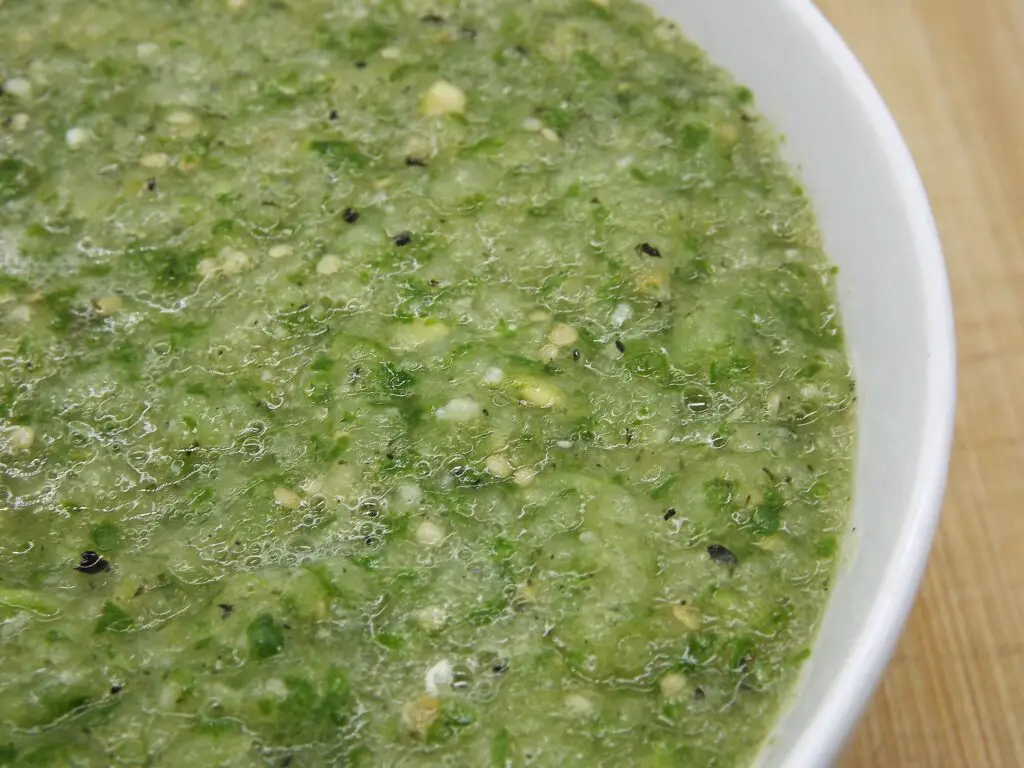 It is a super easy recipe and goes so well with this chicken recipe. The only change I made and its not really change but I used the roasted hatch chile peppers, instead of another style of pepper. Everything else I followed exactly as it is laid out.
Smoking The Roasted Chiles and Chicken
The smoker part is easy, you will want to get it going at 250°, with some pecan wood. Once the smoker is ready, you can go ahead and put the chicken on, still in the pan, with the chiles, on the smoker. Once on the smoker, you will leave it for about 90 minutes. If you wanted to take a quick minute halfway through and either baste with the liquid in the pan or flip the chicken you can do that but neither is necessary.
You are going to let this thighs go until at least 165° IT. I am ok if they go longer, I will usually let thighs go upwards of 175° because they can handle the higher IT. Especially in all this liquid, there are no concerns of them drying out.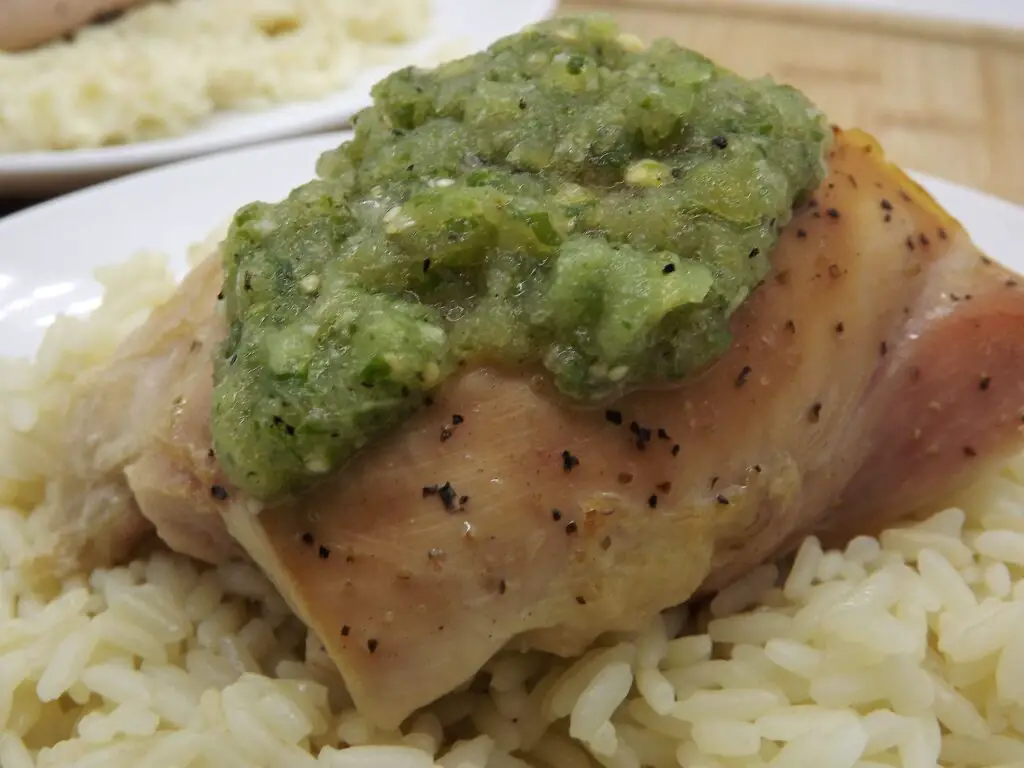 Once you get to an IT of 165° or higher, go ahead and pull these. They are ready to go, give them 5-10 minutes to rest and you can serve. I did these over a bed of rice but you can choose something else. I then topped of with the above mentioned Salsa Verde recipe and had an amazingly flavorful meal.
Smoked Hatch Chiles With Chicken Thighs Conclusion
Thanks for being here and checking out this Smoked Hatch Chiles With Chicken Thighs recipe. I hope you enjoy it! We always appreciate comments, 5 star recipe rating and social media shares. As always, keep that smoke rolling!
If you are looking for some other recipes, here are some suggestions:
This post contains affiliate links. If you use these links to buy something I may earn a commission. Thanks!
Smoked Hatch Chiles and Chicken Thighs
Cook Time:
1 hour
30 minutes
Additional Time:
10 minutes
Total Time:
1 hour
55 minutes
Ingredients
3 lbs. of chicken thighs
16 oz of chicken broth
6 oz. of roasted hatch green chiles
1/4 cup of lime
1/4 cup of tequila
salt and pepper to taste
Instructions
Combined the thighs, hatch chiles, broth, tequila and lime juice and marinade the chicken for up to 3 hours. The longer it marinades the hotter the chicken will be.
Get the smoker up to 250° using pecan wood.
Place the pan on the smoker, you can either baste with the liquid in the pan or flip the thighs half way through but not necessary
After the thighs hit an internal temperature of 175° you can remove, let rest for 10-15 minutes and serve.
Top with Salsa Verde over a bed of rice
Notes
Visit here for a salsa verde recipe. We used it and love it! https://www.maricruzavalos.com/tomatillo-salsa-recipe/
Nutrition Information:
Yield:

7
Serving Size:

1
Amount Per Serving:
Calories:

447
Total Fat:

27g
Saturated Fat:

8g
Trans Fat:

0g
Unsaturated Fat:

19g
Cholesterol:

250mg
Sodium:

646mg
Carbohydrates:

4g
Fiber:

1g
Sugar:

2g
Protein:

47g