Are you looking to take your outdoor cooking skills to the next level? Look no further than this Weber kettle pizza recipe. With its iconic design and versatile capabilities, the Weber kettle grill is not just limited to grilling steaks and burgers. In this article, we will explore a delicious and easy-to-follow recipe that will transform your trusty kettle grill into a backyard pizza oven. Get ready to impress your family and friends with mouthwatering homemade pizzas cooked over a charcoal and wood fired open flame!
How To Set Up Your Charcoal Grill Pizza Oven
I used the OnlyFire pizza oven and rotisserie combo. This is a great unit and have absolutely loved using it. If you are in the market for a pizza oven or rotisserie I highly recommend getting this one. The pizza oven kit, beyond the stainless steel attachment for the Weber Kettle also comes with all the pizza accessories you will need. A stone and pizza peel, so you are ready to start making pizza, out of the gate, with this one purchase.
For starters we are going to get a full chimney going, as we are going to want to push out temperatures upwards of 600°, I got mine to 650°. While the chimney is getting started, layer down some unlit coal on the bottom of the charcoal grate, placing them more along the backside from where your pizza oven opening will be. These additional coals will just provide more fuel and help you get that temperature to 600° and above. While the chimney is getting going, you can start working on the pizza which I will detail more below.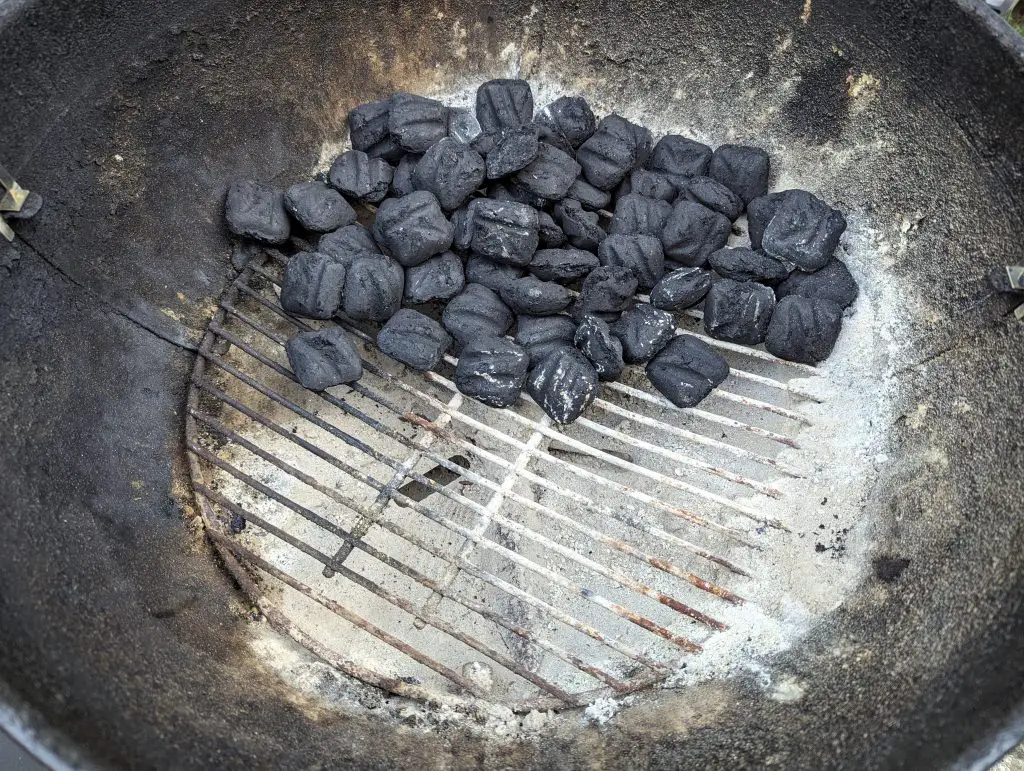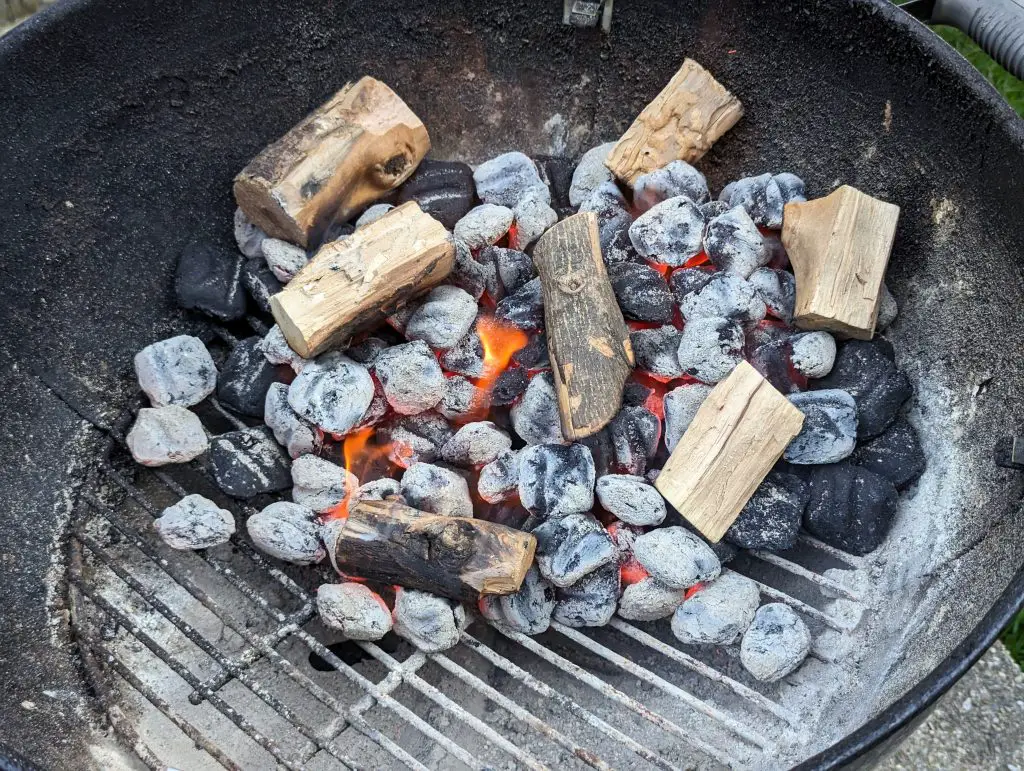 Once the chimney is ashed over, throw the coals in, again more along the back side of the kettle, covering the unlit coals you already threw in there. After you have dumped the chimney we are going to throw some wood in on top of the coals. This will serve 2 functions:
Continue to aid in getting that temperature up to the 600°+ mark
Give you that wood fired flavor on the pizza. While we are not smoking it, we are still getting that flavor of wood and charcoal, making this a more unique flavor on the pizza. This is such a fast cook, it really does not matter what kind of wood you use, I went a mix of apple and pecan.
There is something different and better about wood fired pizza ovens. If you have ever had New York City pizza, then you would know and understand, the pizza is just better. While not giving you that same exact flavor we get this pretty close considering you are doing it at home on a Weber Kettle. This will be sure to have everyone coming back for seconds!
So you have dumped the chimney, added the wood and you can now put the grate back on, as well as the pizza oven attachment. While you are finishing up the pizzas, place the pizza stone on the grate and let it warm up. This will give you a nice crispy crust. The Kettle should get up to temperature fast, with all that fuel, so if your are not ready with the pizza, you can get it ready as soon as you can and get it in the oven.
Weber Pizza Recipe
So this recipe will make one pie. How many slices and people it feeds will be determined by how thin or thick you make this pizza, as well as their appetite. The key to success when making this pizza is corn meal. After having learned the hard way several times, the dough needs more than just flour to keep it from sticking to the stone, pizza peel and the surface you are kneading the pizza on.
Start off by mixing some corn meal and flour together, about 1/4 cup of each, layer it out on the counter or whatever you may be kneading the dough on. I used a cutting board as this helps transition the pizza into the oven later on. The recipe call for 16 oz of store bought dough. Keep working it until the pizza is as big as you want. I checked the pizza against the peel to ensure its not any bigger than the peel.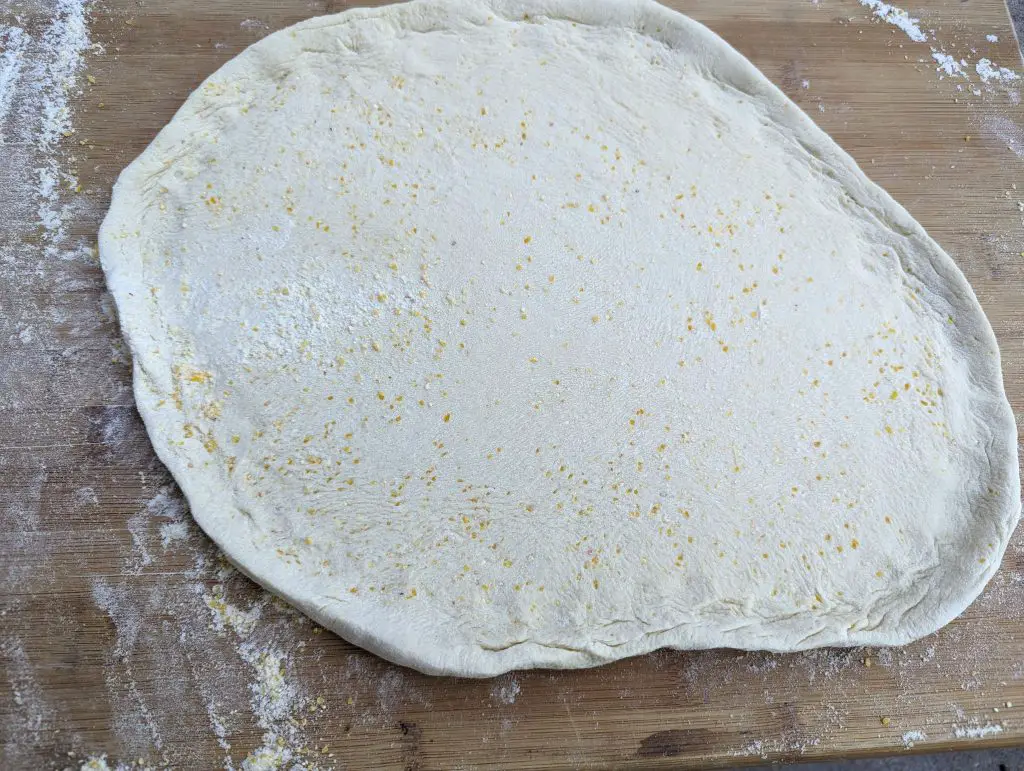 Once you have the pizza dough, where you want it, we can start by adding the tomato sauce to the dough, you will use about a 1/3 cup. After the tomato sauce, we are going to add some seasoning consisting of oregano, salt, pepper, garlic powder and if you want a big of a kick of heat, some crushed red pepper flakes. The crushed red pepper flakes are a great addition but you can definitely skip this step if that is not what you are looking for on your pizza.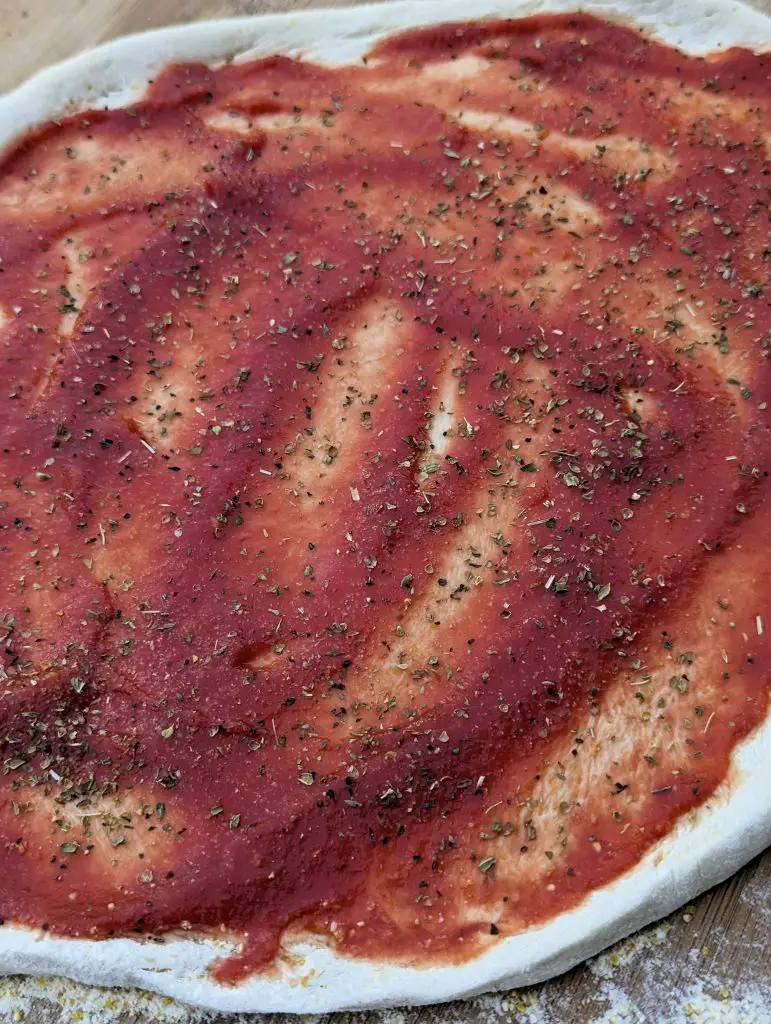 Once your spices are on, we are can move onto the cheese. You can buy a bag of shredded mozzarella cheese or make some freshly shredded the cheese yourself. You will need approximately 1/2 cup of shredded cheese. Go with however much cheese you like, some like it cheesier than others. After having topped off the pizza with these ingredients you are ready to get it on the Kettle.
Cooking Pizza In A Kettle Pizza Oven
So the stone is already in the oven, you are now going to transfer the pizza onto the stone into the oven. I did this using the cutting board in conjunction with the pizza peel. I used the cutting board and held it up to opening of the oven and then used the peel help slide it off the board onto the stone in the grill.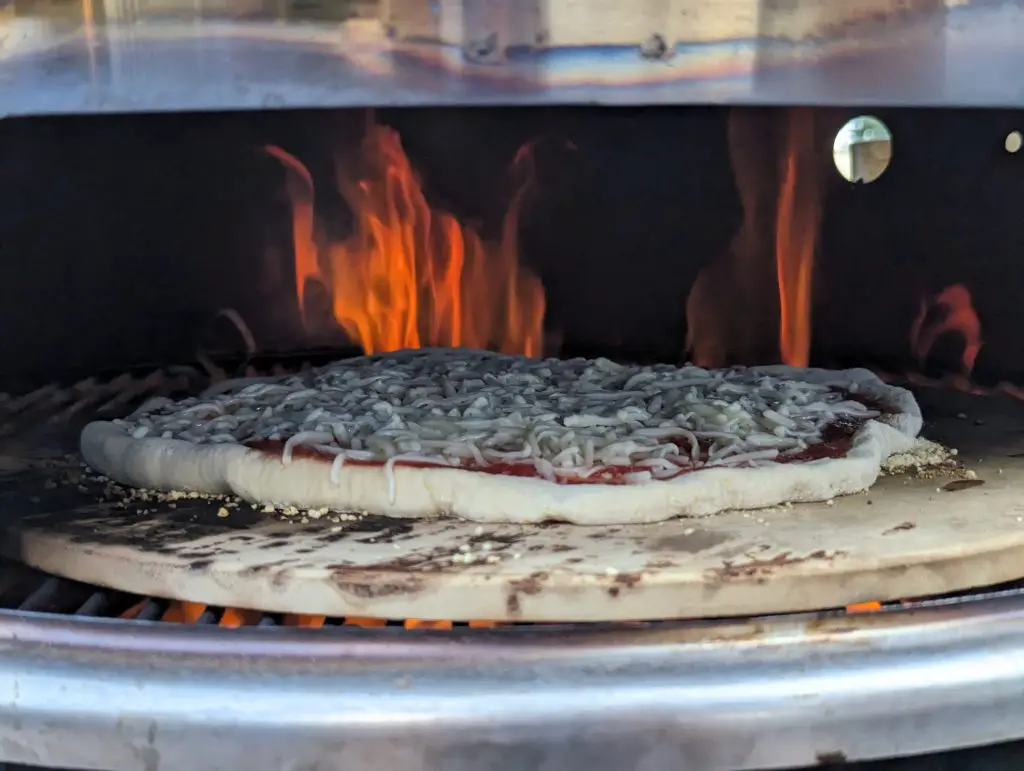 Once you have the pizza on, don't go too far because depending on your temperature, this will be about a 7-10 minute cook. The way we have the charcoal and wood banked towards the back side of the Kettle, we are going to want to spin this pizza about halfway through the cook. Your best bet is to spin the stone and not to try rotate the pizza on the stone. So after about 3-4 minutes, turn the pizza. When you do this, you will have to go by look, if you like how the pizza is looking, you can turn it.
After turning it and giving it another 3-4 minutes you can pull the pizza. If you are just making one pizza and its easier to remove the stone you can do that. Warning! The pizza stone is going to be hot! If you plan on making another pie, leave the stone in there and shift the other pizza onto the stone. Once pulled, give the pizza a few minutes to cool. Once cooled enough to handle, slice and serve this delicious pizza!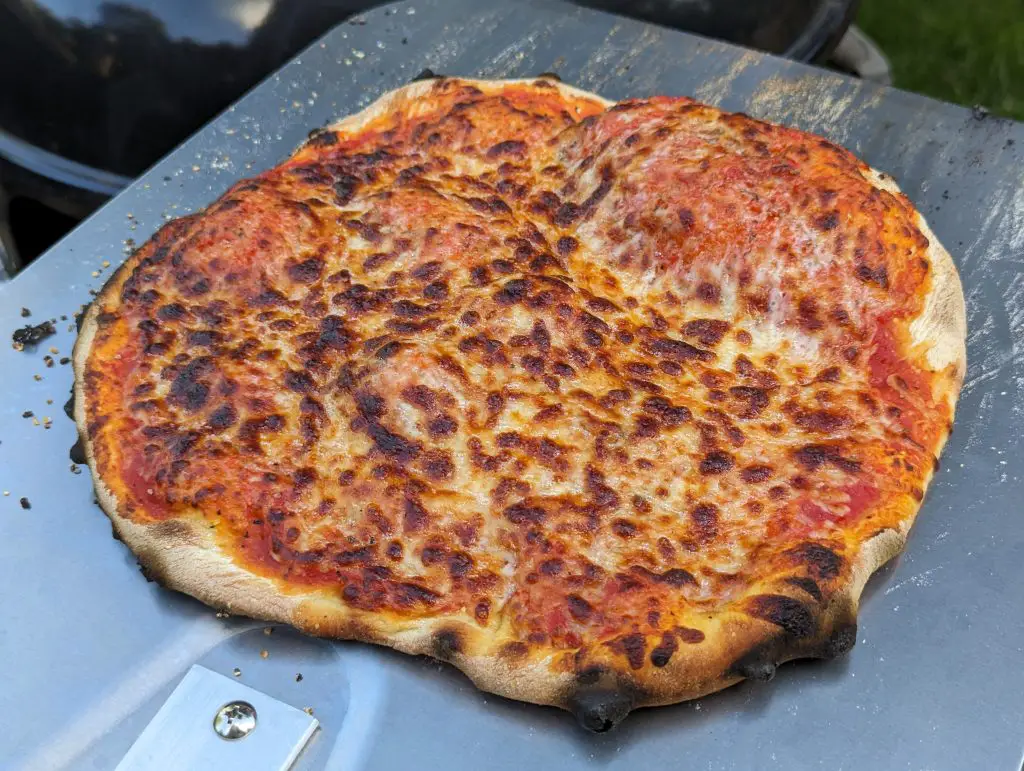 Wrapping Up Weber Kettle Pizza Recipe
The Weber Kettle Pizza recipe offers a delicious and easy way to create homemade pizza right in your own backyard. With just a few simple steps and minimal ingredients, you can enjoy the taste of freshly made pizza with a unique smoky flavor that only a charcoal grill can provide. Whether you're hosting a summer cookout or simply craving a homemade slice of heaven, this recipe is sure to impress both family and friends. So fire up your Weber kettle grill, gather your favorite toppings, and get ready to indulge in an unforgettable homemade pizza experience.
Thanks for being here and checking out this Weber Kettle Pizza recipe. I hope you enjoy it! We always appreciate comments, 5 star recipe rating and social media shares. As always, keep that smoke rolling!
If you are looking for some other recipes, give some of these a try! If you ended up getting the OnlyFire kettle pizza kit with rotisserie, I included some rotisserie recipes below as well.
This post contains affiliate links. If you use these links to buy something I may earn a commission.
Weber Kettle Pizza Recipe
Additional Time:
5 minutes
Bring the delicious flavor of wood fired pizza home to the backyard!
Ingredients
16 oz. of pizza dough
1/4 cup of corn meal
1/4 cup of flour
8 oz of tomato sauce
1/2 tbsp. oregano
1 tsp of black pepper
1 tsp of salt
1 tsp. of garlic powder
1 tsp of crushed red peppers
1 cup of shredded mozzarella cheese
Instructions
Start a chimney full of charcoal
Layer charcoal on the backside of the Kettle from where your pizza opening will be
While waiting for the charcoal, start kneading the pizza dough, first mixing some corn meal and flour to keep it from sticking to the surface you are working on
Knead the dough, add the tomato sauce, seasoning and cheese
When the chimney is ready, dump on top of the unlit charcoal and then add 5-6 pieces of wood. Type of wood does not matter as much, since we are just trying to generate heat and that wood flavor on the pizza. I did use a mix of apple and pecan but again, we are not smoking this pizza. You want temperatures of 600° + on your ambinet temperature.
After the wood is on, put your oven on the Kettle, add the pizza stone and wait about 10 minutes for it to warm up
Transfer the pizza onto the stone, after about 3-4 minutes, turn the stone 180°
After turning, give it another 3-4 minutes at most and remove the pizza. If you are only making one pizza you can remove the stone, but careful it will be hot. If you are making another one, use the peel and keep the stone in the oven.
After removing let the pizza cool for about 5 minutes, then slice and serve!