Rotisserie lamb shawarma is a beloved Middle Eastern dish that has gained popularity in recent years. The dish consists of succulent slices of marinated and spiced lamb, on a horizonal spit. With its mouth-watering flavors and unique cooking method, rotisserie lamb shawarma has become a go-to meal for anyone looking to indulge in some delicious international cuisine.
What Is Shawarma?
Shawarma is more of a cooking style than a specific kind of meat. Shawarma is traditionally made from chicken, beef, goat or lamb and is made from a specific blend of spices and how it is cooked. In many cases it is thinly sliced or shaved meat that is cooked on a vertical rotating cone or spit or rotisserie, with the heat source in set location behind the meat. Typically what you will see is the meat shaved off as is cooked, thus allowing the next layer to be cooked on the cone.
In our case we are not using a vertical rotisserie but a horizontal one over a charcoal grill. We will obtain a very similar result with our horizonal rotisserie.
Marinade For Lamb Shawarma Recipe
For this recipe, we are going to use a boneless leg of lamb. Obviously a bone in leg of lamb would be difficult to get on a rotisserie, while not impossible, it would not be ideal so boneless it is ideal choice. Lamb shoulder would also be a viable option for this recipe. Not as accessible as a lamb leg but great if you get your hands on one.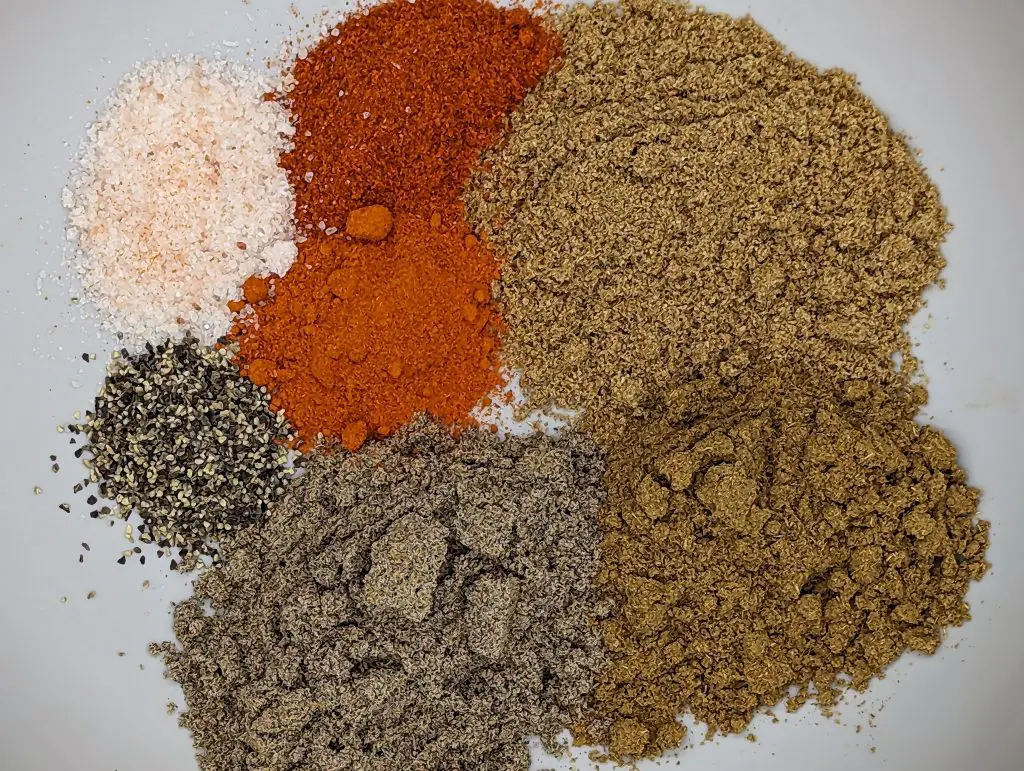 We are going to use a specific lamb shawarma spice mix for this marinade recipe. Here is a list of what you will need (these are also in the recipe card):
1 tbsp. of minced garlic
1 tbsp. of cumin
1 tbsp. of coriander
1 tbsp. of cardamon
1 tsp. of paprika
1 tsp. of cayenne
1 tsp. of salt
1/2 tsp. of black pepper
1/4 cup of olive oil
2 tbsp. of lemon juice
We are going to want to take all the above ingredients and combine them and then mix them together. After you have them mixed together, you are going to take the lamb and place it either in a one gallon bag or another container that will fit the lamb. I was able to get my lamb into a one gallon bag. Up to 5 pounds you should be able to get into a bag for the purpose of marinading. Once the lamb is in there, we are going to take our marinade and pour it over the lamb.
Let the lamb marinade overnight if you can, 3-6 hours should be your minimum. If you are doing a longer marinade, I would highly suggest rotating the lamb and look to massage more of that marinade into some of the cuts into the leg.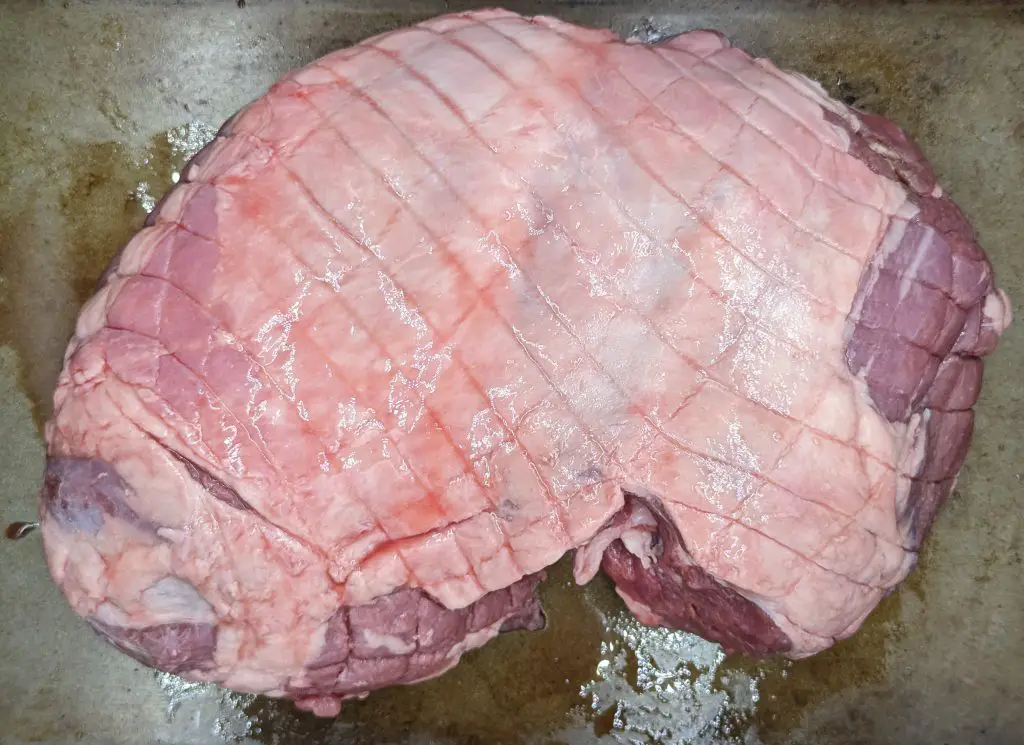 Cooking Lamb Shawarma On A Rotisserie
I did this recipe on my Weber Kettle, using my OnlyFire rotisserie accessory. I also recommend having two charcoal baskets, as we will place one on each side of the grill, looking for indirect heat on the lamb. You are going to want the charcoal going on each side, in a basket, looking for an ambient temperature of 350°. The beauty of this recipe, once you are pinned at 350°, there is nothing else to do but let the lamb rotate until it hits the desired IT.
Keeping the temperature of the meat can be a little tricky while its roasting on the rotisserie as the rotations will cause anything with wires to get tangled. I would highly recommend using the ThermoPro Temp Spike. A great wireless unit, that keep ambient temperature and the internal temperature of the meat.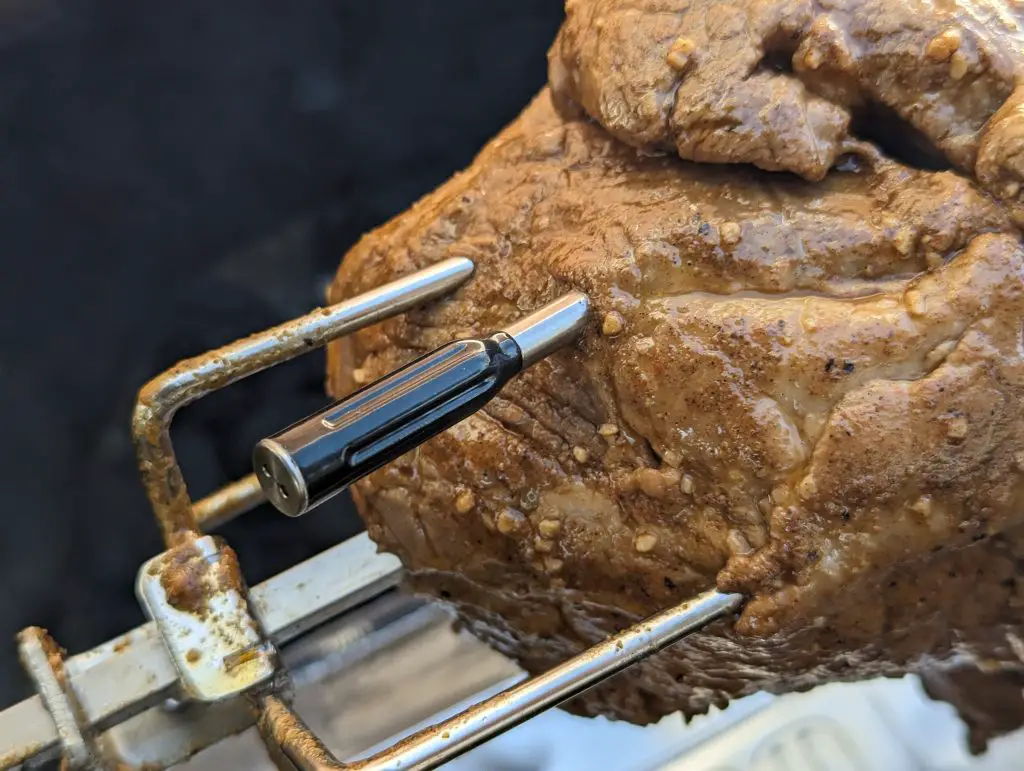 As the Kettle is getting up to temperature, you can work on getting the lamb on the spit. When the Kettle hits 350°, get the lamb on and let it start rotating. There are a couple of ways to let the lamb cook from here. You can let the entire lamb go until it reaches an IT of 140°, which brings it to a medium finish and then let it rest for 15 minutes. From there you can remove from the spit and move to a cutting board and shave it there.
The other way to cook this is to shave the lamb as it cooks. You can shave off the outer layers of the lamb, letting the next layer of lamb continue to cook. Doing it this way, is a more traditional Middle Eastern way of serving the lamb.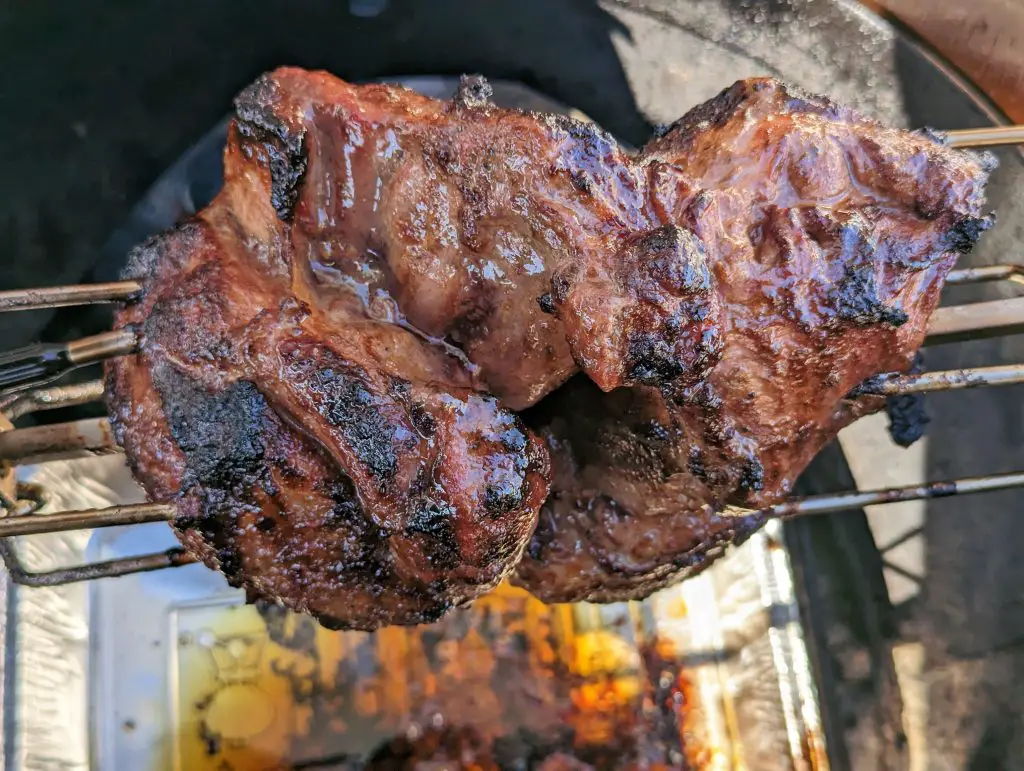 How To Serve A Lamb Shawarma Wrap
Typically you will serve lamb shawarma with a Greek tzatziki sauce in a pocketless pita or flat bread, along with some white onions, cucumbers, tomato's and some lettuce. You can use any or all of these, the tzatziki sauce being one of the more important items you do not want to skip.
How To Make Tzatziki Sauce
This is a very simple recipe for the sauce. You will need the following ingredients:
1 cups of Greek yogurt, try to avoid the non-fat if you can
2 tbsp. of fresh dill, dried dill will work if that is what you have
1/2 tsp of salt
2 tbsp. of lemon juice
1 tbsp. of minced garlic
You will chop finely the dill but then take everything else and combined in a container. Let it sit for an hour or 2 to let everything blend. This should be good for a week, two at the most, if store in an airtight container.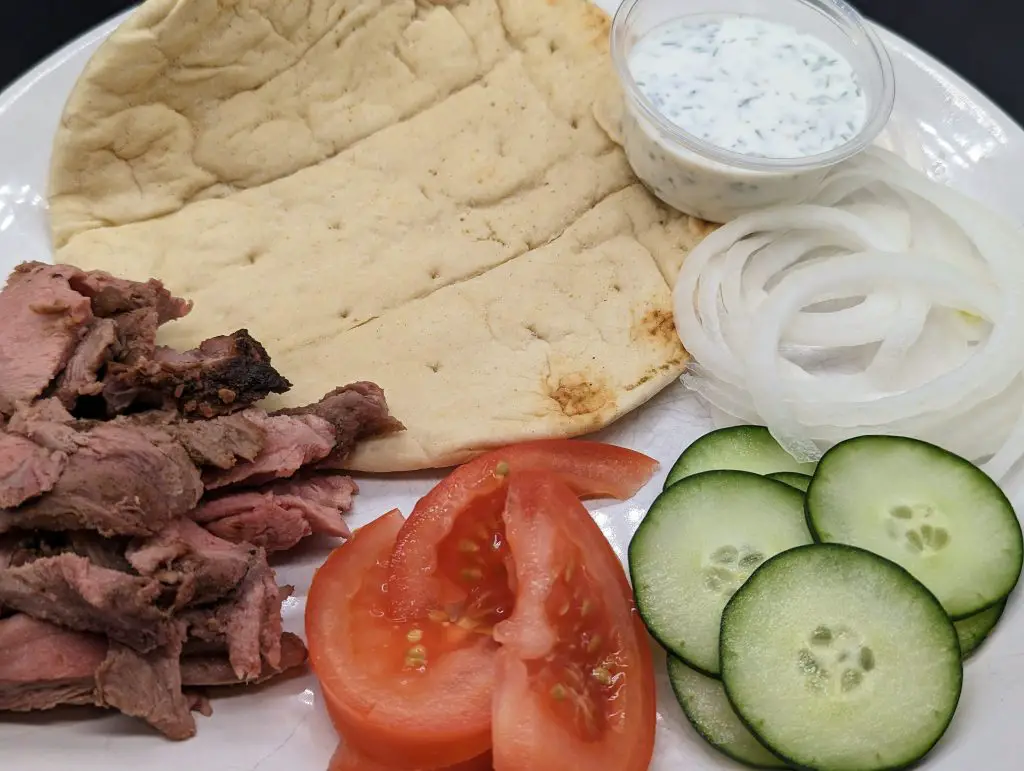 Wrapping Up, Rotisserie Lamb Shawarma Recipe
This recipe is quick and can be served in such a way that it does not have to be ready all at once either. The ability to shave and eat, is especially helpful if you are roasting a larger piece of lamb. A simple but incredible blend of lemon, yogurt and spice gives us a great dipping sauce as well. BBQ can be amazingly tasteful but does not need to be super complex either, it is the beauty of so many of these recipes.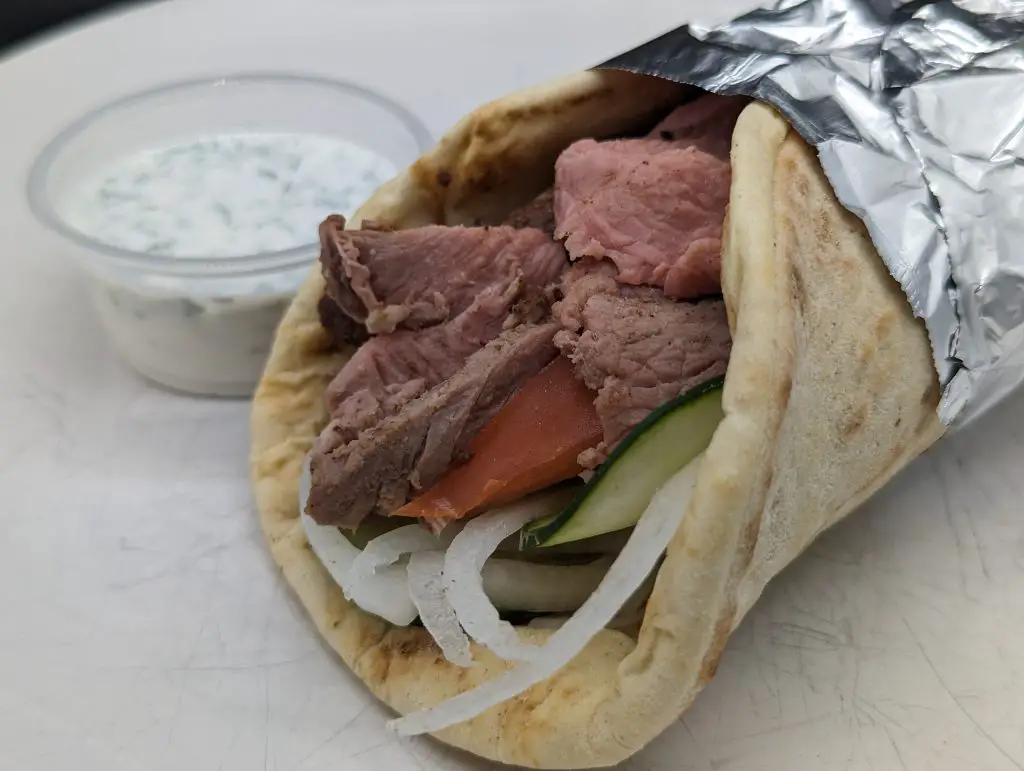 Thanks for being here and checking out this Rotisserie Lamb Shawarma recipe. I hope you enjoy it! We always appreciate comments, 5 star recipe rating and social media shares. As always, keep that smoke rolling!
Need some other recipes, here are some suggestions:
This post contains affiliate links. If you use these links to buy something I may earn a commission.
Rotisserie Lamb Shawarma
Cook Time:
1 hour
30 minutes
Additional Time:
15 minutes
A classic Middle Eastern lamb shawarma dish with an authentic spin, when roasted on a rotisserie over hot coals.
Ingredients
4 lbs. of boneless lamb leg
pita bread or flat bread
Marinade
1 tbsp. of minced garlic
1 tbsp. of cumin
1 tbsp. of coriander
1 tbsp. of cardamon
1 tsp. of paprika
1 tsp. of cayenne
1 tsp. of salt
1/4 cup of olive oil
2 tbsp. of lemon juice
Tzatziki Sauce
1 cups of Greek yogurt, try to avoid the non-fat if you can
2 tbsp. of fresh dill, dried dill will work if that is what you have
1/2 tsp of salt
2 tbsp. of lemon juice
1 tbsp. of minced garlic
Instructions
Combine the dry ingredients, along with the olive oil and lemon juice into bag or container large enough to hold the lamb
Place the lamb in the bag or container and, remove as much air as possible and let the lamb marinade overnight. 3-6 hours is your minimum.
Set up your rotisserie, with a basket of charcoal on each side for indirect heat, at 350°
Remove the lamb from the bag or container, place on the rotisserie
Cook on the rotisserie, until the lamb reaches an internal temperature of 140°, which should be about 90 - 120 minutes
Either shave the lamb while it cooks or remove when done
Let rest for 15 minutes and then shave and serve
Notes
Optionally, if you want to shave pieces of the lamb off as it cooks you can do that and continue cooking further into the meat
Nutrition Information:
Yield:

6
Serving Size:

1
Amount Per Serving:
Calories:

489
Total Fat:

27g
Saturated Fat:

7g
Trans Fat:

0g
Unsaturated Fat:

20g
Cholesterol:

277mg
Sodium:

847mg
Carbohydrates:

7g
Fiber:

1g
Sugar:

0g
Protein:

56g