Pulled lamb leg is a delicious savory dish that provides a different serving option from your standard sliced lamb. The smoke flavor combined with the savory flavor of the rosemary and thyme makes this a holiday favorite, not only around the Easter holiday but any time of year.
Preparing For Pulled Leg Of Lamb
We are going to start with a boneless leg of lamb. If you want to go with bone in, go for it, should not change the outcome on this very much. I usually get the boneless legs at Costco, where they usually have a good selection of lamb cuts around the Easter holiday. For this recipe, I am going with a 4 lb. boneless leg of lamb.
For the smoker, I am doing this on my Weber Kettle, using a mix of pecan and cherry wood. As is usually the case, this recipe should translate whether you are using a pellet grill or some other style of smoker. We are going to smoke this, at 250°. When compared to my other lamb recipes, I usually do them a little hotter because we are not taking the internal temperature as high but this will be a traditional slow cooked lamb leg.
I like doing lamb with a more savory flavor as it softens the gamey taste and is a more traditional way to cook a lamb. Before you get started on the smoker we are going to work on seasoning the lamb and then let it sit for 2-3 hours. You will have time to get the smoker up and running a little later.
Seasoning A Lamb Leg
As I mentioned above we are going to smoke this lamb leg with a more savory rub. For starters we are going to use olive oil as our binder. We are looking for that extra flavor with the olive oil, as opposed to the mustard, which offers little flavor by the time the smoke is done. Before applying the rub, we are going to mix our rub ingredients together first. Our rub will be a combination of rosemary, thyme, garlic powder, salt and pepper. Mix those together first as it will be better and easier than applying individually.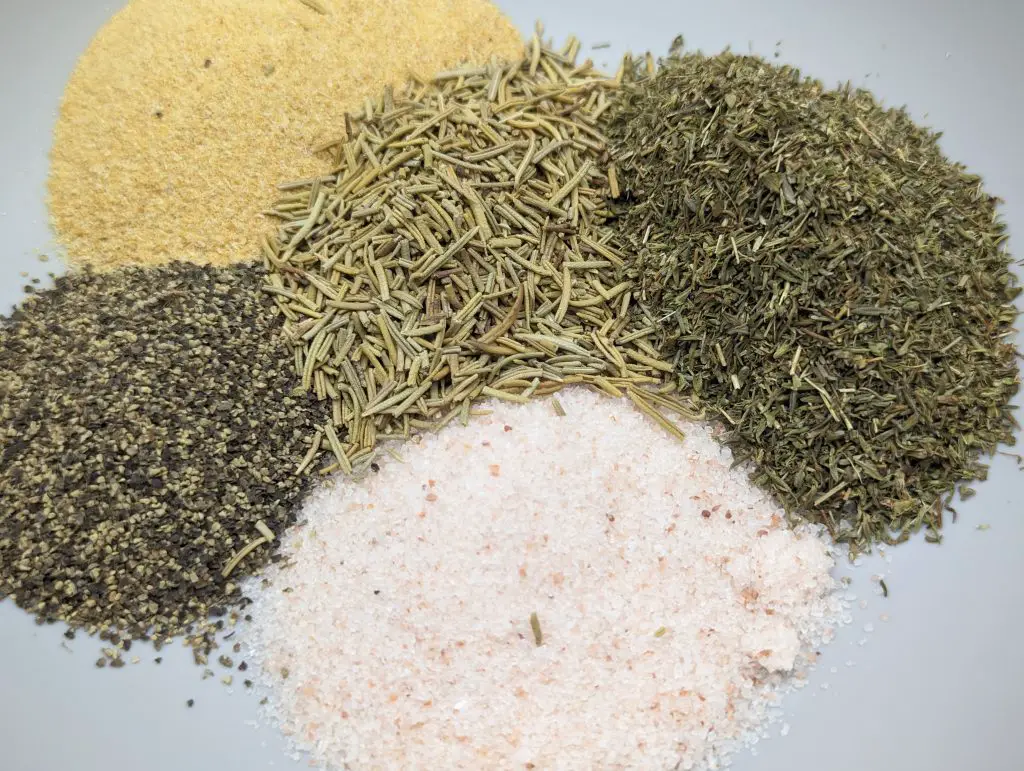 Once those are combined, we are going to cover the lamb with olive oil. Make sure you get it all over, especially in any slits or cuts where the bone was removed. Now that the lamb is covered in olive oil you can apply the rub. Be generous and same as the oil, get that rub in all over the lamb. Before putting the lamb back in the regfrigator you may want to tie the lamb back up, using some food twine. It will make handling and putting on the smoker easier, later on. The lamb, now covered in the rub, sit in the regfrigator for about 2-3 hours, gently cover it it with foil or plastic wrap.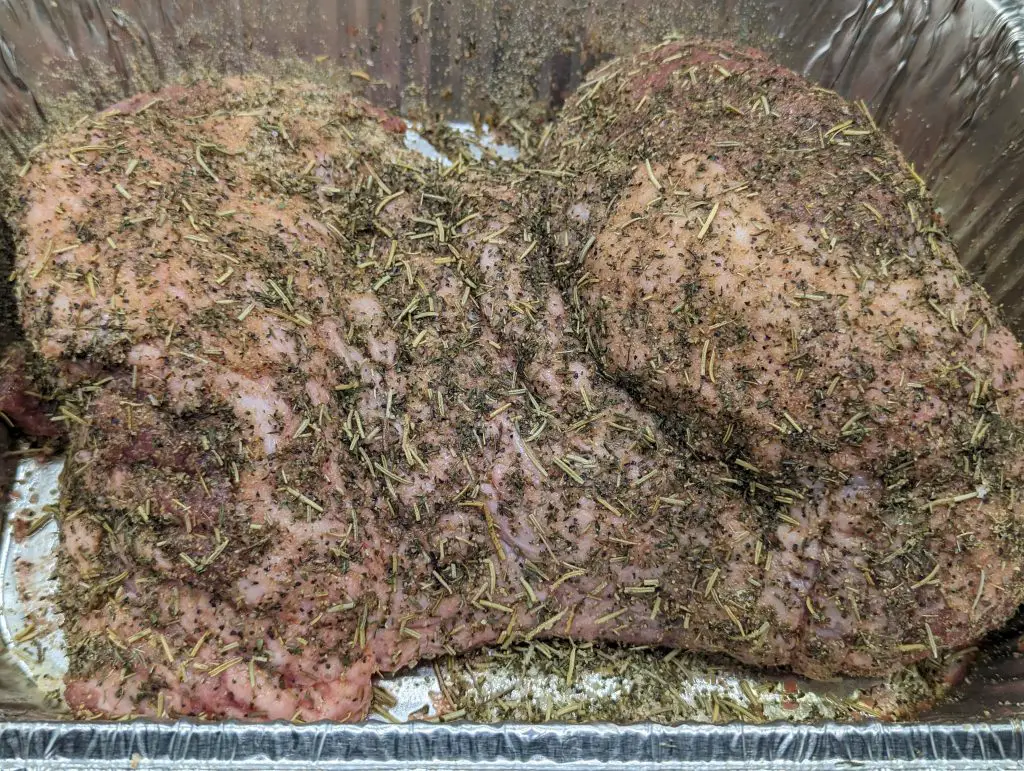 As you get closer to the end of that 2-3 hours, you can then get the smoker cranked up and ready to go.
How To Smoke Lamb
The lamb is seasoned, the smoker should be up to temperature so let's get things rolling here. As mentioned above we are looking for 250°. You can get the lamb on the smoker two ways here, because we will be basting a bit. You will want to either smoke the lamb in a pan, or have one set up below it to catch the baste. I have done both, can't say there has been a noticeable difference, particularly with the lamb in the pan.
This time around, I am going to smoke it in the pan, as I feel it makes handling it a bit easier, plus we are going to have to move there regardless. If placing this right on the grates, I will put the lamb on fat cap up. In the pan, it does not matter that much, I would continue with the fat cap up.
Once the lamb is on we are going to baste every hour with the following combination:
olive oil
salt
pepper
minced garlic
rosemary
thyme
We are going to take the lamb to an IT of about 160°. At this point if its not already in a pan, you can transfer it into there and cover it with some foil. If you were catching the baste below the grate, you can put the lamb in that pan and leverage the collect baste and juices. Before covering place 4-5 pats of butter on the lamb, then cover. With the lamb covered, you can put it back on the smoker, or in the oven at 250°. Since its covered it will not be taking on anymore smoke and we just need the BTU's, so going in the oven does not cause us to sacrifice any flavor.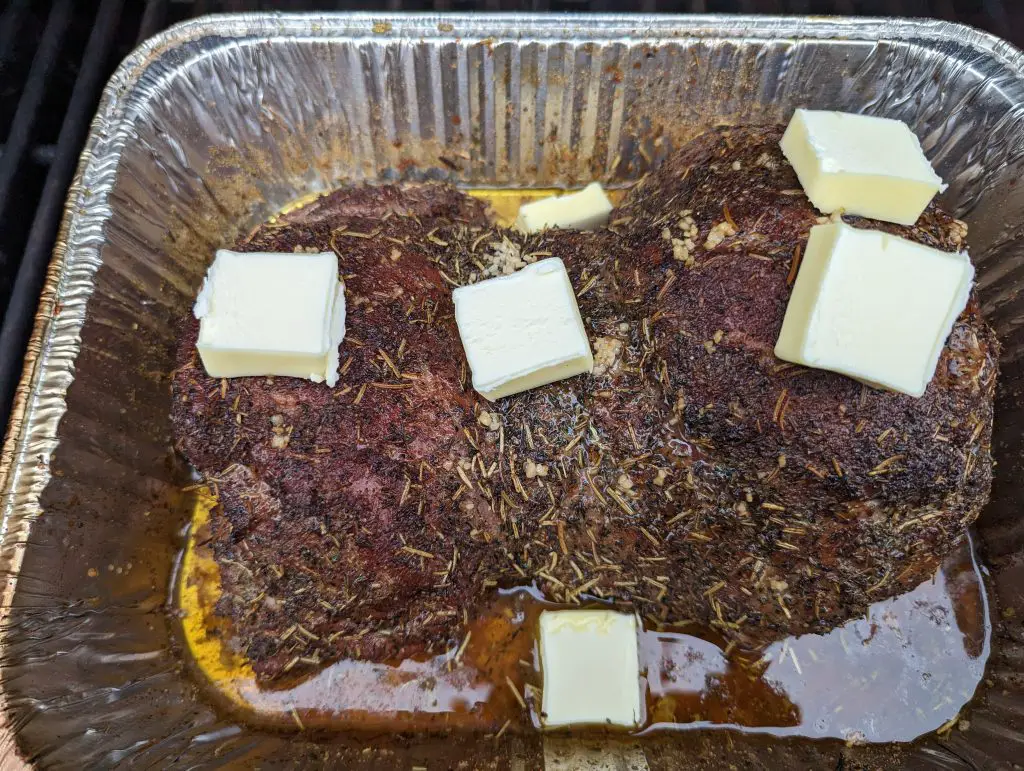 Need a great probe unit that you can check IT and ambient, try the ThermoPro TP20. It is budget friendly and a high quality unit.
We are going to take the smoked leg of lamb to an approximate IT of 203° or until its probe tender. Once its hits probe tender, we are going to pull it from the smoker and let it rest for about 30 minutes, keeping it covered for the 30 minutes. After the rest period, you can go ahead and pull the lamb and prepare to serve.
Because the lamb is not marbled with a lot of fat, some areas may not pulled as easily as others but that is ok. It will still be very tender. After having panned and covered the lamb, you are going to capture a ton of juices and liquid which will add a ton of flavor and tender up some areas that may be lacking, but those will not be many.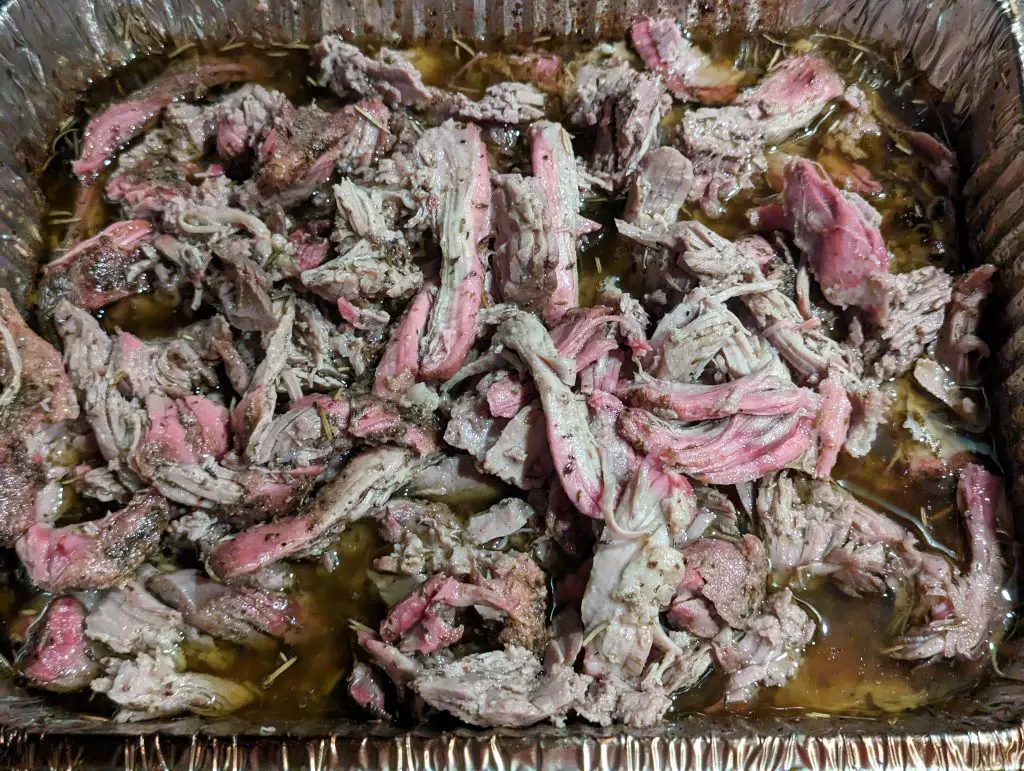 One thing I have done recently was to smoke the lamb a day in advance and then let it sit in the liquid overnight. I have to say the lamb tasted great the same day but I would also have no issues warming it up the next day. It was incredibly tender ,eating it the next day. If you happen to do this, leave any and all the liquid in the pan, along with the shredded lamb. To warm it back up, put it in the over, leave covered and reheat at 250° for about 90 minutes, stirring on occasion. You will not be disappointed with this method.
Wrapping Up Smoked Pulled Lamb Leg Recipe
Some other serving suggestions that go great with some pulled lamb is either a flat bread, pita or naan. Some side dishes are roasted potato's, roasted carrots or a Mediterranean vegetable medley.
Thanks for being here and checking out this Smoked Pulled Lamb Leg recipe. I hope you enjoy it! We always appreciate comments, 5 star recipe rating and social media shares. As always, keep that smoke rolling!
Looking for some other lamb recipe or holiday dishes, here are some suggestions:
This post contains affiliate links. If you use these links to buy something I may earn a commission.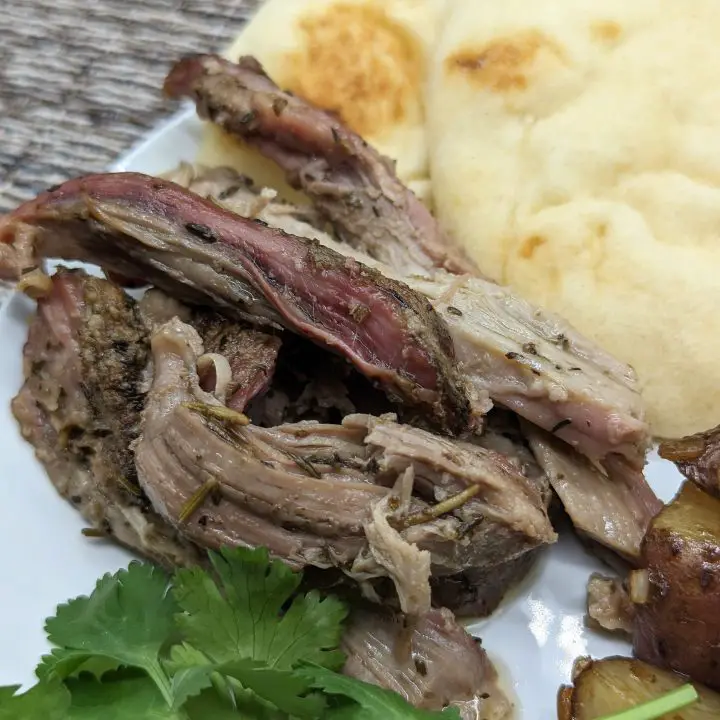 Smoked Pulled Lamb Leg
Total Time:
5 hours
40 minutes
Smoked boneless leg of lamb is typically something we indulge in around Easter or Holy Week. This smoked boneless leg of lamb recipe has minimal ingredients, is easy to prepare and has you ready to eat in only a matter of hours. The combination of the rosemary, thyme and smoke flavor has made this a household favorite.
Ingredients
4 lbs. boneless leg of lamb
3 tablespoons olive oil (this will be our binder)
1 stick of butter
Rub
2 tablespoon of rosemary
2 tablespoon of thyme
1 tablespoon of salt
1 tablespoon of pepper
2 tablespoons of garlic powder
Baste
1 cup of olive oil
1 teaspoon of salt
1 teaspoon of pepper
1 tablespoon of minced garlic
1 teaspoon of rosemary
1 teaspoon of thyme
Instructions
You are going to set your smoker to a temperature of 250°. I used a mix of pecan and cherry wood
Remove lamb from package and pat dry, cut any netting that may be on there as well
Coat lamb with olive oil and then start coating the lamb with the rosemary, thyme, salt, pepper and garlic rub
If necessary tie lamb up with cooking twine
Let the lamb sit for about 2 hours to let the spices set in on the lamb, in the refrigerator
Place on smoker, fat cap up
Prepare baste
Baste every 45 minutes
Place fresh rosemary sprig on the lamb (optional)
Smoke until it hits an IT of 160°, this took about 2 hours
At 160° we will place the lamb in a pan, cover with foil and add in a half stick of butter, on the lamb, sliced
Smoke until the lamb hits an IT of 205° or is probe tender
Let rest for 30 minutes, still wrapped and then shred
Nutrition Information:
Yield:

12
Serving Size:

1
Amount Per Serving:
Calories:

785
Total Fat:

59g
Saturated Fat:

19g
Trans Fat:

0g
Unsaturated Fat:

36g
Cholesterol:

211mg
Sodium:

857mg
Carbohydrates:

2g
Fiber:

1g
Sugar:

0g
Protein:

58g
This data was provided and calculated by Nutritionix on 1/25/2022