Delicious smoked pork, topped with authentic Mexican taco garnishes give you an amazing and delightful combination for smoked pork tacos. We walk you through this easy, yet flavor packed meal. Whether smoking your pork just for tacos or using leftover pulled pork this will have you coming back for more.
Pork Tacos vs. Carnitas
Smoked pulled pork tacos are not that different from Carnitas. The primary difference is that Carnitas has one extra step in the process to give it a little more of a twist in how it is made.
For this pulled pork tacos recipe, you will simply use a pork butt that you have smoked and use the pulled pork to make tacos. The taco garnishes will be similar to other authentic taco meals as well. This is great for leftovers or a pork butt made for this purpose.
Carnitas is pulled pork with one extra step. In our case, after smoking and pulling it we are going to add a crisp to the shredded pork by it by throwing it in a cast iron skillet and crisping it up on some oil. If you are looking for an authentic smoked carnitas recipe, we have you covered!
Smoking Pork Butt
Smoking a pork butt is about a 10-12 hours process depending on the size. I usually do butts in the 7 lb. range. I get the double packs at Costco but if you are getting one at the local grocery store, you may get one that is smaller, in the 3-4 lb. range. I will do a high level overview on smoking a pork butt if you are looking for more detail head on over to our pork butt recipe.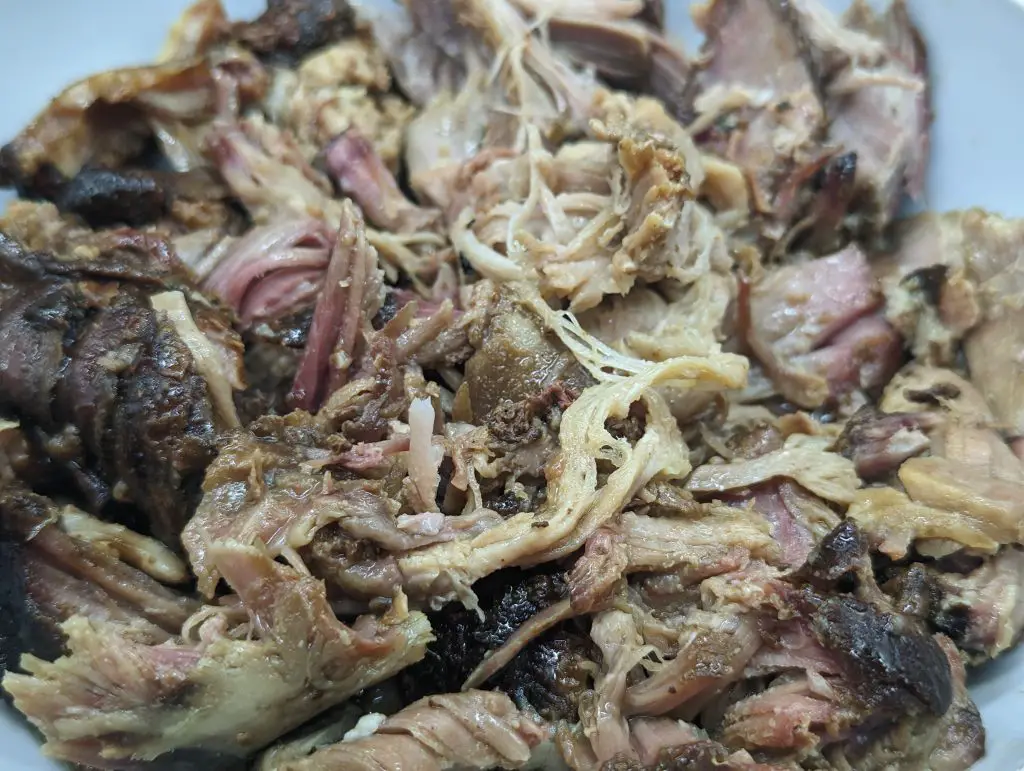 You will need to do the following related to smoking a pork butt:
Set smoker for a 225°-250° temperature
Using a binder of choice, I used mustard, place your dry rub on pork. Be sure to get inside any cuts and all over. If you so choose, you can score the pork butt for further penetration of the rub and smoke
Place the butt on the smoker, smoke until it stalls around 160° and you are happy with you bark, spritz every hour with some apple cider vinegar
When the bark is set, wrap in butcher paper or foil and place back on smoker
Continue to smoke until it is probe tender and approximately reaches an internal temperature of 205°
Remove from smoker and let rest for 30-45 minutes
Pull and serve
If you have a lot of leftovers, vacuum seal and freeze.
If you need a great meat probe when making your smoked shredded pork butt, try the ThermoPro TP20 or if doing multiple butts the ThermoPro TP829. Both are great and of high quality. I love the ThermoPro products.
Recipe For Pork Tacos Rub
This is great an authentic flavored rub, it is recommended as a rub of choice if you are making carnitas.
2 tsp. kosher salt
2 tsp. ground black pepper
1 tsp. chili powder
1 tsp. powder garlic
1 tsp. minced onions
1/2 tsp. of cayenne powder
1/2 tsp. of cumin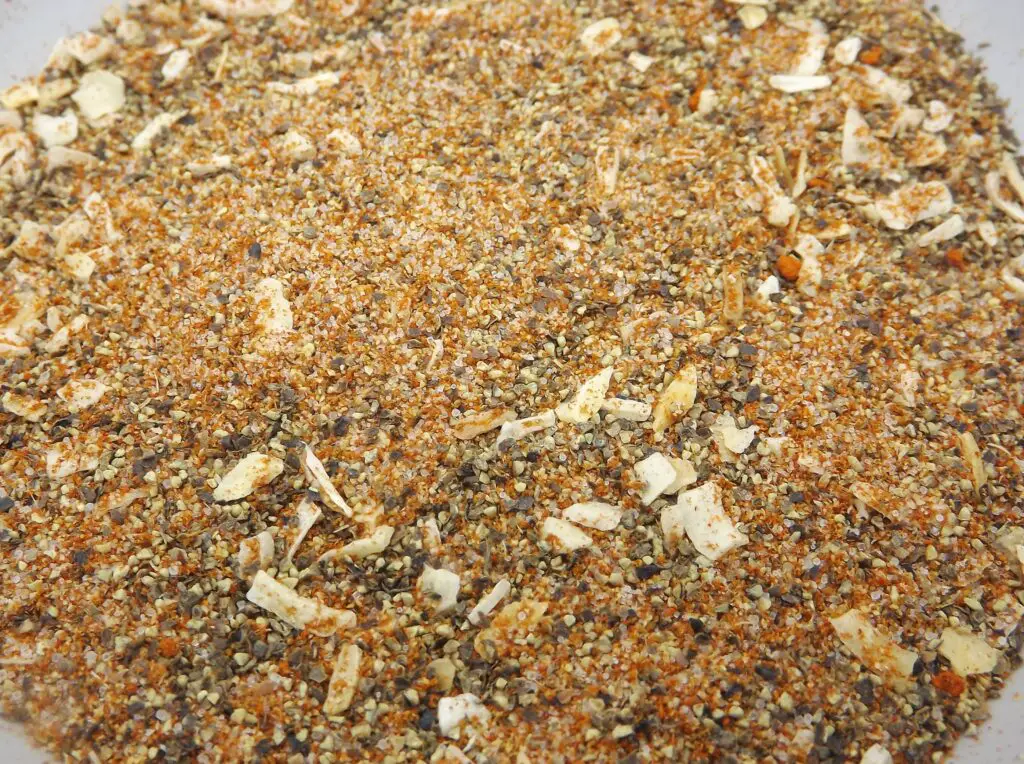 How To Make Smoked Pork Tacos
When you are done smoking the pork you can start putting your tacos together. What we suggest below are more of an authentic mix of ingredients as opposed to an American style taco. We already covered the dry rub that will give you that authentic flavor, now let's cover the smoked pulled pork tacos toppings.
Favorite Taco Toppings
Looking for a great, yet simple combination for your smoked pork taco toppings, go no further:
Before reviewing the toppings let's talk briefly about the tortillas. I recommend using corn tortillas, double them up. If you don't have corn but have flour, use those. If you are using corn be sure to hit them with a quick shot of cooking spray and then warm them up on a griddle or cast iron skillet. If you just try to use them as is, they will break apart and crumble on you.
Now onto the toppings:
thinly sliced radishes
diced white onions
chopped cilantro
thinly sliced avocados
lime slices for some fresh lime juice
any combination of hot sauce or salsa. We love Herdez Guacamole salsa in our house
Use any combination of these for a true authentic styled taco, a very simple set of ingredients but an amazing combination of flavor!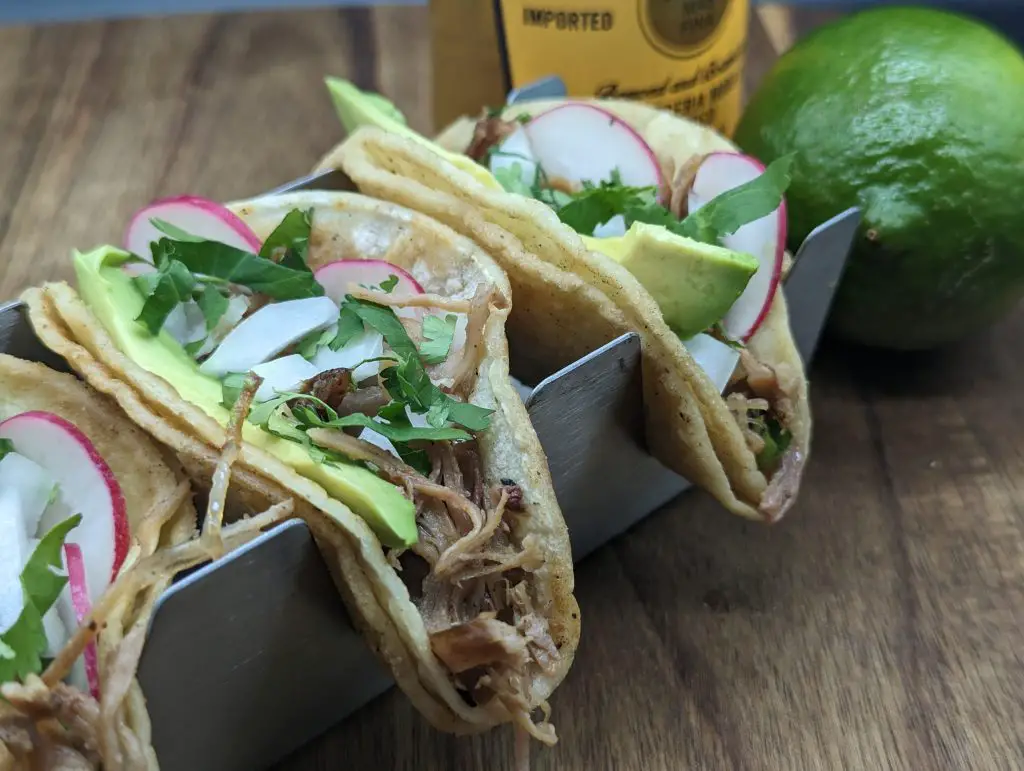 Wrapping Up Smoked Pork Tacos
Thanks for being here and checking out this Smoked Pork Tacos recipe. I hope you enjoy it! We always appreciate comments, 5 star recipe rating and social media shares. As always, keep that smoke rolling!
Looking for some other smoked tacos recipes or other taco ideas, here are a few suggestions:
This post contains affiliate links. If you use these links to buy something I may earn a commission.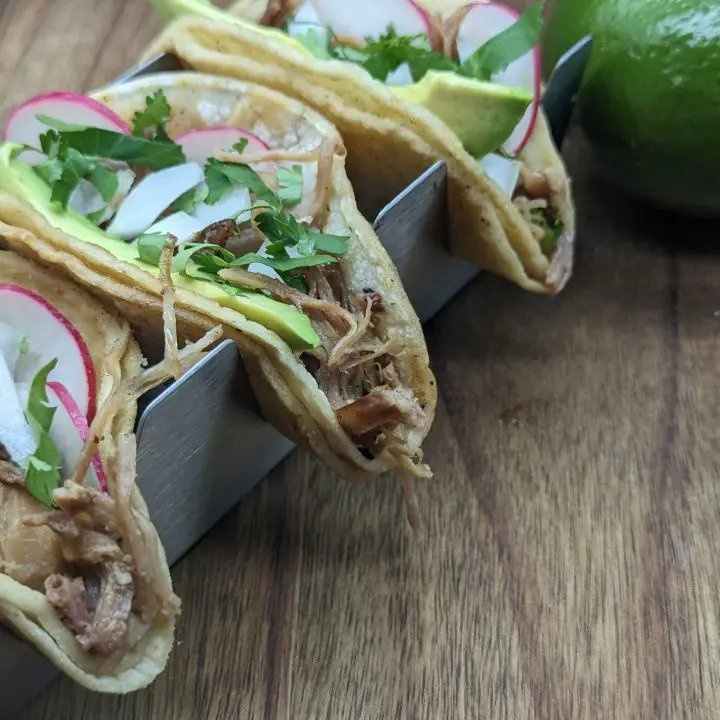 Smoked Pork Tacos
Total Time:
10 hours
45 minutes
Smoking a small pork butt or want to use some leftovers, these authentic Mexican pork tacos will leave your mouth watering for more.
Ingredients
1 lb. Smoked pork butt
20 corn tortillas
2 radishes
1/2 cup chop white onion
1/2 cup chopped cilantro
1 whole avocado, sliced into 1/8ths
Hot sauce or salsa optional
Instructions
Prepare smoker for 250°
Apply binder and dry rub to the pork butt
Smoke pork butt to about 160° and bark is set and wrap in butcher paper or foil
Continue smoking until it is probe tender, around 205° IT
Let rest for 30 minutes and then pull
Prepare the ingredients for the tacos
Prepare the tacos and serve
Nutrition Information:
Yield:

5
Serving Size:

1
Amount Per Serving:
Calories:

509
Total Fat:

24g
Saturated Fat:

7g
Trans Fat:

0g
Unsaturated Fat:

14g
Cholesterol:

78mg
Sodium:

108mg
Carbohydrates:

48g
Fiber:

8g
Sugar:

2g
Protein:

27g