Rotisserie chicken thighs are a delicious and easy-to-prepare meal that is perfect for any occasion. Whether you're cooking for your family or hosting a dinner party, rotisserie chicken thighs are sure to be a hit. These juicy and flavorful chicken thighs are cooked on a rotating spit over an open charcoal flame, resulting in tender meat with an enjoyable crisp to them. In this article, we'll explore a wonderful recipe for rotisserie chicken thighs that will take your summer BBQ menu to new heights.
Marinade For Rotisserie Chicken Thighs
First thing we want to do with this recipe is get a really flavorful marinade on the chicken thighs. We will want to get a solid 4-5 hours of marinade time on these so be sure to plan ahead. For the marinade, here is your list of ingredients (measurements are in the recipe card):
pineapple juice
orange juice
lime juice
olive oil
Worchester sauce
cayenne pepper
salt
ground black pepper
This recipe will call for boneless and skinless thighs. Before we get them going in the marinade, trim off any excess skin or fat. I don't go crazy trimming fat. If there is some skin I may but don't spend all kinds of time trimming the fat.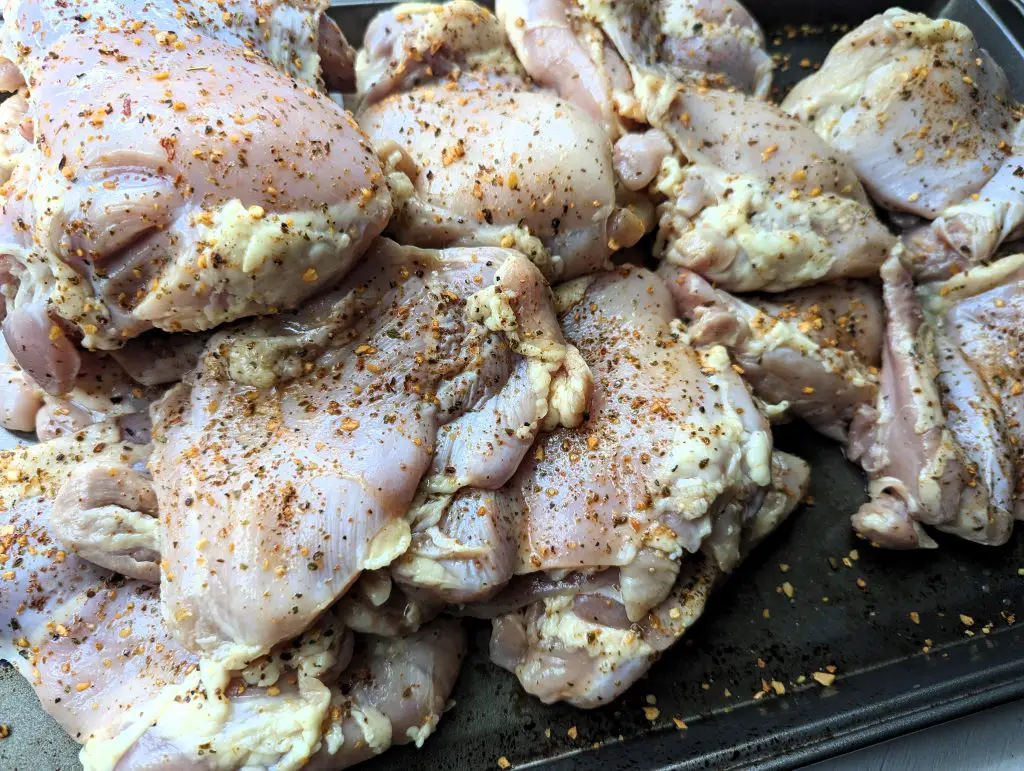 After checking the chicken and trimming, whisk the above ingredients together in a bowl and then set aside. From there using a Ziploc bag, place the chicken thighs in the bag or another container you may use to marinade meat. Place the thighs in the bag and move to the regfrigator. As I mention above, you want a solid 4-5 hours for the best flavor.
I would suggest rotating the bag every hour or so, to ensure all the chicken is getting a good block of time sitting in the marinade.
Rotisserie Chicken Seasoning
After giving the chicken some time to marinade, we are going to remove and season the chicken. For seasoning I went with a simple one rub seasoning. I used Gusto Smokey Pineapple Ancho rub. When removing the chicken, pat it dry with a paper towel and then season both sides. I did not season too heavily as we do not want to overwhelm the marinade flavor as well. Put them off to the side after having applied the rub.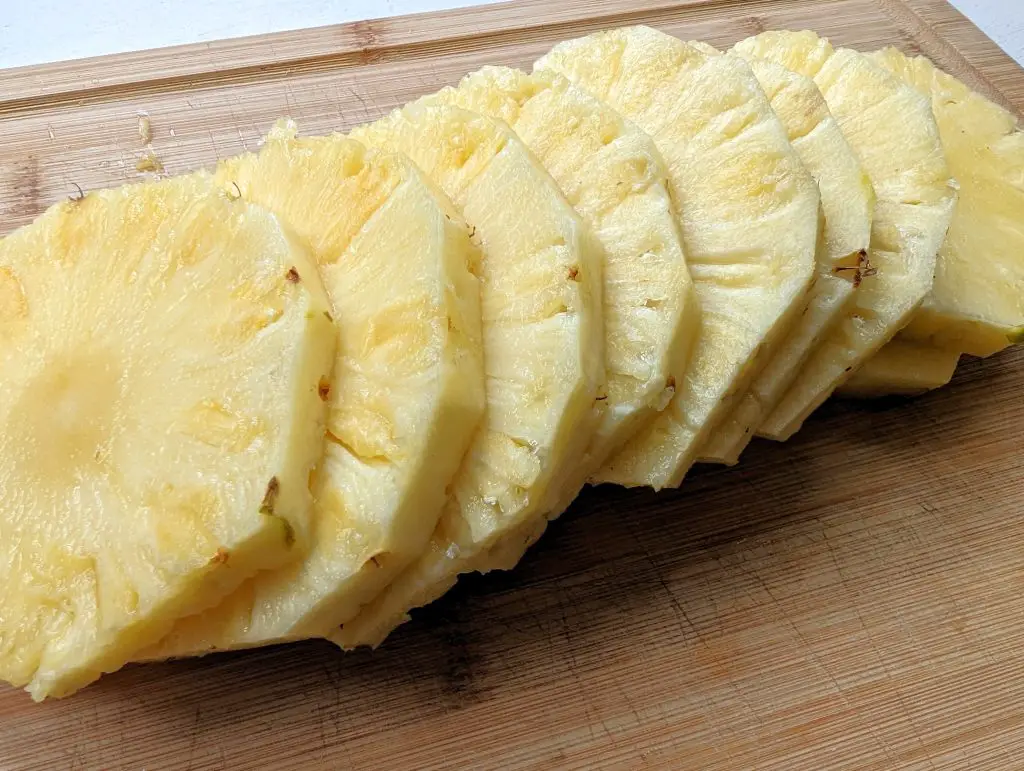 In addition to the chicken we are going to also add some pineapple to the skewer. I used a whole pineapple that I peeled and sliced. There are two things we are going to do the pineapple. First, we will have to cut a small hole or "x" into the center of the pineapple slices, essentially coring it. By not cutting a small "x" in the center of pineapple slices, we risk breaking the pineapple in half when trying to push it onto the skewer.
After cutting a small "x" in the center of the pineapple, rub a small amount of brown sugar on either side of the pineapple slices. Once done, put them off to the side, we are going to start stacking our skewer with the meat and pineapple. I started with the pineapple, then 2 thighs, pineapple slice, 2 thighs and so on until I filled the skewer. I packed them on there pretty tight, which still worked out great.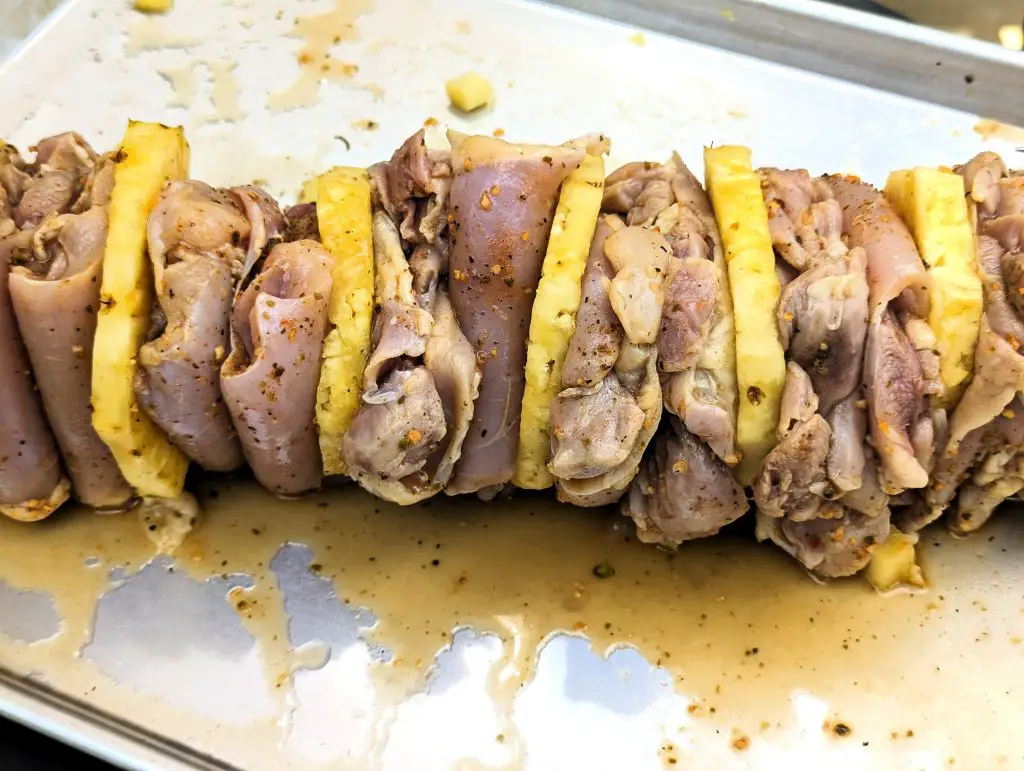 Cooking Chicken Thighs on Rotisserie
I used Weber Kettle and my OnlyFire rotisserie for this recipe along with 2 charcoal baskets. You will want to fill the baskets with charcoal and get them going. What I typically do to start the baskets is bury a starter cube under a layer of charcoal and light it. We want to set a basket up on each side of the rotisserie and get it going for 400°. I usually load up the baskets with charcoal and easily get there to 400°. You can then control the ambient temperature with the vents.
Once you get to 400°, you are going to put the meat on, get it turning and wait. After you put the skewer on, there is not much you need to do. I used by ThermoPro Temp Spike to check the temperature. This Temp Spike is perfect for these rotisserie cooks, as it is completely wireless and checks both meat and ambient temperature.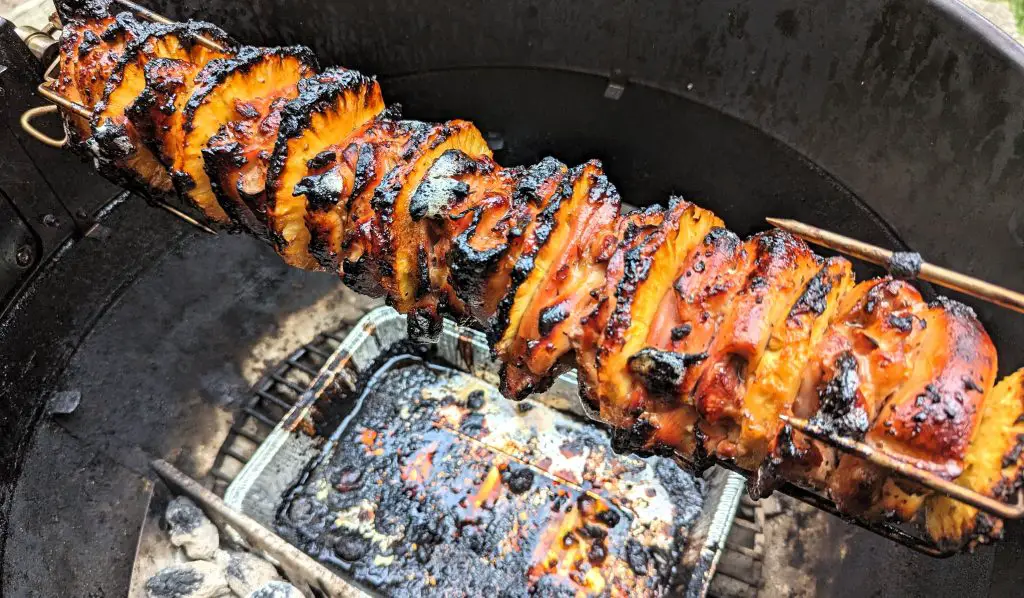 You will let these go for about 1 hour and 45 minutes. Chicken thighs can take a higher heat, so where I might normally pull chicken breasts around and IT of 160° and let them rest until 165°, thighs I will take to about 170° and do so without any real concerns about them drying out. You also get some nice crispy chicken thighs around the edges, that adds just the right touch!
Once you hit 170°, go ahead pull these, give them 5-10 minutes to rest and serve.
Serving Rotisserie Boneless Chicken Thighs
You can serve this dish in a variety of ways. The chicken is great when served on top of the pineapple slices. Another option is a slider, with a mango salsa. This is a fantastic combination with between the chicken, pineapple and mango. This is all the tropical flavors you could ask for at a summer BBQ.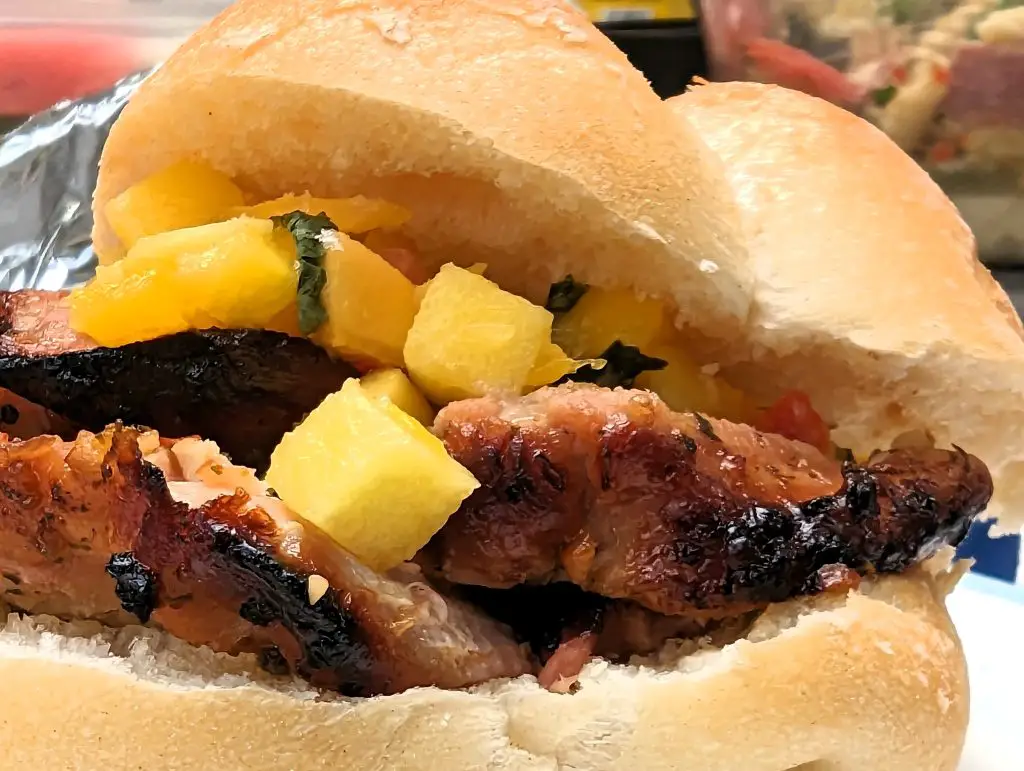 Wrapping Up Rotisserie Chicken Thighs
Rotisserie chicken thighs, over charcoal, offer a flavorful and convenient option for any meal. Whether you're looking to save time in the kitchen or add some variety to your dinner rotation, these succulent and tender pieces of meat are sure to satisfy. With their versatility, affordability, and ease of preparation, rotisserie chicken thighs are a must-have staple for every backyard pitmaster. So next time you're at the grocery store or contemplating what to make for dinner, consider picking up some chicken thighs and elevate your meals with the deliciousness of rotisserie chicken thighs.
Thanks for being here and checking out this Rotisserie Chicken Thighs recipe. I hope you enjoy it! We always appreciate comments, 5 star recipe rating and social media shares. As always, keep that smoke rolling!
Looking for some other great chicken or rotisserie recipes, here are a few suggestions:
This post contains affiliate links. If you use these links to buy something I may earn a commission.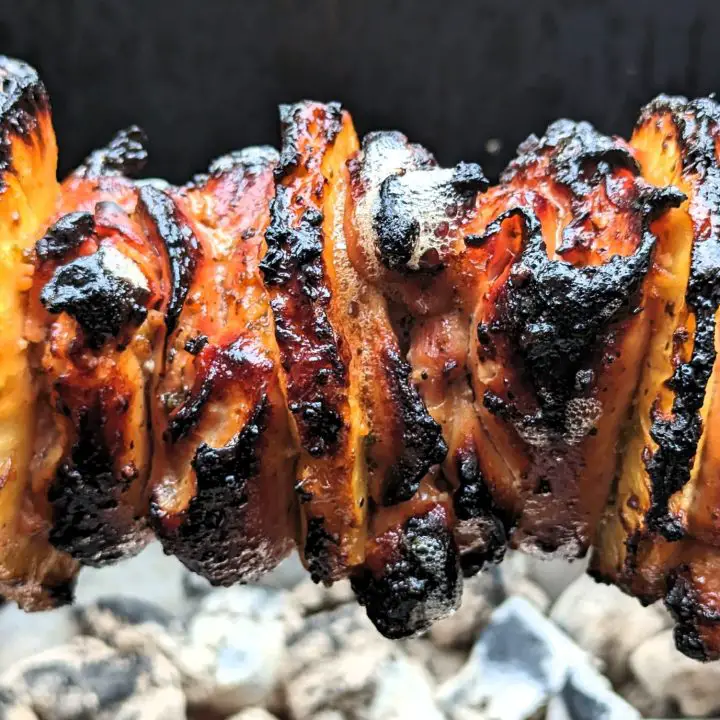 Rotisserie Chicken Thighs
Cook Time:
1 hour
45 minutes
A delicious and easy way to cook chicken thighs. Seasoned with a citrus rub and cooked with pineapple slices, this dish will provide a blast of tropical flavors.
Ingredients
3 lbs. of chicken thighs
1 whole pineapple skinned and sliced
Gusto Smokey Pineapple Ancho seasoning
1/2 cup brown sugar
Marinade
16 oz. pineapple juice
1/4 cup orange juice
1/4 cup lime juice
3 tbsp. olive oil
3 tbsp. Worchester sauce
1 tsp. cayenne pepper
1 tsp. salt
1/2 tsp. ground black pepper
Instructions
Combine the marinade ingredients in a 1 gallon bag or container, add the chicken and marinade for 4-5 hours.
Towards the end of the marinade time, get the grill and rotisserie ready. Set up two baskets of charcoal and set for a temperature of 400°.
Take a full pineapple, skin, slice and cut an "x" in the center of each slice to make it easier to slide onto the skewer
Lightly coat the pineapple slices with brown sugar
Remove chicken, pat dry and lightly coat with Gusto Smokey Pineapple Ancho seasoning
Start to place the pineapple slices, then 2 slices of chicken, alternating, all the way down. Pack as tightly as you need to, to fit on as much as you need.
After preparing the skewer, place on the rotisserie and cook for approximately 1 hour and 45 minutes or until the chicken reaches and IT of 165°-170°.
Remove and serve as desired.
Nutrition Information:
Yield:

10
Serving Size:

1
Amount Per Serving:
Calories:

408
Total Fat:

23g
Saturated Fat:

6g
Trans Fat:

0g
Unsaturated Fat:

17g
Cholesterol:

174mg
Sodium:

533mg
Carbohydrates:

20g
Fiber:

1g
Sugar:

17g
Protein:

32g