Caesar salad is a classic dish that has withstood the test of time, beloved for its combination of crisp romaine lettuce, creamy dressing, and savory Parmesan cheese. However, to elevate this traditional favorite to new heights of flavor and satisfaction, adding succulent grilled shrimp takes it to a whole new level. The grilled char from the open flame complements the rich tanginess of the dressing perfectly, creating a tantalizing symphony of tastes in every bite. So when you are looking to fire up the grill but but maybe want something a little more refreshing or healthy, a Caesar salad with grilled shrimp will hit all the marks for you!
Grilled Shrimp Recipe
The grilled shrimp recipe is pretty easy but not lacking in flavor. We are going to start off with 2 lbs. of shrimp. I take the tails off before I grill them, so I am not messing around with that when I sit down to eat.
If you are using frozen shrimp, defrost them first, you can accomplish this by just running them under cold water. If using fresh shrimp, you can move to the next step and start seasoning the shrimp.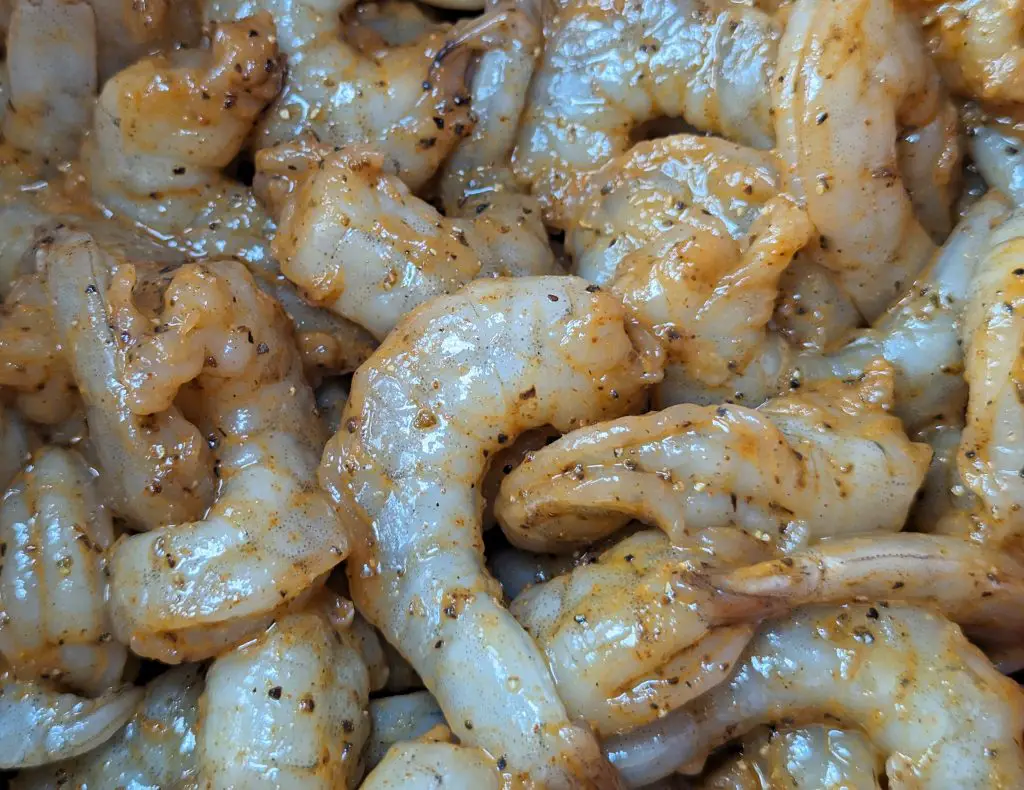 Place your shrimp in a large bowl and then drizzle it with olive oil and coat well. I find mixing the seasoning in with your hands is the best way to do it. After having coated the shrimp with the olive oil, you are then add in some Old Bay seasoning, salt and pepper. Again continue to mix it in using your hands, ensuring all the shrimp get coated.
After the shrimp are seasoned, you can let them sit in the regfrigator for about 30 minutes, just to let the shrimp absorb some more of the flavor. While that is sitting, you can start the grill and prepare the skewers. If you are using wooden skewers, you will need to soak them for a bit, so they do not burn. If using metal, nothing to do to them, you are good to go. After 30 minutes, get your shrimp on the skewers and get them on the grill.
You can also start with getting the grill ready, you will want to set it for 400°. From there, before placing the shrimp on, wipe down the grates with some olive or vegetable oil, this will help to keep the shrimp from sticking to the grates. When the grill is prepped and ready go ahead and place the shrimp on the grill.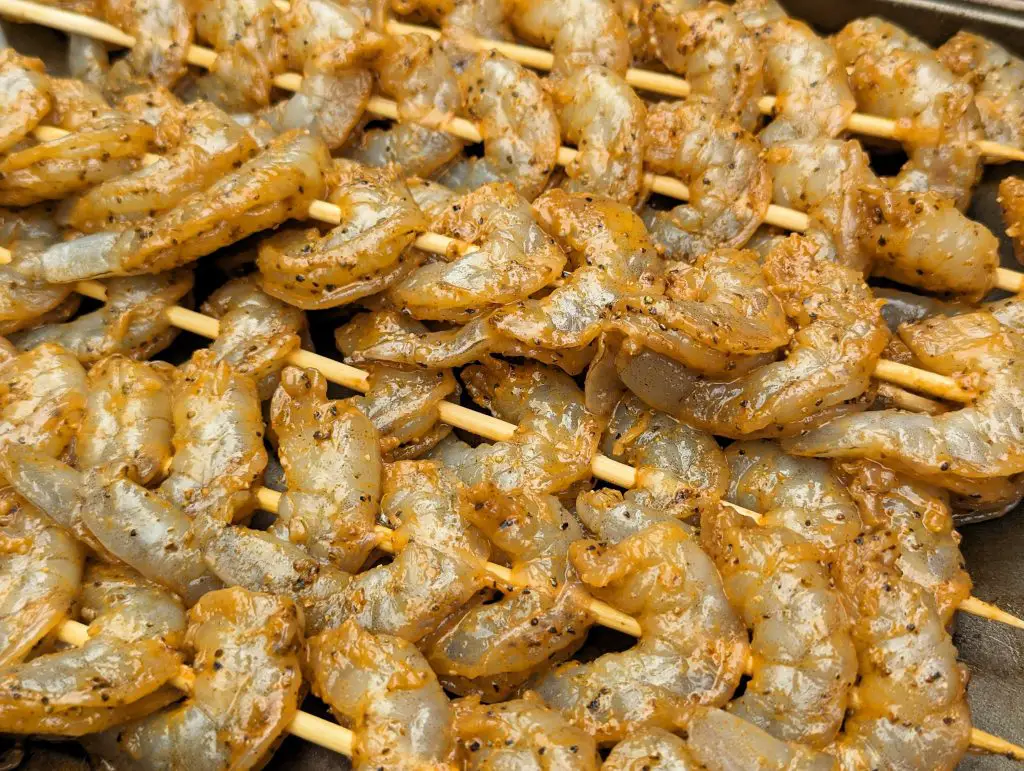 Before wiping the grill down, please be careful. You do not want any oil dripping down onto the flames or burning your hand. I will sometimes, quickly shut the grill off, wipe the grates down and turn everything back on.
Grilling Shrimp and Lettuce
The grill is up and running and the shrimp is ready to go on. We are going to make this really easy and grill the shrimp over direct heat for about five minutes, 2-3 minutes on each side. You can pull them as soon as you see them starting to turn pick. It doesn't take a lot for shrimp to dry out so don't leave them on too long. Keep the lid open so you can watch how the shrimp is cooking.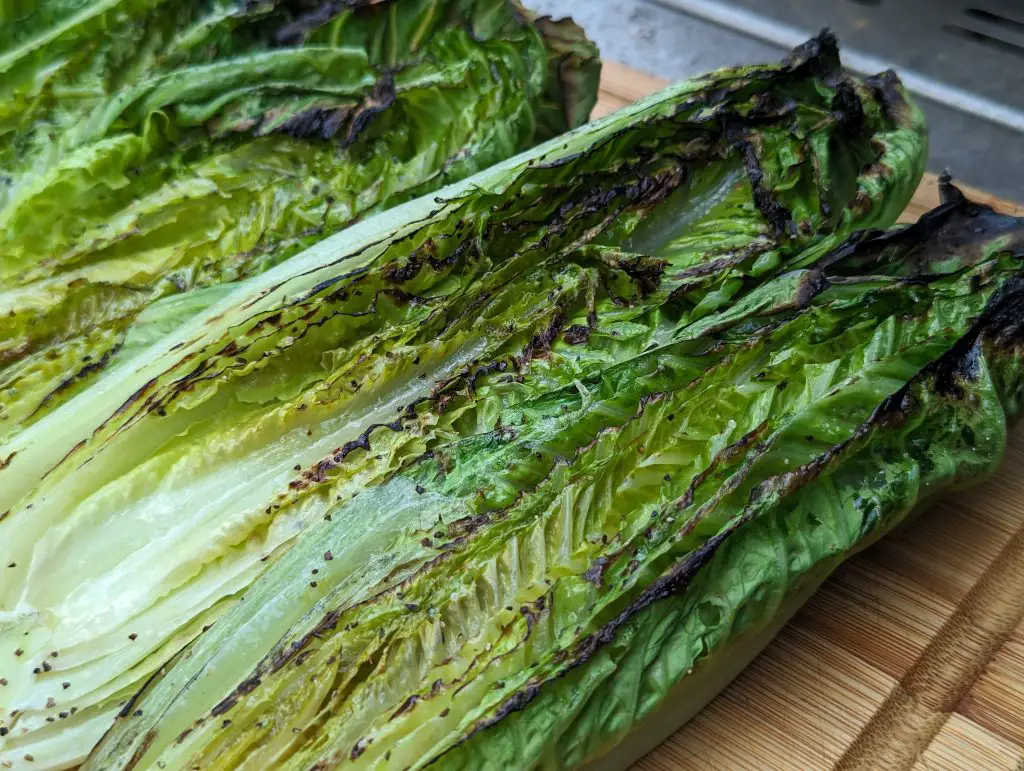 The shrimp is quick and so will the next part, grilling the lettuce. Grilled romaine lettuce is an amazing addition to any Caesar salad. Before placing on the grill, slice your romaine hearts in half, long way. Brush with some olive oil on the cut side, sprinkle some salt and pepper to taste and then place on the grill.
You are going to place the lettuce cut side down on the grill, over direct heat. The lettuce will stay there for about five minutes, to or until you see the lettuce start to char. As soon as you see that, pull the lettuce and set aside. At this point our grilling is done and we can put the salad together.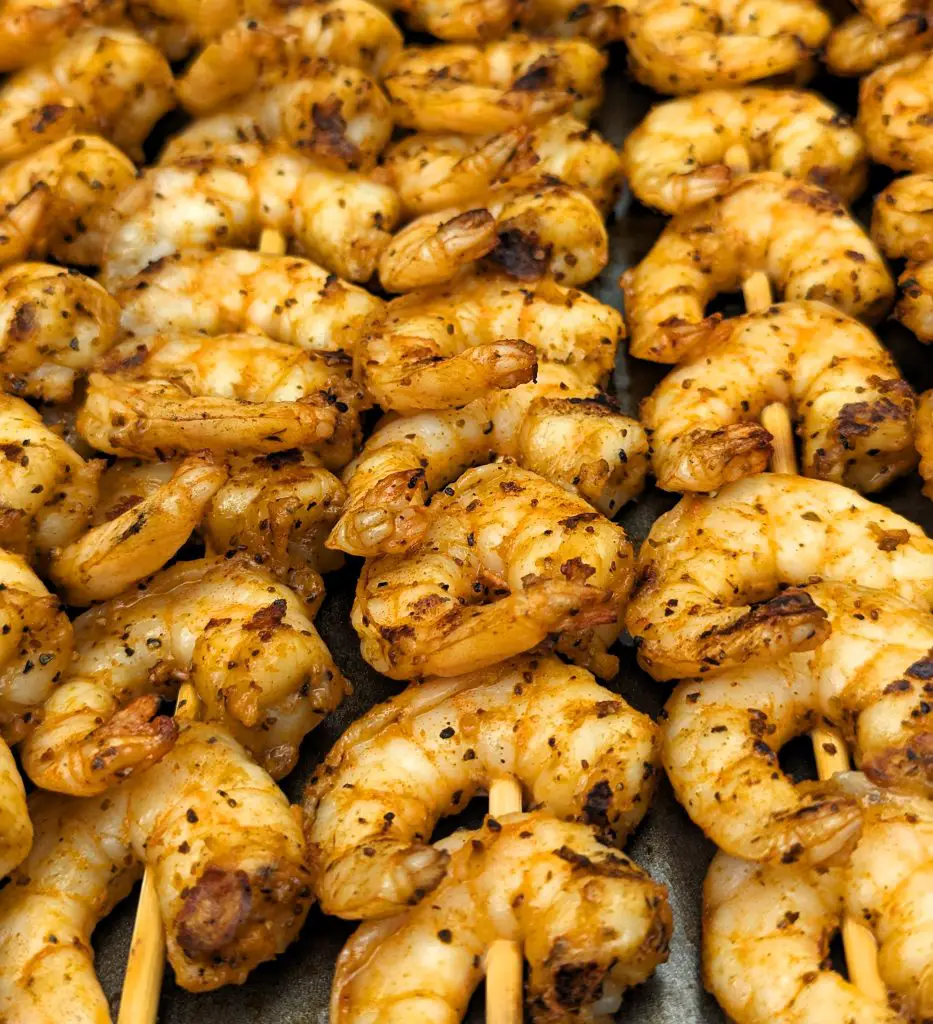 Grilled Shrimp Caesar Salad Additions
Our shrimp is now grilled, as well as the lettuce. You can remove the shrimp from the skewers and place them to the side. You can then either shred or chop the salad and place it in a bowl. The remaining ingredients we are going to need is either some shaved parmesan cheese or grated parmesan cheese. I prefer shaved for the Caesar salads. You will want some croutons, home made or store bought work just fine. For an easy mid-week dinner don't feel bad about using some store bought croutons.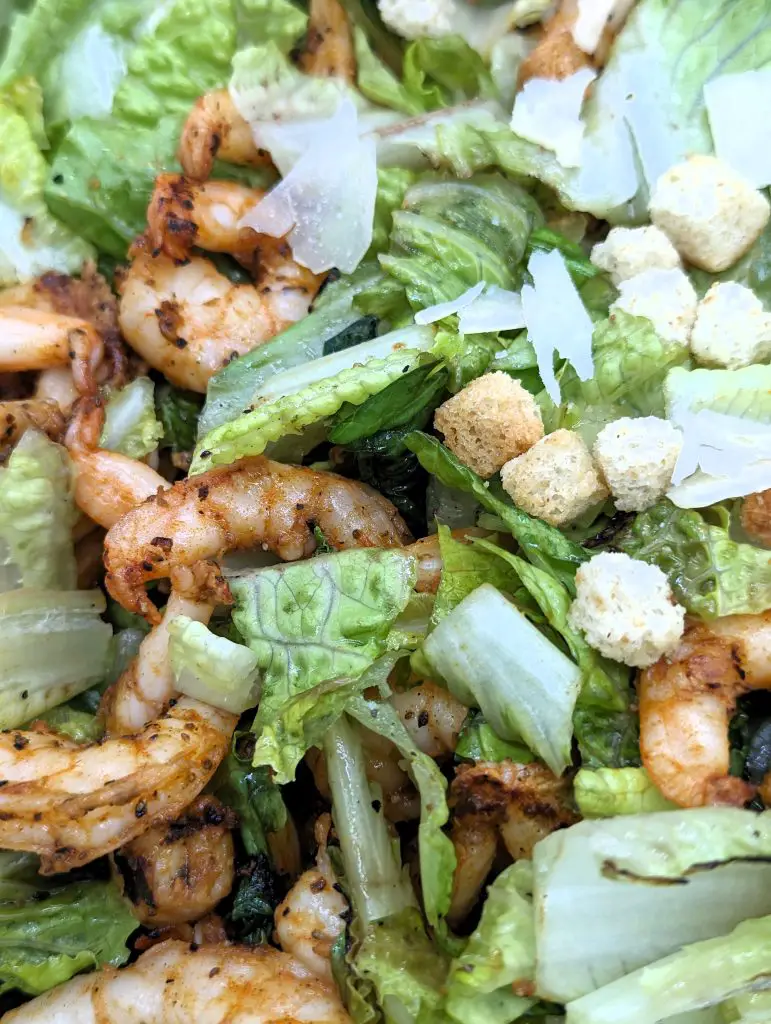 Finally some Caesar dressing to top this Caesar salad recipe off. For the salad dressing a homemade Caesar dressing is awesome but if you are again short on time and living the real life, go with a store bought dressing. No shame in that. Add all those in and you have an amazingly flavorful salad, perfect for that hot summer BBQ day or an easy mid-week dinner, when you are itching for some grilled food but short on time!
Concluding, Caesar Salad With Grilled Shrimp
Caesar salad with grilled shrimp is a delightful and satisfying dish that combines the classic flavors of a Caesar salad with succulent grilled shrimp. The combination of crisp grilled romaine lettuce, tangy Caesar dressing, shaved Parmesan cheese, and grilled shrimp creates a perfect balance of textures and tastes. This dish is not only delicious but also versatile, as it can be enjoyed as a light lunch or served as an impressive main course for dinner parties. Whether you are a seafood lover or simply looking to elevate your salad game, Caesar salad with grilled shrimp is sure to become a favorite go-to recipe.
Thanks for being here and checking out this Caesar Salad With Grilled Shrimp recipe. I hope you enjoy it! We always appreciate comments, 5 star recipe rating and social media shares. As always, keep that smoke rolling!
Need some other ideas for recipes? Here are a few you will enjoy:
While you may not need it for this Caesar Salad With Grilled Shrimp recipe, a great tool for your grilling and/or smoking is the ThermoPro TP20
This post contains affiliate links. If you use these links to buy something I may earn a commission.
Grilled Shrimp Caesar Salad
An easy mid-week meal or a great side for your summer BBQ.
Ingredients
Shrimp Seasoning
1 tbsp. of olive oil
1 tbsp. of Old Bay
1 tsp. of salt
1 tsp of ground black pepper
Grilled Romaine Lettuce
3 heads of romaine
1/2 tbsp of olive oil
salt and pepper to taste
Salad
Croutons
Shaved Parmaeasn
Caesar dressing
Instructions
Defrost the shrimp, if frozen, remove tails if you choose to at this time
Combined the shrimp in a Ziploc bag or bowl, add the Old Bay, salt and pepper and mix well. Let sit for 30 minutes prior to grilling
Start grill for a temperature of 400°
Put the shrimp on a skewer
Coat the grates with some vegetable oil to avoid the shrimp sticking to the grates
Grill on the shrimp each side, over direct heat for about 2 minutes on each side. When pink, remove and put to the side
Slice romaine hearts in half, brush with olive oil and season with salt and pepper
Place cut side down and grill for about 5 minutes or until you start to see some char on it.
Remove, chop and prepare the salad with shrimp, cheese, croutons and dressing
Nutrition Information:
Yield:

5
Serving Size:

1
Amount Per Serving:
Calories:

149
Total Fat:

9g
Saturated Fat:

1g
Trans Fat:

0g
Unsaturated Fat:

7g
Cholesterol:

3mg
Sodium:

1026mg
Carbohydrates:

15g
Fiber:

8g
Sugar:

5g
Protein:

5g