Grilled corn on the cob is a summertime staple that brings back fond memories of backyard barbecues and family gatherings. The savory flavor of grilled corn pairs perfectly with burgers, hot dogs, and other classic cookout foods. But don't let its simplicity fool you; there are plenty of ways to spice up your grilled corn game. From slathering it in butter to sprinkling it with chili powder or parmesan cheese, grilled corn on the cob can be customized to suit any palate. So fire up the grill and get ready to impress your guests with this delicious summer side dish!
How To Prepare The Grilled Corn Recipe
So this is another easy recipe, almost all of which you should have in the house already. Start out by picking up some fresh corn at a local farmer's market or the grocery store. I will grab an extra one or two pieces of corn because sometimes until you remove the corn husks, you will not know if the corn is all usable. Sometimes the kernels don't grow and you end up with half an ear of corn.
Before we tackle the ingredients, let's start by removing the husk off the corn. Some recipes call for grilling the corn in the husk, we are simply pulling it off and discarding it. After husking the corn, start the grill and get it to a temperature of 400°. I did this recipe on my Weber gas grill. While the grill is getting to temperature, we already have the corn husked and we can now prep the corn.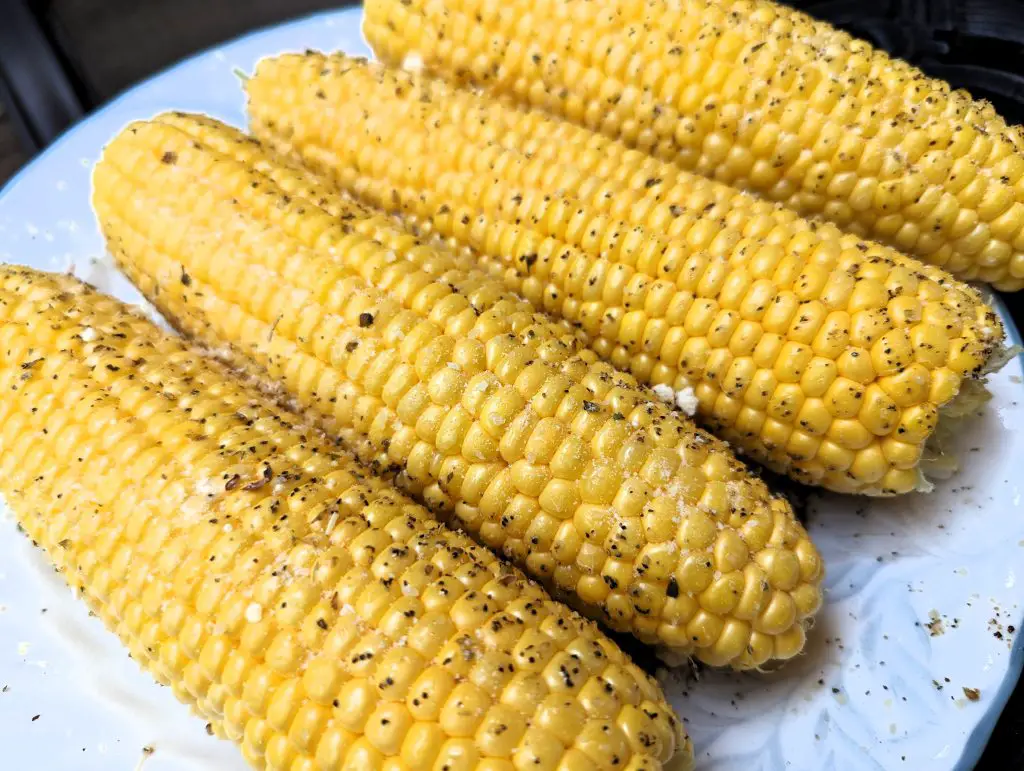 Using either melted butter or some style of a spray butter, coat the corn cobs, generously with butter. i usually melt some butter and brush it on. After having coated the corn with the butter, sprinkle on some salt, pepper, garlic powder and grated parmesan cheese. Ensure to rotate the cobs to cover with the salt, pepper, garlic and cheese.
If using butter is an issue, substituting with some olive oil is also a viable option, I have used that several times and it definitely works well. We are esswentailly using the butter or olive oil as a binder to keep the other ingredients on the corn.
Cooking Corn On The Grill
By now the grill should be up to temperature and the corn ready to place on the grill. Grilling corn on the cob is incredibly easy and we are going to go by look, since we are not checking any kind of IT. We are going to be grilling corn on the cob over direct heat. Once the corn is on, close the lid and let it ride. Check every 10-15 minutes and rotate the corn. You will see the corn kernels started to brown a little bit, even char a touch. That is ok, unless you really do not like it that way. Cooking corn this way is about a 40 minutes cook time.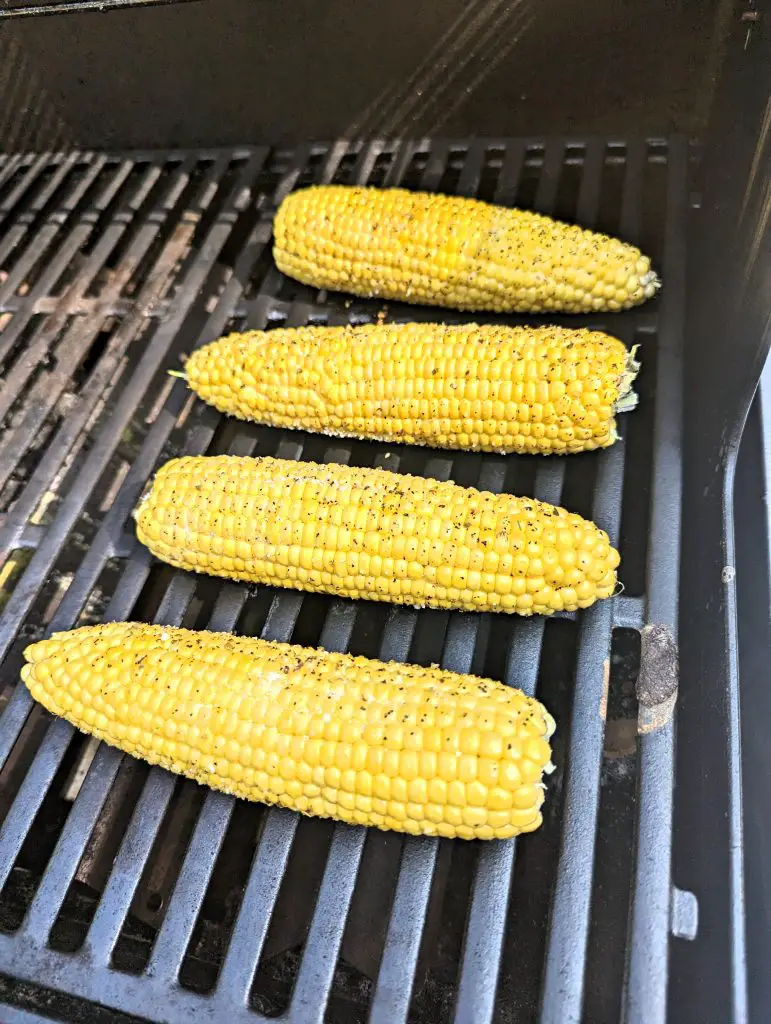 When you have achieved the desired doneness, you can remove the corn. If you pull the corn to early, the kernels will be hard and not nearly as enjoyable.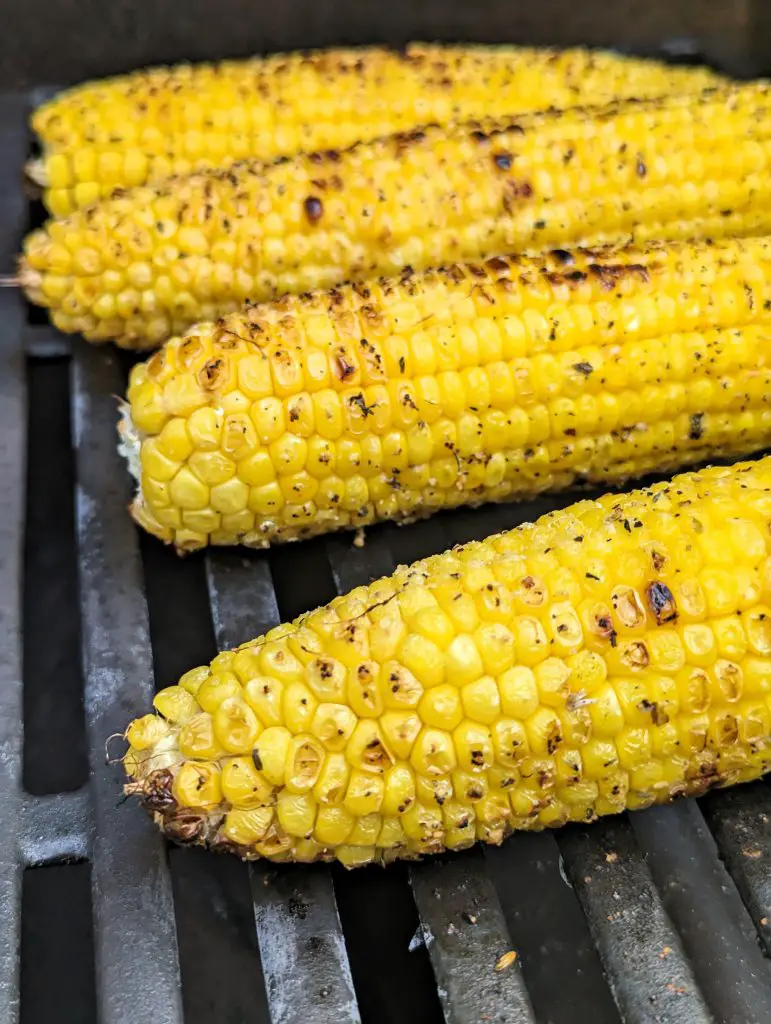 Wrapping Up, Grilled Corn On The Cob
Grilled corn on the cob is a delicious and easy-to-make dish that can be enjoyed all summer long. Whether you prefer to keep it simple with just butter and salt or experiment with different flavors and toppings, there are endless ways to enjoy this classic side dish. Grilling corn adds a flavor that complements its natural sweetness, making it a crowd-pleaser at any BBQ or outdoor gathering. So why not fire up the grill and try out some new recipes for grilled corn on the cob? Your taste buds (and your guests) will thank you!
Thanks for being here and checking out this grilled corn on the cob recipe. I hope you love it! We always appreciate comments, 5 star recipe rating and social media shares. As always, keep that smoke rolling!
Need some other corn recipes or recipes for the grill? Here are a few of our favorites:
While you may not need it for this cook, a great budget friendly temp probe unit is the ThermoPro TP20.
This post contains affiliate links. If you use these links to buy something I may earn a commission.
Grilled Corn On The Cob
Ingredients
6 ears of corn
1/2 stick of butter
2 tsp. of salt
2 tsp. of ground black pepper
2 tsp. of garlic powder
1 tbsp. of grated parmesan cheese
Instructions
Remove husks from the corn and discard
Start grill for a temperature of 400°
Brush melted butter onto the corn
Season with salt, pepper, garlic powder and grated parmesan cheese
Place on grill over direct heat and rotate every 10-15 minutes
Remove after about 40 minutes of cooking
Let cool for 5 minutes and serve
Nutrition Information:
Yield:

6
Serving Size:

1
Amount Per Serving:
Calories:

153
Total Fat:

9g
Saturated Fat:

5g
Trans Fat:

0g
Unsaturated Fat:

3g
Cholesterol:

21mg
Sodium:

852mg
Carbohydrates:

18g
Fiber:

2g
Sugar:

4g
Protein:

3g