Grilled shrimp is a staple food item in many cultures across the world. From the Mediterranean to Southeast Asia, this seafood delicacy has been enjoyed for centuries. Grilled shrimp is not only delicious but also healthy and easy to prepare. It can be served as an appetizer or a main dish with different side dishes, making it versatile and suitable for any occasion. In this article, we will explore the art of grilling shrimp, discuss its health benefits, and provide some mouth-watering recipes that you can try at home!
Grilled Shrimp Recipe
This recipe is simple and easy. Shrimp already has a wonderful flavor so all we are looking to do with this recipe is compliment that and add some wonderful flavors we all know and love. I am doing this on my gas grill, making it prefect for that easy midweek meal after a long day at work. Before we get started, if you are using frozen shrimp, ensure they are defrosted first.
The first thing we need to do is get the grill up and running. You will want to get the grill up to a temperature of 375°, when we put the shrimp on it will be over direct heat. When we cook I also want to know we will not be using wooden skewers but cooking directly on the grates. While the grill is working its way up to temperature we can start prepping the shrimp.
If you don't trust your grill temperatures, try using the ThermoPro TP20. Its great for ambient temperatures and checking the food.
The shrimp we are going to use is tail on but cleaned. Pat the shrimp dry before doing anything else. After you have dried them, place the shrimp in a bowl and we are going to coat with some olive oil. This will serve two purposes, it will help bind the spices to the shrimp but will also help in keeping the shrimp from sticking to the grates. We will then move onto seasoning the shrimp. We are going to need the following ingredients (again, I like it simple):
salt
pepper
garlic powder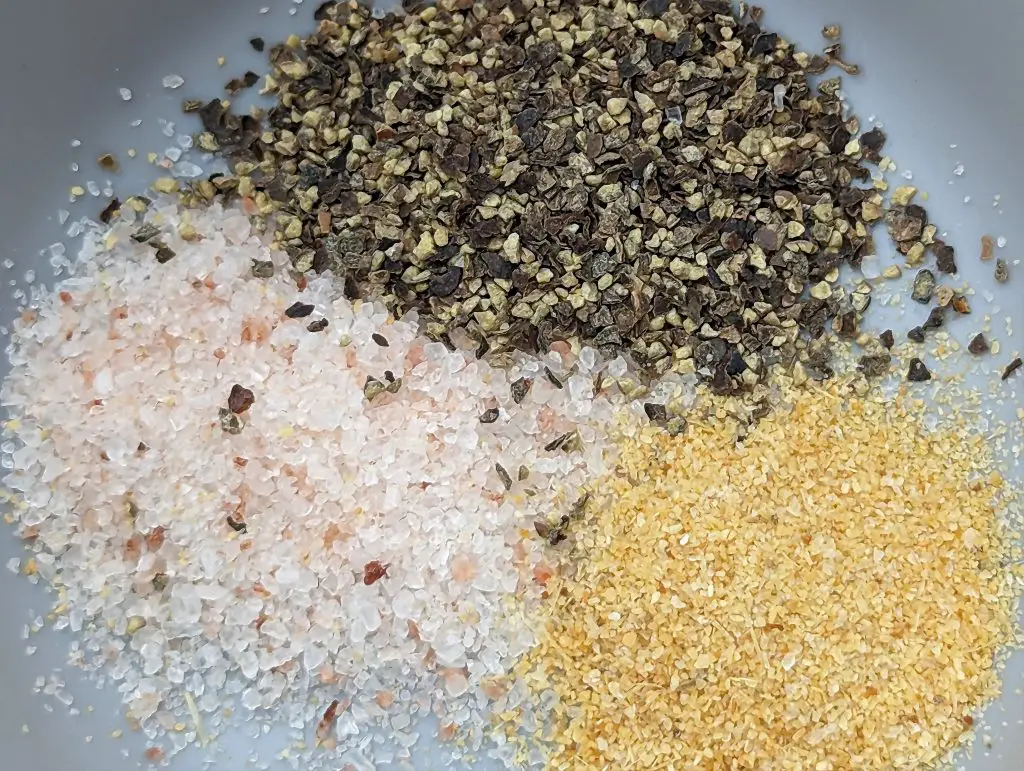 Mix these three together before starting to coat the shrimp, measurements are in the recipe card. With these three ingredients now mixed, coat the shrimp, while in the bowl. Make sure you are getting the shrimp covered well, mix them around with you hands if you need too.
At this stage we are ready to start grilling the shrimp!
The Easiest and Best Grilled Shrimp
So we are going to place our shrimp on the grill, over high to medium heat. Space them far enough away so you have room to flip them. This will be a quick grilling session so we will not need to close the lid, in fact you are better off keeping it open so you can watch the shrimp. Shrimp are notorious for cooking fast and getting dried out so do not walk away for too long, if at all.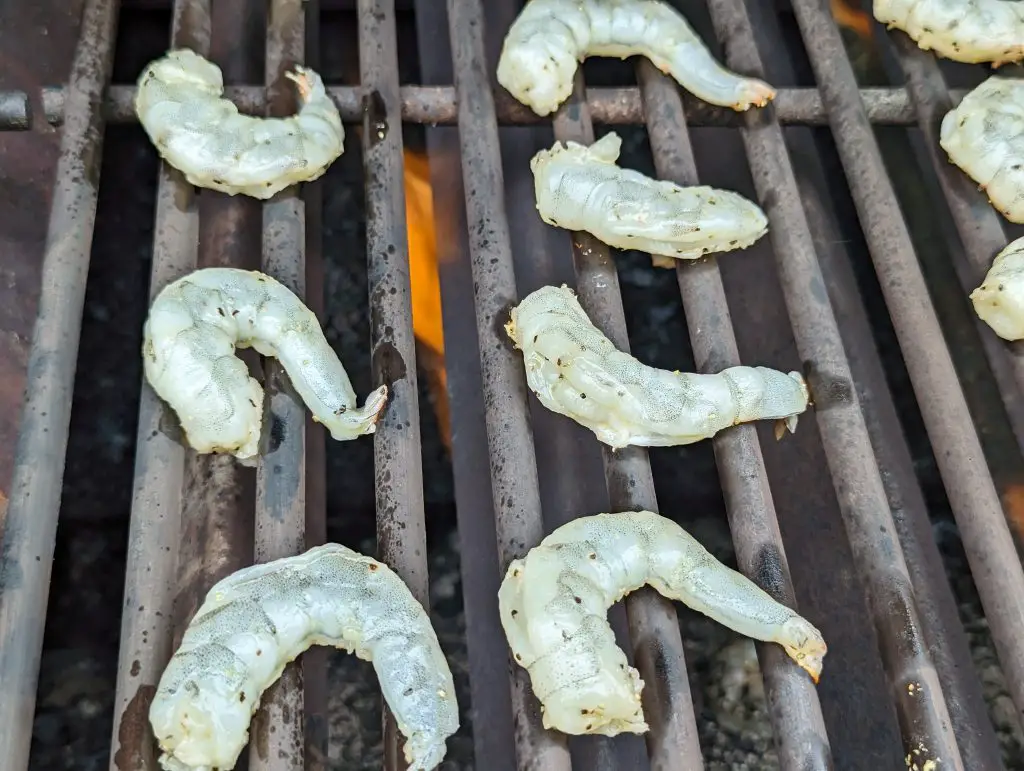 When looking at how long to cook shrimp on the grill, you are talking 5-10 minutes but 10 minutes is likely to be on the long side if I am being honest.
Once they are on the grill, they are going to start cooking fast. As soon as you start to see them turning pink on the one side, flip them and grill the other side. Again you are probably only grilling for 3-4 minutes per side at most. As soon as the other side is looking done, go ahead and pull them. If they stay on too long they are going to get dried out and very rubbery.
Once they are done you are ready to serve. You can add them into another dish, such as shrimp tacos or a shrimp salad to make a meal or serve them as an appetizer, just as is. Garnish with some lemon juice, add some cocktail sauce and you are ready to go.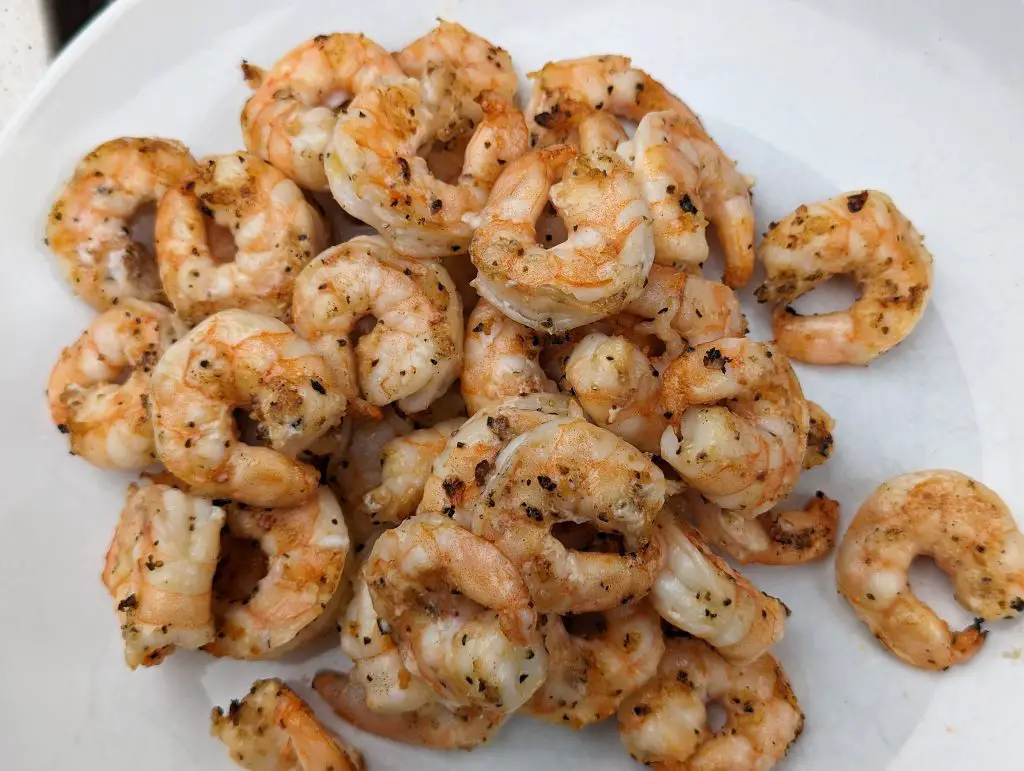 Wrapping Up The Grilled Shrimp Recipe
As we wrap up this recipe, grilled shrimp is an effortless and delicious dish that can be enjoyed any time of the year. With a few simple ingredients, you can easily transform raw shrimp into a flavorful meal in minutes. Whether you're cooking for yourself or entertaining guests, grilled shrimp is sure to impress. So next time you're looking for a quick and easy dinner option, fire up the grill and try out this tasty recipe!
Thanks for being here and checking out this grilled shrimp recipe. I hope you enjoy it! We always appreciate comments, 5 star recipe rating and social media shares. As always, keep that smoke rolling!
If you are looking for some more of the best grilled shrimp recipes or other ideas, here are a few suggestions:
This post contains affiliate links. If you use these links to buy something I may earn a commission.
Easy Grilled Shrimp
Ingredients
1 lb. of shrimp
1 tbsp. of olive oil
1/2 tsp, of salt
1/2 tsp. of black pepper
1/4 tsp of garlic powder
Instructions
Start your gas grill and set for a temperature of 375°
If your shrimp is frozen be sure to defrost first
Pat the shrimp dry with a paper towel
Place in a bowl and coat with olive oil
Mix the dry ingredients together and mix onto the shrimp, ensure you are covering them all
When the grill is to temp, place the shrimp on the grill (grill with the grill open)
Cook on one side for about 3-4 minutes, until you start seeing it turn pink
Flip and cook on the other side until it turns pink, again for about 3-4 minutes
Remove and serve while hot