Smoked rack of lamb is a classic dish that has been enjoyed by meat lovers for centuries. The delicious combination of smoky flavor and succulent meat creates an unforgettable taste experience that keeps people coming back for more. This dish is perfect for special occasions, holidays or simply when you want to impress your guests with a gourmet meal. Whether you are a seasoned smoker or a beginner, this article will help you create the perfect smoked rack of lamb every time!
What Is A Rack Of Lamb?
A rack of lamb is a prime cut of meat that comes from the rib section of the lamb. It is one of the most tender and flavorful parts of the animal, making it a popular choice for special occasions and fine dining.
Typically, a rack of lamb consists of eight ribs, although some butchers may offer smaller or larger cuts. The ribs are usually frenched, which means that they have been trimmed so that only a small amount of meat remains on each bone. This gives the rack an elegant appearance and makes it easier to carve.
One benefit when smoking a rack of lamb is that it requires minimal preparation time compared to other cuts of meat. Additionally, its delicate flavor pairs well with many different sides such as roasted vegetables or mashed potatoes.
Smoked Rack Of Lamb Recipe
Time to get the smoke rolling. I used my Weber Kettle for this smoke. I absolutely love the kettle for these smaller and faster smokes. If you are smoking lamb on another style smoker, like a pellet grill, this recipe should mostly translate. Lamb does not have the same amount of fat that needs to render so most lamb recipes are better done a little hotter and faster. We are looking for a temperature in the 275°-300° range. I used hickory wood for this smoke, a great blend of smoke and lamb flavor. Wood chips or chunks work for this smoke.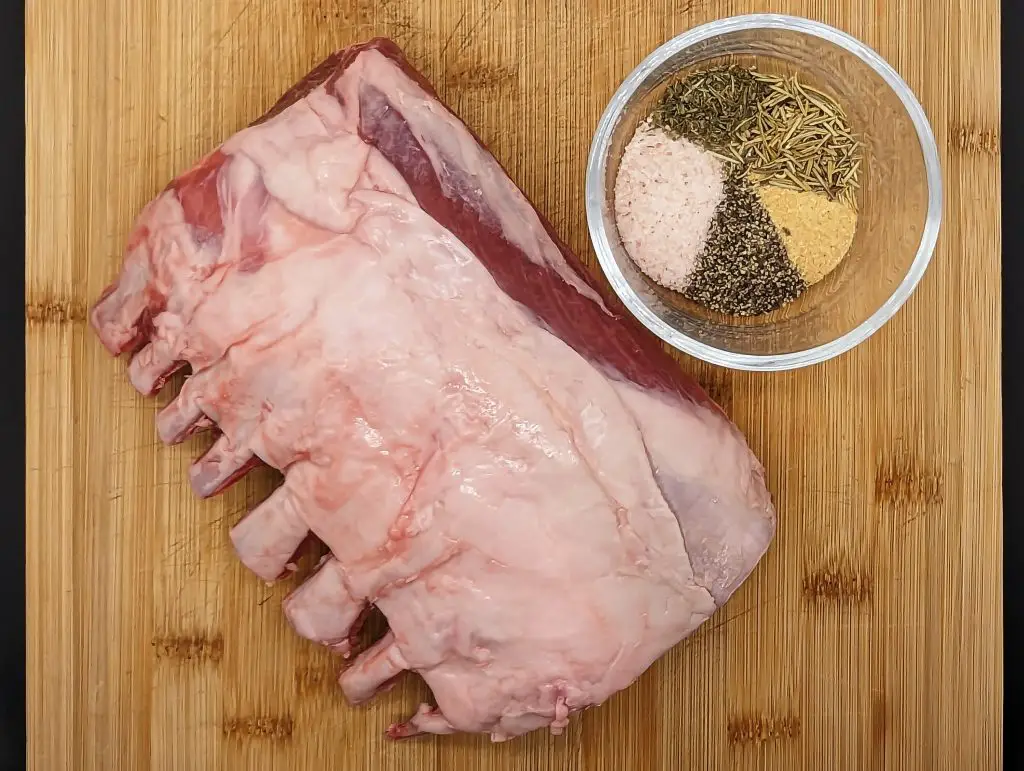 While the smoker is getting up to temperature we can work on preparing the lamb. If you feel that the lamb has an excess amount of fat on it, you can go ahead and trim it. I have never felt there was that much that it needed to be trimmed but I know some have felt the need to trim some at times. A little bit of extra fat on our meat never hurt anyone.
Rub For Lamb Rack
If you have seen some of my other recipes, you will know I love great food without going extravagant with ingredients, simple can be delicious too! So this lamb rack seasoning will not be any different. You can season lamb a variety of different ways but what always seems to work best as a lamb rub and be a great compliment is a simple rub that includes some rosemary and thyme. Here is what you will need, most of this should already be in the kitchen:
olive oil, this will be our binder
salt
black pepper
garlic powder
rosemary
thyme
Before we use the rub, brush the lamb rack down with some olive oil. Be sure to do top and bottom. Once that is done, we can move onto the rub. Mix all of these rub ingredients together and apply at once as opposed to applying each one on its own. It is ok to apply this in advance and let the flavor works its way into the lamb. With this step now done, let's start smoking.
How To Smoke A Rack Of Lamb
Ok, your smoker should be in that 275°-300° range by now. Place your rack of lamb on and let it go. If you can, get a probe in between the bones so you can track the temperature.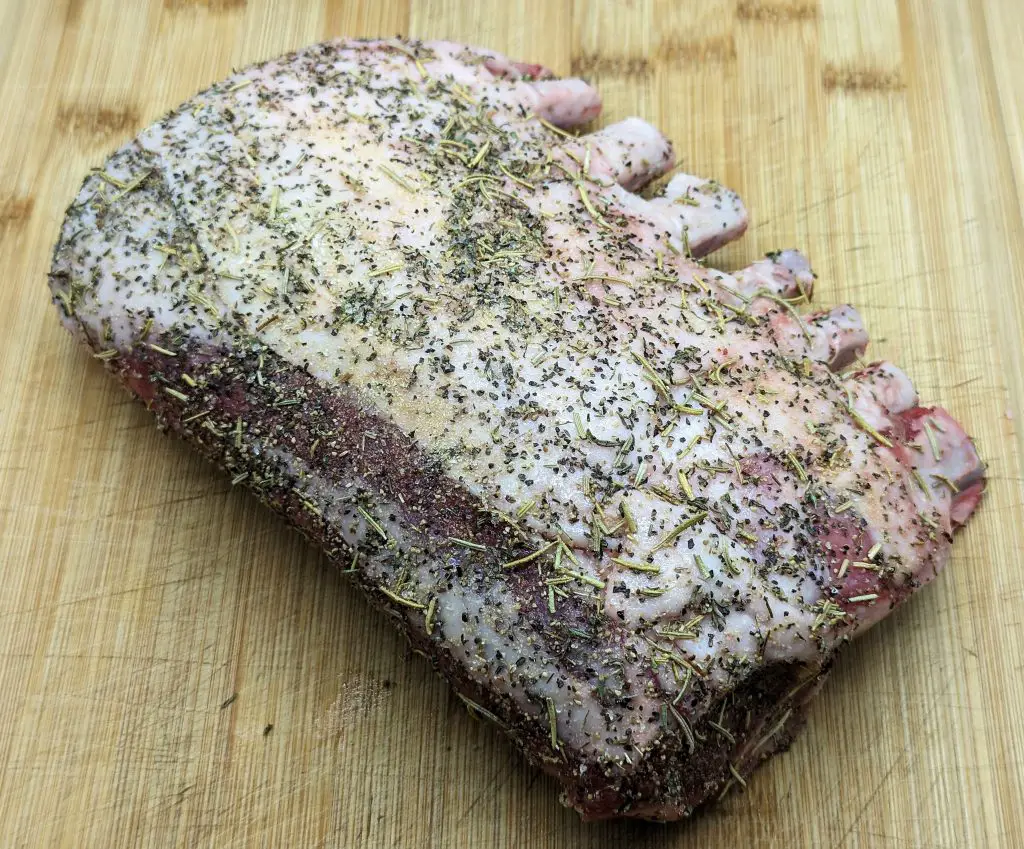 If you need a great probe, give the ThermoPro TP20 a try, a great budget friendly unit that is super reliable.
So the rack is on now, close up the smoker and let it ride. There is nothing else to do while it smokes. Lamb is best served in the medium rare to medium range and these lamb racks are no different. In fact I think the rack of lamb is even better than your standard lamb leg. With this recipe I will be cooking to a medium rare lamb rack. Here is a guide for your reference:
Rare – 125°
Med Rare – 135°
Medium – 145°
Med Well – 155°
Well Done – 165°
Keep it on there until the internal temperature reaches 135°. At this point we want to throw a quick reverse sear on the lamb. If you are using a kettle like I am you can place it directly over the coals, the fat dripping will kick up the coals and after a short minute or two, you will be good to go. If that set up does not work, you can throw it on the grill for the same amount of time of 1-2 minutes for a sear.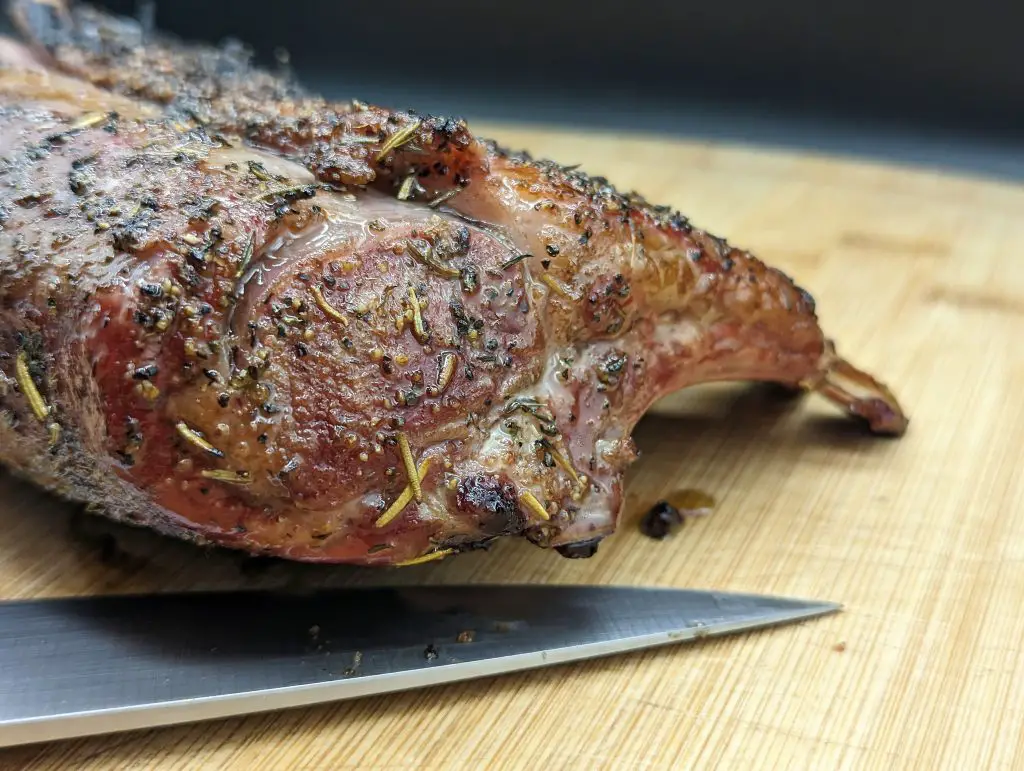 After having achieved the desired sear, pull the rack off and we are going to let it rest for about 15 minutes. After that 15 minutes, slice and serve.
In Conclusion, Smoked Rack Of Lamb
Smoked rack of lamb is a delicious and unique way to prepare this classic meat dish. The smoky flavor adds an extra layer of complexity to the already rich and flavorful lamb meat. With a few simple steps you can easily create a show-stopping centerpiece for any special occasion or dinner party. Whether you're an experienced grill master or just starting out, this recipe is sure to impress both your taste buds and your guests. So fire up the smoker, grab your favorite bottle of wine, and get ready for a truly unforgettable dining experience with smoked rack of lamb on the menu.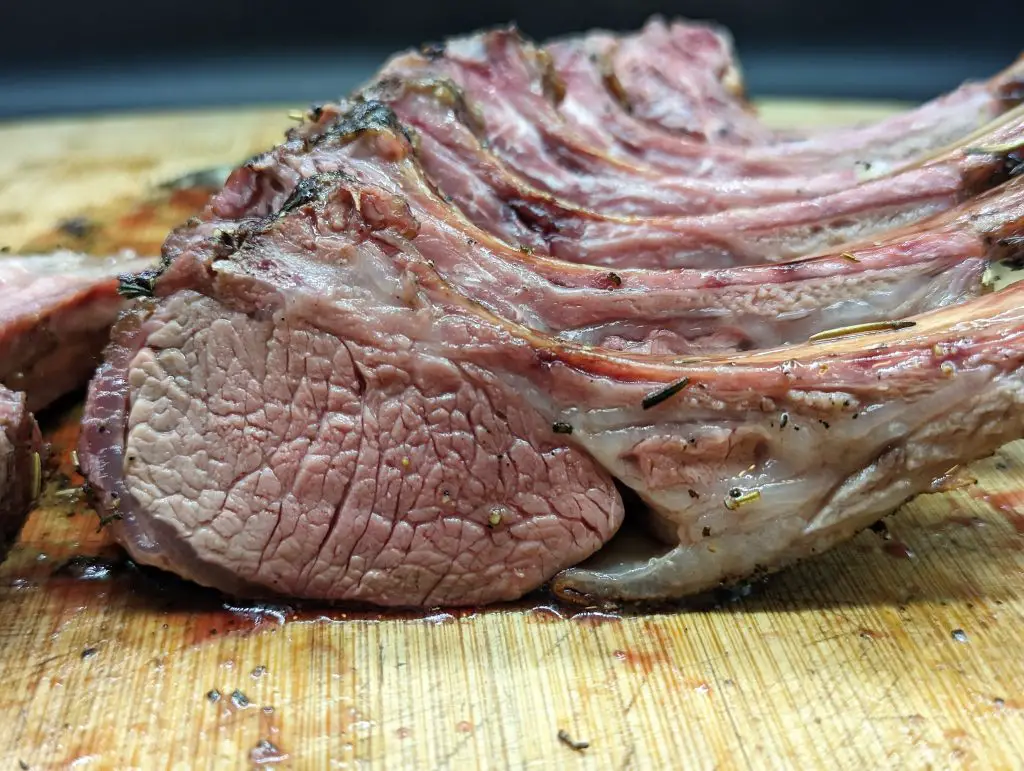 Thanks for being here and checking out this Smoked Rack Of Lamb recipe. I hope you enjoy it! We always appreciate comments, 5 star recipe rating and social media shares. As always, keep that smoke rolling!
If you are looking for some other smoked lamb recipes and other smoker recipes, here are some suggestions:
This post contains affiliate links. If you use these links to buy something I may earn a commission.
Smoked Rack Of Lamb
Ingredients
1 Rack of lamb, approximately 1.25 lbs.
1/2 tbsp. of olive oil
1 tsp. of salt
1 tsp. of black pepper
1/2 tsp. of garlic powder
1 tsp. of rosemary
1/2 tsp. of thyme
Instructions
Prepare smoker for 275°, using hickory wood
Trim any excess fat off the rack
Coat the rack with olive oil
Mix the herbs and spices and then rub down the rack
Place on smoker and smoke to an IT of 135°
Quickly flip and do a sear over direct heat for just a minute or two, the fat dripping off will kick up some flames rather quickly. If its easier, throw it on the grill for a reverse sear.
Remove and let rest for 10-15 minutes
Slice and serve
Nutrition Information:
Yield:

3
Serving Size:

1
Amount Per Serving:
Calories:

602
Total Fat:

42g
Saturated Fat:

21g
Trans Fat:

3g
Unsaturated Fat:

20g
Cholesterol:

172mg
Sodium:

925mg
Carbohydrates:

1g
Fiber:

0g
Sugar:

0g
Protein:

54g