As summer heats up, it's the perfect time to fire up your grill and try something new, like clams on the grill. If you're tired of the same old burgers and hot dogs, why not give clams a chance? Grilling clams adds a flavor that perfectly complements their natural brininess. Whether you're hosting a backyard barbecue, treating Dad on Father's Day, or just looking for a unique weeknight dinner idea, grilled clams are sure to impress.
In this article, we'll cover everything you need to know about grilling clams: from selecting the right type of clam to preparing them for the grill and serving them up with delicious sides. So grab some tongs and get ready to master this summertime favorite!
Grilled Clams Recipe
When grilling clams on gas grill, I have found littleneck clams to be the best type of clams for grilling. I do not know if they are widely available so go with what you can get but if littlenecks are an option, I would suggest using them. As far as the cooking/grilling aspect, there are no other ingredients we will need, just the clams.
Something I usually do before cranking up the grill is lay down some foil. The clams release a lot of liquid when they start to open up and you do not want the grates covered or the lower part of the grill covered in the liquid. This is especially important if you are grilling some other items immediately after the clams. You may not want the burgers tasting like clams.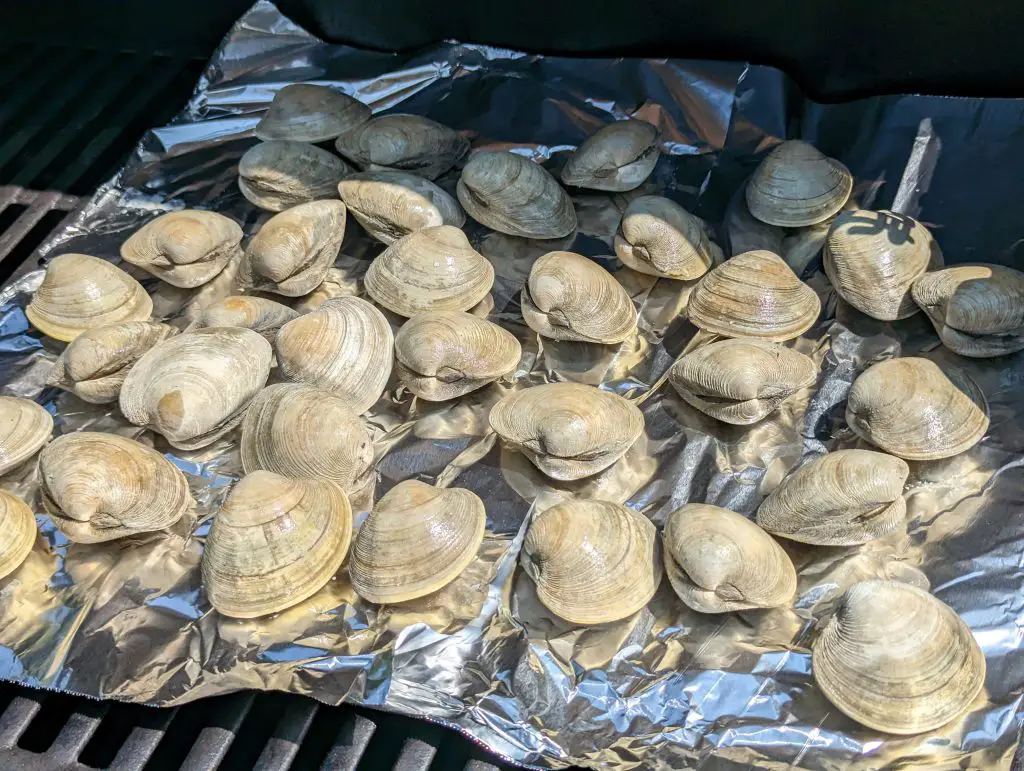 Once the you have the foil down, you can get the grill going to a temperature of 400°. While that is getting up to temperature, we will want to check the clams. Any clams that are opened, even just a little bit, we are going to discard. I also discard any clam that has a small hole in the shell or is cracked. Any other clam closed tight, is good and you can start placing on the grill.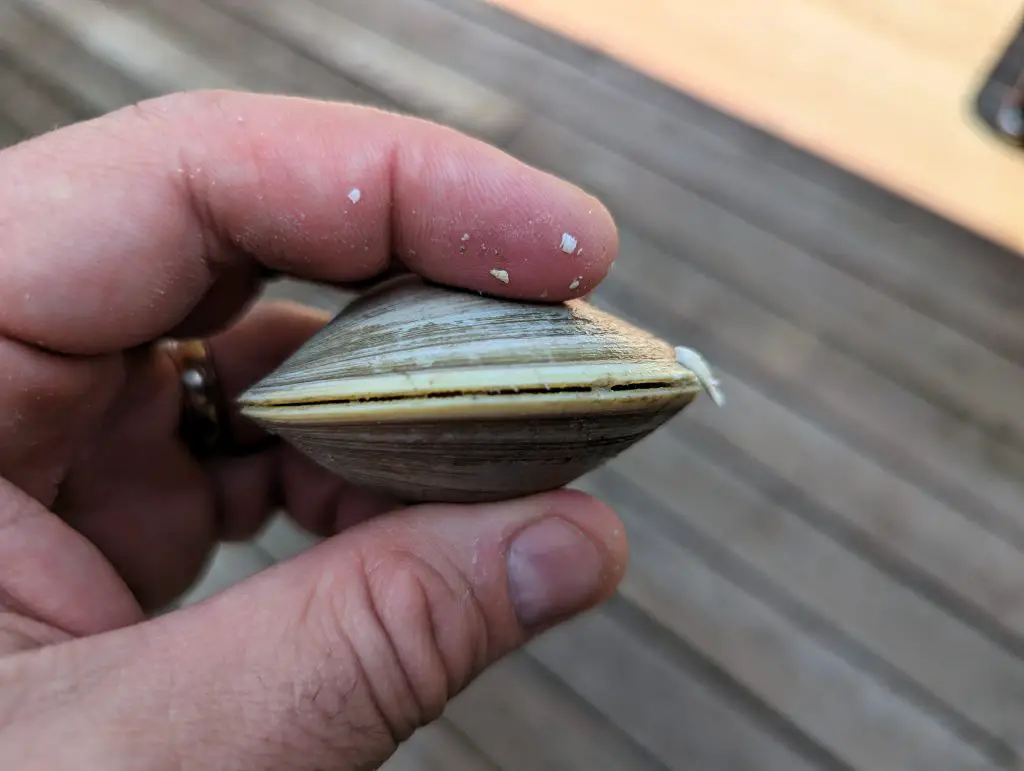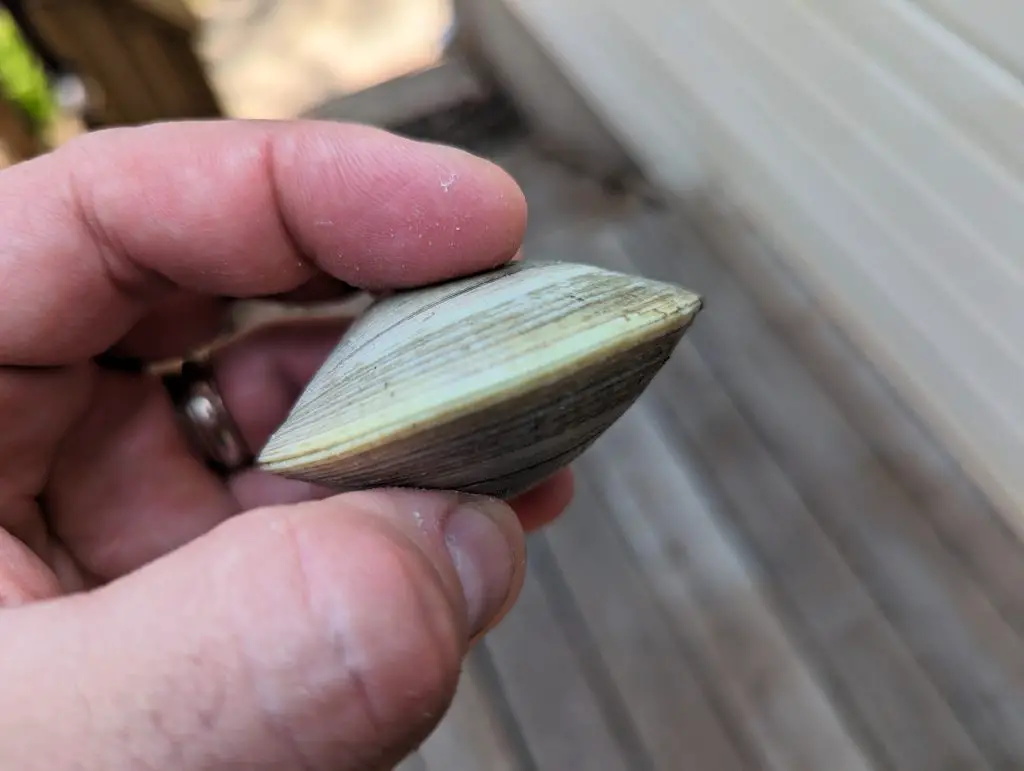 Once you have your clams on, you can close the grill and let them cook. From there it will be about 15-20 minutes before you will start to see the clams pop open. Wait for them to fully open before removing. As the clams open you can remove them from the grill and place them in a large bowl for serving. You can either wait for them to all be done or serve incrementally if you have an impatient group. Within 30 minutes of placing the clams on the grill, they should all be opened. Any clam that does not open, I strongly suggest discarding. The consequences, are not worth the reward!
How To Serve Grilled Littleneck Clams
So we have covered cooking clams on the grill, now let's review how to serve these clams. The beauty in cooking these and what to serve them with is almost just as easy!
I usually like serve these with some melted butter. You can get that started while the clams cook. If you want to mix things up clams with garlic butter recipe would also pair very well. Additionally some hot sauce for dipping is also a must. A couple of slices of lemon wedges is highly recommended but outside of those three items, you really do not need much.
You can hit the cooked clams with some fresh lemon juice, remove the clam meat and dip in the butter or hot sauce and enjoy!
Wrapping Up, Clams on the Grill
Grilling littleneck clams is a fantastic way to elevate your summer seafood experience. With the right preparation and cooking techniques, you can achieve perfectly grilled clams every time. Whether you prefer them with a simple lemon-butter sauce or spiced up with garlic and red pepper flakes, there are countless ways to enjoy this delicious shellfish on the grill. So next time you fire up the barbecue, don't forget to add some clams to the menu!
Looking for some other great recipes on the grill or smoker? Here are few suggestions:
You may not need it on this cook but if you are smoking or grilling some other foods, try the ThermoPro TP20.
Clams On The Grill
When you know how to cook clams on the grill you are adding a delicious option to you grilling menu and doing so with the easiest of recipes. Look like a grill master when you throw clams on the grill for your guests.
Ingredients
2 pounds littleneck clams
1/2 stick of butter
4 tbsp of hot sauce
1 lemon
Instructions
Set grill to 400°
Lay down a layer of aluminum foil
Check clams, anything slightly opened or cracked, discard
Place on grill and cook clams until they open up
Any that do not open, discard
Serve with melted butter, hot sauce and fresh lemon wedges
Nutrition Information:
Yield:

8
Serving Size:

1
Amount Per Serving:
Calories:

223
Total Fat:

8g
Saturated Fat:

4g
Trans Fat:

0g
Unsaturated Fat:

3g
Cholesterol:

91mg
Sodium:

1411mg
Carbohydrates:

7g
Fiber:

0g
Sugar:

0g
Protein:

29g