Hot dog and onions are a classic combination that have been satisfying taste buds for generations. Whether enjoyed at backyard barbecues, sporting events, or street food carts, this iconic pairing never fails to evoke feelings of nostalgia and comfort. The juicy and savory hot dog nestled in a warm bun perfectly complements the sweet and tangy flavor of caramelized onions. In this article, we will delve into the history, variations, and mouthwatering recipes that showcase the irresistible union of hot dogs and onions. Get ready to indulge in a culinary journey that celebrates this beloved duo!
This is a family favorite in our house. There is never a time we are not BBQ'ing that someone, mostly my father, is not offering to make onions for the hot dogs. He grew up in Newark NJ, eating hot dogs like this, all the time. This is a recipe I hope your family will also enjoy as much as we do.
History of Hot Dog and Onions
When it comes to iconic American street foods, few can rival the fame and flavor of the classic New York-style hot dog. Known for its simplicity, distinct taste, and cultural significance, this juicy delicacy has a fascinating history that dates back over a century.
The origins of the New York-style hot dog can be traced back to the late 19th century when waves of immigrants flooded into New York City from various parts of Europe. Among these immigrants were German butchers who brought their expertise in sausage-making techniques. They began serving sausages on buns at pushcarts throughout the city.
While sausages on bread were not entirely new at the time, it was in New York where they truly evolved into something unique. As different immigrant communities settled in specific neighborhoods across the city, each group added their own touch to the humble hot dog recipe, creating regional variations that would eventually blend together to form what we now know as "New York-style."
Another defining characteristic is how they are cooked and served. In most cases, authentic New York-style hot dogs are grilled or griddled until they develop a beautiful charred exterior while remaining moist and tender inside. They are then nestled within a soft steamed bun—often referred to as a "hot dog roll"—and topped with simple yet flavorful condiments such as mustard (preferably yellow), sauerkraut, onions (raw or caramelized), ketchup (controversially), relish, and sometimes even chili sauce.
Over time, certain hot dog joints in New York City gained legendary status for their exceptional offerings. Institutions like Nathan's Famous, Gray's Papaya, and Papaya King became synonymous with the city's hot dog culture, attracting locals and tourists alike.
The popularity of New York-style hot dogs eventually spread beyond the city, reaching every corner of the United States.
Ingredients For Hot Dog and Onions
It goes without saying you will need hotdogs and buns for this recipe. Beyond those two crucial ingredients, you are going to need the following items:
white onion
tomato sauce
Creole seasoning
red pepper flakes (optional if you want to add some heat)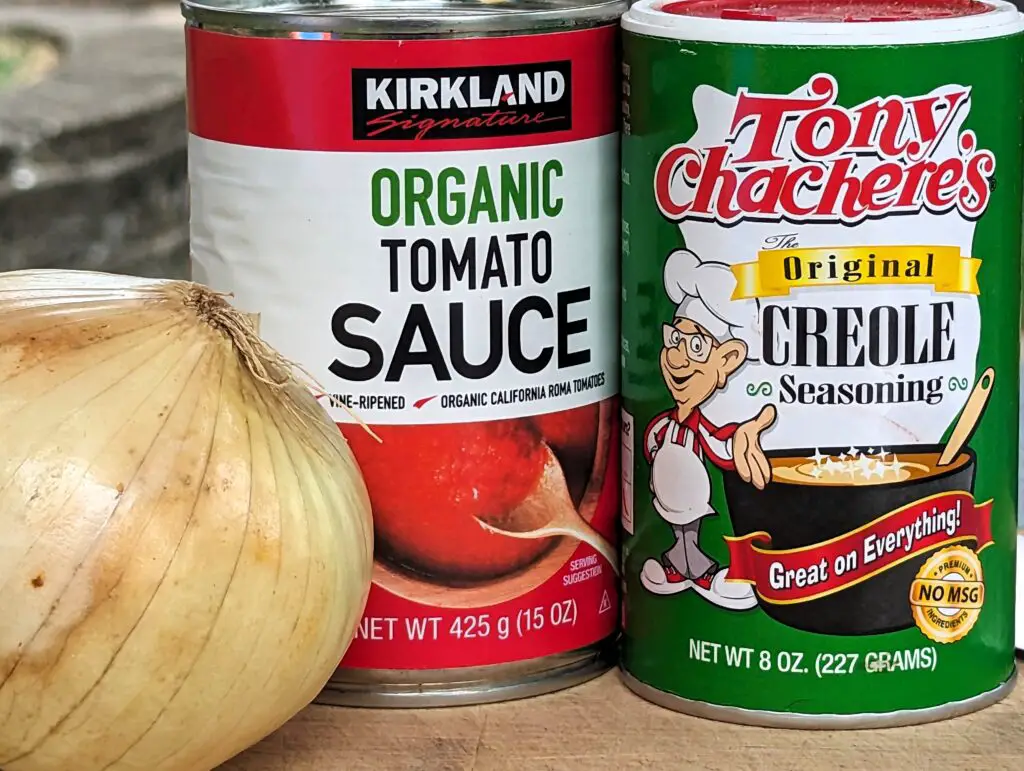 This basic combination of ingredients offers such an amazing flavor when topped on hot dogs, you are going to wonder why you have not been doing hotdogs like this for years.
How To Make Cooked Onions For Hot Dogs
While we work on slicing the onion, start warming up your cast iron skillet over medium heat, on either the stove top or grill. While the skillet is warming, slice the the whole onion and then slice them in half again. After having sliced them, add them to the skillet and add about a half cup of water to help soften them up. You are going to cook the onions, until soft. This will take about 15 minutes.
Half way through, add an 8 oz. can of tomato sauce. Gauge how much sauce you need based on the size of the onion. We want these onions to be wet but not soupy and sitting it tons of tomato sauce. Once the sauce is in, start adding the creole seasoning, I used Tony Chachere's Creole seasoning for this recipe.
When adding the Creole seasoning, start off with about 1/2 tablespoon, if you want a little more flavor gradually add more, about 1/4 teaspoon at a time. Finally, if you want some heat in this onion mix, you can add some red pepper flakes. In a similar manner as above, do so adding about 1/4 teaspoon of flakes at a time.
When the onions have softened up enough, you can remove them and set them to the side. You of course can do the onions at the same time as the hot dogs but does not have to be. If you do the onions in advance, just give yourself enough time to warm them up before serving.
If you are looking to make in advance or have some leftovers, they will store in an airtight container for about a week.
Grilling Hot Dogs
Being that you will be cooking the onions over direct heat, my method of grilling hot dogs with some intial indirect heat could allow you to do them both at the same time.
Place your hot dogs on the grill, on the cool side of the grate, close up the lid and cook them with indirect heat for about 5-10 minutes. You will want to do this at a temperature of about 300. In most case, the hot dogs are already cooked so we are not actually cooking them, simply warming them up and adding some char to them.
After you have let them sit on the cool side to warm, transfer them over the coals and we are going to grill them over some direct heat. You are going to want to keep the lid off and keep these guys rolling over the grates. This part is a little subjective, because you are going to keep them over direct heat until you feel they are ready. If you are looking for some solid grill marks, you will leave them on longer. Less grill marks, you are going to pull them sooner, for sure. Figure about 2-3 minutes over the direct heat.
If you are looking for a temperature you want to hit, so you know these are warm, look at an IT of about 140°. A great budget friendly unit, for spot checking the IT, is the ThermoPro TP03H.
Serving Hot Dog and Onions
Hot dogs are grilled and the onions are ready. Time to start putting the hot dogs together. Get the dog in a bun and then simply load it up with the onions. If you want to toast the buns first, put over some the direct heat just for a minute or two, or 3-4 minutes on the indirect side. These onions should be pretty tender and have some liquid so you should not feel the need for any kind of mustard, ketchup or other hot dog toppings. Not that you can't add condiments but these onions are such a great addition, you will not feel like you need anything extra added.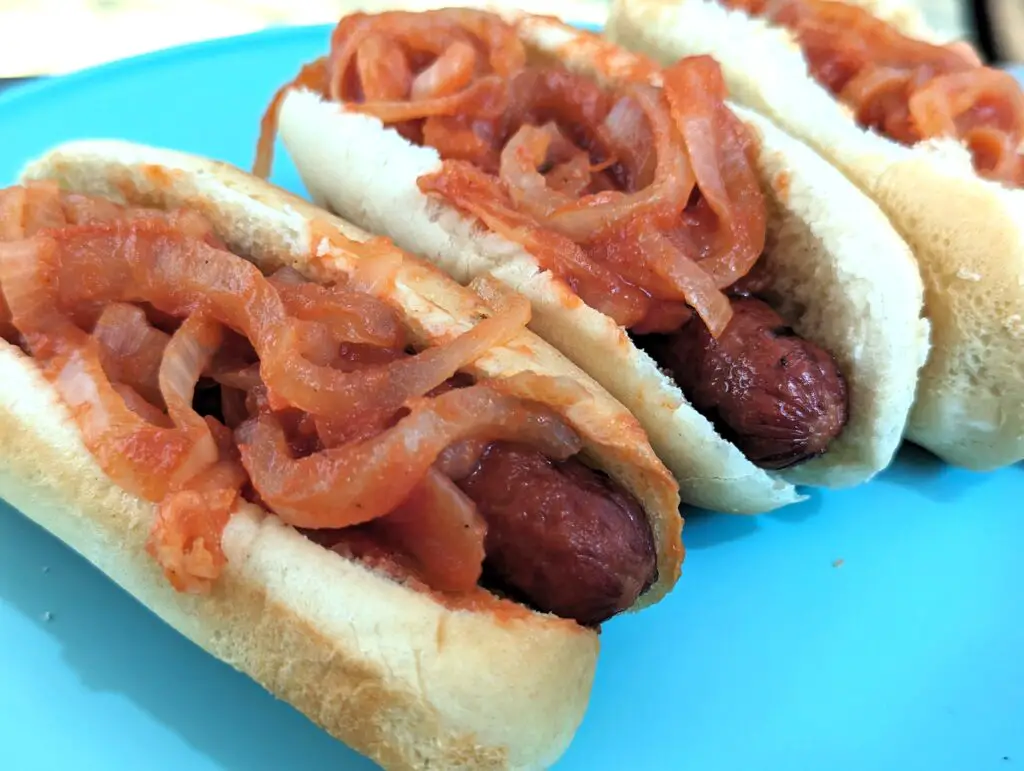 Wrapping Up Hot Dog and Onions
The combination of hot dogs and onions is a timeless classic that continues to delight taste buds around the world. Whether enjoyed at backyard barbecues, sporting events, or street food vendors, this simple yet satisfying pairing offers a burst of flavor and texture that is hard to resist. From the savory snap of the grilled hot dog to the caramelized sweetness of sautéed onions, these ingredients complement each other perfectly, creating a mouthwatering experience for all who indulge. So next time you're craving a delicious and nostalgic meal, don't forget to top your hot dog with some flavorful onions – it's a winning combination that never disappoints.
Thanks for being here and checking out this Hot Dog and Onions recipe. I hope you enjoy it! We always appreciate comments, 5 star recipe rating and social media shares. As always, keep that smoke rolling!
Looking for some more recipes? Here are some suggestions:
This post contains affiliate links. If you use these links to buy something I may earn a commission.
Hot Dog and Onions
Hot dogs are a summer classic but its time to move away from the traditional ketchup and mustard and wow your family and friends with this hot dog and onions recipe.
Ingredients
3 hot dogs
3 hot dog buns
1 white onion
8 oz. of tomato sauce
1 tsp. Creole seasoning
Instructions
Start by warming the skillet either on the grill or the stove top
Slice the onion and then cut the slices in half
Add about 1/4 to 1/2 cup of water to the skillet and then add the onions
Soften up for about 5-10 minutes, then add the tomato sauce and Creole seasoning
Continue cooking for a total about 15 minutes
Either at the same time or after, you can start cooking hot dogs, on indirect heat for about 5-10 minutes
After 10 minutes, move over to direct heat and continue cooking until it is to your liking
Remove, place the hot dogs on the buns, top with onions and serve
Notes
If you want to add more Creole seasoning, I would recommend doing so about 1/8 to 1/4 of a tsp. at a time
If you want some heat in there, add some red pepper flakes, at about a 1/4 tsp. at a time.
Nutrition Information:
Yield:

3
Serving Size:

1
Amount Per Serving:
Calories:

334
Total Fat:

16g
Saturated Fat:

6g
Trans Fat:

0g
Unsaturated Fat:

8g
Cholesterol:

28mg
Sodium:

1416mg
Carbohydrates:

35g
Fiber:

3g
Sugar:

8g
Protein:

12g