Are you tired of the same old burger recipe? Why not spice things up with a Jersey Burger! This juicy and flavorful burger is inspired by the famous burgers found in New Jersey diners. It's loaded with toppings like pork roll, sautéed onions, lettuce, and tomato. Plus, it's served on a toasted brioche bun that adds a touch of sweetness to this savory dish. In this article, we'll walk you through how to make your own delicious Jersey Burger at home. Get ready to impress your friends and family with this mouth-watering creation!
What Are Jersey Burgers?
Well this is likely to be one of the more unique burger recipes you will find. It a common menu item in New Jersey and is a mash up of a few different ingredients. The Jersey burgers are staples in many locations, such as diners, but likely to be most tied to a few smaller restaurant chains in NJ, like White Mana or White Manna or the White Rose chain. Some will refer to them as heart attack on a bun but they are delicious and worthy of trying at least once. Try it once, you will come back for more!
How To Make A New Jersey Burger
A Jersey burger starts out no different than your typical burger, its the topping that get added that make it a game changer. We are going to start out with a 1/4 lb. burger. Feel free to do the burger patty however you so chose, if making yourself don't go crazy on spices. You do not want to overwhelm and miss out on tasting the other ingredients. You will also need one egg, a couple of slices of Taylor Ham and some onions.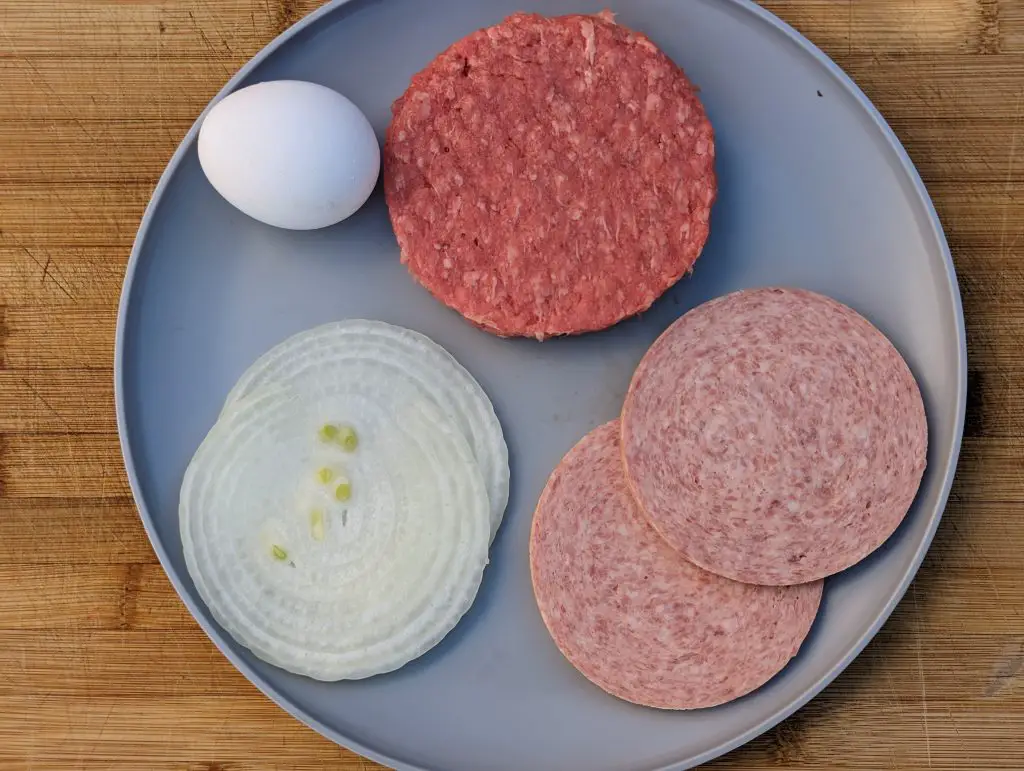 Start out by getting the grill going, look for a temperature of 350°, we are going to cook the burger over indirect heat. If you have enough room on the grill and a flat cast iron skillet, we are going to set that up over direct heat. If not you can do the other cooking, with the skillet, on your stove top.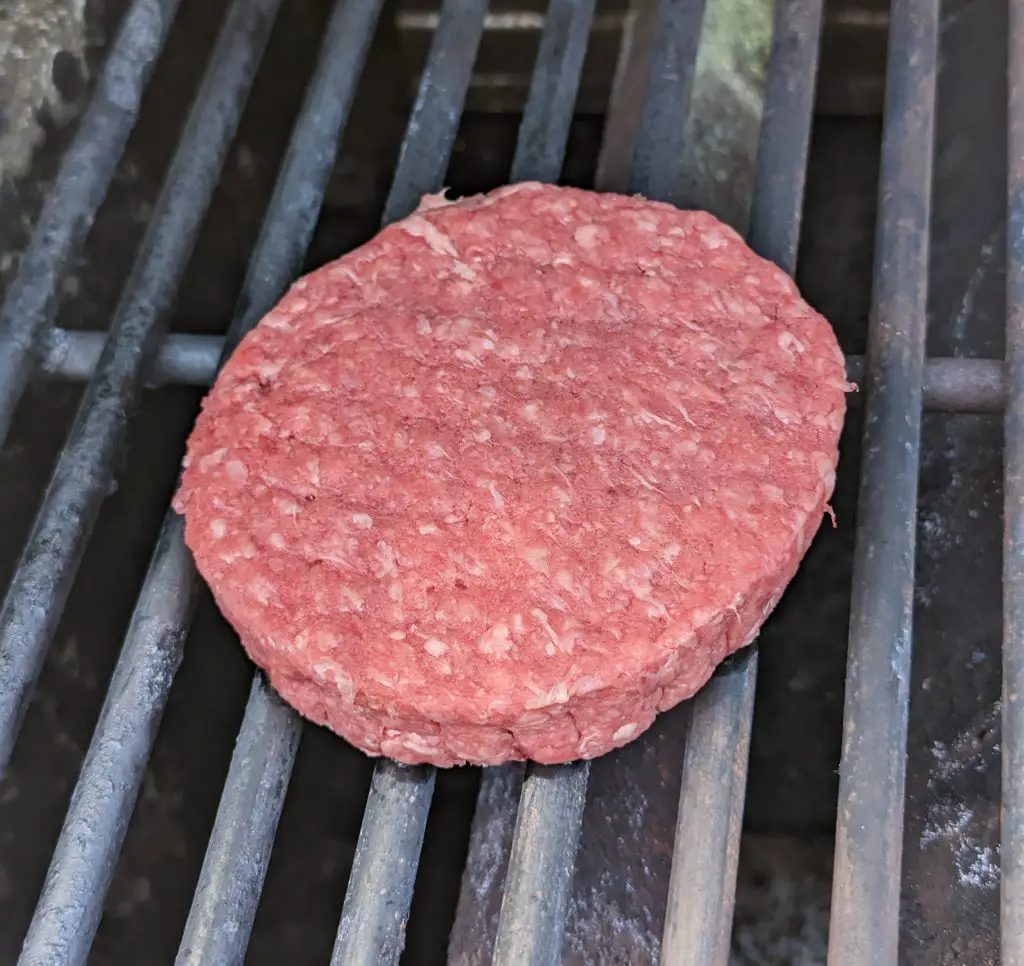 Set up your burger with some indirect heat, the slices of Taylor Ham, can also be set up on indirect heat, either on the warming grate or the cooking grate. While the burger is getting started, you can slice some onions and get the egg ready. The onions and egg will not take long, so once your burger appears to be half way done, we can start with the onions and egg.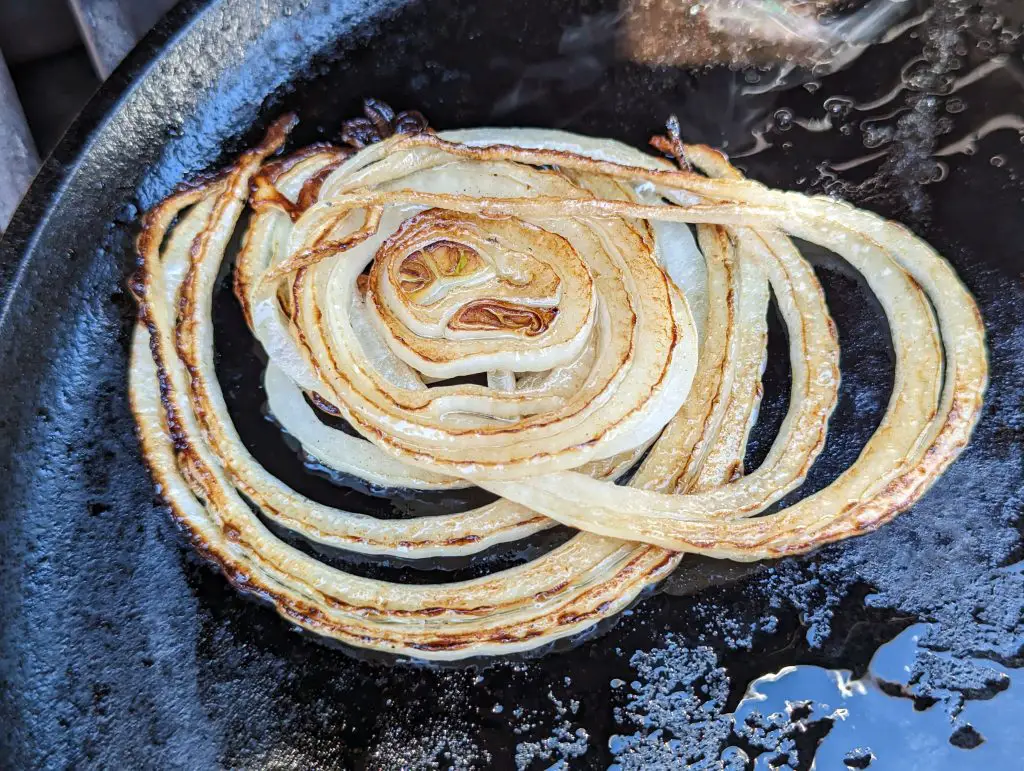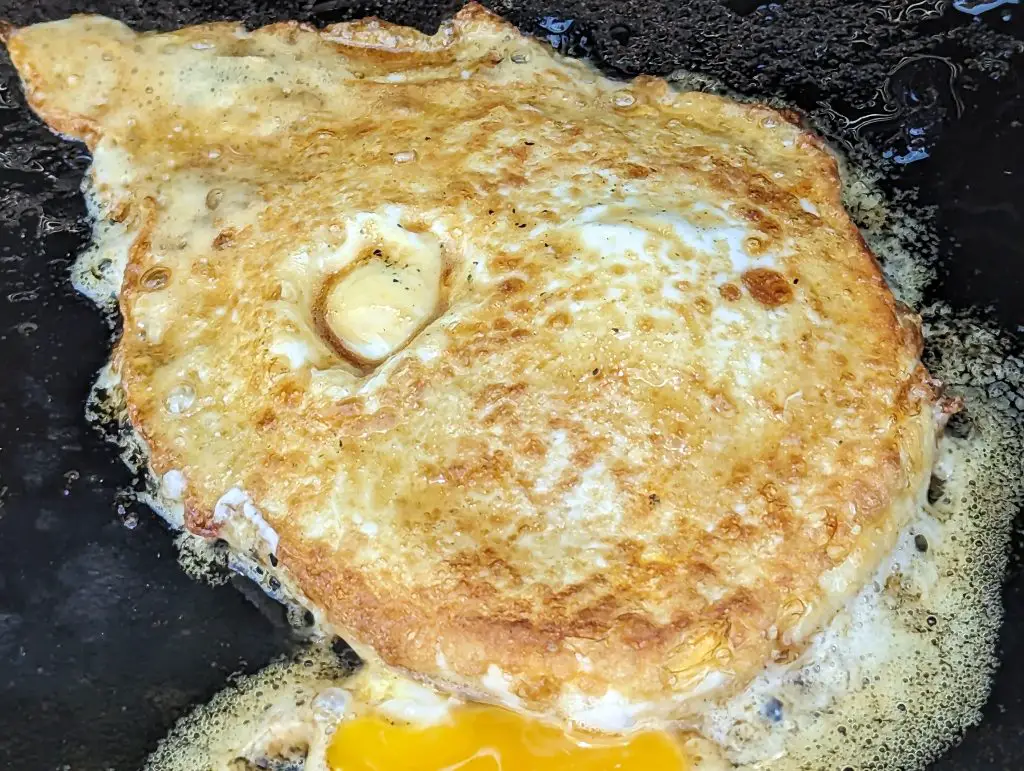 When starting the onions and eggs, take a little bit of olive oil and carefully spread it on the skillet. You can then take the onions and sauté them for a bit on the skillet, until they soften up. The egg we are going to fry and so go ahead, crack it and then once on the skillet, break the yolk a bit. After 2-3 minutes go ahead and flip the fried egg.
At this point the burger should be almost done. Once the burger hits an IT of 125°, we are going to do one of two things, you can throw it on the skillet and let it cook for another minute on each side, in the oil. The other option is to get finish the burger off over direct heat for a minute on each side. My goal here is a burger that done medium, so right around 130°
Need a good probe for checking the IT of the meat, try the ThermoPro TP20. Perfect for checking the IT, and letting you keep that lid closed.
One last step, you just need to then place the Taylor Ham on the skillet and let that finish for a minute on each side as well. The slices of Taylor Ham will cup on you a bit so cut a slit into the Taylor Ham so it stays flat.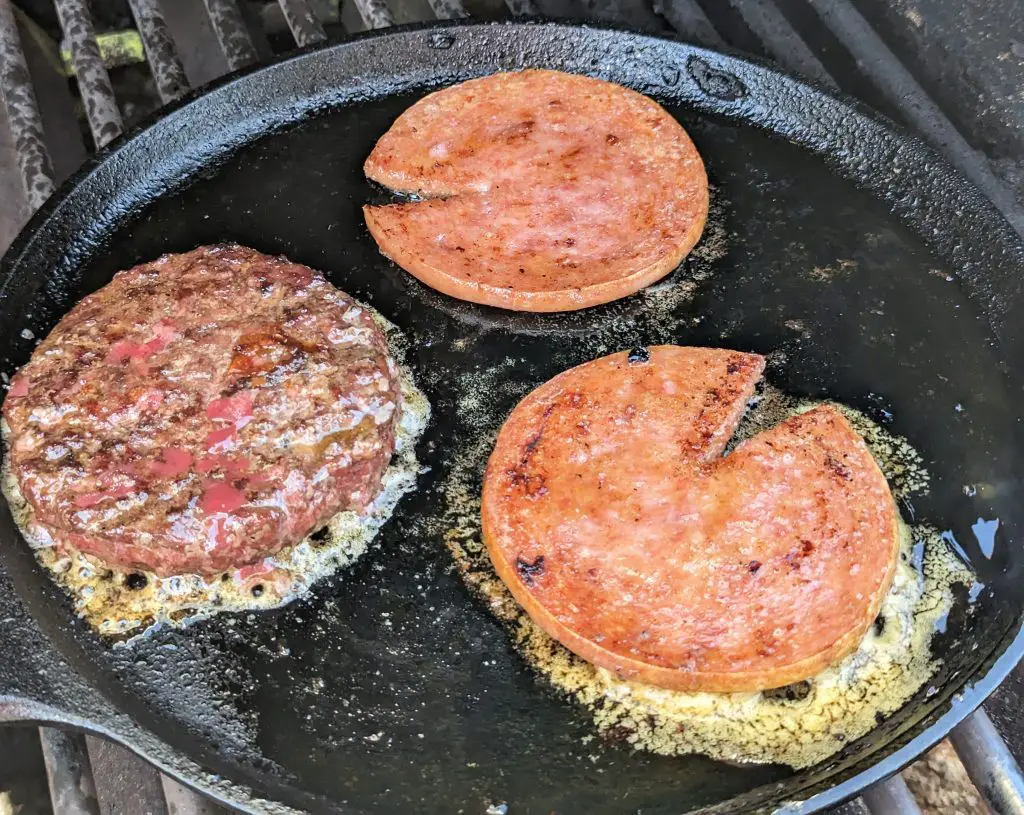 After the Taylor Ham is done, we can put out Jersey burger together. This does not typically have any lettuce or tomato, you can add some American cheese or cheddar cheese to it. But I would start with your burger, add on the Taylor Ham, your fried egg, some cheese if you want it and then the onions. You can add some ketchup to it but beyond that, it does not need much else. Personally I do not even add ketchup to this, I feel like it just does not it. Once you have it together you are ready to serve it in all its glory!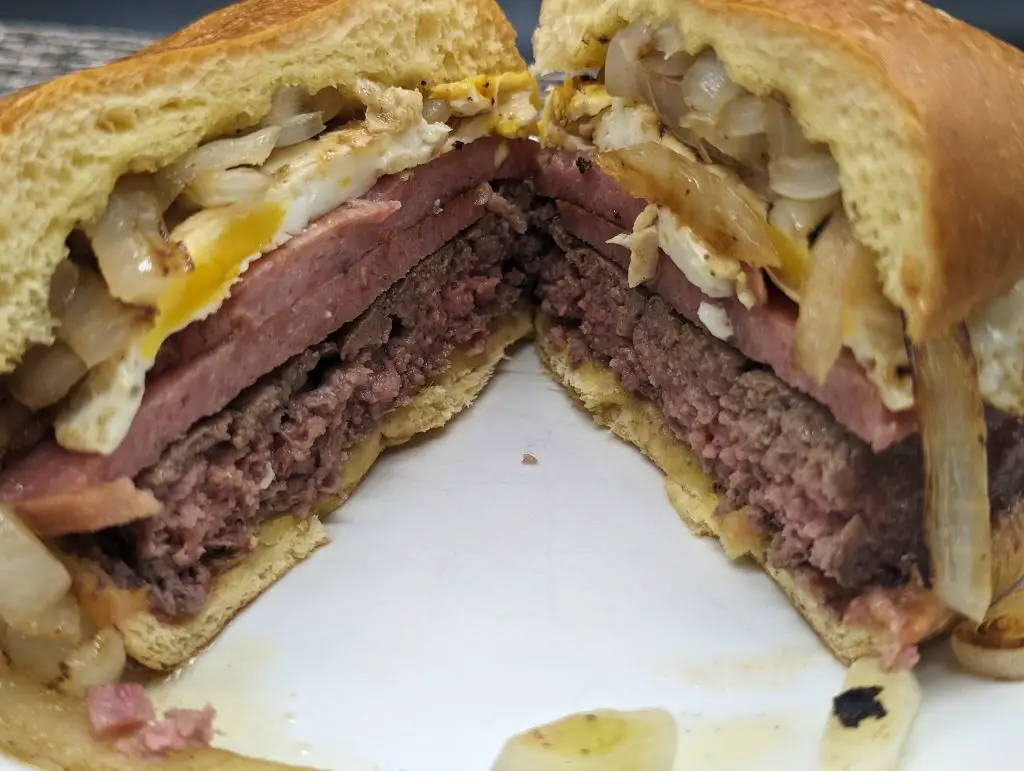 Wrapping Up, How To Make A Jersey Burger
A Jersey Burger is unlike anything else you may have had and is incredible delicious and flavorful. This is a great treat for that summer BBQ, especially if you want to surprise your guests with something different.
Thanks for being here and checking out this recipe, How To Make A Jersey Burger. I hope you enjoy it! We always appreciate comments, 5 star recipe rating and social media shares. As always, keep that smoke rolling!
Need some other burger or grill recipes? Here are a few suggestions:
This post contains affiliate links. If you use these links to buy something I may earn a commission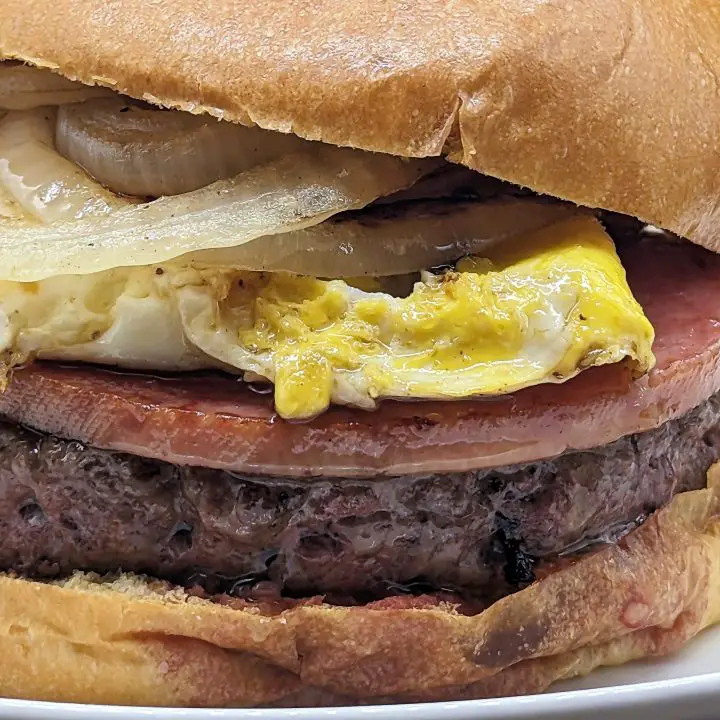 How To Make A Jersey Burger
A New Jersey classic! A burger topped with Taylor Ham, eggs and onions. Give this a try and you will not regret it!
Ingredients
1/4 lb. hamburger
1 brioche bun
2 slices of white onion
2 pieces of Taylor Ham, also know as pork roll
1 egg
1 tbsp. of olive oil
Instructions
Heat your grill to 350° 
Once at temp, place the burger(s) for indirect heat, as well as the Taylor Ham.
Set up a skillet over direct heat with some olive oil
Slice your onion
When the burger is about half way done, heat the oil and sauté the onion and then cook the egg, fried
Remove the egg and onions when done, keep on the warming rack on foil if you can
With the burger IT at 120°, place on the skillet along with the Taylor Ham and cook for 1 minute on each side
When done, remove, stack your burger and serve!
Nutrition Information:
Yield:

1
Serving Size:

1
Amount Per Serving:
Calories:

625
Total Fat:

65g
Saturated Fat:

20g
Trans Fat:

1g
Unsaturated Fat:

37g
Cholesterol:

494mg
Sodium:

1003mg
Carbohydrates:

45g
Fiber:

2g
Sugar:

9g
Protein:

77g