A Mexican pork belly rice bowl is a great and different way to use pork belly burnt ends or if by chance you have some leftovers from a party of BBQ, from the night before. This is a great international flare to a very American styled appetizer that everyone will enjoy.
How To Make Smoked Pork Belly Burnt Ends
Mexican pork belly burnt ends are the center piece of this recipe. I will walk you through this recipe in a brief manner but if you feel like you want a little more detail, head over to the full recipe here. The recipe card below will have all the details as well.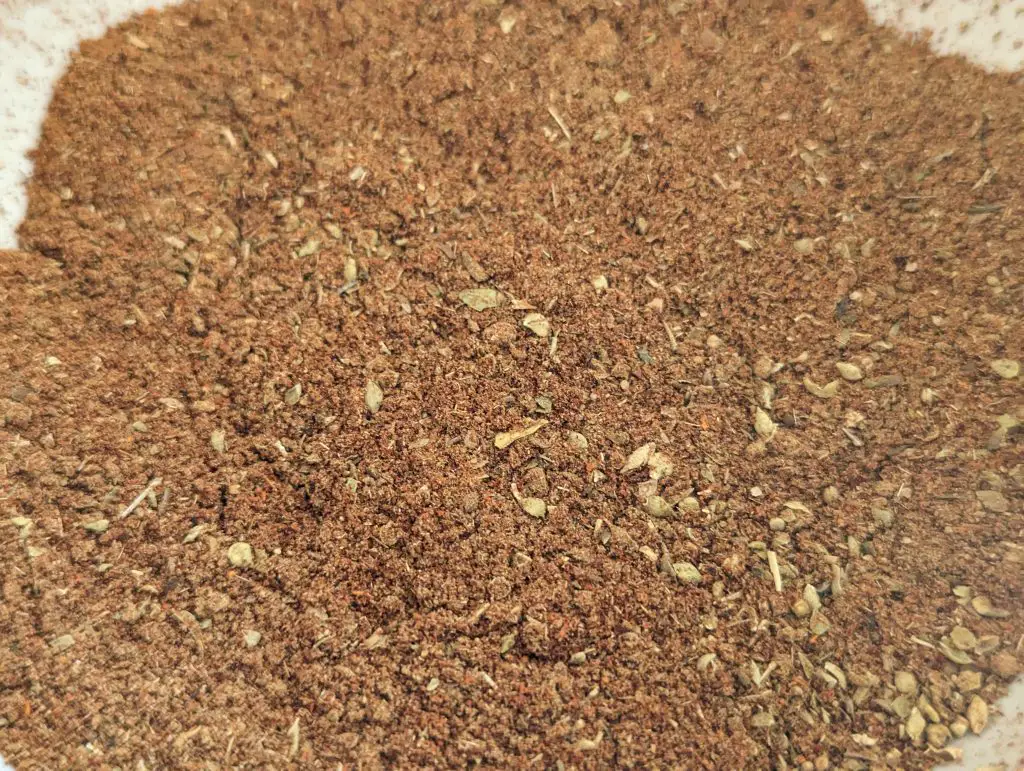 Set smoker for 250°, using cherry wood
Cut the pork belly strips into 1″ cubes
Blend your spices together and then coat cubes
Place on a cooling rack, if that does not work, right on the grates is fine
Smoke for 2.5 hours
After 2.5 hours, transfer to an aluminum pan, add sliced butter and brown sugar, then cover with foil
Cook for one more hour on the smoker
While smoking for that last hour, make the glaze
Boil the guajillo peppers and a bay leaf for 15 minutes, or until they soften up (be sure to remove stems but keep the seeds in the peppers)
Add those and the other glaze ingredients for to a blend and blend until well mixed
After an hour of smoking, drain as much liquid as possible from the pan and then gently coat the with the glaze (if not careful the pork cubes will be very tender by now and could fall apart on you. Its not the end of the world if they do for this recipe)
Place back on the smoker cooking for another 15-20 minutes, when done remove and prepare rice bowls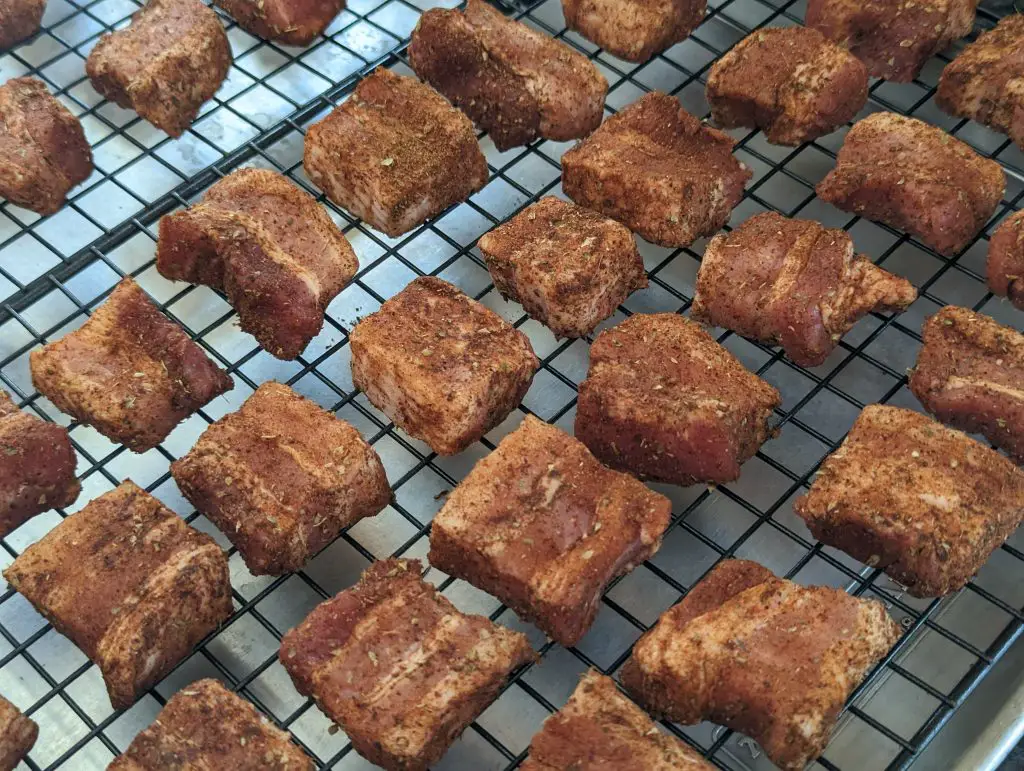 How To Prepare Mexican Pork Belly Rice Bowl
This next part of a making pork belly rice bowl is pretty straight forward. We are going to make some rice, the more authentic rice for this recipe would be parboiled rice but feel free to use whatever you may have in the house. Whatever rice you are using follow the instructions but I would suggest that if going with parboiled rice, be sure to add a chicken bullion cube or cook it with some chicken broth, mixed with the water. Parboiled rice can be very bland if not cooked with some additional flavor.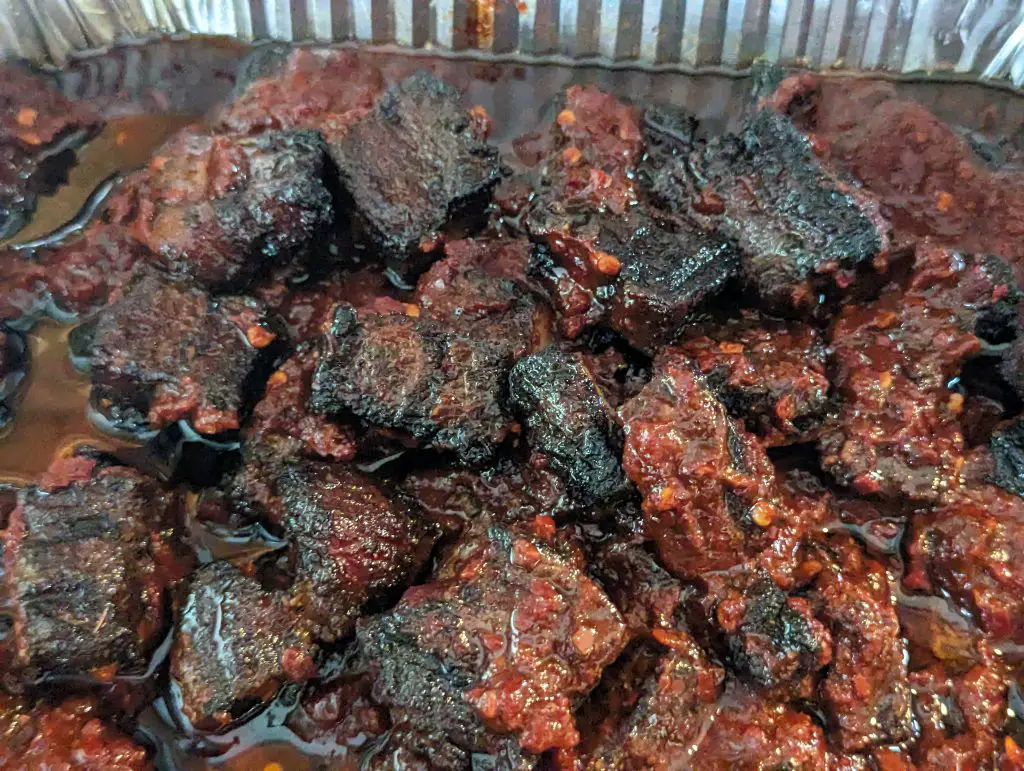 While your rice is cooking, you can chop some cilantro, which we will use as a garnish. You can also look to garnish this with some salsa, we love Herdez Guacamole salsa in our house, hot sauce and/or some sliced and pickled jalapenos. Any or all of these will add to this dish while keeping it in the vein of an authentic flavored Mexican dish.
After the rice is done, you can take the pork belly, add them on top of the rice and garnish with the cilantro. And just like that you have an amazing meal for the family!
Wrapping Up
This recipe is super easy, a great way to use leftovers burnt ends, but let's be honest are there ever leftover burnt ends. But if you are looking for a great combination of pork belly and rice, this is it. I specifically made this for a weeknight meal and will definitely do it again. The kids loved it and so did my wife and I.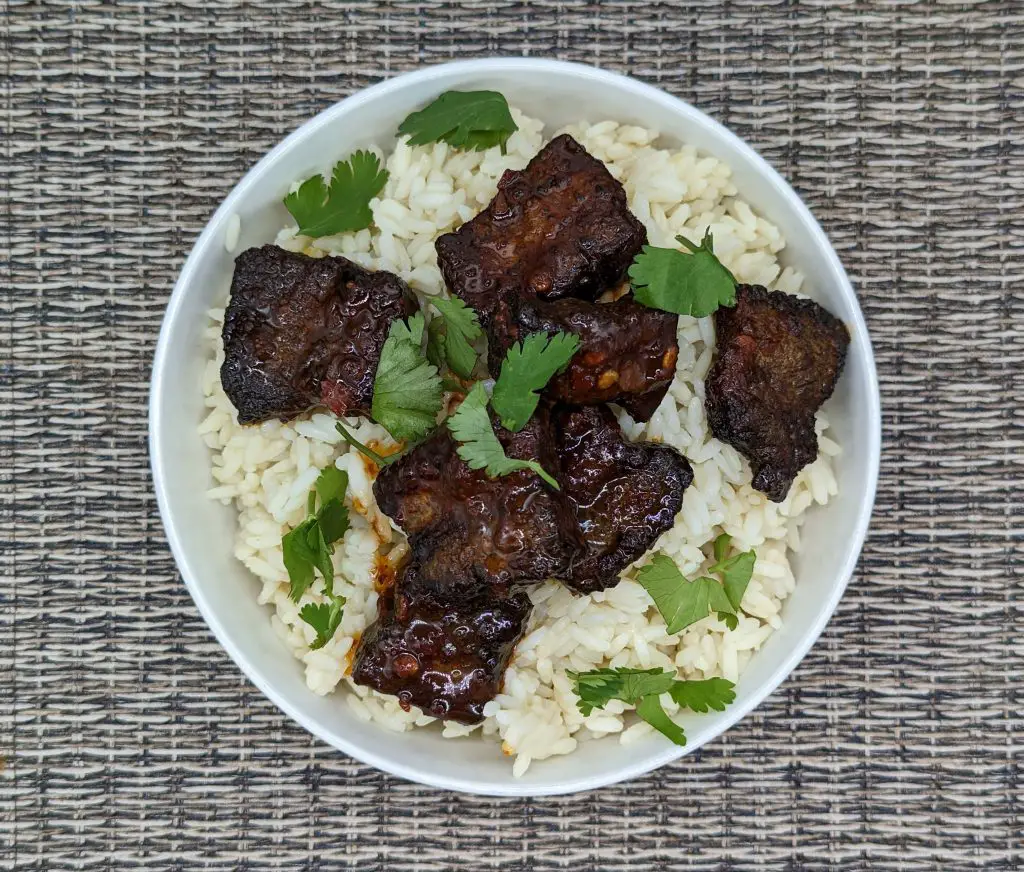 Thanks for being here and checking out this Mexican Pork Belly Rice Bowl recipe. I hope you enjoy it! We always appreciate comments, 5 star recipe rating and social media shares. As always, keep that smoke rolling!
If you are looking for some other international inspired meals, here are some suggestions:
This post contains affiliate links. If you use these links to buy something I may earn a commission.
Mexican Pork Belly Rice Bowl
Additional Time:
10 minutes
Total Time:
4 hours
30 minutes
A delicious blend of Mexican spices and smoke flavor that makes for a great weeknight meal.
Ingredients
1 lb. of Mexican Smoked Pork Belly Burnt Ends
4 cups of parboiled rice
1 bullion cube
1/2 cup chopped cilantro
Salsa, jalapenos, guac (all optional as garnishes)
Instructions
Smoked the pork to instructions detailed in the Mexican Smoked Pork Belly Burnt Ends recipe card
Prepare the nice, be sure to use chicken bullion or broth for flavor
Chopped the cilantro
When the pork is done, place in the rice, garnish with the cilantro and serve
Nutrition Information:
Yield:

5
Serving Size:

1
Amount Per Serving:
Calories:

511
Total Fat:

25g
Saturated Fat:

9g
Trans Fat:

0g
Unsaturated Fat:

15g
Cholesterol:

91mg
Sodium:

319mg
Carbohydrates:

40g
Fiber:

2g
Sugar:

5g
Protein:

29g
Mexican Smoked Pork Belly Burnt Ends
Cook Time:
3 hours
45 minutes
Additional Time:
10 minutes
Total Time:
4 hours
15 minutes
A Mexican blend of spices and smoke that will change how you do your PBE's.
Ingredients
3 lbs Pork Belly
1 tbsp. Ancho Chili Powder
1 tbsp. Ground Cumin
2 tsp. Oregano
1/4 cup brown sugar
1 stick of sliced butter
Chili Guajillo Glaze
1 tsp. of ground Cumin
1 tsp. of Oregano
3 tbsp. of minced Garlic
12 Guajillo Chili
2 tsp. of Salt
1 tsp. Black Pepper
1 Bay Leaf
1 cup of chicken broth
1 tsp of hot sauce (Valentia is great if you can get it)
Instructions
Set smoker to 250°, using cherry wood or another sweet fruit wood
Cut pork belly into approximately 1" cubes
Coat the cubed pork with rub ingredients of ancho powder, cumin and oregano
If you can place the cubes on a cooling rack, for the smoke
Smoke for about 2.5 hours
After 2.5 hours, transfer to an aluminum pan, add in butter and brown sugar
Cover with foil and smoker for another hour, or until probe tender
Take the chili peppers and bay leaf, boil in water for 15 minutes or until they have softened up
Blend the peppers and other glaze ingredients until well blended
When probe tender, remove any liquid from the pan, take the combined glaze ingredients and toss the pork in the glaze and place back on the smoker for about 15-20 minutes
After that, you are good to remove and serve while hot
Notes
If the glaze looks to be too thick, incrementally add some chicken broth, at approximately 1/4 cup at a time.
You can control the level of spice by adding additional peppers or teaspoons of hot sauce to the glaze.
Nutrition Information:
Yield:

15
Serving Size:

1
Amount Per Serving:
Calories:

723
Total Fat:

49g
Saturated Fat:

18g
Trans Fat:

0g
Unsaturated Fat:

23g
Cholesterol:

160mg
Sodium:

1777mg
Carbohydrates:

26g
Fiber:

2g
Sugar:

8g
Protein:

45g