Smoked Cuban pork is a mouth watering blend of citrus flavors and a host of herbs and spices. This is not your typical pulled pork but a great way to mix up your pulled pork offering. When its all said and done, this is an authentic Cuban meal when paired with some black beans and rice.
What Is Smoked Cuban Pork
Cuban Pork is also sometimes referred to as mojo pork or some variation of such. The mojo (pronounced mo-ho) is really the marinade, a mojo marinade. It is an authentic Cuban combination of strong citrus flavors, infused into the pork butt or pork shoulder. Cuban food is not traditionally spicy food, in fact most South American countries do not have spicy food, that is in most cases reserved for Mexican food.
This mojo recipe can be made into a mojo pulled pork, what we are doing here, or a smoked mojo pork roast as well. The mojo marinade can work well with you choice of meat but it tends to pair particularly well with any cut of pork.
Mojo Pulled Pork Marinade
I know speaking for myself, I typically make smoked pork butt, by cranking up my smoker, throwing some mustard on the butt and then a dry rub and get it going on the smoker. If you need a recipe for a more traditional BBQ style pulled pork, we have your recipe. This recipe, gives the pork butt some extra love by letting it marinade overnight.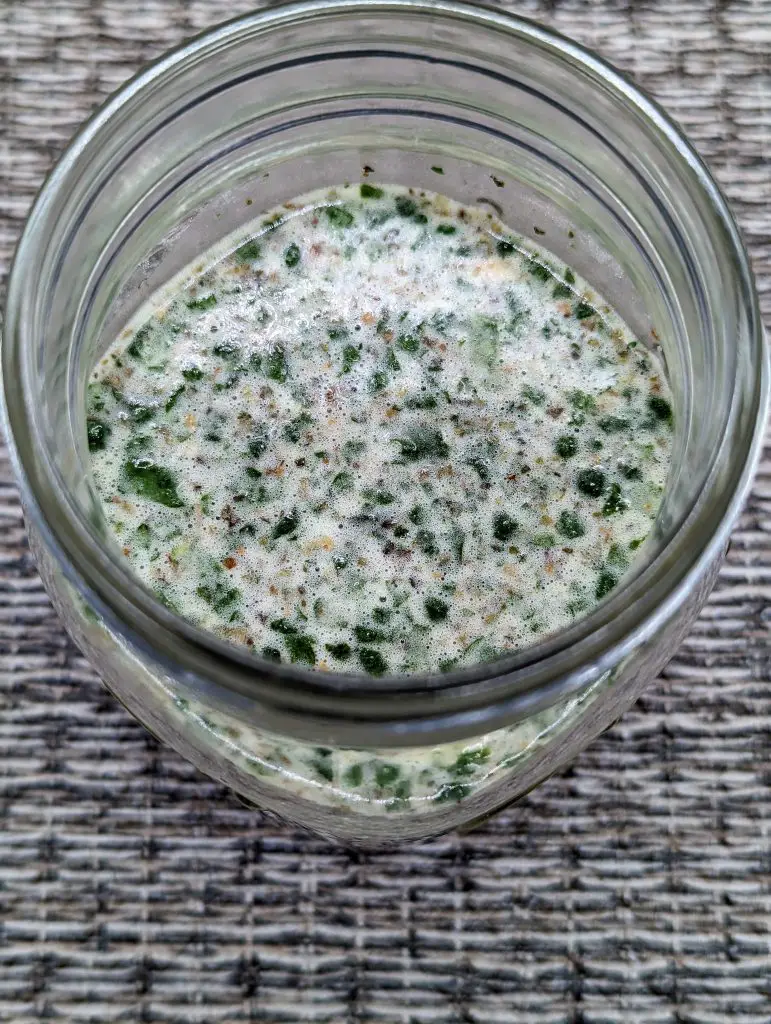 Let's dive into the mojo recipe, here are the ingredients you will need to make this marinade recipe:
orange juice
lime juice
pineapple juice
olive oil
minced garlic
salt
black pepper
cumin
oregano
chopped cilantro
chopped onion
We are going to take this recipe, measure it all out (measurements are in the recipe card) and mix it in a bowl together. Once you have it mixed in a bowl, transfer it all into a blender, depending on the size of the blender you may need to do this twice, at least I did. Blend the ingredients together well and then prepare to marinade the pork butt.
Cuban Mojo Marinated Pork
The mojo marinade is made, now we marinade the pork butt. I started by scoring the butt, in the case of this recipe, this is the only seasoning we are adding to the butt so there will not be any kind of rub being used. Score your butt and don't be afraid to score it deep so we really get the marinade in there.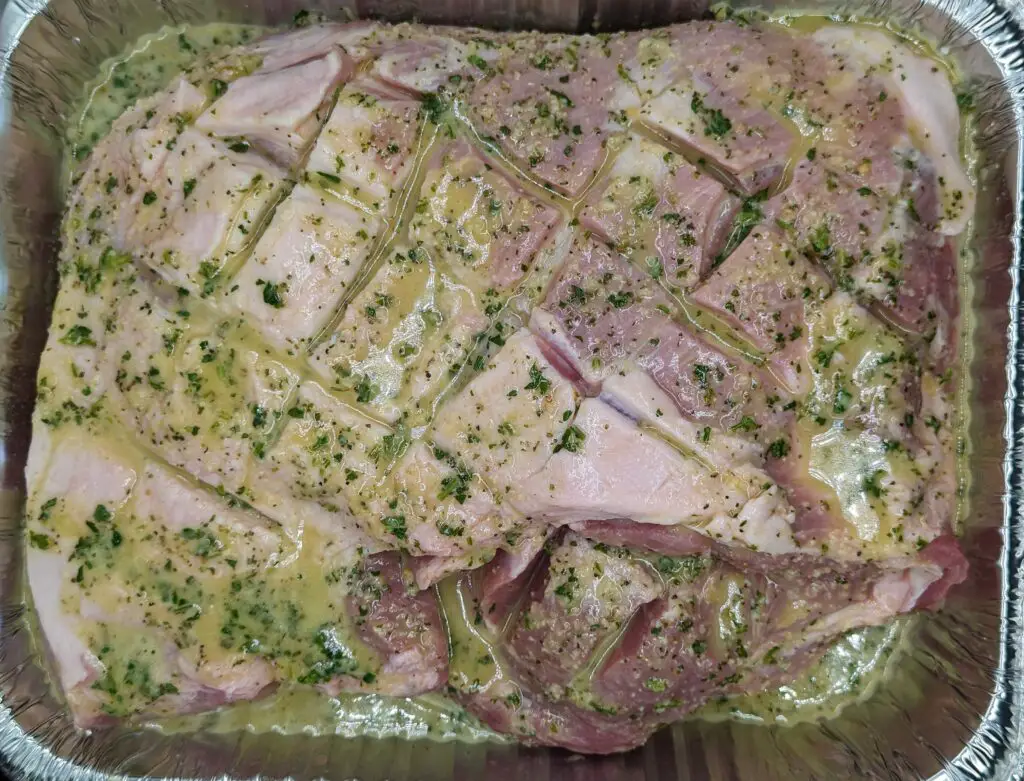 Once you have scored it, place it in some kind of tray, I used an aluminum foil pan to place the pork butt in. The mojo marinade is then poured over the pork, make sure to get it in where you scored it and underneath where it may have some other cuts and slits. Use all that you have, reserving about 2 cups for later on in the process. Once covered in the marinade, cover it with some foil or plastic wrap and let it sit over night. A solid 12 hours should be your minimum, longer is better if you can do it,18 hours or so.
Smoking Cuban Pulled Pork
After the marinade period its time to get some smoking some mojo Cuban pork. This starts out not that different than your normal pork butt, setting the smoker for 225°-250° using 2 apple chunks and one hickory. You are going to start smoking with the pork butt on the smoker and let it ride as you normally would. This should work if you are doing this on your Traeger pellet grill or some other style smoker.
If you need a great budget friendly probe, try the ThermoPro TP20. I love this unit and I promise you will too.
You can spritz once an hour if you want to, with some apple cider vinegar. Let the pork go until the you hit the stall and you have achieved some bark on it. Because of how this is being made, I did not go crazy trying to get a lot of bark but did achieve some.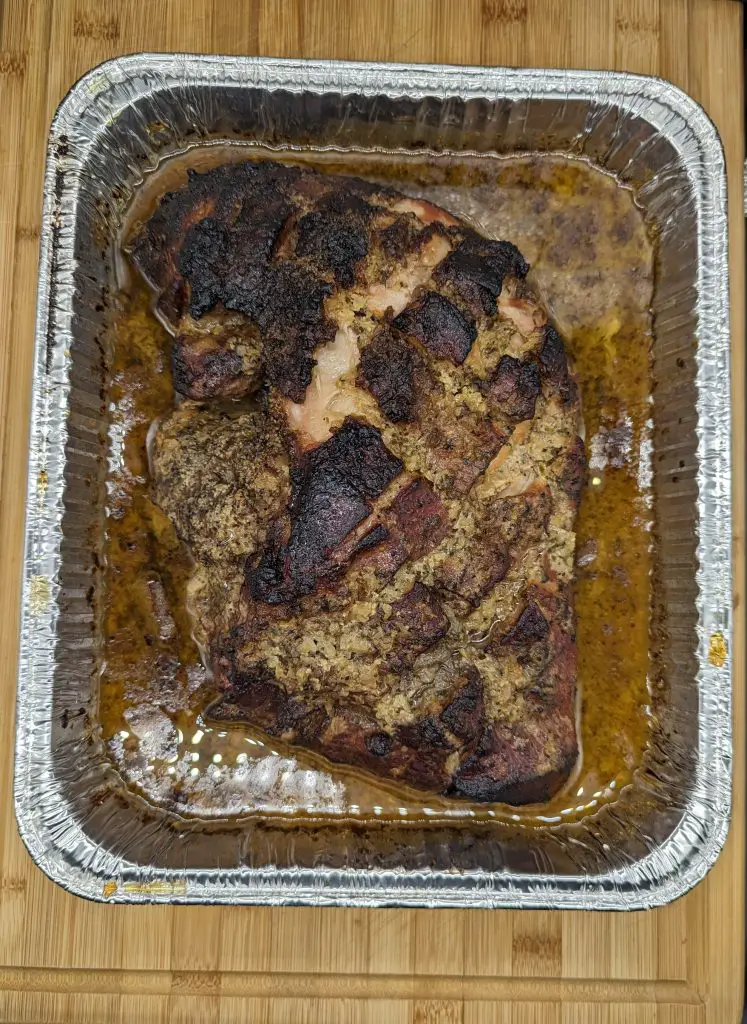 Once you hit that stall around 160°, instead of wrapping we are going to place it in a foil pan, take the other 2 cups of marinade and pour it over the pork but and then cover it with foil. The reality is at this point you could actually finish it in the oven, I kept going on the smoker but you are not taking on any more smoke so you just need the low and slow.
You are going to keep it in there until the pork internal temperature reaches 205°, or is probe tender. When you pull it, leave in the pan, let it rest for 30-45 minutes and then you can pull it and serve. If you are not yet ready to serve or maybe serving the next day, pull the pork, save the remaining liquid from the pan and use that to warm up the pork again. If you need some direction on re-heating pork, check out our post.
An Amazing Smoked Cuban Pork Recipe
If you are serving this smoked Cuban pork and looking to do so in a more authentic way, rice and and some black beans are the way to go. When you make the black beans, you will want to do the following:
2 cans of black beans, drained and rinsed
1/2 green pepper, chopped
1/2 white onion, chopped
2 tbsp. minced garlic
Olive oil
1 tsp. red wine vinegar
1/2 cup of chicken broth
1 tsp. oregano
1 tsp of cumin
Sautee the peppers and onions in the olive oil for about 5 minutes, add in the minced garlic for a minute. Then add in the beans, red wine vinegar, chicken broth, oregano and cumin. Cook until the beans until the majority of the chicken broth has been absorbed. I did this in a cast iron skillet over medium heat, on the oven.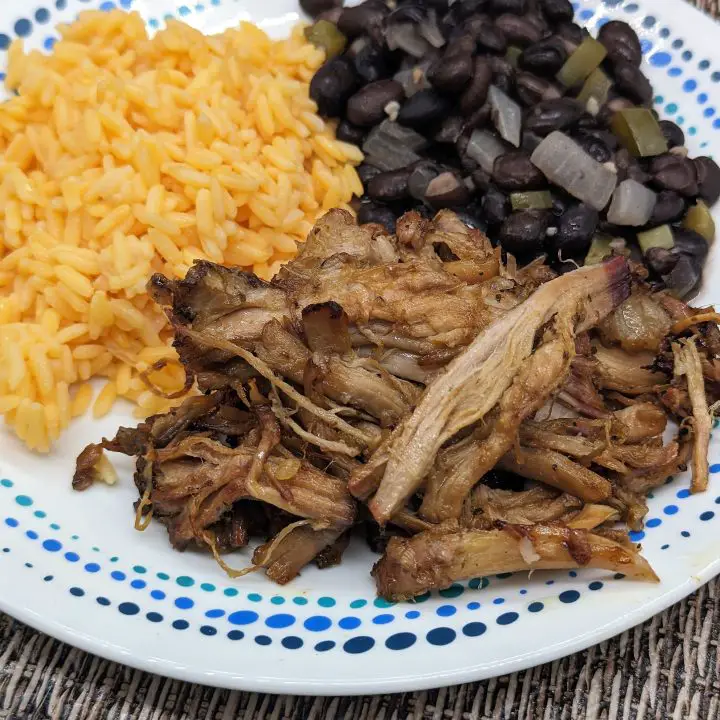 Thanks for being here and checking out this Smoked Cuban Pork recipe. I hope you enjoy it! We always appreciate comments, 5 star recipe rating and social media shares. As always, keep that smoke rolling!
If you are looking for some other recipes, here are a few suggestions:
This post contains affiliate links. If you use these links to buy something I may earn a commission.
Smoked Cuban Pork
Total Time:
10 hours
45 minutes
An authentic Cuban pork recipe, smoked for extra flavor giving a prefect pulled pork.
Ingredients
7 lb. pork butt
2 cups of orange juice
1 cup of lime juice
1/4 cup of pineapple juice
1/2 cup of olive oil
4 tbsp. of minced garlic
4 tsp. of salt
2 tsp. of black pepper
2 tsp. of cumin
2 tsp of oregano
1/4 cup of chopped cilantro
1/4 cup of chopped onion
Instructions
Prepare your mojo marinade ingredients and blend together
Place the pork butt in a pan for marinading
Before marinading, score the pork butt
After having scored the pork butt, cover with the marinade, be sure to reserve 2 cups for later
After having covered the pork with marinade, cover with foil and refrigerate overnight, at least 12 hours.
The next day, prepare smoker for 250°, using a fruity wood. For this recipe I used 2 chunks of apple and 1 of hickory
Place the pork on the smoker and smoke for about 6-7 hours or until it stalls out around 160° and you have some bark
At this time, place the pork back in a pan and add in the remaining marinade and then cover with foil
Continue cooking until it reaches an IT of 205° and is probe tender
Once the pork reaches probe tender remove let rest for about 30-45 minutes and then pull
Nutrition Information:
Yield:

20
Serving Size:

1
Amount Per Serving:
Calories:

502
Total Fat:

36g
Saturated Fat:

12g
Trans Fat:

0g
Unsaturated Fat:

21g
Cholesterol:

137mg
Sodium:

573mg
Carbohydrates:

7g
Fiber:

1g
Sugar:

3g
Protein:

37g