When it comes to indulging in a mouthwatering and irresistible dish, few things can compare to the smoky aroma and tantalizing taste of smoked bacon wrapped pork tenderloin. This delectable combination brings together two beloved ingredients – tender and juicy pork tenderloin, encased in crispy strips of bacon that add an extra layer of flavor. Whether you're hosting a backyard barbecue or simply craving a hearty meal, this recipe is sure to satisfy your cravings and leave everyone at the table begging for seconds. So, fire up your smoker, because we are about to embark on a culinary adventure with this sensational smoked bacon wrapped pork tenderloin recipe.
The Difference Between A Pork Loin And A Pork Tenderloin
Before we dive into the recipe, I want to briefly touch on the differences between pork loin and pork tenderloin. On social media it is not uncommon for people to think they have a pork loin when they might have a tenderloin or vice versa. So what exactly is the difference?
What Is Pork Loin?
Pork loin is a leaner cut of meat from the back of the pig. It is most likely to be bought boneless but can be found with the bone in. If you are a Costco shopper you will find the boneless version there. It is thicker and longer than a tenderloin. It will also have a decent fat cap on it. Pork loin is better smoked hot and fast, or if grilled, seared and then roasted over medium heat. Because it is leaner cut of pork, it is not good for a shredded pork and is best served sliced or as pork chops.
What Is Pork Tenderloin
Tenderloin is also a leaner cut. It is the muscle that runs along the backbone of the pig. It is always going to be boneless. If you are buying at Costco it is sold in packs of two. When compared to a loin, it is smaller and not as thick. There is no real fat cap on a tenderloin. In a similar fashion to the loin, smoked pork tenderloin needs to be done hot and fast or if grilled done so in the same manner as the loin. Both, if not cooked correctly are subject to being dried out.
The smaller size of the tenderloin lends itself not so much to a pork tenderloin sandwich as much as it does a slider.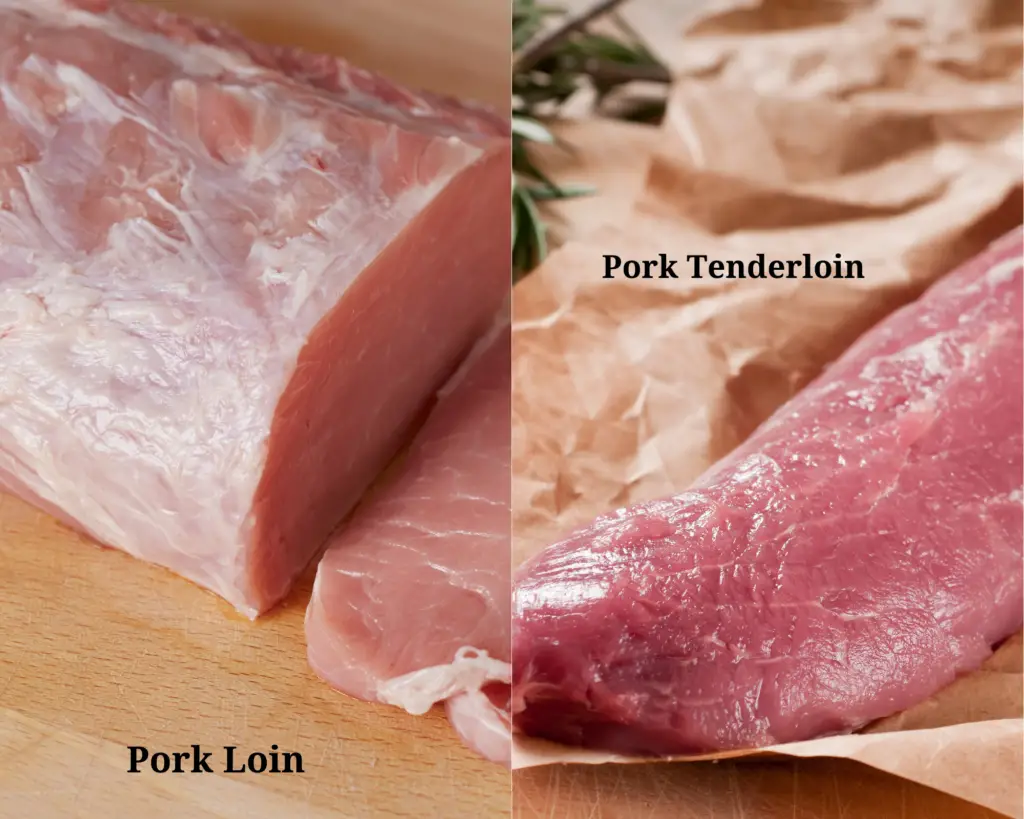 Smoker Prep
When setting up the smoker, I used my Weber Kettle to smoke this recipe. The Kettle is prefect for a smaller cut of meat and a short smoke such as this. If you want to use a WSM, pellet grill or other style of smoker, they will obviously work as well. I have also used my WSM for smoking pork tenderloins as well.
We want this to do this a little hotter and faster than normal, so we are looking for an ambient temperature of 275° and using a cherry wood.
Set yourself up for about a 2 hours smoke. We are going to baste, just once with some melted butter, so ensure you have a pan underneath to catch the butter and any liquid that drips from the bacon and tenderloin. At the tail end of the smoke we are also going to crank up the heat a little bit.
While the smoker is getting up to temperature, we can work on prepping the tenderloin.
Preparing For Smoked Pork Tenderloin Wrapped In Bacon
If this is not your first recipe here at What's Smoking, you will know we like easy recipes that explode with flavor. This is definitely one of those recipes! Let's get started!
I used pork tenderloins from Costco. If you are not aware, there are two tenderloins in that package. If feeding anything close to a crowd, you will need both. For this recipe, I only used one. After removing the tenderloin, we are going to want to remove the silver skin from the tenderloin. Unfortunately Costco does not remove it from their tenderloins like they do their pork ribs. Using a butter knife and getting underneath it, you can relatively easily pull it off. Once the silver skin is off, we can start seasoning it.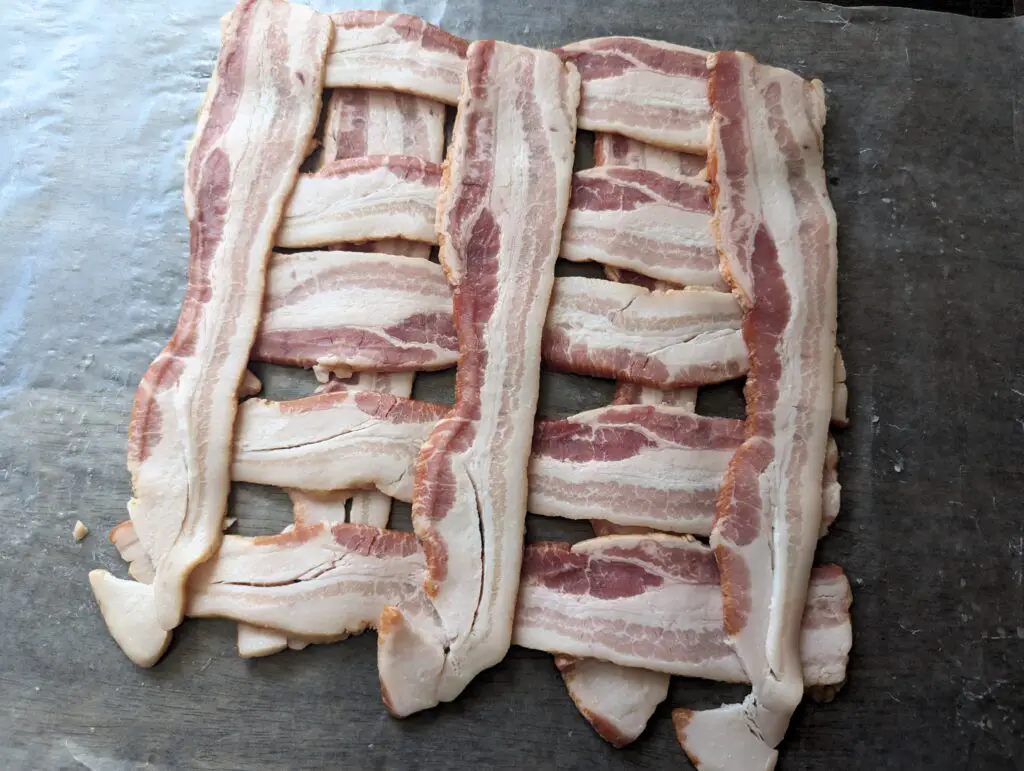 For the smoked bacon wrapped pork tenderloin rub I used Dizzy Pig, Pineapple Head. This is a great rub on pork and is a fantastic compliment with the bacon in this recipe! Generously coat the pork tenderloin with the rub, all around, and then set it off to the side. We are going to move ahead and start preparing the bacon.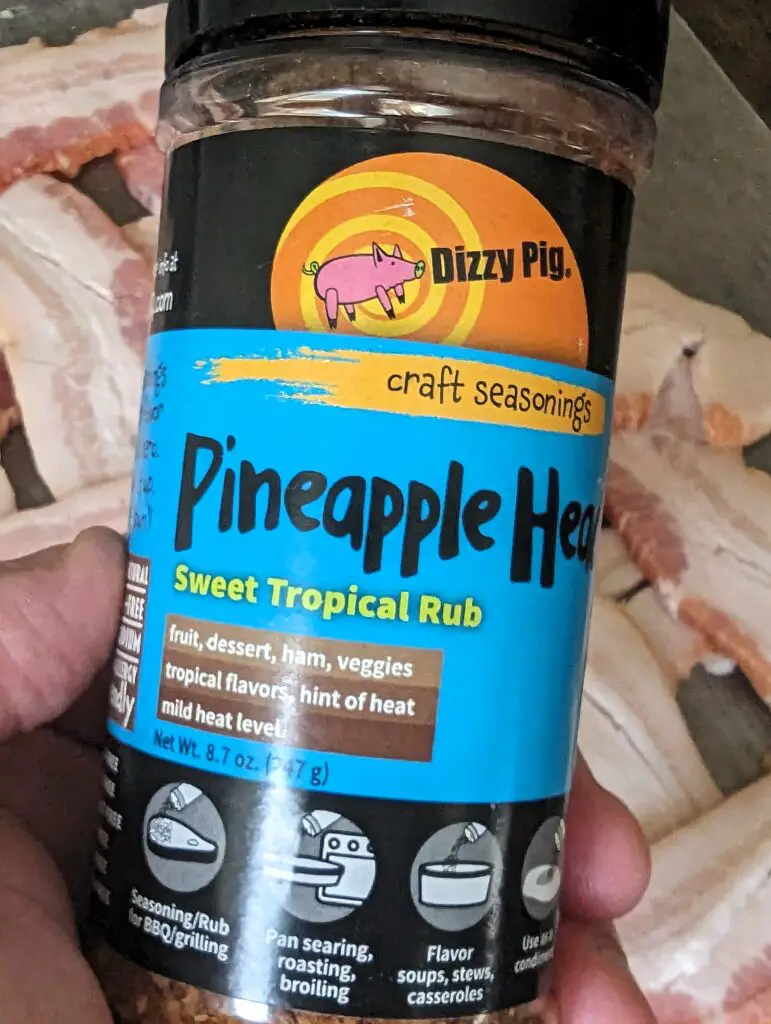 You can prepare the bacon in two ways, you can either weave it or simply wrap the bacon. In an effort to get exciting I chose to go with the weave for this recipe. I recommend laying down some parchment paper, and setting up your bacon weave on there. Once your weave is done, lay the tenderloin in the bacon and use the paper to assist in rolling the bacon around the tenderloin. Once wrapped, you can use some toothpicks to hold the bacon in place. The other option would be to use some food twine and wrap it, holding the bacon in place.
With this step now complete, the smoker should be ready and we can get it on the smoker.
Smoking Bacon Wrapped Tenderloin
Smoker is up to temperature, so let's get the tenderloin on. I suggest tracking your IT with the ThermoPro TP20 meat thermometer, its a great quality unit that you will enjoy using on a day to day basis. Once the tenderloin in on, you can let it ride for a bit. We are going to smoke it until the internal temperature reaches 130°, at this point we are going to baste with some melted butter.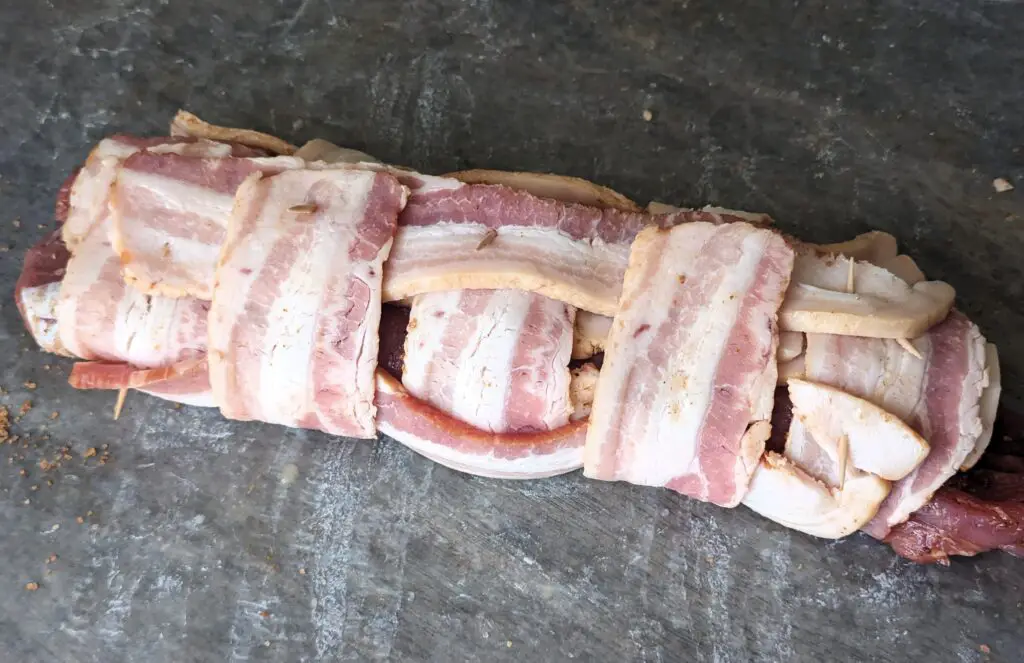 Basting with the butter will help crisp the bacon as we get towards the tail end of the smoke. At this time you can also crank up the heat, thereby also helping crisp the bacon. Keep smoking until the internal temperature reaches 145 degrees. At this time you can remove and let rest. If you get to this point and the bacon might not be too your liking you can always place it in a cast iron pan and crisp the bacon a bit more. A quick sear in the skillet should do the trick.
Whether pulling directly from the smoker or the skillet, let the meat rest for about 15 minutes. At this point it will be ready to slice and serve.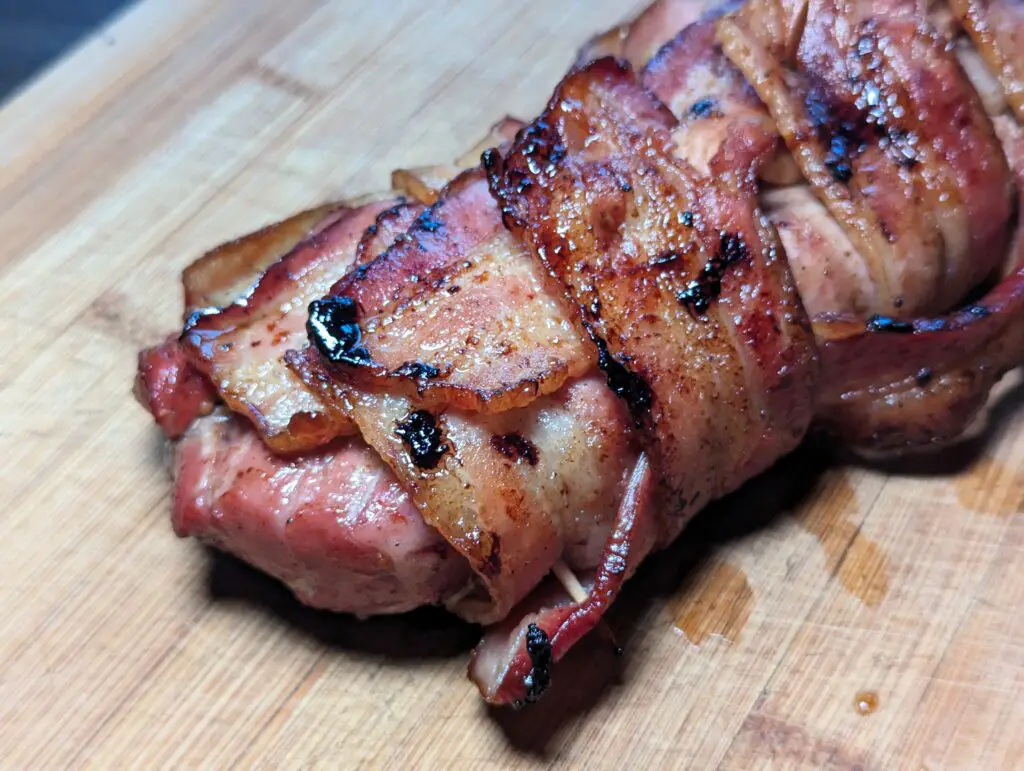 Wrapping Up Smoked Bacon Wrapped Pork Tenderloin
Smoked bacon wrapped pork tenderloin is a mouthwatering dish that combines the smoky flavor of bacon with the tenderness and juiciness of pork tenderloin. It is a versatile dish that can be served as a main course for a special occasion or sliced up and used in sandwiches or salads. The process of smoking the meat adds an extra layer of depth to its taste, making it even more irresistible. Whether you are hosting a barbecue party or simply looking to elevate your weeknight dinner, this recipe is sure to impress both your family and guests. So go ahead and try out this delicious combination of flavors – you won't be disappointed!
Thanks for being here and checking out this Smoked Bacon Wrapped Pork Tenderloin recipe. I hope you enjoy it! We always appreciate comments, 5 star recipe rating and social media shares. As always, keep that smoke rolling!
If you need some other pork recipes or smoker recipes, here are a few suggestions: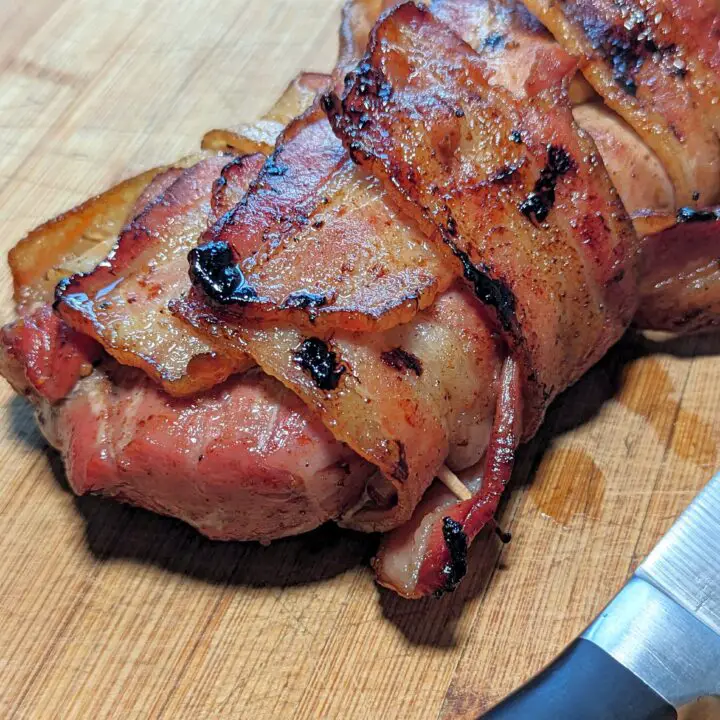 Smoked Bacon Wrapped Pork Tenderloin
Total Time:
2 hours
20 minutes
A bacon wrapped pork tenderloin is a mouthwatering dish. A bite through the crispy bacon, into the juicy tenderloin, will be sure to have you and everyone else coming back for seconds.
Ingredients
1 Pork Tenderlon
8 pieces of bacon
Pineapple Head rub
1/4 stick of butter
Maple Syrup (Optional)
Instructions
Set smoker for 275°, using a cherry wood
Season the pork tenderloin, I used Pineapple Head rub for this recipe.
Wrap your pork tenderloin in bacon, you can wrap or weave it. The weave will help hold the bacon in place but is not for those short on patience. You can also hold it in place using toothpicks or cooking twine.
Place on smoker and smoke until about 130°, baste with some melted butter, it will help crisp up that bacon at the end. For the last 15 degrees, you can also increase the temperatures to about 300°+ to help crisp the bacon a bit.
Smoke for about 2 hours or until you have the IT reach 145° and let rest for about 10-15 minutes.
Slice then serve this amazing meal!
Notes
If you want to mix things up a bit, heat up some maple syrup and instead of the butter, brush on some maple syrup.
Nutrition Information:
Yield:

6
Serving Size:

1
Amount Per Serving:
Calories:

148
Total Fat:

11g
Saturated Fat:

5g
Trans Fat:

0g
Unsaturated Fat:

6g
Cholesterol:

38mg
Sodium:

297mg
Carbohydrates:

2g
Fiber:

0g
Sugar:

2g
Protein:

9g