Are you ready to take your steak game to the next level? Look no further than these mouthwatering smoked steak bites. Bursting with flavor and cooked to perfection, these bite-sized pieces of heaven are sure to impress even the most discerning palate. Whether you're firing up the smoker for a backyard barbecue and need a delicious snack or need a protein packed snack when out on a hike, these smoked steak bites are an absolute must-try. Get ready to tantalize your taste buds and elevate your cooking skills with this irresistible recipe.
What Are Smoked Smoked Steak Bites
Who isn't a fan of juicy, tender, and flavor-packed bites of meat? Then smoked steak bites are just what you need!
Have you ever tried smoked steak bites? If not, you're missing out on a delicious and convenient snack that packs a punch of flavor. Smoked steak bites are bite-sized pieces of marinated, seasoned, and smoked beef. They are perfect for satisfying your cravings on the go or as a protein-packed snack to enjoy anytime. While traveling for vacation and up hiking around the Grand Canyon, we recently bought the brand name Jack Link's Beef Tender Bites. After trying those, they became the inspiration to make my own here at home.
To make smoked steak bites, you'll need a few key ingredients: the proper cut of beef (top round is your best option), your favorite marinade, (we are going with a teriyaki) and some wood for smoking (hickory or mesquite are popular choices).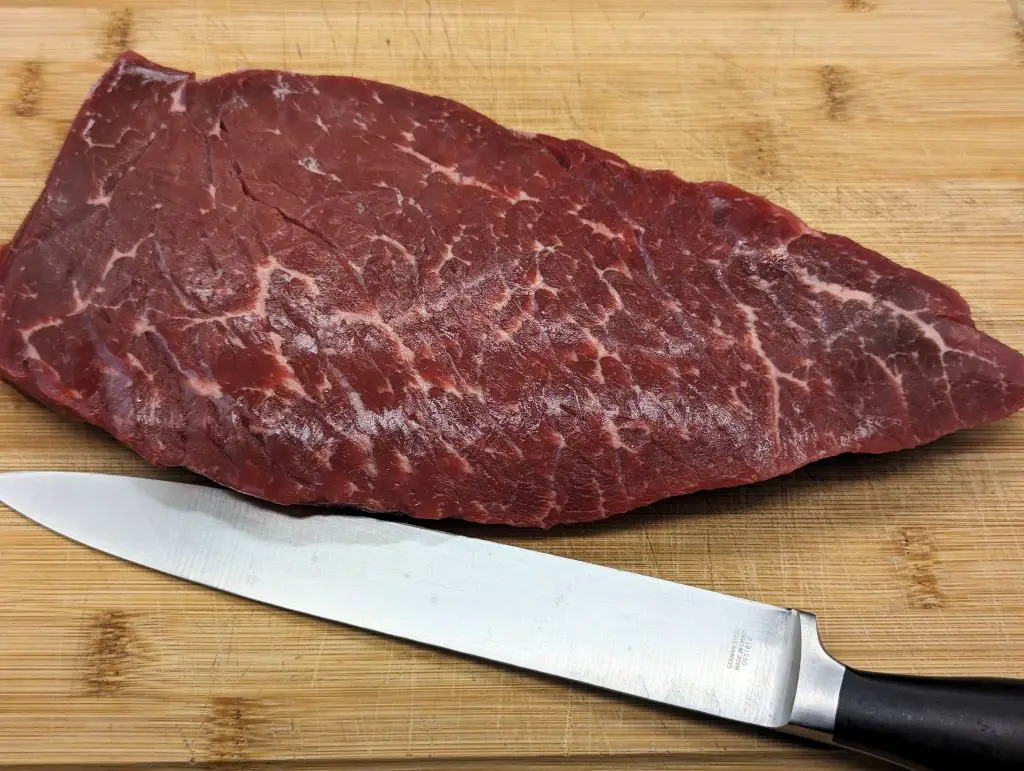 One of the best things about smoked steak bites is their tenderness. Unlike traditional beef jerky that can be a bit tough and chewy, these tender bites are made using cuts of meat that are carefully smoked to perfection. The result is a soft and moist texture that melts in your mouth with every bite.
But what makes these tender bites truly special is the smoky flavor infused into each piece. The process of smoking involves slow-cooking the meat over low heat with wood chips or pellets, giving it an irresistible smoky aroma and taste. This enhances the natural flavors of the beef while adding depth and complexity to each bite.
Moreover, smoked steak bites offer several benefits beyond just being tasty treats. They are an excellent source of protein, which helps keep you feeling full and satisfied between meals. If using curing salt, which this recipe does, they have a long shelf life due to their preservation methods such as smoking and drying, making them ideal for camping trips or emergency food supplies. Granted these are so good, they will go relatively quickly, at least in our house they do.
Smoked Teriyaki Steak Bites Recipe
So for starters, we are going to talk about the cut of meat. For standard beef jerky I usually use a top round or sometimes better know as London Broil. That works great for beef jerky and does the trick very well for this recipe. You can usually get the top round at your local grocery store in weighs of about 2-2.5 lbs.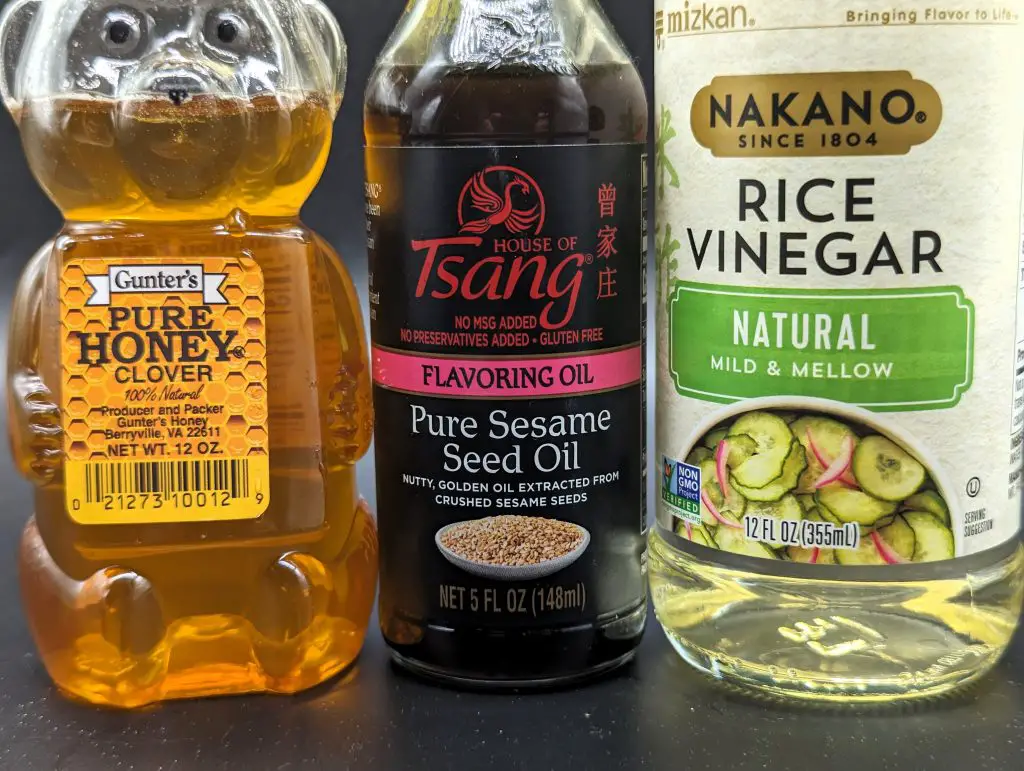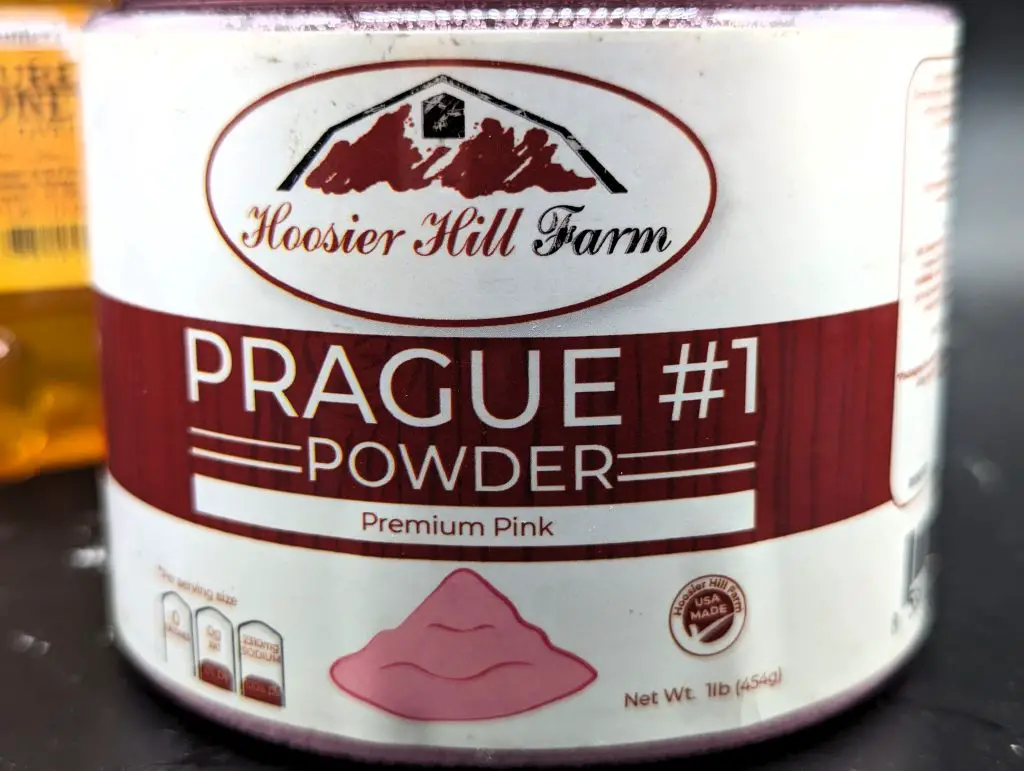 Any fat that may be on the meat, cut off before moving to the next step. You typically won't find a lot as this is a pretty lean cut of beef. We are going to dice the top round in relatively small bite size steak pieces, about 1/2″ to 3/4″ squares. We are looking for bites sized pieces that are great on the run or as a snack for the kids at school. After having cut those, we can put them off to the side. Our next step is preparing the teriyaki marinade. You will need the following ingredients for the steak bites marinade:
Soy sauce, I usually use low sodium soy sauce
rice vinegar
sesame oil
light brown sugar
honey
ground ginger
minced garlic
water
pink/curing salt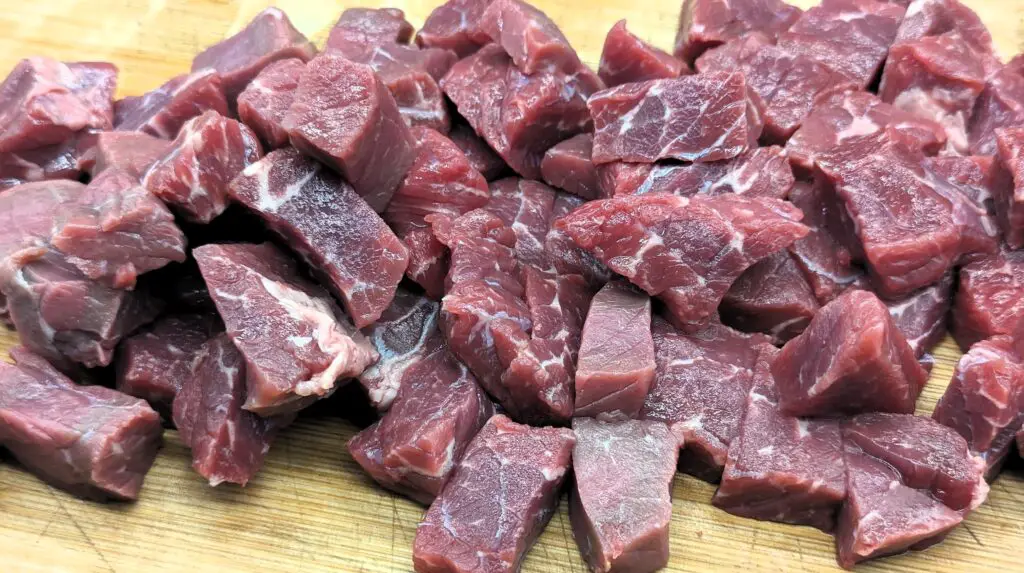 We are going to combine these ingredients in a small pot and allow to simmer over low heat for about 10 minutes. You will want to continue whisking for the ten minutes until all the ingredients mixed well. After that is done simmering, you can let it cool down and we are going to marinade the steak. I usually like to let my jerky recipe marinade overnight anywhere from 8-12 hours. That usually gives it the most flavor. A large gallon sized bag should be all your need for the teriyaki steak bites as you marinade. Place the bag in the regfrigator and let them marinade.
Smoking The Teriyaki Steak Bites
So you hopefully got a solid 8 hours of marinade time on these bites. You can start your smoker, I used my Weber Kettle grill for this recipe. This should translate well in a pellet grill or some other style smoker. We are going to run a snake for this but it will be on a very low ambient temperature. When smoking anything else you like to run around 225 degrees but in the case of jerky, we want to keep it much lower and right around 180°. Set up the snake, add some hickory wood to it and then we can finish prepping the steak bites.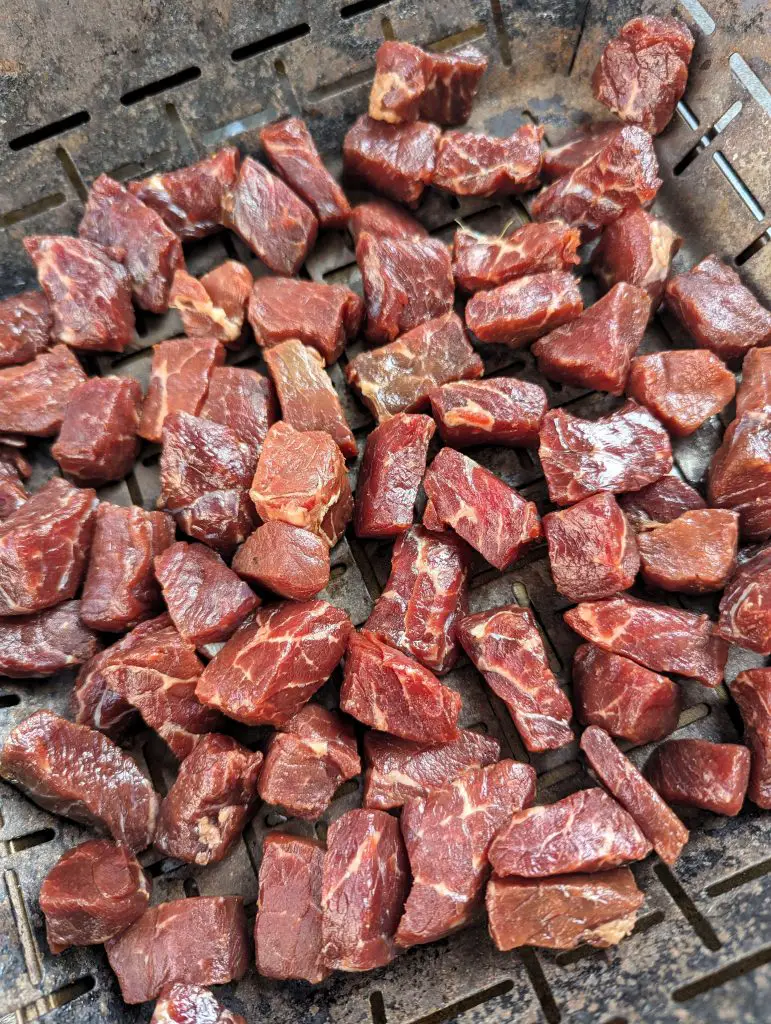 We are going to want to remove the marinated steak bites from the marinade and start working on patting them dry. In order for this process to work and be effective, we will want to eliminate as much of the moisture from the steak cubes as we can. I suggest patting them dry with a paper towel and your best bet laying them on a tray that you can pat them dry.
After you have patted them dry, you are ready to get them on the smoker. You are not likely going to want to place the steak bites directly on the grate, it will be time consuming and you may lose some through the grates. Your best best is a cooling rack or a grilling basket. My preference is the grilling basket but the cooling racks work as well. With the grilling basket, you may want to stir the cubes around a bit to ensure everything is getting some smoke.
Once on the smoker, there is not much to do. The steak bites will stay on the smoker for about 6 hours. We want them tender but smoked and cooked properly. The best test you can have is if you can squeeze a steak bite and it starts to crack a little bit, it is done. If its too hard and really cracking and almost breaking apart its smoked too long. Not enough crack to them, keep them on a little longer.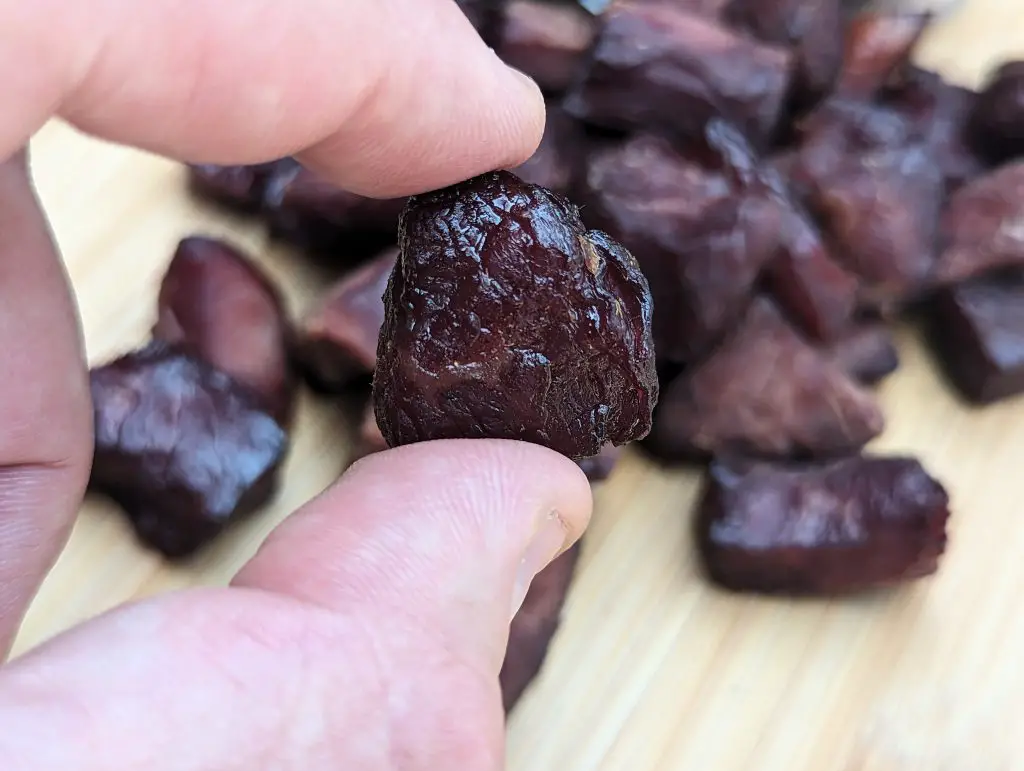 After about 5 hours or so I would start checking them and they should be ready to pull soon thereafter. It is really going to depend on how big your pieces of meat are, as well as how low you keep your ambient temps. Once pulled give them about 15 minutes to cool down and they will be ready to eat! Good luck keeping everyone away for those 15 minutes!
Storing Smoked Steak Bites
Using the Prague curing salt allows for longer storage. If you are looking to hold onto these for a longer period of time here are some suggestions on how to store it.
Allow the steak bites to cool: Before storing your smoked steak bites, make sure they have completely cooled down.
Use airtight containers: To keep your smoked steak bites fresh for longer periods, transfer them into airtight containers or resealable bags. These containers help prevent air from entering, which can cause oxidation and spoilage.
This should allow them to stay for upwards of two weeks. Let's be honest, unless you are making these smoked steak bites in bulk, they won't last that long.
I also want to note on the Prague curing salt. Sometimes referred to pink salt but it is not actually pink Himalayan salt. You will not accomplish the same ability to store using pink Himalayan salt. If you are looking for some more info on curing salt, visit here.
Wrapping Up Smoked Steak Bites
Smoked steak bites are a delicious and versatile dish that can be enjoyed as an appetizer, main course, or even in salads or sandwiches. The smoky flavor adds depth and richness to the tender pieces of steak, creating an experience that is sure to impress. Whether you're hosting a backyard barbecue or simply looking for a snack to take on the road, these smoked steak bites are definitely worth trying. So fire up the smoker and get ready to indulge in this mouthwatering treat that will leave your taste buds craving for more.
Thanks for being here and checking out this Smoked Steak Bites recipe. I hope you enjoy it! We always appreciate comments, 5 star recipe rating and social media shares. As always, keep that smoke rolling!
Need some other snacks ideas or appetizers? Here are some ideas:
This post contains affiliate links. If you use these links to buy something I may earn a commission.
Smoked Steak Bites
Total Time:
6 hours
20 minutes
A delicious bite sized snack for your next party or to take on the road.
Ingredients
2 lbs. of top round/London Broil
Teriyaki Marinade
1 cup soy sauce
1/2 cup brown sugar
3 teaspoons fresh ginger (ginger powder can substitute it need be)
2 tablespoon honey
2 teaspoons sesame oil
1/2 cup of water
1/2 tsp. of curing pink salt
2 tbsp. of rice vinegar
Instructions
Freeze the top round/London Broil for about 2 hours. This will make the slicing easier
Combine the marinade ingredients in a small pot and warm over a low heat for about 10 minutes, until all the ingredients are mixed together.
Dice the steak into 1/2-3/4" cubes
Pour the marinade into a resealable bag and add the bites, marinade overnight, for approx. 12 hours.
Set smoker for a low ambient temperature of 180°
Pat the steak cubes dry, place in a grilling basket or on cooling racks
Place on the smoker and smoke for about 6 hours
Remove when you can squeeze the bites and they start to slightly crack
Let cool for 15 minutes and serve. If storing, keep in an airtight container for about 2 weeks.
Nutrition Information:
Yield:

4
Serving Size:

1
Amount Per Serving:
Calories:

722
Total Fat:

28g
Saturated Fat:

10g
Trans Fat:

0g
Unsaturated Fat:

14g
Cholesterol:

237mg
Sodium:

4230mg
Carbohydrates:

35g
Fiber:

1g
Sugar:

31g
Protein:

83g