Are you tired of store-bought beef jerky that lacks the smoky flavor you crave? Look no further! In this recipe article, we will guide you through a mouthwatering smoked teriyaki beef jerky recipe that is sure to satisfy your taste buds. With just a few simple ingredients and some patience, you can craft your own delicious and tender homemade beef jerky infused with the perfect blend of sweet teriyaki sauce and rich smoky undertones. Get ready to impress your friends and family with this irresistible snack that will keep them coming back for more!
Teriyaki Beef Jerky Marinade
This teriyaki marinade is a flavorful marinade that when combined with the smoky hickory wood will leave you with a mouthwatering snack. Personally I love the teriyaki and hickory combination and it makes for a classic beef jerky flavor. This is an easy marinade that will only take a few minutes to whip up. Here is the list of ingredients you will need for this recipe (full measurements are in the recipe card):
Soy sauce, I usually use low sodium soy sauce
rice vinegar
sesame oil
light brown sugar
honey
ground ginger
minced garlic
water
pink curing salt
You will combine these in a small pot, and simmer over low heat, whisking throughout. Once combined remove from heat and put it off to the side to cool for a few minutes.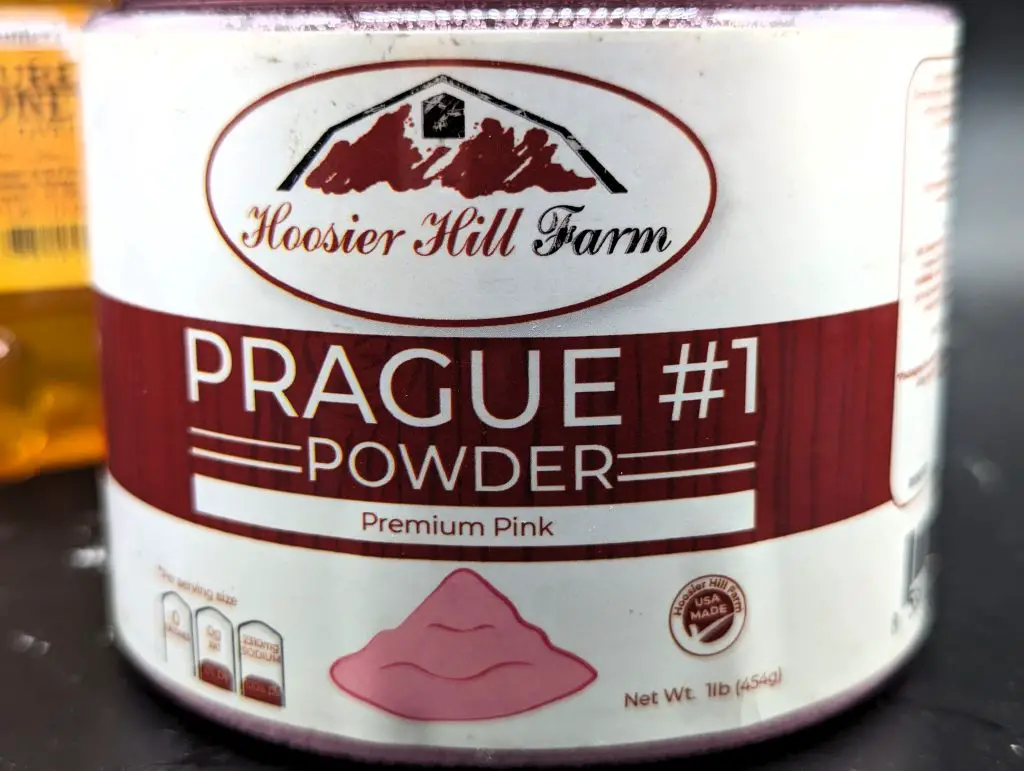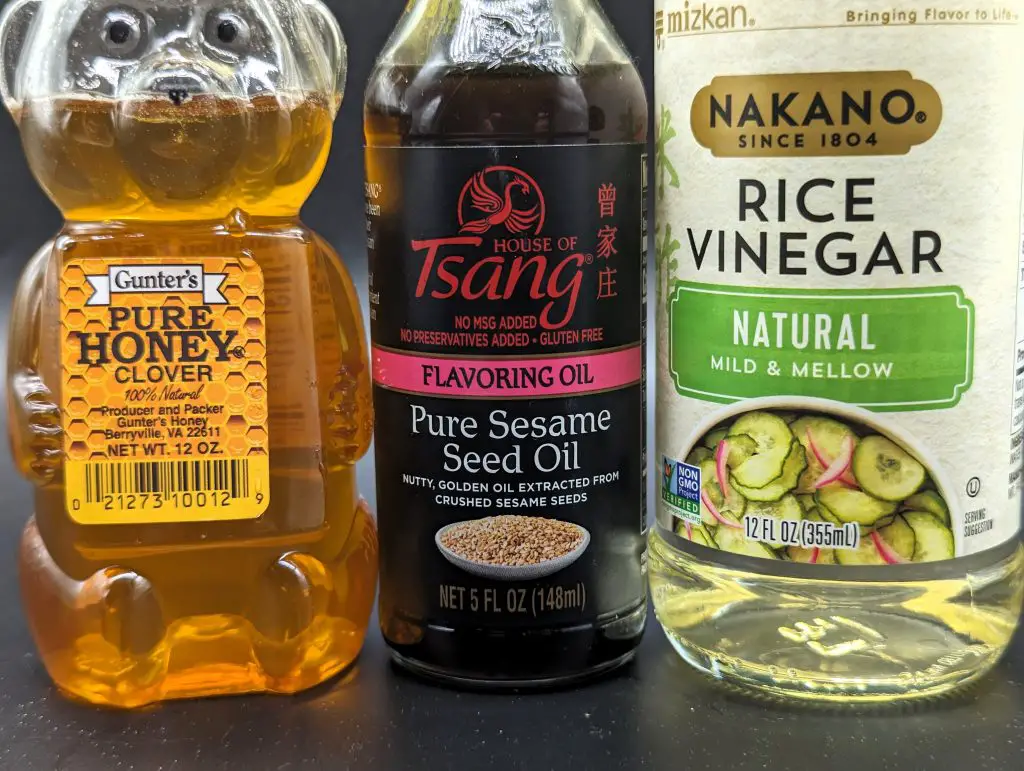 What Cut of Meat to Use For Smoked Beef Jerky Recipe
The cut of meat I most frequently use for making jerky is a top round, also sometimes labeled as a London Broil. I outline some reasons why I choose the top round cut of meat:
Lean and Tender Meat: Top round is known for being one of the leanest cuts of beef with minimal fat content. This makes it perfect for creating healthy and low-calorie snacks without compromising on taste or texture. The absence of excessive fat ensures that your beef jerky remains tender yet firm after drying.
Rich in Flavor: Despite being lean, top round doesn't lack flavor! It boasts a robust taste due to its location on the animal's rear end – an area that receives regular exercise during the animal's life. As a result, top round develops strong muscle fibers which contribute to its rich flavor profile when transformed into beef jerky.
Consistent Texture: Top round offers consistent thickness throughout the cut which makes it ideal for achieving uniform slices while preparing beef jerky. A uniform thickness allows for even marination and drying processes ensuring each piece has an equal distribution of flavors and tenderness.
Easy to Slice Against the Grain: Properly slicing meat against its grain helps ensure a juicy tender bite.
Preparing The Beef Teriyaki Jerky
The marinade is made and cooling down a bit, so now we want to move onto the meat. Before slicing the top round, you will want to freeze the meat for about two hours. I cannot say enough how much this will help when its comes to making nice thin clean cuts on the meat. After you let it freeze for about two hours, pull it and start slicing it.
If you happen to have a meat slicer than great but if you do not, a very sharp knife will do the trick. We are going to want to slice the pieces about 1/8-1/4″ thick. After slicing the steak, you will want to take the marinade and steak and place them in a resealable bag and have it marinade overnight.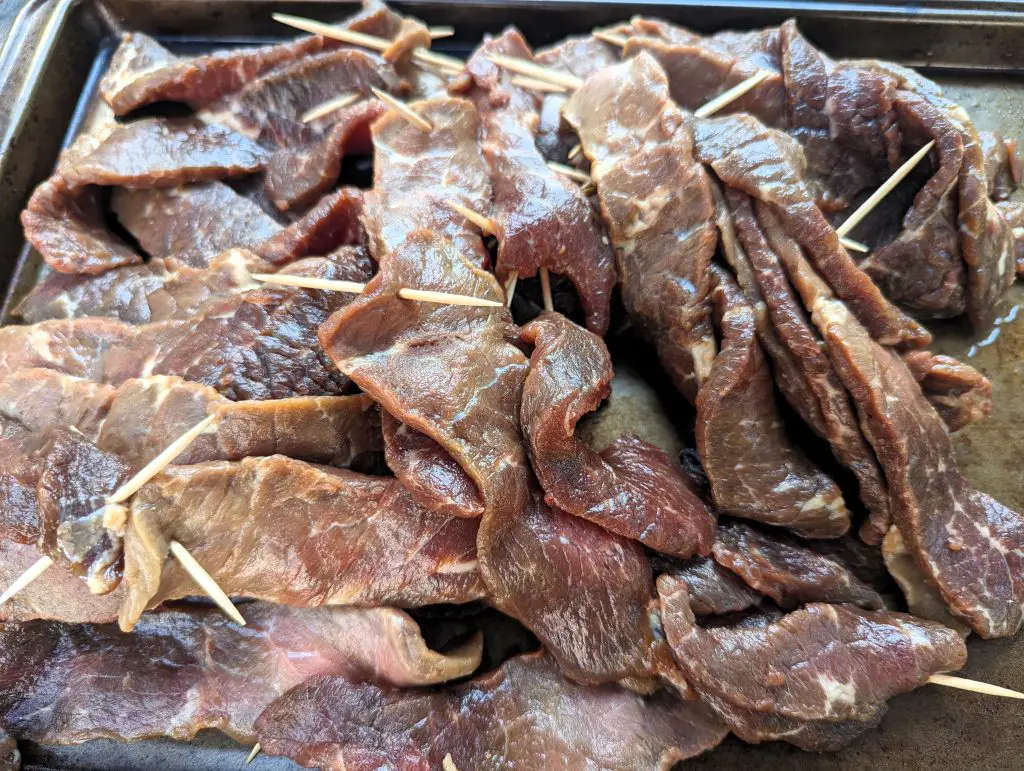 After an overnight marinade you can remove from the regfrigator the next morning and finish preparing the beef to be placed on the smoker. You will want to lay the strips out and then pat them dry using paper towels. The goal is to remove as much of the surface moisture as possible, so be sure to dry both sides of the steak slices. After that, if you are going to hang them as I do, thread each piece with a toothpick. Assuming you are using wood, make you have soaked it for about an hour in advance to they do no burn.
If you are not going to hang them, then after patting dry you are ready to place them on the smoker.
Smoking The Beef Jerky
You are going to set the smoker for a low temperature of 180°. I used my Weber Smokey Mountain for this smoke. Each smoker will do this differently but regardless of whether using a WSM, Traeger pellet grill or other style smoker the goal is that low 180°. Usually when smoking on my WSM I use the minion method but in this case the easiest method for running temps this low is setting up a snake.
The ThermoPro TP20 is a great unit for checking that low ambient temperature.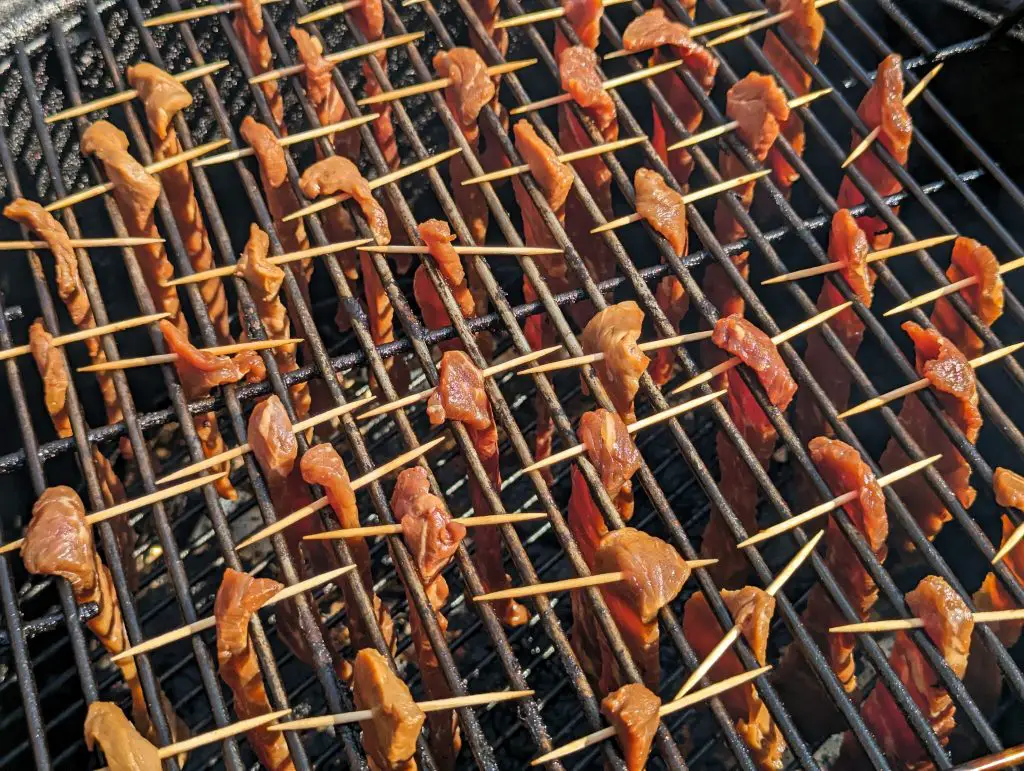 I love that hickory smoke flavor on beef jerky, so I will be running this smoke with hickory wood. Once you are up to temp, which should not take long, you can place the sliced beef on the smoker. After it is on the smoker, there is not much to do but enjoy the smoke flavor in the backyard. It will take about 6 hours to smoke and dry out. This timing will definitely depend on how well you keep that temperature down in the 180° range, in addition to how thinly you sliced them. The smoker is adding smoke flavor but also acting as a dehydrator and drying out the meat.
You will know the beef jerky is finished when you can bend it and you see a little bit of cracking on surface. At this point it will be ready to get pulled. After pulling give it about 15 minutes to cool down and it will be ready to eat.
Concluding The Smoked Teriyaki Beef Jerky Recipe
Making your own smoked teriyaki beef jerky at home is a rewarding and delicious experience. With just a few simple ingredients and some patience, you can create a flavorful snack that rivals any store-bought version. The combination of smoky, savory flavors with the sweetness of teriyaki sauce creates a taste sensation that is sure to satisfy any jerky lover. Whether enjoyed as a protein-packed snack or added to recipes for an extra burst of flavor, this homemade smoked teriyaki beef jerky is sure to impress friends and family alike. So why not give it a try and see for yourself the incredible results that come from creating your own batch of mouthwatering smoked teriyaki beef jerky?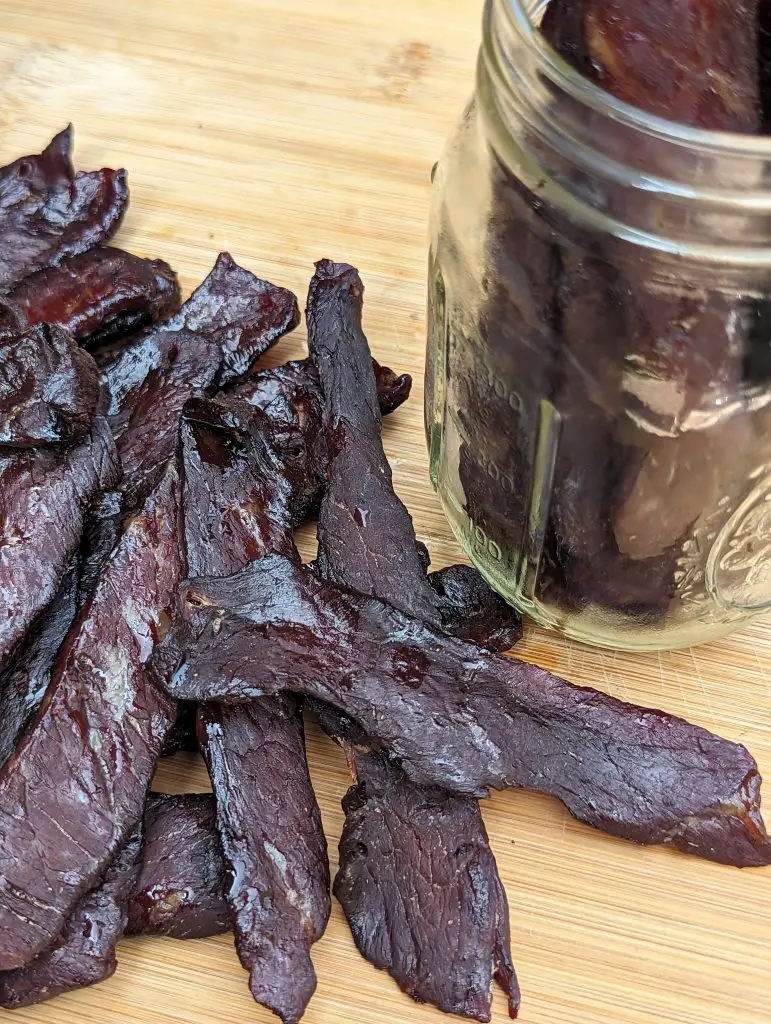 Thanks for being here and checking out this Smoked Teriyaki Beef Jerky recipe. I hope you enjoy it! We always appreciate comments, 5 star recipe rating and social media shares. As always, keep that smoke rolling!
Need some other jerky recipes, snack ideas or meals? We have a few suggestions:
This post contains affiliate links. If you use these links to buy something I may earn a commission.
Smoked Teriyaki Beef Jerky Recipe
Total Time:
6 hours
20 minutes
A homemade beef jerky snack that will put the store bought brands to shame!
Ingredients
Teriyaki Marinade
1 cup soy sauce
1/2 cup brown sugar
3 teaspoons fresh ginger (ginger powder can substitute it need be)
2 tablespoon honey
2 teaspoon sesame oil
1/2 cup of water
1/2 tsp. of pink salt
2 tbsp. of rice vinegar
Instructions
Freeze the top round/London Broil for about 2 hours. This will make the slicing easier
Combine the marinade ingredients in a small pot and warm over a low heat for about 10 minutes, until all the ingredients are mixed together.
Slice the steak, thinly into slices approximately 1/8-14" thick. A sharp knife is crucial for these thin slices
Pour the marinade into a resealable bag and add the sliced steak, marinade overnight, for approx. 12 hours.
Set smoker for a low ambient temperature of 180°
Pat the slices dry. If hanging thread a soaked tooth pick through one end
Place on the smoker either hanging or laying flat and smoke for about 6 hours
Remove when you can bend the bites and they start to slightly crack
Let cool for 15 minutes and serve. If storing, keep in an airtight container for about 2 weeks.
Nutrition Information:
Yield:

6
Serving Size:

1
Amount Per Serving:
Calories:

568
Total Fat:

31g
Saturated Fat:

11g
Trans Fat:

0g
Unsaturated Fat:

15g
Cholesterol:

176mg
Sodium:

2779mg
Carbohydrates:

23g
Fiber:

0g
Sugar:

21g
Protein:

48g