The holiday season is upon us, and what better way to celebrate than with a festive and refreshing cocktail? Enter the Christmas Mule Cocktail – a delightful twist on the classic Kentucky Mule that combines the flavors of cranberry, ginger beer, lime, and bourbon. This vibrant drink not only looks stunning with its ruby red hue but also delivers a perfect balance of sweet and tangy notes. So, if you're searching for a cocktail that will make your taste buds dance this Christmas, look no further than the Christmas Mule Cocktail. Get ready to raise your glass and toast to good times!
Moscow Mule vs. Kentucky Mule
When it comes to popular cocktails, Moscow Mules and Kentucky Mules have undoubtedly gained a significant following. While both drinks share similar ingredients and presentation styles, they do have distinct characteristics that set them apart.
The most prominent difference between Moscow Mules and Kentucky Mules lies in their choice of spirits. The traditional Moscow Mule comprises vodka as its base spirit along with ginger beer, lime juice, and garnished with a lime wedge. On the other hand, the Kentucky version takes a twist by replacing vodka with bourbon whiskey while keeping the rest of the ingredients intact.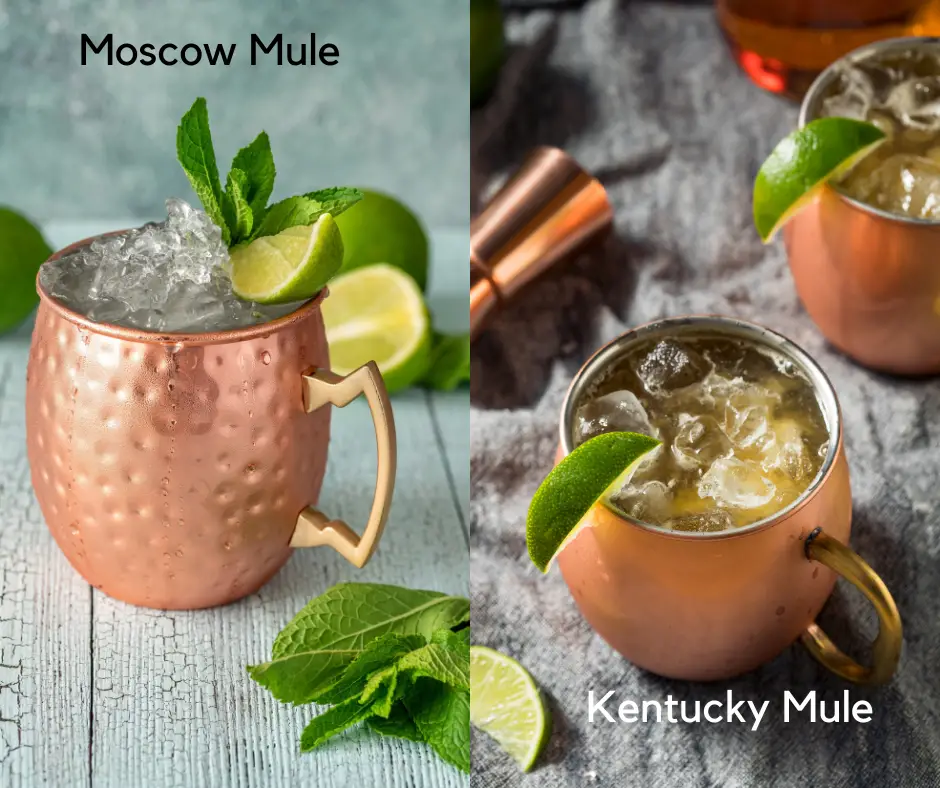 Due to their varied spirits choices, these mules offer distinct flavor profiles. The Moscow Mule's use of vodka's neutral taste allows for a more refreshing experience where ginger beer dominates with its spicy kick while complemented by zesty lime notes. In a Kentucky Mule the bourbon brings bold caramel undertones that blend harmoniously with ginger beer's spiciness; together they create a richer and slightly sweeter profile compared to its Russian counterpart.
Both cocktails share a similar presentation style but with subtle variations. A Moscow Mule is traditionally served in a copper mug, enhancing the drink's temperature and aesthetic appeal, while also highlighting the cocktail's historical roots. While a Kentucky Mule is often served in a traditional highball glass or even an old-fashioned tumbler, showcasing its contemporary take on an American classic.
Christmas Mule Cocktail Ingredients
So you have a little bit of a background on the differences between a Moscow Mule and Kentucky Mule, let's get started on making our Christmas Mule Cocktail, which we are modeling after a Kentucky Mule.
We will start off with some bourbon. When it comes to drinking a Kentucky bourbon whiskey, my go to is Knob Creek. If you have a particular favorite, feel free to use it, as it will make the drink that much more enjoyable.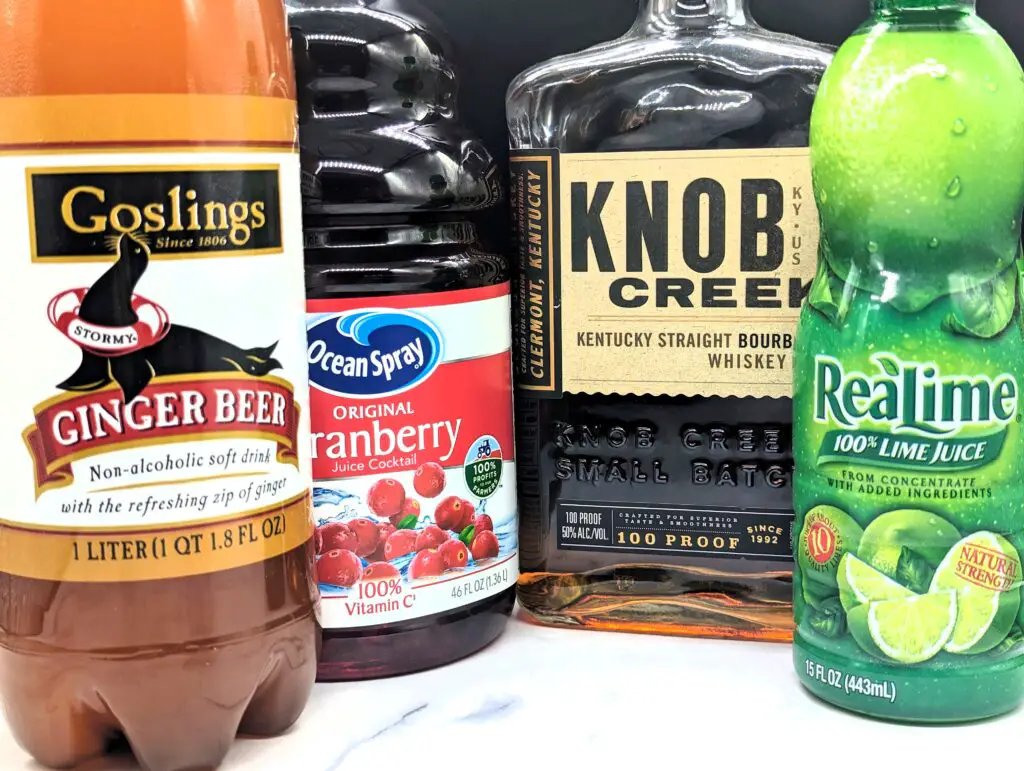 The next set of ingredients will consist of some cranberry juice, lime juice and ginger beer (in case you were unaware, ginger beer is a non-alcoholic drink). We have some options on how to garnish but we can cover some of that at the end.
I serve this in copper mugs but if you wanted a more traditional Kentucky mule recipe, serving them in highball glasses is the way to go.
The Best Simple Christmas Mule Cocktail
Once you have your ingredients and glasses or mugs, let's make this cocktail. Simply measure out the ingredients, add to the glass or mug, give it a stir, add some ice and you are just about done!
You can now garnish however you choose. I like adding some cranberries to the drink, but a sprig of peppermint, or a rosemary sprig are also all appropriate garnishes. If you are looking for a more festive twist, add a peppermint candy cane to the drink.
After having your drink mixed, ice added (take a look at how to smoke some ice here) and mule garnished you are ready to serve!
Interested in making this a Christmas Moscow mule recipe? Swap the bourdon for some vodka. You can go high end and get yourself some Grey Goose but while leaving the rest of the ingredients the same, you now have yourself a holiday Moscow mule.
Wrapping Up Christmas Mule Cocktail
The Christmas mule cocktail is a delightful and festive drink that brings together the flavors of the holiday season. With its refreshing blend of cranberry juice, ginger beer, lime juice, and bourbon, it offers a perfect balance of sweet and tangy notes. Whether enjoyed at a holiday party or cozying up by the fire, this cocktail is sure to bring warmth and cheer to any gathering. So why not raise a glass and toast to the joyous spirit of Christmas with a delicious Christmas mule cocktail? Cheers!
Thanks for being here and checking out this Christmas mule cocktail recipe. I hope you enjoy it! We always appreciate comments, 5 star recipe rating and social media shares. As always, keep that smoke rolling!
Looking to see some of our other feature holiday recipes? Here are a few suggestions ranging from smoked meals to Christmas cocktails. Enjoy!
This post contains affiliate links. If you use these links to buy something I may earn a commission.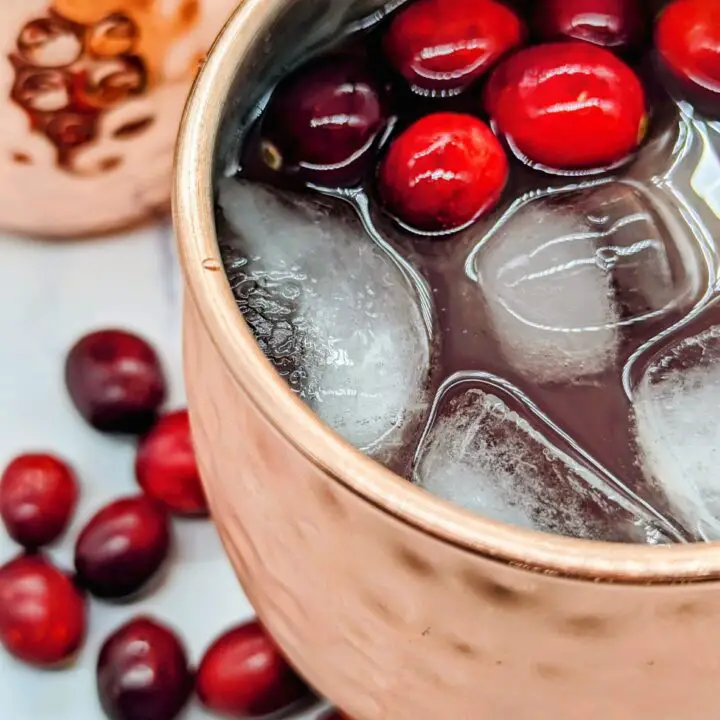 Christmas Mule Cocktail
A delicious Christmas drink to enjoy sitting by the fire or when celebrating with family and friends.
Ingredients
3 oz. bourbon
1 oz. lime juice
3 oz. cranberry juice
3 oz. ginger beer
Instructions
Gather your ingredients and you can measure out in advance or as you go
Blend the ingredients, stir, add some ice and serve
Garnish with some cranberries, peppermint, rosemary sprig or a peppermint candy cane if you are looking for the spirit of the season
Nutrition Information:
Yield:

1
Serving Size:

1
Amount Per Serving:
Calories:

95
Total Fat:

0g
Saturated Fat:

0g
Trans Fat:

0g
Unsaturated Fat:

0g
Cholesterol:

0mg
Sodium:

12mg
Carbohydrates:

24g
Fiber:

0g
Sugar:

21g
Protein:

0g