Smoked ice is super easy and depending on how you do it can be done any time of the year. So whether drinking some whiskey, bourbon or scotch and looking to add some smoky flavored ice, we give you a couple of ways to make it and enjoy it year round. We do this in a way that does not have us "cheating" with liquid smoke, using a smoking gun but getting a true wood smoke flavor, done in a cold smoking manner.
How Do You Smoke Ice?
The first method of making smoked ice will be to smoke ice cubes. This method is super easy but must be done is cooler weather. We are essentially going to cold smoke the ice. If you are new to smoking or even if you have been doing it some time, you may not be familiar with cold smoking. Usually you will find it done with cheese, another cold smoked item. The best part of cold smoking if you can do it on a gas grill, it does not need to be on an actual smoker.
There are a few items you will need for smoking ice:
Smoker Tube (or a smoke box for wood chips. I use the tube myself)
Pellets (these Cameron's pellets are perfect for cold smoking, esp. if you do not own a pellet grill)
Foil pan
Ice cubes, store bought or homemade work
So when cold smoking we are not firing up any significant flames on the smoker or grill if doing it there. My preference when cold smoking is doing it on the grill, more room and a more conducive layout for smoking. But feel free to use a charcoal grill or whatever you have that is convenient. Take your cubes, place them into the pan and then put the pan onto the grill grates. From there we are simply lighting the pellets in the tube and letting the smoke permeate the ice.
From a timing standpoint, a full tube of pellets will take about 2 hours. From my experience those two hours are plenty of smoke time. My recommendation when setting up the tube and pan, place the pan on the opposite side of the grill from the tube. While not a lot of heat, the pellets will generate some heat and the goal is to minimize the ice melting. Once the pellets are smoldering and you are getting smoke, close the lid and let it go until the tube is empty.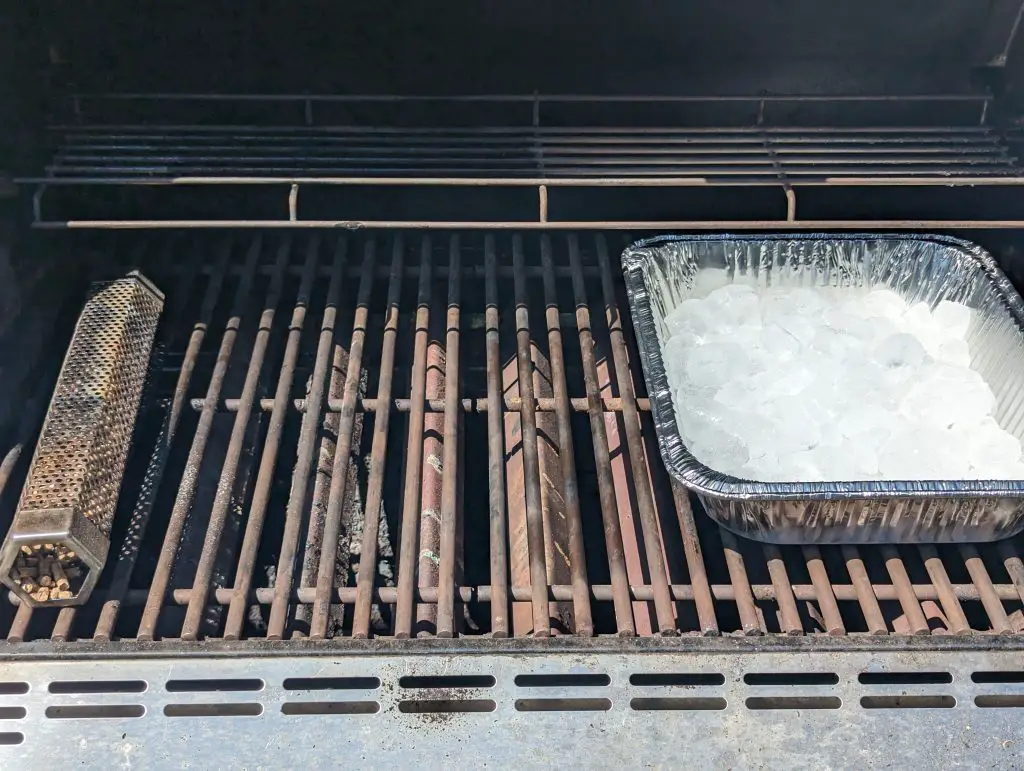 Ideally you want to do this in colder weather, so the ice does not melt. Ideally that would be below 32 degrees, so determine what works best, to do that at during the day or at night. Once the tube is empty you can remove the smoked ice from the grill and store them in any way you would like. When I store it, it is in a marked bag, with the wood flavor used for that ice.
If you have any melted water in the tray you can either dispose of it or if it happened to be a significant amount, place it into ice cube trays and re-freeze it. Again, make sure you are marking it so you remember its going to have that smoky flavor on it.
How To Make Smoked Ice, Using Smoked Water
So here we are essentially going to replicate the set up from above but there are a couple of differences. The first is, we do not need to worry about weather, this method can be done any time of year since we are not smoking the ice itself. The second is, no need to worry about placement of the water relative to the tube, again since its water we do not have to worry about heat generation melting the ice. This method also allows you to smoke much more because you can really fit as many pans as you can.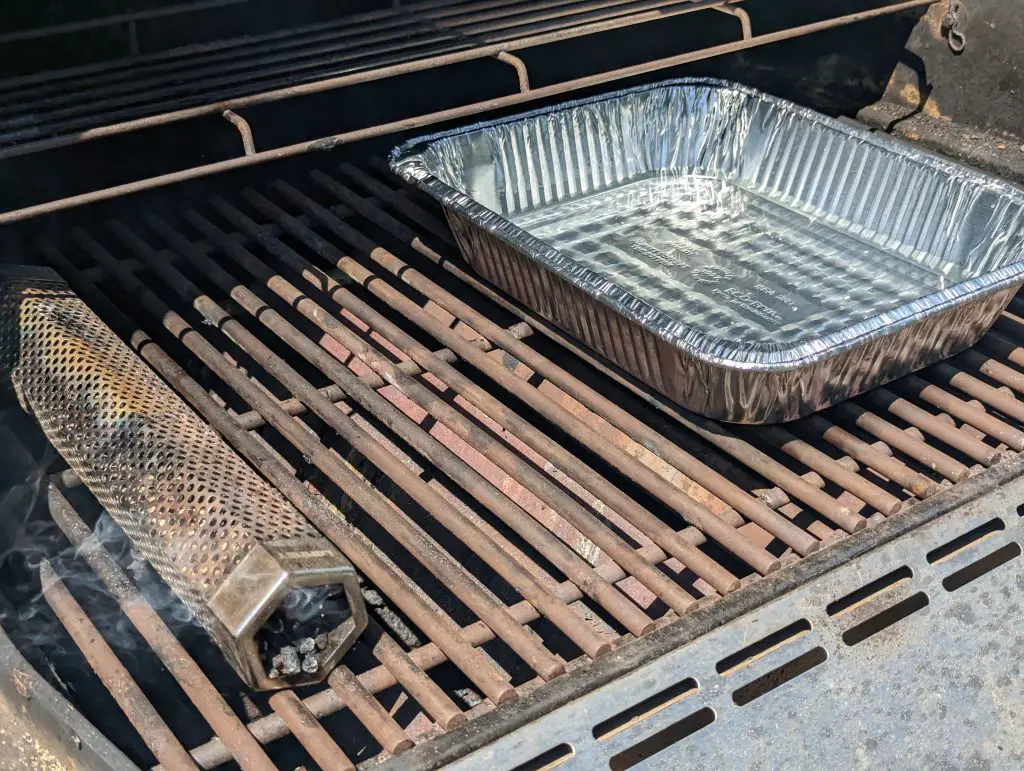 The process will be the same, smoke until the tube is empty and then remove. From there you can pour the water into trays and freeze the water. After they are frozen you are ready to serve.
Wrapping Up, How To Make Smoked Ice
Now that you know how to smoked ice, you can turn your attention to making the drinks. While I am no expert here for making drinks, these smoky ice cubes will be a great addition to any drink you are making, whether its an Old Fashioned cocktail, maybe a Bloody Mary or something else that catches your taste buds attention. You are going to absolutely enjoy these smoke flavor these cubes added to you drink.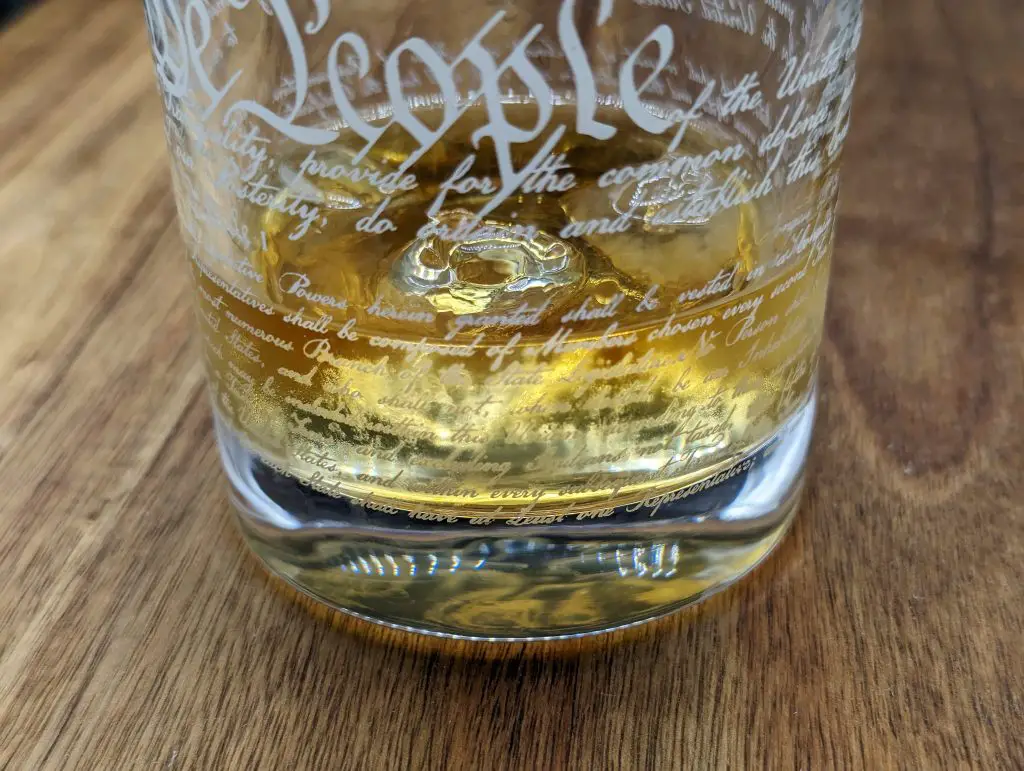 Some common woods to use and blend well with cocktails are pecan, cherry, oak, hickory and apple. I do always suggest go with what works and is commonly used but do not hesitate to experiment, you never know what combination will work or what may appeal to you personally.
Thanks for being here and checking out this Smoked Ice recipe. I hope you enjoy it! We always appreciate comments, 5 star recipe rating and social media shares. As always, keep that smoke rolling!
Looking for some other recipes, here are some suggestions:
This post contains affiliate links. If you use these links to buy something I may earn a commission.
How To Make Smoked Ice
Total Time:
2 hours
5 minutes
Smoked ice is a wonderful way to add smoky flavor to your favorite drinks.
Instructions
You will need a pellet tube and some pellets, fill the tube and light until you see the pellets smoldering
Place your ice or water in foil trays and set up in the smoker or grill
Close the lid and let smoke until the tube is empty, about 2 hours on the long end
If using ice, you can use immediately or is using water, fill water into ice cube trays and freeze the water before using
Notes
If you are making mixed drinks, having some simple syrup and juice on hand would be a good idea as well. I also suggest not smoking this with anything else so as to avoid picking up any other flavors.
Nutrition Information:
Yield:

1
Serving Size:

1
Amount Per Serving:
Calories:

0
Total Fat:

0g
Saturated Fat:

0g
Trans Fat:

0g
Unsaturated Fat:

0g
Cholesterol:

0mg
Sodium:

11mg
Carbohydrates:

0g
Fiber:

0g
Sugar:

0g
Protein:

0g