This smoked turkey sliders recipe uses delicious Cajun smoked turkey breast, giving us a little bit of a kick in the flavor of these sliders, along with some red onions and pepper jack cheese. Smoked turkey sliders make for a great tailgating recipe or summer BBQ dish. It is super easy, packed with flavor and will be enjoyed be all.
Smoked Turkey Breast
We are going to use our Smoked Cajun Turkey breast recipe to smoke this turkey. You can get the full recipe here but I will provide a brief overview in this recipe.
You will need the following herbs and spices to make your own homemade Cajun rub for the turkey breasts:
Cajun Rub Ingredient list:
garlic powder
onion powder
salt
paprika
cayenne pepper
black pepper
oregano
ground thyme
We will also inject the breasts with a basic injection, also using our Cajun rub. The injection ingredients are listed below:
chicken broth
butter
homemade Cajun rub
Once you have that combined the following steps for the Cajun smoked turkey breast is as follows:
Set your smoker for a temperature of 275°, I used apple wood for this recipe
Prepare the injection and liberally inject the turkey breast
Coat the turkey with the Cajun rub
Put the turkey on the smoker. During handling if you removed any rub, recoat if needed
You will then baste the turkey breast twice, with melted butter, at approx. 115° and 135°
We are then going to smoke the turkey breast to an IT of 160°
When it hits the IT of 160°, remove from the smoker and we are going to let it rest for 30 minutes, covered with foil
After the 30 minutes rest period, thinly shave, slice or chop and start to prepare the sliders
When smoking the turkey breast, the ThermoPro TP20 is a great probe unit that does a great job measuring your IT and ambient temperature.
How To Make Turkey Sliders
Now onto making delicious and some of the best turkey sliders you have had. The combination of the slow smoked turkey, Cajun rub and slider topping will make this thoroughly enjoyable. With the turkey thinly slice, shaved or chopped you can start to move to the other ingredients for the sliders. First thing you want to do is to get your oven or grill up to 350°, we are going to pop the sliders in there for about 10 minutes before serving.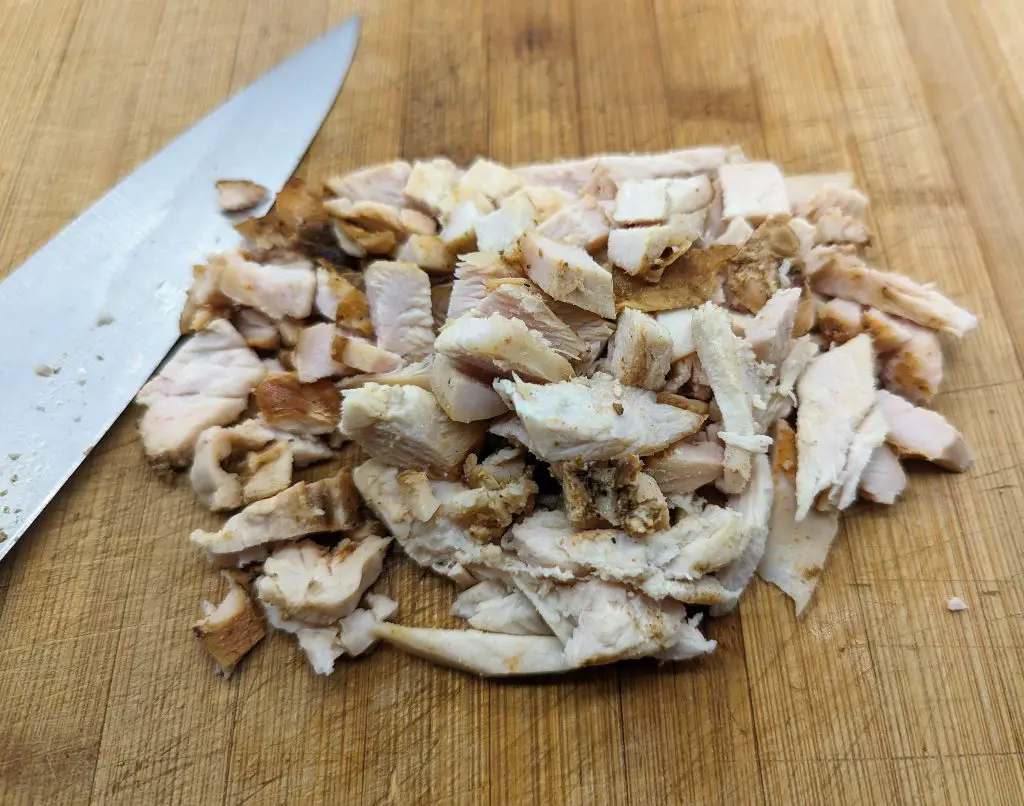 You can make these sliders two ways. You can start on the sliders by taking the Kings sweet Hawaiian rolls and cutting them in half. With this method, we are going to make some cheesy pull apart sliders here. If you are familiar with the sweet rolls, they are packaged together and need to be broken apart. In this case you can remove what you need but keep them in a larger section that you can then cut them in half. The other way to do this is to just separate each roll and build out your sliders individually, whatever you prefer will work for this recipe.
Once those rolls are cut in half we can start layering on the other ingredients. First thing we are going to do is layer on the turkey breast, be generous with this and any of the ingredients. After the turkey is on, slice some red onions and then cut them in half and layer them on top of the turkey.
Once you have the onions on, we can move onto the cheese. We are going to use a pepper jack cheese. I used pre-sliced cheese but you can buy a block and cut it yourself or you can make shredded cheese from the block and place it on the sliders. Once you have the cheese on there, we are going to place the top of the buns back on and do one last thing before putting them in the oven or grill.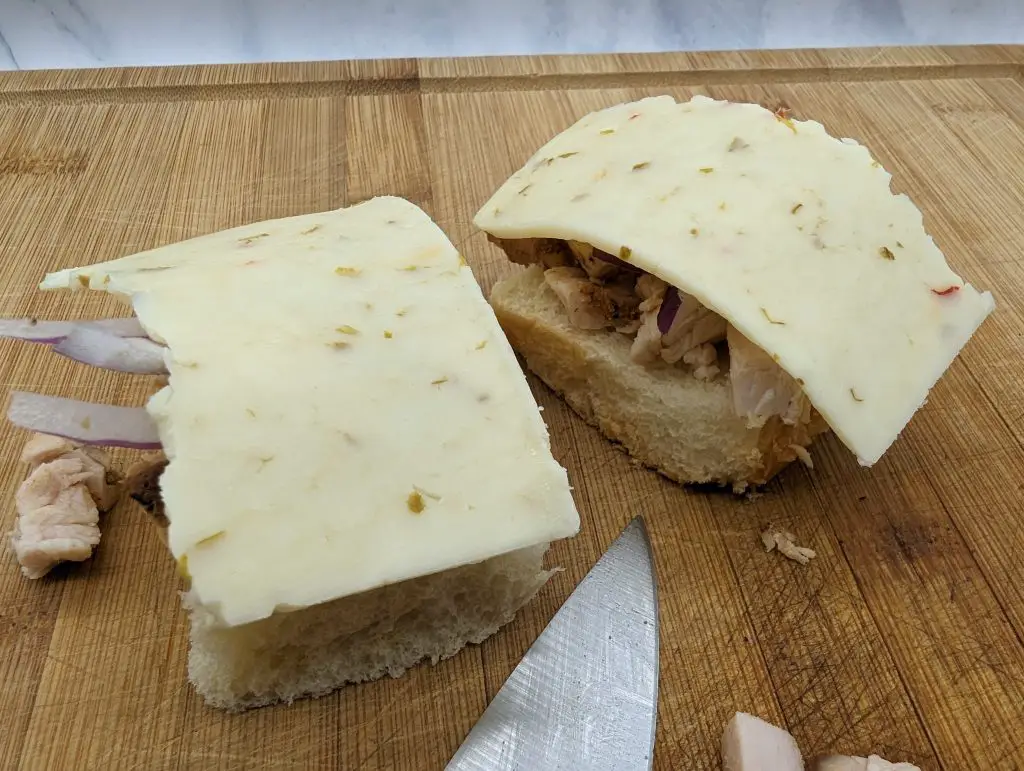 So get those sliders in the oven, give them about ten minutes or until you see the top of the buns brown just a little bit and the cheese is melted. At this point, you will be good to take these hot turkey sliders out and serve while hot!
In Conclusion, Smoked Turkey Sliders
This recipe is an awesome combination of the Cajun turkey, pepper jack cheese and onions, so there are not a lot variations to this recipe that I would recommend. If you are looking for some additional smoke flavor, on these add some smoked cheddar cheese on them, although the recipe is preferred with the pepper jack. You can make a main course out of this recipe and scale this up in roll size and make full on sandwiches.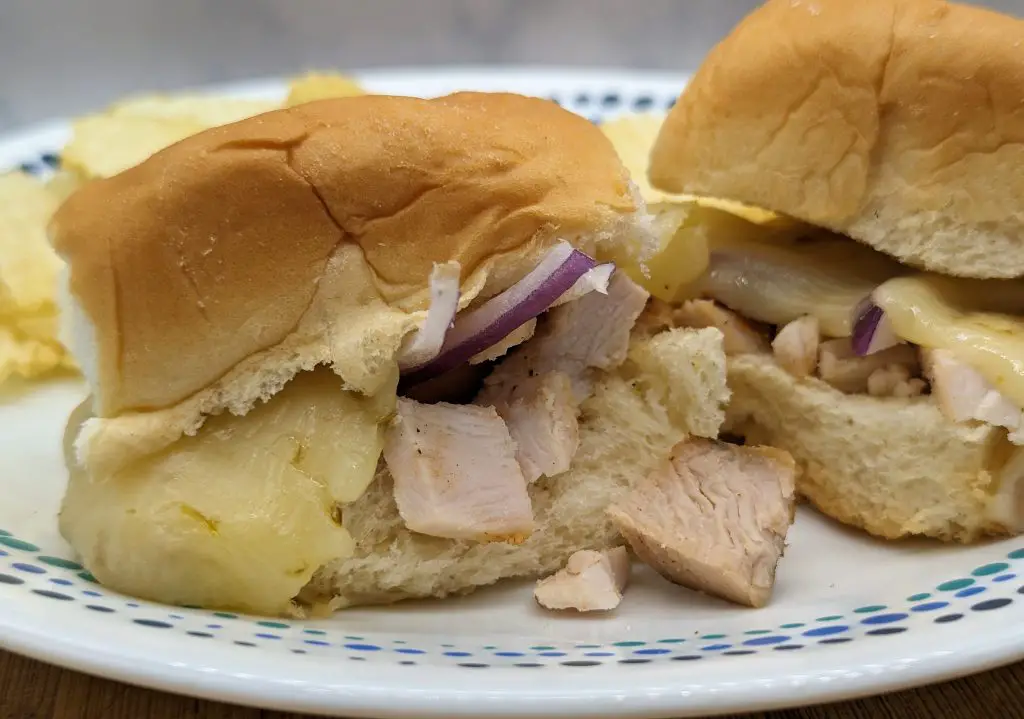 Thanks for being here and checking out this Smoked Turkey Sliders recipe. I hope you enjoy it! We always appreciate comments, 5 star recipe rating and social media shares. As always, keep that smoke rolling!
Looking for some other turkey or slider recipes, here are some suggestions:
Smoked Turkey Sliders
Smoked turkey sliders, with a Cajun rub are a great party option or if you have some leftover turkey breasts.
Ingredients
8 oz. of turkey breast
4 Hawaiian rolls
Red Onion, sliced
Pepper Jack cheese
Instructions
Smoked turkey breast to instructions
Slice 4 Hawaiian rolls
Top with chopped turkey breast
Add sliced red onions
Add pepper jack cheese
Place slider tops back on
Toast in oven or grill at 350° for about 10 minutes or until cheese is melted and rolls turn slightly brown
Nutrition Information:
Yield:

2
Serving Size:

1
Amount Per Serving:
Calories:

432
Total Fat:

11g
Saturated Fat:

5g
Trans Fat:

0g
Unsaturated Fat:

4g
Cholesterol:

136mg
Sodium:

349mg
Carbohydrates:

37g
Fiber:

3g
Sugar:

12g
Protein:

44g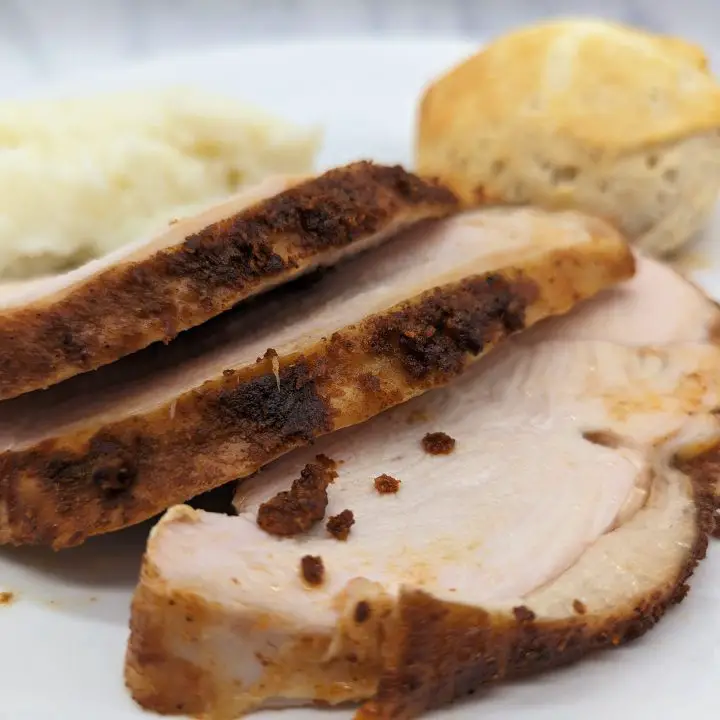 Smoked Cajun Turkey Breast
Cook Time:
1 hour
45 minutes
Additional Time:
30 minutes
Total Time:
2 hours
45 minutes
Smoked turkey breast is an easy and delighful meal. Combine and smokey flavor with the Cajun seasoning and this is a true hit.
Ingredients
Injection
8 oz. of chicken broth
1/2 stick of melted butter
2 tablespoons of Cajun rub
Cajun Dry Rub
1 tbsp. of garlic powder
1 tbsp. of onion powder
1 tbsp. of salt
2 tsp. of paprika
2 tsp. of cayenne pepper
1 tsp. of black pepper
1 tsp. of oregano
1 tsp. of ground thyme
Instructions
Prepare smoker for 275° using apple wood chunks
Prepare the injection and inject turkey
Prep your turkey with your rub
Place breasts on the smoker and recoat with your rub anywhere handling may have removed it
Baste twice with melted butter, at approx. 115° and 135°
Smoke to an IT of 160° and remove
Cover with foil and let rest of 30 minutes.
Slice and serve
Nutrition Information:
Yield:

8
Serving Size:

1
Amount Per Serving:
Calories:

314
Total Fat:

10g
Saturated Fat:

5g
Trans Fat:

0g
Unsaturated Fat:

4g
Cholesterol:

152mg
Sodium:

1203mg
Carbohydrates:

3g
Fiber:

1g
Sugar:

0g
Protein:

52g