Cold smoked cheese is your classic seasonal smoked food. You have that short window, depending on where you live, to smoke that cheese, get it vacuum sealed and save it in the regfrigator. The cold smoked cheese could make for a nice addition to a holiday appetizer, a snack while at school or work or throwing on a burger. Cold smoked cheese is super easy and requires almost no ingredients outside of the cheese. Ready to dive into the details? Let's do it!
The Basics Of Cold Smoked Cheese
The first thing to keep in mind, as the name implies, you want it to be cold when smoking cheese. You need the ambient temperature to be cold but something else you need to also factor in, most smokers are black, they are going to attract additional heat. This is especially true if the smoker is in any kind of direct sunlight regardless of the outdoor ambient temperature.
Even if you end up with a day in the mid 30's but you have your smoker in direct sunlight, for an extended period of time and it is black, plus the little bit of heat that your wood chips or pellets will generate, you may end up with a scenario that your smoker temperature will get higher than you want, (there is a chance I am talking from experience here!). You could end up with some melted or very very soft cheese if things were to play out as I described.
So keep that in mind as you are going through the process. Your goal temperature in the smoker should be below 80°. If you are running into issues with the temperature in your smoker rising, throw some ice in a tray and place it in the smoker and it will help lower the temperature of the smoker. Now that we level set on a couple of the issues you may encounter we start looking at how to do cold smoked cheese.
How To Do Cold Smoked Cheese
There are two ways to generate your smoke. You can use a smoke box with wood chips or a pellet tube. I have tried both and prefer the tube. I am currently using this smoker tube when I do cheese. The smoke boxes need more heat and to get the chips going and heat is not conducive to smoking cheese. The tube is easier to light, generates and needs less heat and also creates more smoke. There is a place for smoke boxes but I am not sure it is for cold smoked cheese.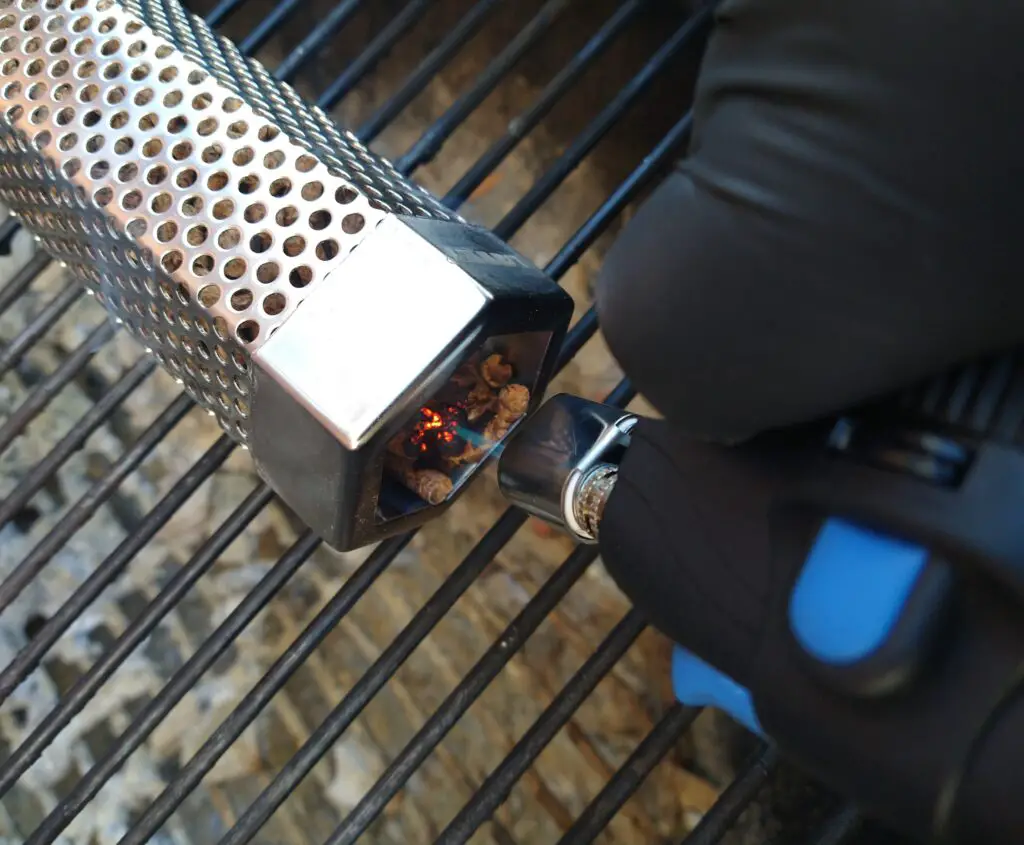 Before throwing your cheese on give it an hour or two to reach room temperature. It will help with absorbing the smoke flavor. As you pick your cheese, anything will work as long as it is not falling through the grates. Because there can be so many options and pairings go with a cheese you like and a smoke flavor you prefer. Once you get your pellet tube going, place the cheese on and you just need to let it ride. How long you leave it on is up to you. There is no science to it and we are certainly not looking for a target IT on the cheese.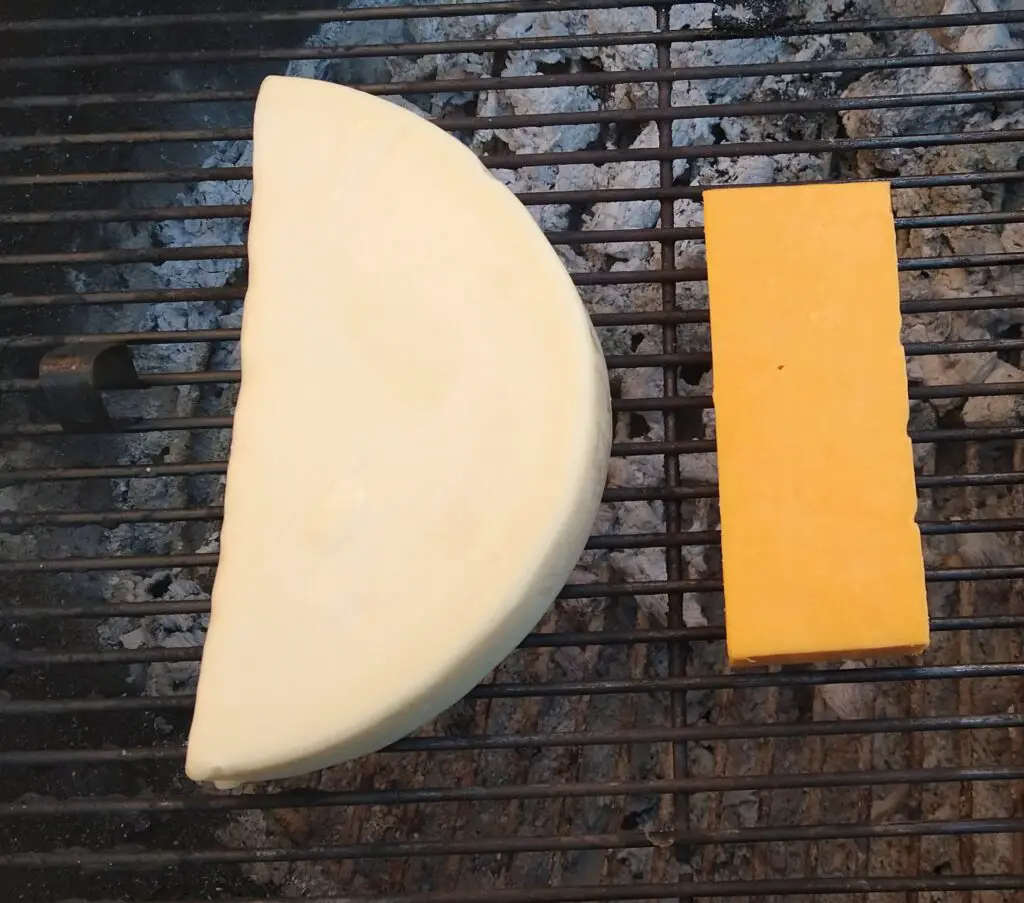 When I cold smoke cheese, I will usually keep it on for about 3-4 hours. Some will say keep it on until it starts to sweat but you do not have too. Again on average, 3-4 hours is perfect. Now when you pull it, do not go eating the cheese. This is where you need some patience. It has a high likelihood it is going to taste like garbage if you do eat it when you pull the cheese off the smoker. You will now need to take the cheese and vacuum seal it for about 2 weeks.
You can go longer, but 2 weeks should be your minimum you let it sit. By sealing it and leaving it for a couple of weeks you let the cheese and smoke flavor mellow out a bit and you have significantly better cold smoked cheese after the wait.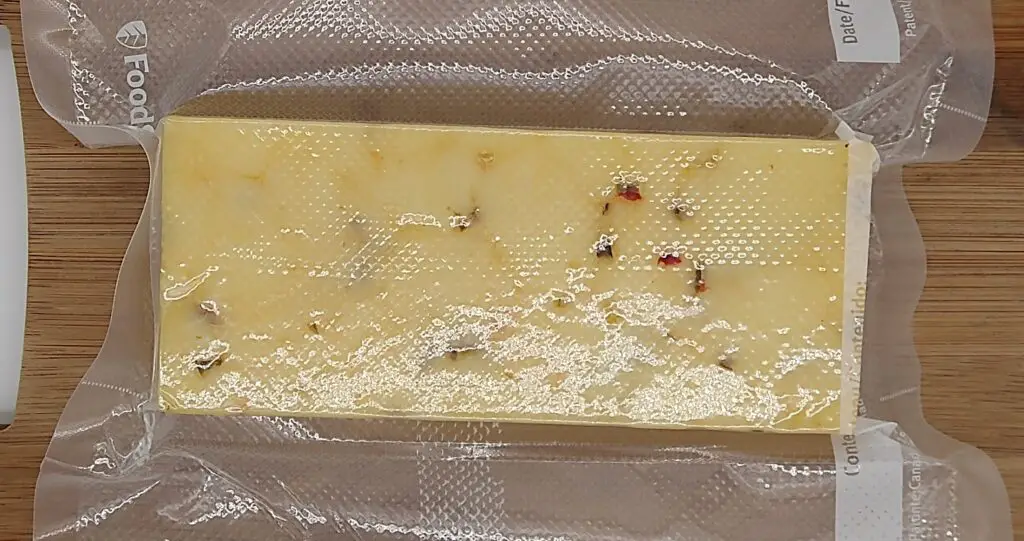 If you are like me do not have a pellet smoker, and need to buy pellets but do not want to buy large bags, try these Cameron's pellets out. You can find them at Amazon and are great if you are looking for a variety of pellets and do not want to buy large bags. Each container will basically fill a tube, so assume one smoke with each flavor you are getting.
Cheese and Smoke Pairing Ideas
As with a lot of smoked food, cold smoked cheese is no different, experiment with some flavors and go with that you enjoy but if you are trying this for the first time here are some pairing ideas:
Soft or mild cheeses such as gouda, cheddar or mozzarella would pair will be milder woods such as apple or pecan. You may want to even try a combination of those or a hickory.
Your strong or semi hard cheeses are provolone, parmesan or monetary jack. These you can pair with some of the stronger wood flavors, like a cherry or an oak. Again experiment with some combinations as well.
A couple of recent pairings that I have tried and turned out well using cherry pellets is provolone and pepper jack.
I hope you enjoyed this and it presented you with some ideas and knowledge on how to go about doing some cold smoked cheese. If you are interested in some other recipes that you can cold smoke and more, try some of these out:
Thanks for being here and as always keep that smoke rolling!
This post contains affiliate links. If you use these links to buy something I may earn a commission. Thanks!
Cold Smoked Cheese
Cold smoked cheese is seasonal smoked food you should take advantage of smoking during those cold winters months. Great for a snack an appetizer or on some burgers.
Ingredients
16 oz od cheddar cheese (or any cheese of your choosing)
Instructions
Let cheese sit out of the regfrigator for approximately one hour and come up to room temperature
Using the wood chip or pellet flavor of choice, start your smoking tube and place cheese on the smoker
After about 3-4 hours of smoke time, remove the cheese
Vacuum seal and place in regfrigator for no less than two weeks. After two weeks you can remove and enjoy at your leisure.
Notes
If the temperature in your smoker starts to rise about 80°, place some ice in a foil tray and put in the smoker, that should help bring the temperature down.
Nutrition Information:
Yield:

8
Serving Size:

1
Amount Per Serving:
Calories:

229
Total Fat:

19g
Saturated Fat:

11g
Trans Fat:

1g
Unsaturated Fat:

6g
Cholesterol:

56mg
Sodium:

370mg
Carbohydrates:

2g
Fiber:

0g
Sugar:

0g
Protein:

13g