If you're a fan of smoky, succulent flavors and crave a hearty dinner option, then look no further than smoked bone in pork chops. These delectable cuts of meat are not only packed with flavor but also incredibly versatile, making them an excellent choice for any occasion. This article will guide you through everything you need to know about preparing and enjoying these mouthwatering smoked bone-in pork chops. Get ready to elevate your pork chop game and impress even the most discerning taste buds, with this delicious and simple recipe.
Smoked Pork Chops Prep
Let me say, as much as I used bone in pork chops for this recipe, there is nothing saying you have to make smoked bone in pork chops. Boneless pork chops work for this recipe just as well as bone in.
Before we get to seasoning the pork chops, you will want to get the smoker started. I used my Weber Kettle for this recipe but for a larger number of pork chops, my WSM has been used as well. For the most part this recipe for smoked pork chops should translate over to any smoker style from a Traeger pellet grill to offset.
You will want your smoker running at 225° and I used a combination of hickory and pecan wood chunks. You will not need a ton of charcoal for this smoke because it will be relatively short, 90 minutes at most, depending on the size of your pork chops. Thick cut pork chops will probably take a little over an hour. The smoking time for pork chops, relative to the cut I used, was just under an hour.
Outside of the smoker you will only need a couple of ingredients:
olive oil
a sweet dry rub. I would recommend using Kinder's Brown Sugar Rub. You can read the history of pairing apples with pork here.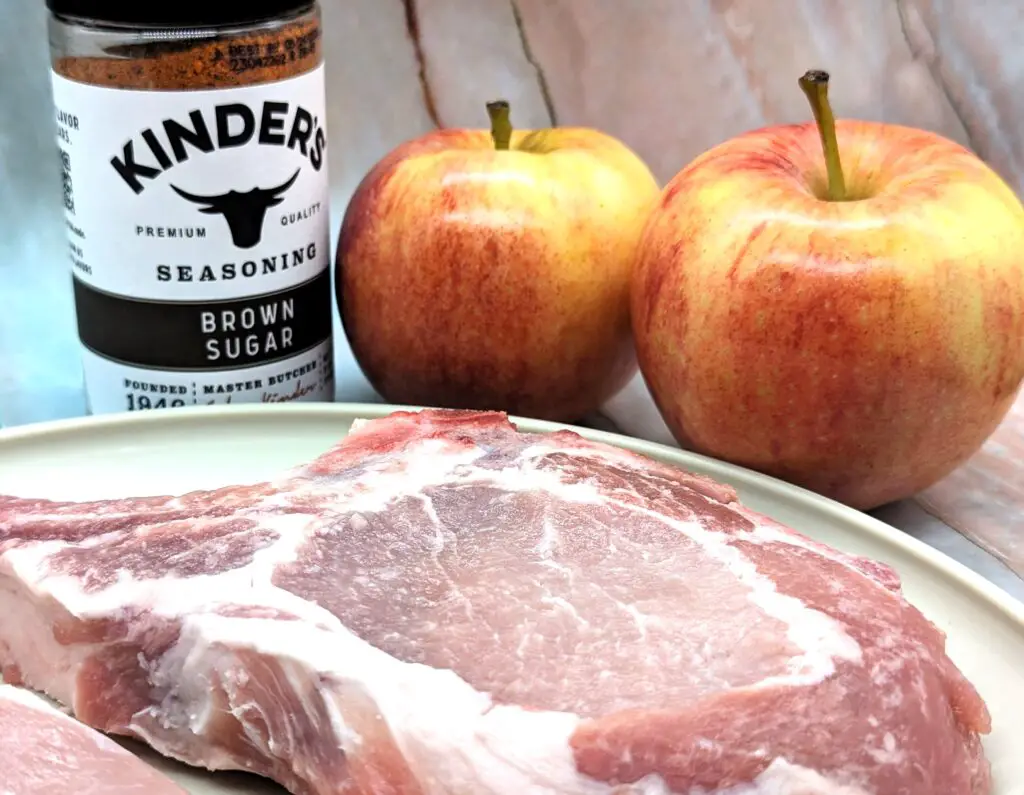 We are also going to top these off with a sweet apple BBQ sauce that will absolutely leave you craving more! For the apple BBQ sauce you will need the following:
ketchup
apple sauce
apple cider vinegar
brown sugar
salt
black pepper
How To Season Pork Chops
Hopefully you do not get overwhelmed with this next step as we make our way to some delicious smoked bone in pork chops. When it comes to prepping and seasoning our pork chops, it is actually incredibly easy.
Pat them down with a paper towel, lightly brush on some olive oil and then apply the Brown Sugar rub. Do this on both sides and the edges , you can coat this generously. Once you are done here, you can set them to the side, let them come up to room temperature for a few minutes and then throw them on the smoker.
Smoking Pork Chops
So your smoker should be up to 225°, the pork chops seasoned and we are ready to roll. Once we get these on the smoker, things get easy! I mentioned earlier that the timing of this recipe will depend on how thick your pork chops are. Once they on, you do not need to do anything. Let them ride until you get to an internal temperature of 140°. Once you get to that point, we are going to pull them. You usually want pork to reach 145 degrees but by pulling early, searing and letting it rest for 15 minutes, you will reach the safe temperature of 145°.
Over direct heat, we are going to give these a quick reverse sear. There are a couple of ways you can do this reverse sear. I cranked up my gas grill for this one. You can also place the pork chops directly over the coals you are smoking with for the sear or you can place them in a cast iron skillet. Once we move to the reverse sear, you are only going to do 1 minute on each side of the pork chops.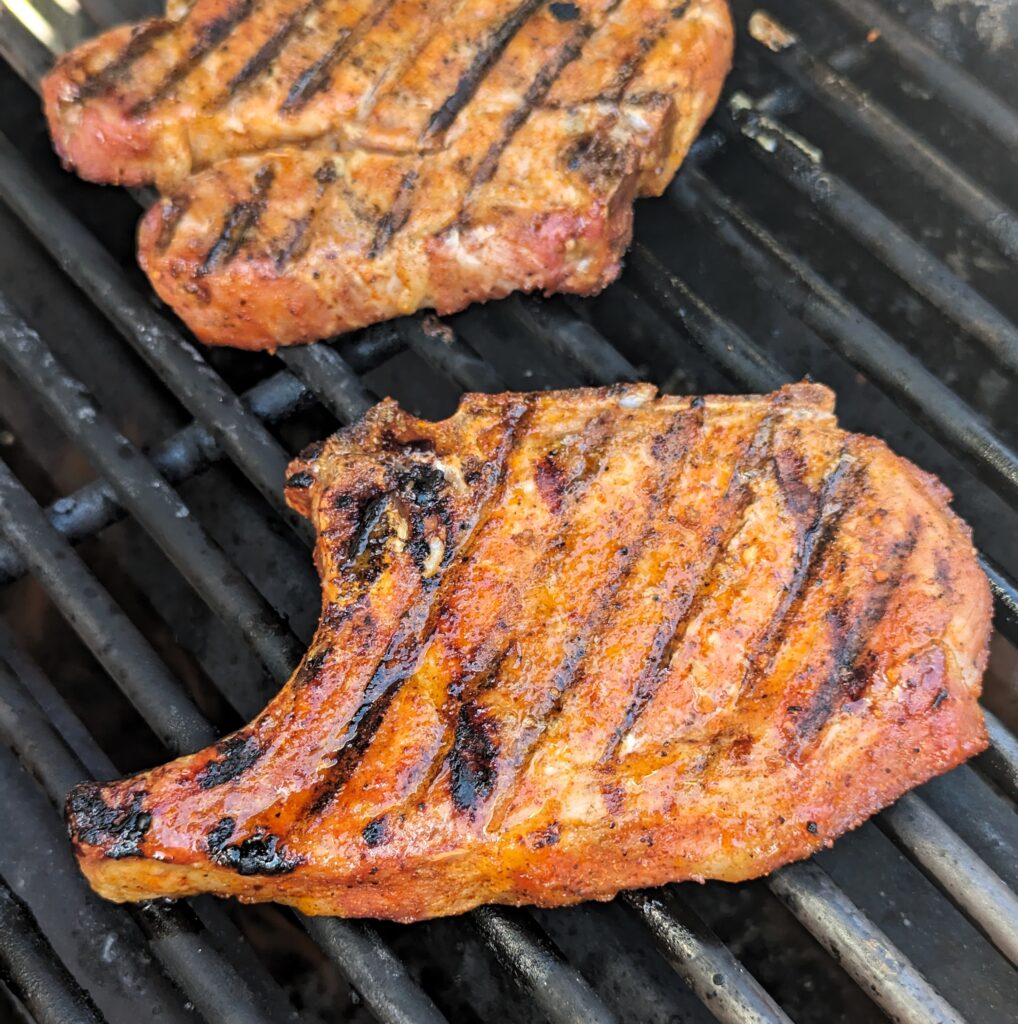 After having reverse seared, we are done with the smoking and grilling process. Put the pork chops to the side and we are going to let them rest for 15 minutes covered with foil. After 15 minutes of rest, these will be ready to serve!
Apple BBQ Sauce and Smoked Apples
This BBQ sauce is a prefect compliment to these pork chops. Easily done while the pork chops are smoking and ready to serve at the same time. I listed the ingredients above as part of your prep. You will need a small pot as we are going to combine these together, whisk and then let simmer over a low heat for about 20 minutes. You can make this in advance or store any leftovers in a sealed container for about a week.
If you are looking to make a side dish to go with this dish, smoked apples is the way to go. Super easy to add on while smoking the pork chops. For starters peel the apple and then cut them in half. Sprinkle some cinnamon on them and you can place them on the smoker.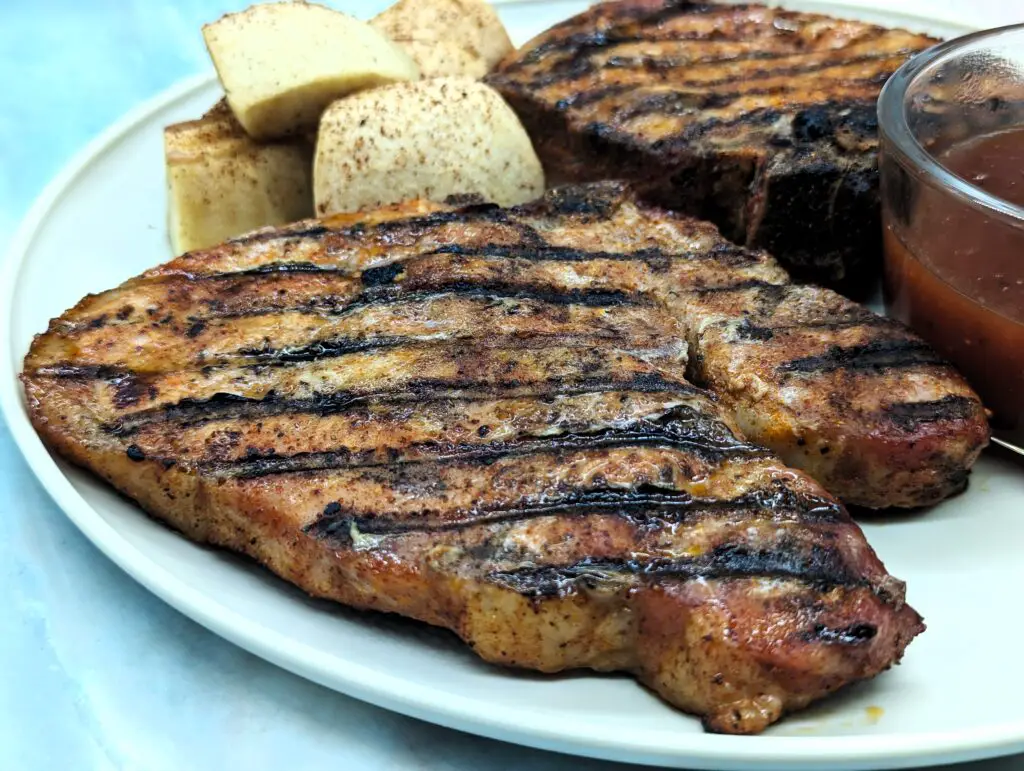 Leave them on for about an hour, which for me was about the time the pork chops were on. After removing them, you can cut each half into quarters, add some more cinnamon, if you would like and then serve. A great side to add to the dish and pairs so well with the pork.
Wrapping Up Smoked Bone In Pork Chops
Smoked bone in pork chops offer a delicious and flavorful alternative to traditional cooking methods. The smoky aroma, tender meat, and enhanced taste make them a favorite among pork lovers. Whether enjoyed on their own or incorporated into various recipes, such as sandwiches or salads, these chops are sure to please any palate. So next time you're looking to elevate your pork dish, consider trying out the rich and savory experience of smoked bone-in pork chops for a truly memorable meal.
Thanks for being here and checking out this smoked bone in pork chops recipe. I hope you enjoy it! We always appreciate comments, 5 star recipe rating and social media shares. As always, keep that smoke rolling!
Looking for some other recipe suggestions here are a few of our favorite's: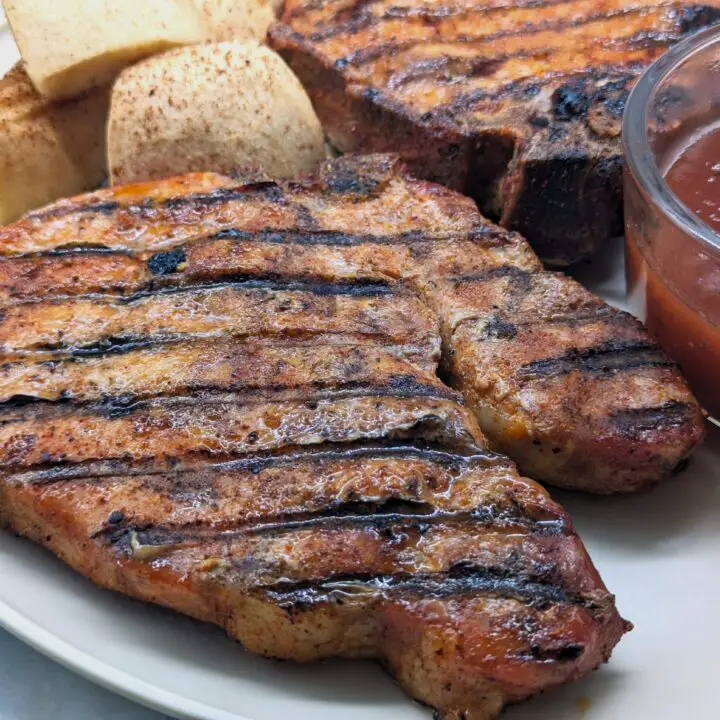 Smoked Bone In Pork Chops
Total Time:
1 hour
20 minutes
When it comes to smoked pork chops recipes, this is one of the best. Paired with a delicious sweet rub and apple BBQ sauce, you can make this dinner for guests at a summer BBQ or an easy mid week dinner.
Ingredients
2 bone in pork chops
2 tbsp. Sweet dry rub
1/2 tbsp of olive oil
Smoked Apple Side
2 apples, skin peeled
1 tsp. cinnamon
Apple BBQ Sauce
2/3 cup ketchup
1/2 cup of apple sauce
1/4 cup apple cider vinegar
1/2 cup of brown sugar
1/2 tsp salt
1/2 tsp black pepper
Instructions
Start your smoker for a temperature of 225° using a combination of hickory and pecan wood
Prepare the pork chops with olive oil and then the dry rub
When the smoker is up to temperature, place the pork chops on
After the pork chops are on you just need to let them stay on until they reach an IT of 140°
After they reach 140°, we will reverse sear them. You can do it on the Kettle by adding some charcoal and cranking up the temperature. You can also do it on the gas grill, as I did, or in a cast iron skillet. When you move to sear them, you will sear for one minute on each side.
After the reverse sear, put them off to the side and let rest for 15 minutes. Cover them with some foil.
After the rest period, you can serve and enjoy!
For the apple BBQ sauce, whisk the ingredients together, and let simmer for 20 minute over low heat. Stir on occasion. I suggest doing this while the pork chops smoke
If you are making smoked apples, peel, cut in half, sprinkle with cinnamon and smoke for 1 hour. Remove, quarter each half and serve while hot. Add some more cinnamon if desired.
Nutrition Information:
Yield:

2
Serving Size:

1
Amount Per Serving:
Calories:

760
Total Fat:

21g
Saturated Fat:

6g
Trans Fat:

0g
Unsaturated Fat:

12g
Cholesterol:

132mg
Sodium:

1415mg
Carbohydrates:

104g
Fiber:

6g
Sugar:

89g
Protein:

42g