Are you tired of the same old breakfast routines? Look no further than a mouthwatering smoked ham and cheese omelet to add some excitement to your morning meal. This classic combination of smoked ham and gooey smoked cheese is enhanced by the smoky flavors. Not only is this dish incredibly delicious, but it's also quick and easy to make, making it the perfect option for busy mornings or lazy weekends. Whether you're looking to impress guests or simply treat yourself, a smoked ham and cheese omelet will undoubtedly become a favorite go-to breakfast option in no time.
How To Make a Ham and Cheese Omelet
This is a great way to use some leftover smoked ham. If you want to check that recipe out, you can see it here. You will need some ham, I used smoked provolone cheese and some pickled and sliced jalapenos. You will also need 3 eggs for this, as it will be for a serving of one but one taste of this and everyone will want a smoked ham and cheese omelet!
Start off by dicing the ham, cheese and jalapenos. While you are doing that, warm up your pan, I used a cast iron skillet for this recipe. Add a little bit of cooking spray or olive oil to the skillet so the eggs and cheese do not stick. This should only take a few minutes before we are cooking. You will want to cook this ham and cheese omelet in the skillet over medium heat.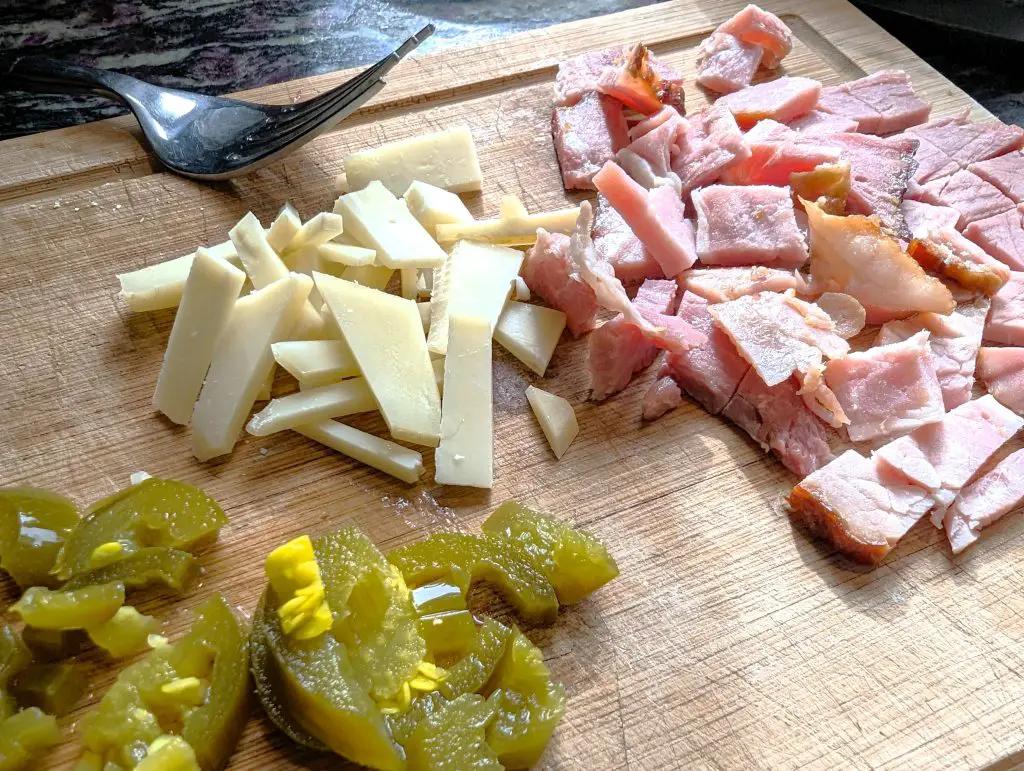 After having diced everything, the skillet should be warmed and ready to start cooking. Crack your 3 eggs, and mix in a bowl. I know some like to add milk to their eggs, in this recipe, I do not and will just cook the eggs after having whisked them. When the eggs are whisked put them off to the side. We are first going to add the ham and jalapenos for cook them for 1-2 minutes, give them an opportunity to cook before the eggs go in. After about a minute or two, you are going to add in the eggs.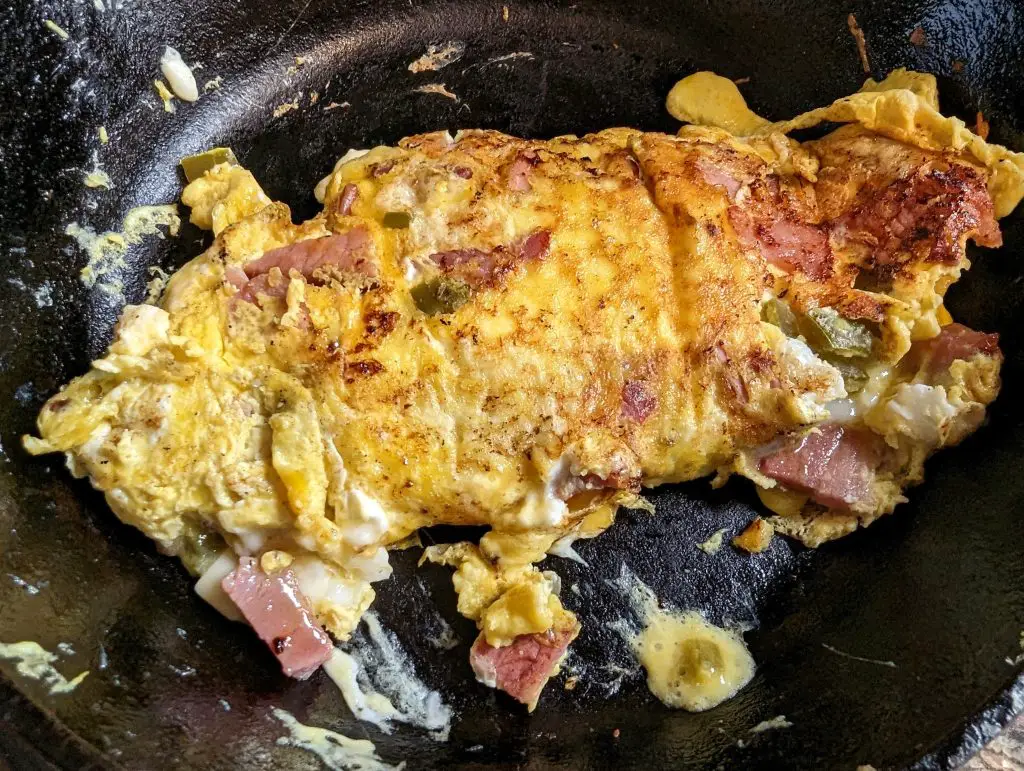 When you start to see the eggs bubble a bit add the cheese and then fold the omelet in half. After another 2 minutes or so, flip the omelet over. You will cook it another 2-3 minutes after flipping. When cooking omelets it is a fine line between the eggs not being too runny but the omelet not getting dried out. Don't confuse a runny omelet with melted cheese either.
As soon as you get to that sweet spot between not too runny or too dried, pull the omelet out of the skillet. From there you can season with some salt and pepper if you would like. I added some more jalapenos to it and enjoy it with a delicious cup of coffee.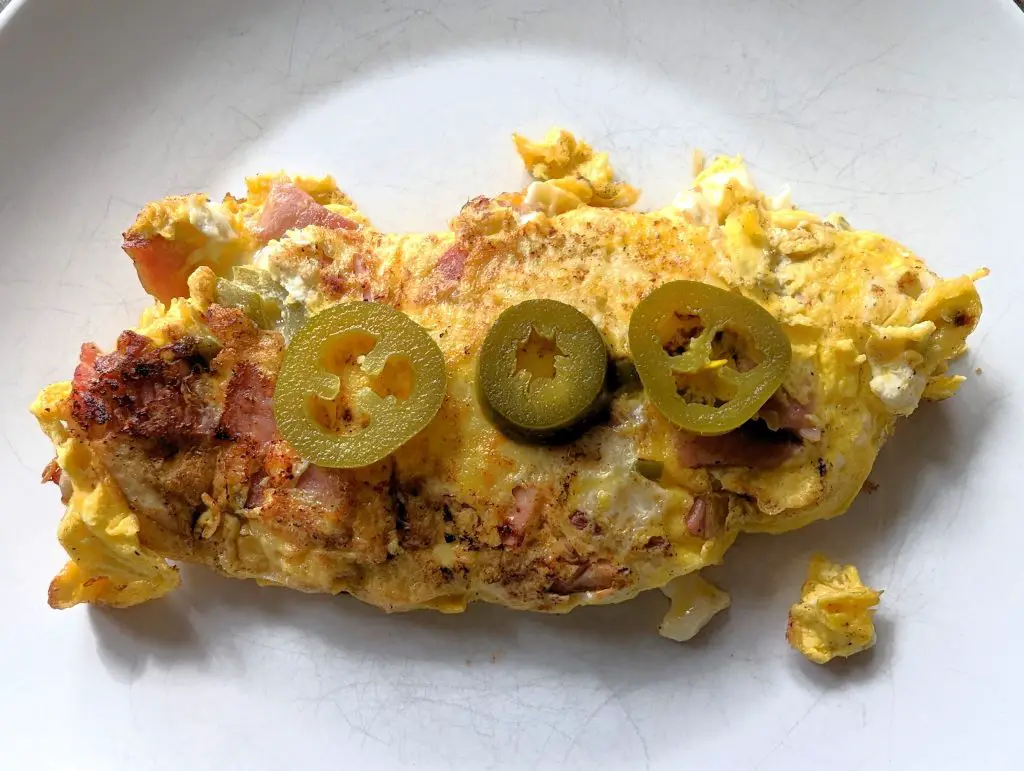 Closing Out The Ham & Cheese Omelet Recipe
The smoked ham and cheese omelet is a delicious and versatile dish that can be enjoyed for breakfast, brunch, or even as a quick dinner option. The combination of savory smoked ham and melted cheese creates a flavorful and satisfying meal that will surely please any palate. Whether you prefer to enjoy it with toast, fresh fruits, or a side salad, this omelet is sure to become a favorite in your culinary repertoire. So why not give it a try and indulge in the comforting flavors of this classic dish?
Thanks for being here and checking out this Smoked Ham and Cheese Omelet recipe. I hope you enjoy it! We always appreciate comments, 5 star recipe rating and social media shares. As always, keep that smoke rolling!
Looking for some other breakfast food ideas on the smoker, here are a few suggestions:
This post contains affiliate links. If you use these links to buy something I may earn a commission.
Smoked Ham And Cheese Omelet
This smoke ham and cheese omelet is a great way to use some of that leftover ham and smoked cheese, topped with a kick of jalapeno.
Ingredients
3 eggs
2 oz of smoked ham
1 oz of smoked provolone cheese
1/4 cup of diced pickled jalapeno
Instructions
Using a cast iron skillet, start to warm and coat with either some olive oil or cooking spray
beat the 3 eggs and place to the side
dice the ham and jalapenos and place in the skillet, cook for 1-2 minutes
dice the cheese and place to the side
Add the eggs to the skillet and cook over medium heat
After about 2-3 minutes, add the cheese
Once the cheese has started to melt, fold the omelet in half and cook for another 1-2 minutes
Then flip the omelet over, cook for 1-2 minutes
Remove, garnish with some jalapenos and serve
Nutrition Information:
Yield:

1
Serving Size:

1
Amount Per Serving:
Calories:

504
Total Fat:

33g
Saturated Fat:

15g
Trans Fat:

0g
Unsaturated Fat:

15g
Cholesterol:

618mg
Sodium:

1656mg
Carbohydrates:

8g
Fiber:

1g
Sugar:

1g
Protein:

43g