Are you ready to take your sliders game to the next level? Look no further than these mouthwatering ham and pineapple sliders. Combining the sweetness of pineapple with the savory goodness of ham, these tiny sandwiches are a match made in flavor heaven. Whether you're hosting a party or simply looking for a delicious snack, these sliders are sure to be a hit. Get ready to indulge in this irresistible combination that will leave your taste buds begging for more.
Ingredients for Ham and Pineapple Sliders
So this recipe is great for leftover ham or if you are a blowout summer BBQ and need to feed a crowd. If you are looking for some whole ham recipes, here is our Grilled Ham recipe, as well as our Double Smoked Ham recipe. We made these sliders using the leftover from our grilled ham recipe. Beyond the ham, here are the other ingredients you are going to need:
For simplicity I used canned pineapple slices. They are a little bit smaller than a full pineapple and fit great on the slider buns.
Hawaiian rolls
Brown sugar
Shredded mozzarella cheese. You can either buy the shredded cheese, or a block and shred yourself.
Butter
Garlic powder
With the the simple set of ingredients laid out, let's start making these lip smacking good sliders.
Making Ham Pineapple Sliders
Your ingredients should be together and ready to start preparing the ham and pineapple sliders. Before going any further, start off by firing up the grill. This is a pretty quick cook on the grill so I used my gas grill for this recipe. If you want to fire up the charcoal grill you can do that, nothing will change in the way you prepare this recipe. We are going to start off using direct heat but later on switch over to indirect heat. We are going to be looking for an ambient temperature of 325°.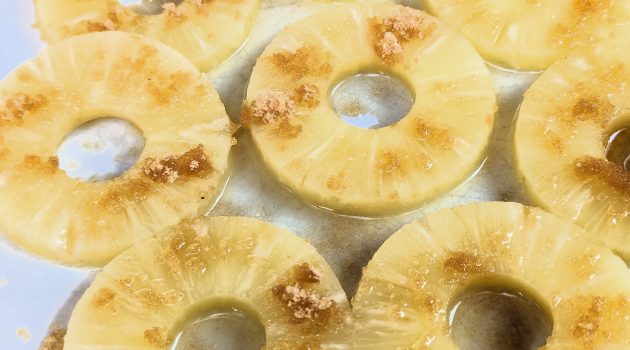 If you need to check ambient temps and don't trust the grill trying using the ThermoPro TP20.
The first thing we are going to do it is take our pineapple slices, remove them from the can and coat them with some brown sugar. You can just do one side with the brown sugar, if you are really looking to sweeten this recipe up, you can do both sides but I have not found it necessary. After coating the slices of pineapple with the brown sugar, you can place them on the grill, over direct heat.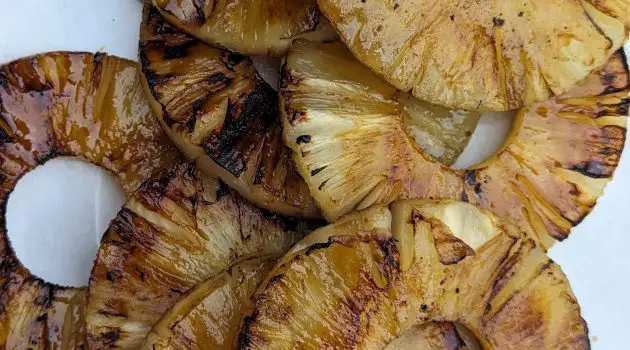 You will want to grill them for about 5 minutes on each side or until you are happy with the char and grill marks on each side. Too long and they will get dried out but coming from the can, these should hold up well, having been in the pineapple juice. As soon as you are good with the pineapple slices, pull them and set them to the side, we are going to start with the sliders. Be sure to leave the grill on, we are going to put the sliders back in there before serving.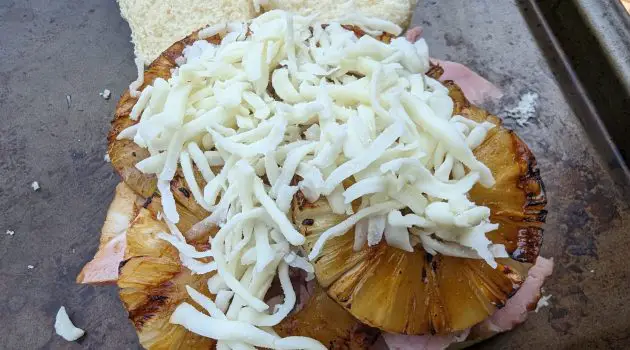 With the pineapple complete, slice the Hawaiian rolls in half and put the tops off to the side. Start by layering on the pineapple, then some of the grilled ham, top it off with some shredded mozzarella cheese. While you are doing this, you can melt the butter, add in some garlic powder. After the butter is melted, but the slider tops back on and brush them with some butter.
After brushing the butter, if not already on a sheet pan, transfer onto one. You are going to pop these sliders back on the grill for about ten minutes or until you see the cheese melted and the tops of the sliders start to brown just a bit. As soon as you see both of those there, pull them. You may need to let them cool for a bit but only for a couple of minutes and get them in the hands of your family guests.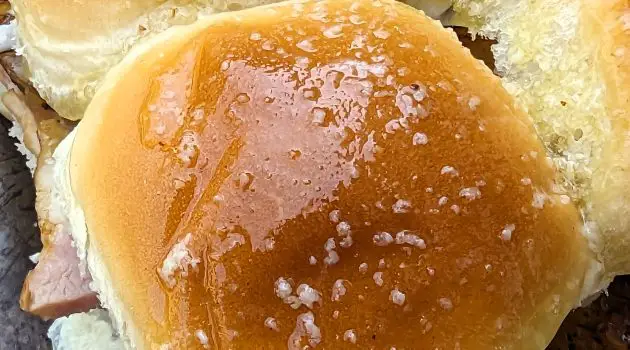 Wrapping Up Ham and Pineapple Sliders Recipe
Ham and Pineapple Sliders offer a delightful and satisfying twist on the classic slider recipe. With their perfect balance of sweet and savory flavors, these bite-sized sandwiches are sure to be a hit at any gathering or party. The combination of a tender grilled ham, melted mozzarella cheese and sweet pineapple over Hawaiian sweet rolls create an explosion of taste in every bite. Easy to make and even easier to enjoy, these sliders are bound to become a crowd favorite. So why wait? Try this mouthwatering recipe today and satisfy your cravings with these irresistible Ham and Pineapple Sliders!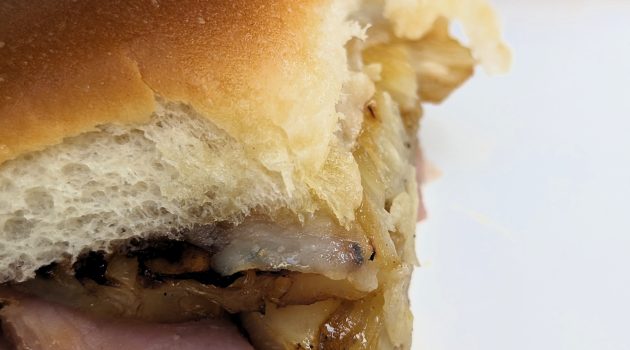 Thanks for being here and checking out this Ham and Pineapple Sliders recipe. I hope you enjoy it! We always appreciate comments, 5 star recipe rating and social media shares. As always, keep that smoke rolling!
Here are some other sliders recipes you may enjoy!
This post contains affiliate links. If you use these links to buy something I may earn a commission.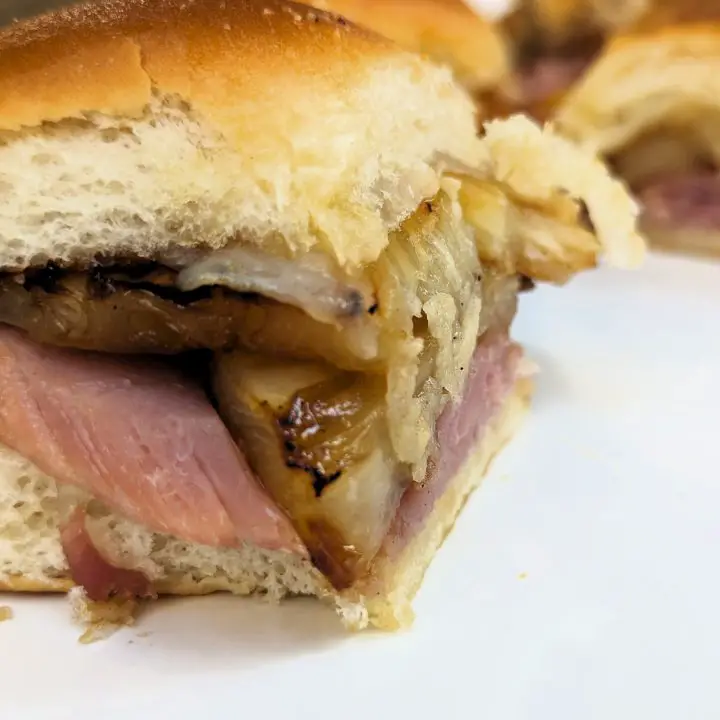 Ham and Pineapple Sliders
Looking to use some leftover ham or want to feed a crowd? This classic, yet citrus packed slider recipe is exactly what you need.
Ingredients
6 oz of grilled ham
1 can of sliced pineapples
4 Hawaiian rolls
3/4 cup of shredded mozzarella cheese
1/4 stick of butter
1 tsp of garlic powder
1 tbsp. of brown sugar
Instructions
Grill the ham, or use leftovers from a previously grilled ham. Pulled or cut ham into pieces that will fit on the rolls
Get grill up and running for 325°
Layout pineapple slices and coat one side with the brown sugar
Place the pineapple slices on the grill, over direct heat and grill for about 5 minutes on each side. Remove when you have some nice grill marks on them
Slice the buns in half and set the tops to the side
Start melting the butter and mix in the garlic powder
Layer on the ham, pineapple and then shredded cheese
Place the tops back on the sliders and brush on the melted butter
Take the sliders, place on the grill for about 10 minutes, until the cheese is melted and the tops are turning slightly brown
Remove, pull or cut the sliders apart and serve