Smoked sausages are really one of the easiest meats to smoke, only a little prep and tons of flavor. These are great for that weekend summer BBQ or even an easy mid week dinner. When making this recipe, you can choose from a variety of sausages ranging from sweet Italian sausage, hot sausages or brats, it really does not matter.
Smoked sausages are versatile and can be enjoyed on their own or added to a variety of dishes. One popular dish that features smoked sausages is the smoked sausage sandwich, which is an easy-to-make meal that satisfies hunger pangs with its deliciously smoky taste. In this article, we will explore the world of smoked sausages and how they can elevate your meals, particularly when used in creating a mouth-watering sandwich.
How To Smoke Sausages
For this recipe, I went with Sweet Italian sausage. I personally think it is one of the best sausage for smoking but explore for yourself and determine what you like. With so many different types of sausages, you can do this with another sausage type if that is your preference. I also added some poblano peppers and onions to make a sandwich on Portuguese rolls. For starters I got my smoker up and running.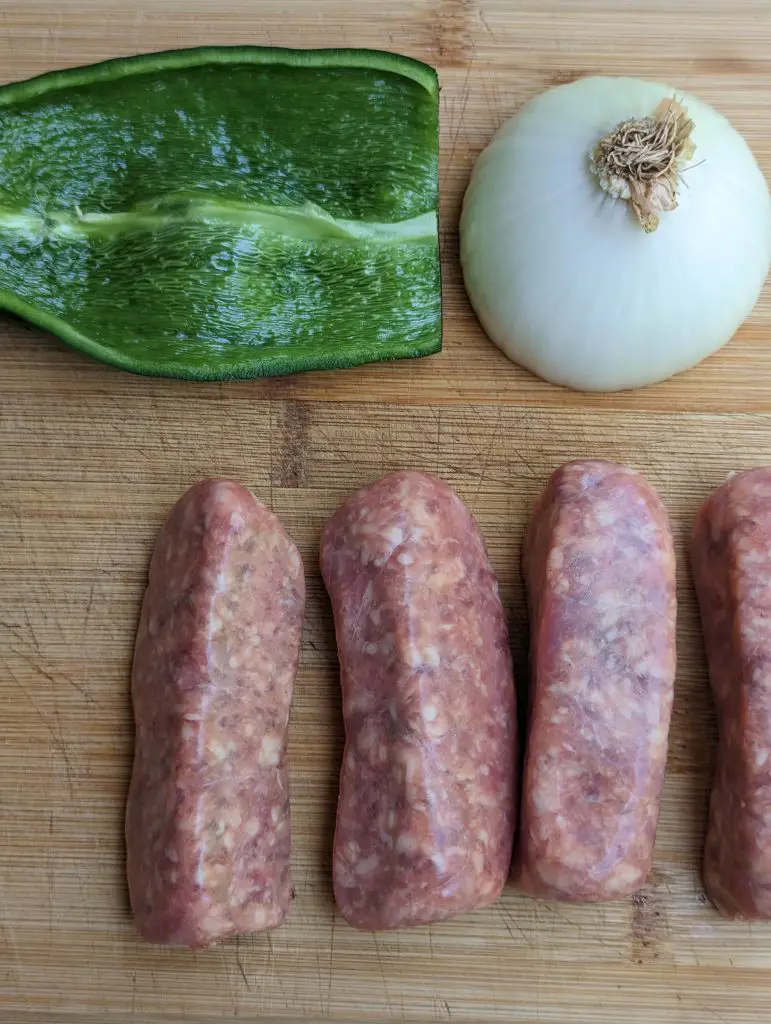 I used my Weber Kettle for this smoke and it works great for these smaller and faster smokes. When it comes to wood, I don't think can go wrong using a wood of your choosing but I opted for hickory wood. You will want to get your smoker up and running at 275°.
I laid everything down on the grates for the smoke but another way to do it is using a vertical skewer, as you can see in the picture below, another way I have done it in the past on my WSM. I cut my poblano peppers in half and cleaned out any seeds that were in there. I also used 1/2 an onion that I just sliced in half.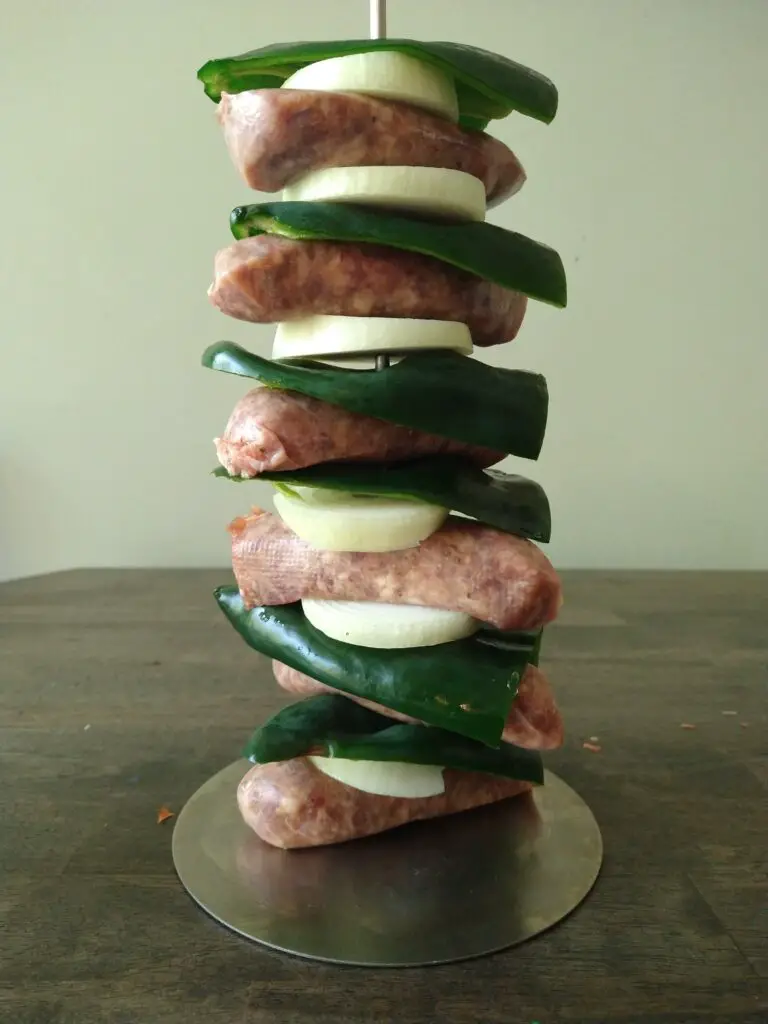 Once the smoker is up to temperature, go ahead and place everything on and start smoking sausage. I used a basket for the Kettle, and used about a half chimney of charcoal, place a block of hickory wood on the grate, over the basket of charcoal. After you have everything on there, we care just going to let it smoke. If you can get a probe in the sausage great, it helps avoid having to open it to check IT.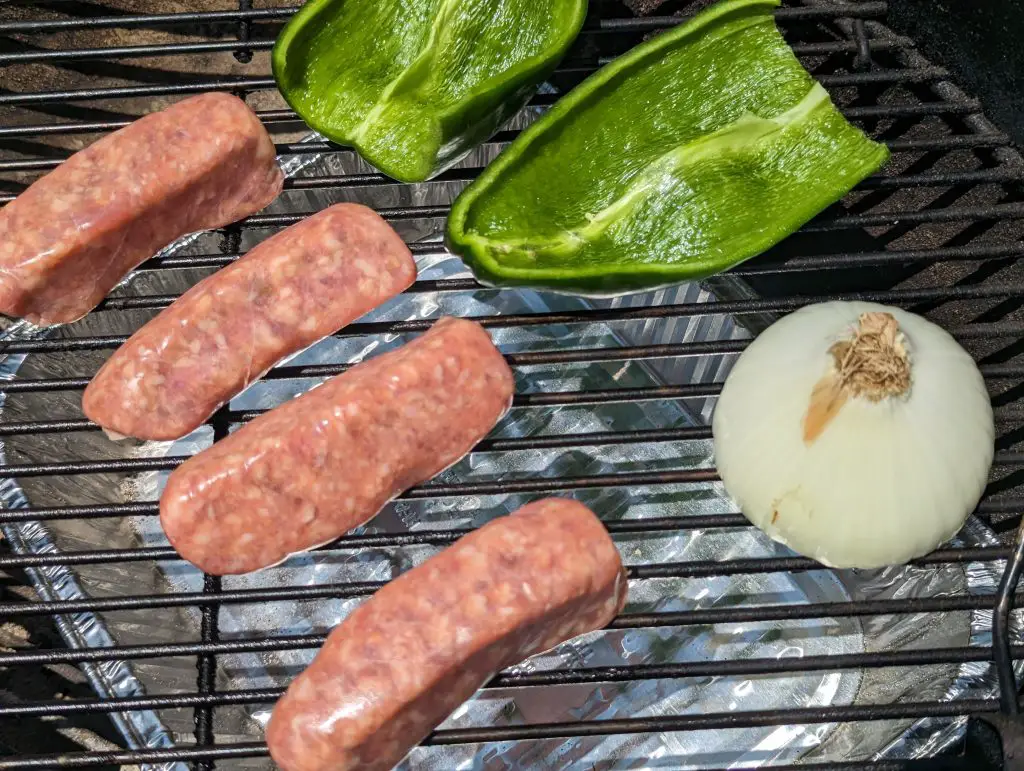 A great probe is the ThermoPro TP20. Love it for these one off smokes and is great when on a budget.
The usual standard IT for sausage is 165° but what we are going to do it stop smoking at 150° and then we are going to get a quick sear on the smoked sausages. So in my case, I am going to move these over the charcoal basket. If you have a different set up, you can move to a gas grill or into a cast iron pan for a quick sear. When searing over the charcoal, keep the lid off and keep them moving. The fat dripping off will kick up some flames and give you a nice crisp to the sausage. Move the peppers and onions over the flames as well.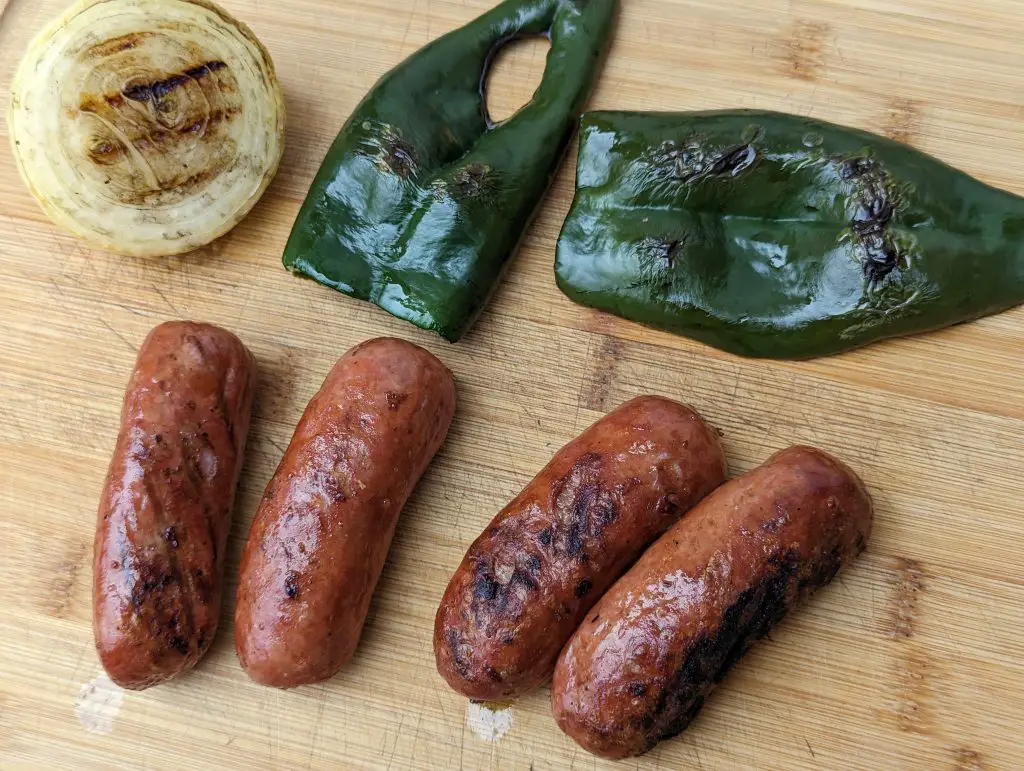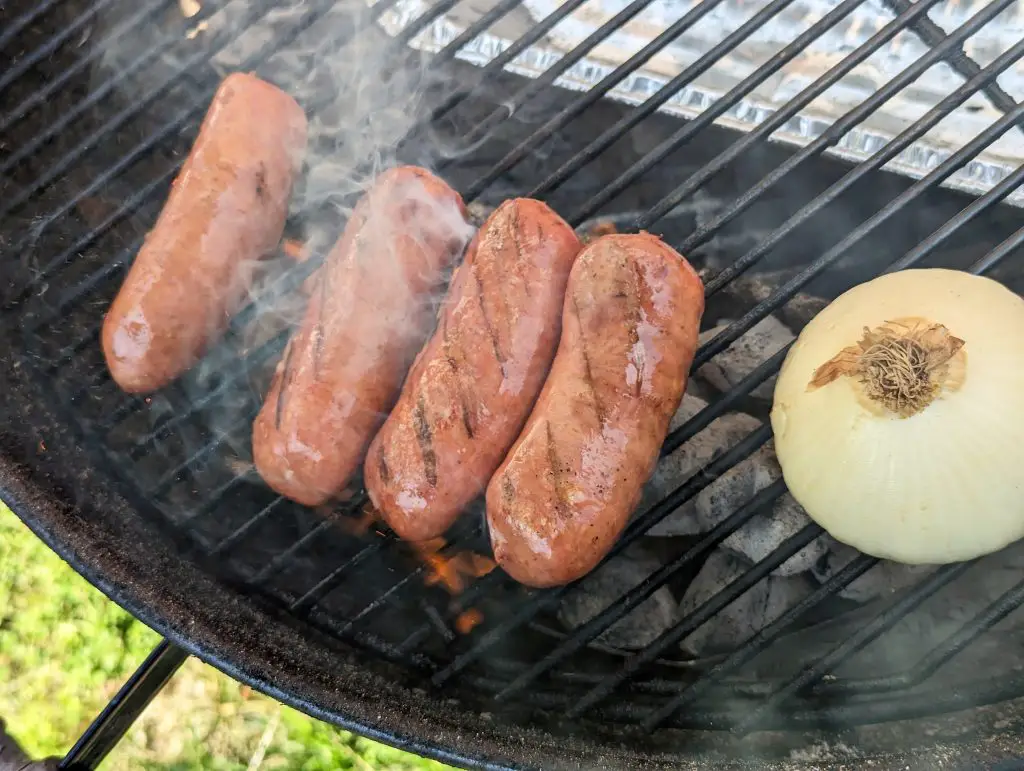 You will want to keep everything over the flames for 2-3 minutes but again keep an eye on it because the time will vary based off of the heat you are generating. After pulling the sausages, let them rest for 5-10 minutes. After that you can start making your smoked sausage sandwiches.
Wrapping Up, Smoked Sausages
Smoked sausages and sausage sandwiches are popular food items that have been enjoyed by many and are a summer time classic. Their unique smoky flavor and versatility make them a favorite among many cultures around the world. Whether you're grilling outdoors or cooking up a quick meal at home, these tasty treats are sure to satisfy your hunger and taste buds. So go ahead, give them a try, you won't be disappointed!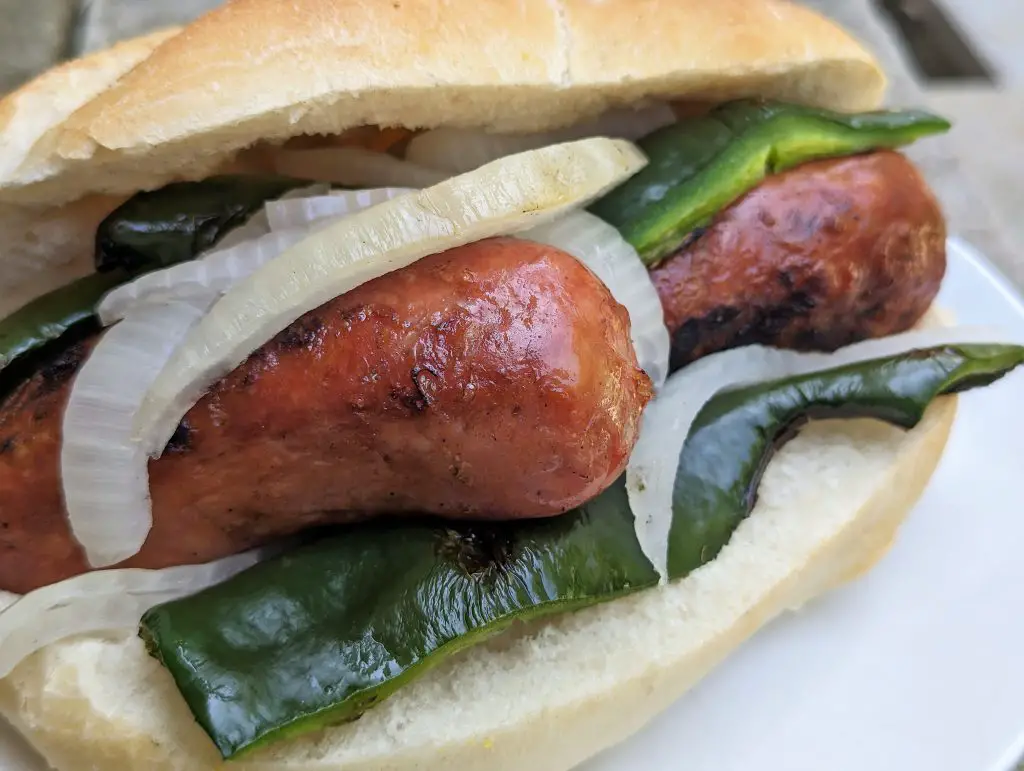 Thanks for being here and checking out this Smoked Sausage recipe. I hope you enjoy it! We always appreciate comments, 5 star recipe rating and social media shares. As always, keep that smoke rolling!
If you are looking for some other recipes, check out some of these suggestions:
This post contains affiliate links. If you use these links to buy something I may earn a commission.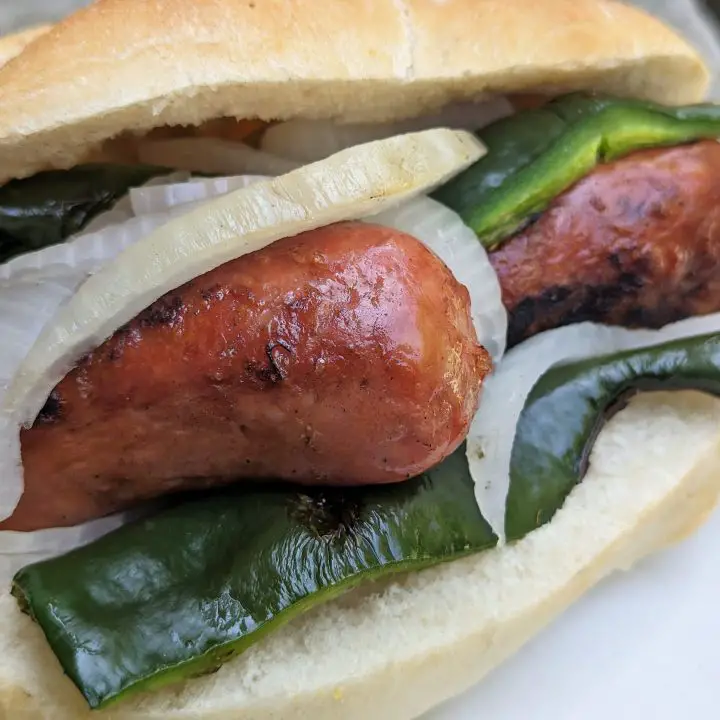 Smoked Sausage
An easy smoked sausage recipe with peppers and onions
Ingredients
.5 lb. of sausage
1 Poblano peppers
1/2 white onions
1 Portuguese roll
Instructions
Fire up your smoker to about 275° using the wood of your choosing (I used hickory)
Place the sausages, peppers and onions directly on the grate
Smoke until sausages IT reaches 150°
Pull at 150° and move over charcoal for a quick 2-3 minutes sear. You can also place the peppers and onions over the flames until you get a desired char.
Nutrition Information:
Yield:

1
Serving Size:

1
Amount Per Serving:
Calories:

930
Total Fat:

65g
Saturated Fat:

21g
Trans Fat:

1g
Unsaturated Fat:

34g
Cholesterol:

138mg
Sodium:

2235mg
Carbohydrates:

51g
Fiber:

3g
Sugar:

7g
Protein:

34g
This data was provided and calculated by Nutritionix on 7/28/2021